Market Overview
The global biologics safety testing market was valued at USD 3,589.5 million in 2022, which is expected to reach USD 9,370.3 million by 2030, growing at a CAGR of 12.7% during 2022–2030. This is attributable to the growing prevalence of diseases, increasing demand for biosimilar and biologic drugs, growing outsourcing activities, and increasing investments in research and development.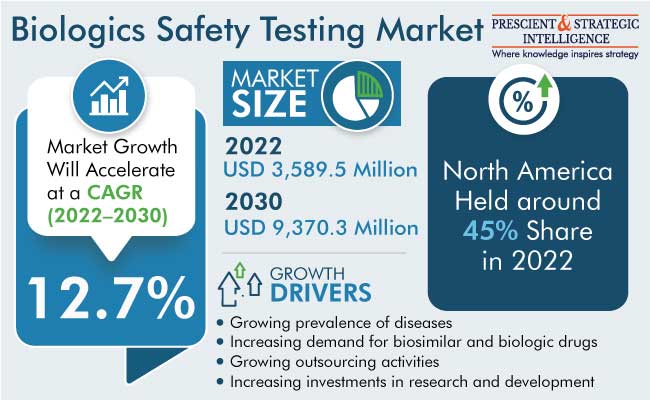 The high chances of contamination during the manufacturing of biologics have led to the increasing number of initiatives by government authorities to promote their safety, by conducting stringent and necessary tests for the same. Hence, the high probability of bioburden and microbial contamination during the production of such therapeutics is expected to boost private and government organizations' focus on ensuring their safety.
There has been a tremendous increase in the count of biopharmaceutical firms due to the growing demand for biologics. Additionally, the persistent challenges in manufacturing therapeutically efficient and advanced medications on an extensive scale have propelled producers to enhance their manufacturing operations in terms of cost efficiency and productivity. Therefore, firms are following good manufacturing practices (GMPs), including the in-depth testing of biologics at different stages of the manufacturing process.
In addition, the rising public awareness of drug safety has led to the implementation of safety rules by regulatory authorities. These strict standards and guidelines propel the usage of safety testing products by quality assurance personnel.
The rapid surge in the count of major biopharmaceutical and other life sciences firms and their reliance on outsourcing have created a lucrative opportunity for the growth of the market. Contract research organizations (CROs) offer growth potential for many small and medium-scale biopharmaceutical, pharmaceutical, and biotechnology firms by providing them with a wide variety of services, such as sterility testing, genetic stability testing, raw material testing, and analytics for biologics.
Many key as well as mid- and small-sized life sciences companies outsource their services when they lack the infrastructure for quality assurance or production, which, in turn, aids in the reduction of their overall expenditure. Furthermore, the increase in the focus on core competencies, including research and development and manufacturing, and the need to reduce the requirement for hiring and training personnel for quality assurance, expand geographically, and achieve rapid turnaround times have directed the focus of many top players toward outsourcing.
Furthermore, CROs can manage to invest in drug discovery facilities in order to meet the needs of a large client base. Therefore, investments in cutting-edge techniques, such as automated endotoxin detection and quick mycoplasma tests, are common among CROs. With this, life sciences firms can significantly decrease their operational costs, thereby increasing their R&D budgets. Therefore, the cost advantage and other benefits are driving life sciences firms to outsource biologics safety testing activities.
Growing Expenditure in Biopharmaceutical Research and Development
There has been a tremendous surge in the burden of chronic and infectious ailments, such as hyperglycemia, heart ailments, and cancer, across the world. This has led to a rapid increase in the demand for biologics, such as recombinant proteins, monoclonal antibodies, gene therapies, transplant tissue, and stem cell therapies. Additionally, the implementation of stringent guidelines on biologics testing to identify, detect, and remove any sort of contaminant from these agents is propelling the growth of the biologics safety testing market.
Hence, the significant spending by biopharmaceutical and pharmaceutical firms on research and development of therapeutically advanced and efficacious biologics will significantly boost the market expansion, by driving the volume of tests that seek to assess their safety.
Consumables Category Holds Significant Share
On the basis of offering, consumables held around 35% share in 2022. This is ascribed to the significant usage of consumables for the detection and identification of contaminants in biologics. Consumables consist of kits, reagents, and other products that are widely used in clinical laboratories and research centers. Reagents include biological buffers and dissociation reagents. As per the current market scenario, the advancements in the formulation of such agents are set to fuel their adoption significantly.
Similarly, kits are in high demand due to their long shelf life and ease of use. Additionally, instruments are expected to register a high CAGR during the forecast period. This is attributable to the implementation of strict guidelines for ensuring the safety of therapeutics and the growing need to perform safety tests due to this.
Vaccines Category Dominates Application Segment
On the basis of application, vaccines dominated the market, with a share of around 30%, in 2022. This is attributable to a surge in the incidence of several diseases over the years. Many chronic ailments, including diabetes and cancer; and infectious diseases, including influenza and measles; require the administration of vaccines for their treatment, management, or prevention.
Additionally, several guidelines have been laid out by government agencies to ensure the safety and efficacy of vaccines, as they are given to a large number of individuals and administered directly into the bloodstream; therefore, ensuring their sterility is imperative. Guidelines for the same issued by the Food and Drug Administration (FDA) govern the characterization and qualification of the components utilized for the manufacturing of vaccines.
Moreover, the cellular & gene therapy (CGT) category is expected to register a CAGR of around 12% during the forecast period. This is attributable to the growing research, coupled with the advancements in cellular and gene therapies. Moreover, there are many contaminants that can be found in CGTs, such as cytokines, pyrogens, dead cells, endotoxins, mycoplasma, and sera. Such contaminants, if not detected and eliminated, can deteriorate the quality of the CGT, thereby increasing the overall cost of the manufacturing process and posing a danger to patients.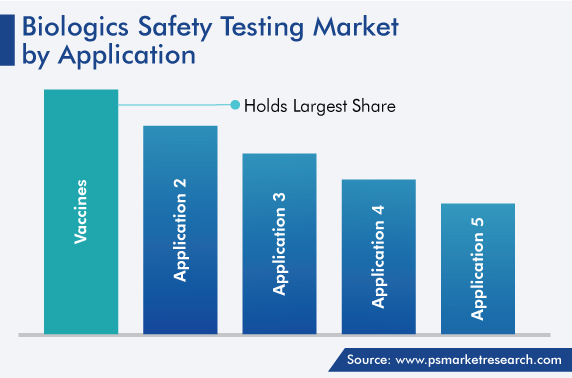 Bioburden Category Dominates Test Type Segment
The bioburden category held the largest market share in 2022 in the test type segment. This is because public agencies, including the World Health Organization (WHO), have released several guidelines for maintaining the sterility of drugs, which are applicable to a broad range of biologics, such as cell, tissue, and blood products and vaccines. Such guidelines are released to ensure that the product is free from any type of contaminant and meets the safety requirements.
Essentially, the rising burden of diseases has led to the increasing demand for biologic products. All such factors have led to an increasing demand for sterilization, thereby propelling the adoption of bioburden tests for a broad range of biopharmaceuticals as well as medical devices. Additionally, the rapidly growing pace of advancements in novel bioburden testing technologies is expected to fuel the growth of the market.
Moreover, this test has a wide range of applications in detecting the effectiveness of cleaning procedures, validation of sterilization procedures, and surveillance of components, raw materials, and manufacturing procedures. Moreover, during the manufacturing process, pharmaceuticals and biologics are highly prone to contamination and bioburden. This has compelled many public and private organizations to refine their safety practices involving biologics.
The endotoxin category is expected to exhibit a high CAGR during the forecast period. This can be ascribed to the increasing utilization of this test during the production of therapeutics in order to reduce the burden of endotoxins. Several types of endotoxin tests, such as kinetic turbidimetric bacterial endotoxin test, kinetic chromogenic test, and gel-clot test, are utilized to meet the requirements, which is likely to boost the biologics safety testing market growth of the category.
Biologics Safety Testing Market Report Coverage

| | |
| --- | --- |
| Report Attribute | Details |
| Historical Years | 2017-2022 |
| Forecast Years | 2023-2030 |
| Market Size in 2022 | USD 3,589.5 Million |
| Revenue Forecast in 2030 | USD 9,370.3 Million |
| Growth Rate | 12.7% CAGR |
| Report Scope | Market Trends, Drivers, and Restraints; Revenue Estimation and Forecast; Segmentation Analysis; Impact of COVID-19; Companies' Strategic Developments; Market Share Analysis of Key Players; Company Profiling |
| Segments Covered | By Offering; By Application; By Test Type; By End User; By Region |
Explore more about this report - Request free sample pages
North America Is Prime Revenue Contributor
On the basis of regional analysis, North America dominates the market. This can be ascribed to the significant presence of key players, high prevalence of severe contagious and non-contagious ailments, such as coronavirus and diabetes, respectively; established healthcare infrastructure, growing research and development activities with the supportive government policies, and stringent regulations aimed at ensuring the safety of therapeutics.
The U.S. is contributing substantially to the region's market expansion. This is ascribed to the rising consumer awareness regarding the safety of biopharmaceuticals, significant adoption of advanced technologies, presence of cutting-edge medical facilities, and rising government and academic investments in the nation.
Furthermore, Canada contributes significantly in the region's dominant share as well. This is attributable to the robust medical infrastructure, technological advancements, and favorable government policies for biologic production and safety testing. Additionally, Canada is increasingly adopting cell therapies for the treatment of several cancers, which, in turn, is favoring the market growth due to the increasing requirement for safety testing during their production.
Moreover, Europe is projected to exhibit remarkable growth during the projection time frame. This is ascribed to the presence of numerous research organizations, top market players, and a well-established universal healthcare system and the significant investments of governments in population health management.
Germany is significantly contributing to the regional market expansion. This is attributed to the growing geriatric population, which is resulting in a rising demand for safe and efficacious medications; booming consumer awareness, significant adoption of technologically advanced solutions, and rising healthcare budget of the nation.
Furthermore, France is predicted to exhibit remarkable growth during the forecast period. This is because of the significant disease burden, growth of the pharmaceutical and biotechnology industries, and rise in the focus of the authorities on the betterment of the healthcare facilities in the country.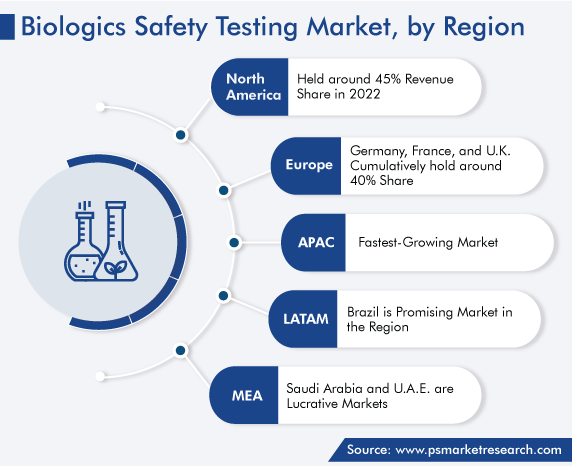 Top Companies Providing Biologics Safety Testing Solutions Are:
Charles River Laboratories International Inc.
Lonza Group Ltd.
Merck KGaA
InvivoGen
F. Hoffmann-La Roche Ltd.
Agilent Technologies Inc.
Société Générale de Surveillance SA
WuXi AppTec
bioMérieux SA
Microcoat Biotechnologie GmbH
Market Size Breakdown by Segment
This report offers deep insights into the biologics safety testing market, with size estimation for 2017 to 2030, the major drivers, restraints, trends and opportunities, and competitor analysis.
Based on Offering
Instruments
Consumables
Services
Based on Application
Vaccines
Cellular & Gene Therapy
Blood and Blood-Based Products
Monoclonal Antibodies
Based on Test Type
Sterility
Endotoxin
Bioburden
Mycoplasma
Virus safety
Residual Host Cell Protein & DNA Detection
Based on End User
CDMOs
Biopharmaceutical Companies
CROs
Geographical Analysis
North America
Europe

Germany
U.K.
France
Italy
Spain

Asia-Pacific

Japan
China
India
South Korea
Australia

Latin America
Middle East and Africa

Saudi Arabia
South Africa
U.A.E.