Market Overview
The bioelectric medicine market size stood at USD 21,532.1 million in 2022, and it is expected to grow at a CAGR of 5.2% during 2022–2030, to reach USD 32,345.8 million by 2030.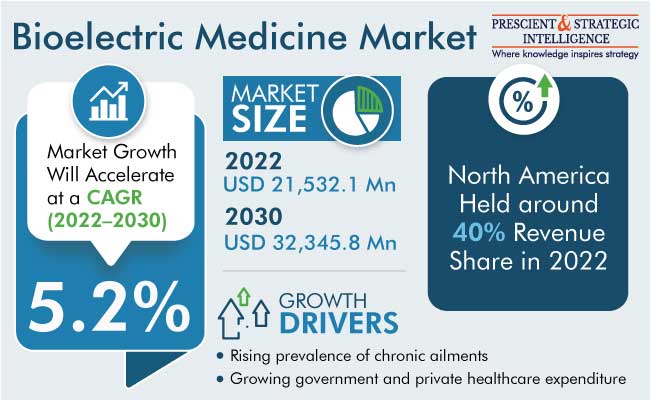 This can be mainly attributed to the rising prevalence of neurological disorders, cardiovascular disorders, and hearing conditions. Moreover, the growing government and private healthcare expenditure, including in electroceuticals as well as bioelectric medicine research, is expected to propel the market advance throughout the forecast period.
Nowadays, electroceuticals are gaining significant consumer acceptance for the treatment of a variety of cardiac and neurological disorders, including dystonia, essential tremors, obsessive–compulsive disorder (OCD), epilepsy, Alzheimer's disease, Parkinson's disease, and arrhythmias. In addition, the elderly population is at higher risk of neurological diseases, which is expected to boost the market expansion during the forecast period.
Further, the development of technologically advanced treatments is propelling the market. Electrical stimulation and electroceuticals can effectively revive and restore injured tissue, speed up the process of healing, and lower chronic inflammation, biofilms, infection, and related symptoms, such as pain and high exudate production.
Implantable Cardioverter Defibrillators Are Most-Frequently Used
Implantable cardioverter defibrillators are the most frequently used of all the products, due to their wide range of applications. These medical devices make use of electrical stimulation and are extensively used in the treatment of arrhythmias, including atrial fibrillation, ventricular tachycardia, and atrial flutter. In addition to that, they are used in conjunction with other treatments, such as medications or surgery.
In this regard, the rising incidence of cardiac arrests and neurological conditions in the geriatric population is propelling the category. This part of society creates a continuously escalating demand for implantable devices, such as implantable cardioverter defibrillators cardiac pacemakers, deep-brain stimulators, and spinal cord stimulators.
Further, the rising pace of technological advancements and product approvals is driving the growth of this category. For instance, in July 2020, Abbott Laboratories received the FDA approval for its next-generation Gallant series of implantable cardioverter defibrillators and cardiac resynchronization therapy defibrillators. These devices have an improved design, battery longevity, and compatibility with magnetic resonance imaging. In addition to that, the devices support the Bluetooth technology and a new patient smartphone application for improved remote monitoring, thus enabling more-extensive patient and doctor engagement and streamlined communications.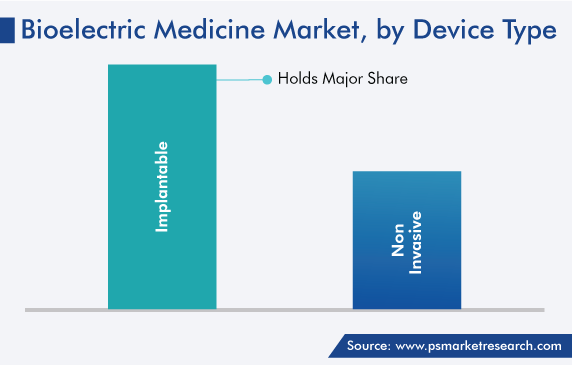 Arrhythmia Category Dominates Market
The arrhythmia category held the largest market share, around 60%, in 2022, and it is projected to attain the highest growth rate during the forecast period. This is attributed to the increasing patient pool suffering from arrhythmias across the world who uses cardiac pacemakers and implantable cardioverter defibrillators. For instance, according to the National Heart, Lung, and Blood Institute, atrial fibrillation is the most-common arrhythmia, with more than 2.5 million people in the U.S. having this condition.
The category is also dominating the market due to the advancements in treatment procedures. Several market players are stressing over the augmentation of their business prospects by means of mergers, collaborations, and partnerships, which are enabling them to upgrade their research scope too. For instance, in December 2021, Boston Scientific Corporation initiated the clinical trial of its modular cardiac rhythm implant system, which includes a leadless pacemaker and an implantable cardioverter defibrillator. These two separate systems work simultaneously to keep the heart from beating too fast or too slow.
Furthermore, bioelectric medicines are successfully utilized for acute and chronic pain management. These conditions include complex regional pain syndrome, back pain, muscle pain, headaches and migraines, improper blood flow in the lower and upper limbs, temporomandibular joint (TMJ) syndrome, arthritis, scleroderma, and disorders of the nervous system, such as diabetic neuropathy. These medicines work by blocking pain signals to the brain and producing endorphins, thus helping in pain relief.
Increasing Prevalence of Neurological and Cardiovascular Disorders
The rise in the prevalence of neurological disorders, such as epilepsy, learning disabilities, neuromuscular disorders, autism, attention-deficit/hyperactivity disorder (ADHD), brain tumors, and cerebral palsy, along with the growing healthcare expenditure and the advent of novel products in bioelectric medicine, will fuel the growth of the market in the coming years. For instance, according to the WHO, epilepsy is the most-common neurological disorder across the globe, as over 50 million individuals are suffering from it. Additionally, it is suspected that if the condition is diagnosed and treated with time, nearly 70% of the people could live a seizure-free life.
Moreover, the growing geriatric population is spurring the demand for bioelectric medicines, as this section of the population is more prone to chronic neurological and cardiovascular disorders. As per the U.S. Census Bureau, more than 54 million people aged 65 and older live in the U.S., accounting for roughly 16.5% of the country's population. This number is expected to increase to 85.7 million by 2050 and make up 20% of the country's population. To treat the elderly, the usage of electroceutical devices, including cardiac pacemakers, implantable cardioverter defibrillators, deep-brain stimulators, and spinal cord stimulators, is rising.
Bioelectric Medicine Market Report Coverage

| | |
| --- | --- |
| Report Attribute | Details |
| Historical Years | 2017-2022 |
| Forecast Years | 2023-2030 |
| Market Size in 2022 | USD 21,532.1 Million |
| Revenue Forecast in 2030 | USD 32,345.8 Million |
| Growth Rate | 5.2% CAGR |
| Report Scope | Market Trends, Drivers, and Restraints; Revenue Estimation and Forecast; Segmentation Analysis; Impact of COVID-19; Companies' Strategic Developments; Market Share Analysis of Key Players; Company Profiling |
| Segments Covered | By Product; By Device Type; By Application; By End User; By Region |
Explore more about this report - Request free sample pages
North America Makes Largest Contribution to Global Revenue Generation
North America dominated the market of bioelectric medicine, with a revenue share of around 40%, in 2022, owing to the high research and development investments, rising adoption of technologically advanced devices, presence of major players, and large number of hospitals in the region. Moreover, the rising healthcare spending is a major factor propelling the market in the region.
Furthermore, the various recent approvals given by the FDA to bioelectrical devices across the region are accelerating the adoption of electroceuticals. For instance, in March 2021, Medtronic plc announced that the FDA has approved its Intellis Platform, which features Differential Target Multiplexed (DTM) programming. The device is designed to treat chronic intractable pain in the back and legs.
Moreover, for ophthalmic conditions, in September 2021, Nu Eyne manufactured a unique wearable eye therapy device, CELLENA, powered by STM32WB55 dual-core Bluetooth LE microcontroller. This device uses electric current and the light emitted by the eyes and related nerves to treat eye dryness and fatigue, as well as to support healthy retinal functions.
Additionally, the Asia-Pacific market is expected to witness the fastest growth over the next few years. This can be attributed to the increasing prevalence of various health disorders, such as epilepsy, Alzheimer's disease, cardiac arrhythmias, and spinal cord injuries, rising government spending on the healthcare infrastructure, wide availability of clinical laboratories, and easy access to novel diagnostic technologies in the region. In addition, the rapidly increasing health insurance coverage in regional countries is propelling the industry. The insurance usually includes full reimbursement for hearing aids, pacemakers, and stimulators, as recommended by doctors, which is fueling the use of bioelectric medicines in this region.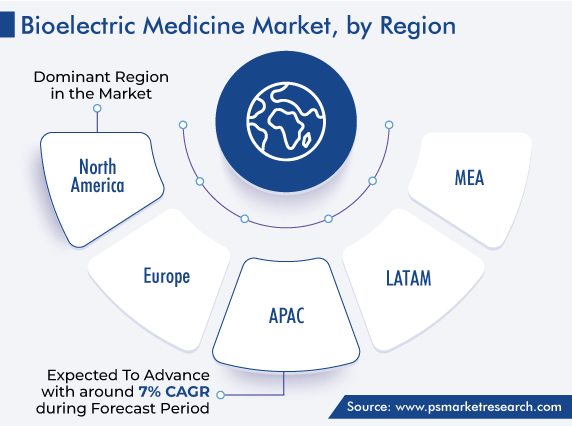 Rising Adoption of Implantable Electroceutical Devices
The implantable electroceutical devices category held an around 80% share in 2022. This is primarily ascribed to the increasing prevalence of several neurological and cardiovascular illnesses. Along with that, the rising number of product approvals is driving the growth of this category.
For instance, in January 2021, Boston Scientific Corporation received the FDA approval for its fourth-generation Vercise Genus deep-brain stimulation system. The device is specifically designed to treat the symptoms of Parkinson's disease by delivering targeted electrical stimulation through surgically implanted leads in the brain connected to an implantable pulse generator.
Wearable implantable electroceutical devices are mostly adopted for therapeutic electrostimulation due to their multiple advantages, including functionality, conformability, biocompatibility, and biodegradability. Nowadays, innovators generally put the emphasis on wearable implantable power sources, capable ES on targeted tissues and organs, and advanced conformable electrodes. There is a rising demand for implantable devices for various applications, such as muscle activation, heart stimulation, skin rejuvenation, and nerve modulation. Many of these devices are specially designed to activate the vagus nerve, which helps in improving the heart rhythm and breathing. Among the various kinds of implantable electroceutical devices, cardioverter defibrillators and pacemakers are extensively used for the treatment of heart disorders.
Hospitals To Witness Highest Growth Rate
The hospitals category is expected to grow at the highest rate, of around 7%, during the forecast period, based on end user. This will be due to the availability of cutting-edge devices for detecting and treating neurological and hearing disorders, along with highly skilled healthcare professionals, at these places. Several chronic diseases, such as epilepsy, Alzheimer's, arrhythmias, chronic pain, and retinitis pigmentosa, involve the hospitalization of the patient. In 2022, according to the Alzheimer's Association, roughly 6.5 million Americans aged 65 or above and about 73% aged 75 and above had Alzheimer's.
Moreover, the rising disposable income, along with the development of advanced medical devices for the treatment of various severe diseases, is expected to drive the application of electroceuticals in hospitals. Similarly, the demand for them is increasing owing to the rising number of patients and surging expenditure on healthcare research and development.
Key Players in Bioelectric Medicine Market Are:
Medtronic plc
Abbott Laboratories
Boston Scientific Corporation
LivaNova PLC
Cochlear Ltd.
Nevro Corp.
Axonics Inc.
Second Sight Medical Products Inc.
electroCore Inc.
Market Size Breakdown by Segment
The study uncovers the biggest trends and opportunities in the bioelectric medicine market, along with offering segmentation analysis at the granular level for the period 2017 to 2030.
Based on End User
Hospitals
Clinics
Ambulatory Surgery Centers
Based on Application
Arrhythmia
Pain Management
Parkinson's Disease
Depression
Ischemia
Epilepsy
Based on Device Type
Based on Product
Implantable Cardioverter Defibrillators
Cardiac Pacemakers
Spinal Cord Stimulators
Cochlear Implants
Deep-Brain Stimulators
Transcutaneous Electrical Nerve Stimulators
Vagus Nerve Stimulators
Sacral Nerve Stimulators
Retinal Implants
Geographical Analysis
North America
Europe

Germany
U.K.
France
Italy
Spain

Asia-Pacific

Japan
China
India
South Korea
Australia

Latin America
Middle East and Africa

Saudi Arabia
South Africa
U.A.E.