Market Overview
The global bio decontamination market was valued at USD 171.4 million in 2022, and the industry size will reach USD 294.7 million by 2030, advancing at a compound annual growth rate of 7.0% during 2022–2030. The market is driven by the increasing incidence of HAIs, growing number of surgical procedures, and growth in pharmaceutical and biotechnology industry.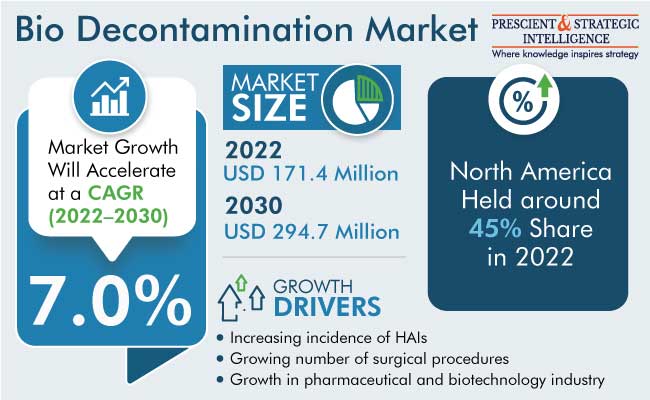 In order to prevent a risk to health from exposure to biological pathogens, a high level of cleanliness is required for a variety of healthcare, pharmaceutical, and research facilities. These facilities include fermentation suites, animal facilities, CL3 and CL4 containment laboratories, hospital isolation and critical care rooms, tissue culture labs, blood banks, and cleanroom production areas for pharmaceuticals. While contamination of healthcare facilities, such as operating rooms, intensive care units, and isolation units pose a direct risk to patients or personnel, the sterilization and safety of equipment or pharmaceuticals being produced may be at risk in other types of decontamination processes.
Increasing surgical procedures are trending due to the growing prevalence of cancer, growth in geriatric population, rising prevalence of age related and chronic diseases, and technological advancement. The surgery field is experiencing an extraordinary technology and human partnership that could increase the precision and effectiveness of surgeries. With advancements in medical technology, there is always something new, including new techniques, new systems, and new ideas for utilizing existing systems or technology. The area is optimized to improve surgical results significantly as soon as optical imaging, robots, and other high-tech improvements add to improved precision and less invasive surgical procedures.
Moreover, age-related risk for specific cancers can be the cause of sharp increase in the incidence of cancer. In addition to the general risk, aging people have less effective cellular repair systems.
Equipment is Dominating the Market
Equipment category held the largest share, around 55%, in 2022. This is mainly due to the presence of various equipment and benefits associated with them. For instance, In the medical and pharmaceutical industries, washer disinfectors are frequently used to either clean objects before use or to prepare reusable goods (such as surgical instruments) for additional sterilization. Before packaging and sterilization, this kind of machine is used to clean the equipment of dirt and stains
The equipment must be clean and have a surface free of debris when steam sterilization is to follow, so that the sterilant can contact all instrument surfaces.
Moreover, sterilizers come with a porous load that use steam to sterilize instruments. This makes it possible to hold the steam machine in direct contact (saturated steam) with the objects for a while. Instead of high-level disinfection, which is commonly attributed to the washer action, this equipment provides complete sterilization. These kind of sterilizers require a vacuum for the steam to reach all surfaces of any products that have holes or interior areas.
Moreover, benchtop sterilizers function similarly to porous load and laboratory sterilizers, and are often smaller sterilization apparatuses. Where sterilizing equipment needs to be processed in lower quantities than, say, a hospital, these devices are frequently employed. These are utilized by walk-in centers, dentists, and veterinary clinics. Non vacuum variants are employed for unwrapped, solid instruments and, as their name implies, don't use a vacuum inside the machine.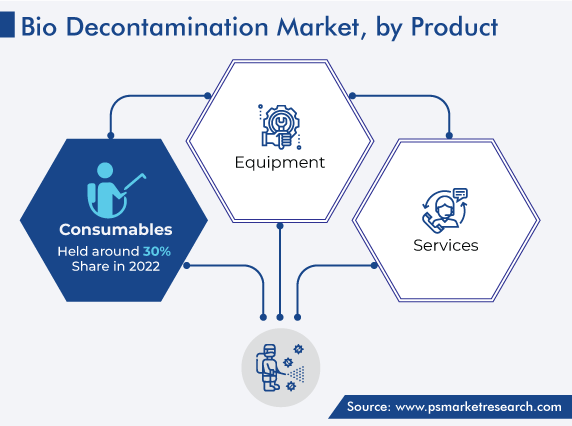 Hydrogen Peroxide is Preferred
Hydrogen Peroxide held the largest share, over 40%, in 2022. Low amounts of hydrogen peroxide vapor are an efficient decontaminant for a number of bacteria. VHP may not only penetrate majority of materials but also eliminate germs found in seams and joints. A vapor can effectively penetrate these locations by permeating them. Plastic membranes can also be penetrated by hydrogen peroxide vapor.
The majority of polymers and adhesives used to make devices are unable to withstand high temperatures without any negative effects. At as low as 4°C (39°F), hydrogen peroxide vapor sterilization can be carried out effectively. Utilizing low temperatures reduce the possibility of causing damage to the components of the load being treated. Moreover, since vapor hydrogen peroxide sterilization D-values are low, quick sterilization cycles are possible. Short cycle increases the isolators' usability for other purposes. Also, with VHP, a pressure vessel is not necessary, necessitating a smaller expenditure. Additionally, there is a little chemical usage every cycle due to the increased efficacy of peroxide vapor.
Increasing Incidence of HAIs
Healthcare-associated infections (HAIs) in the U.S. hospitals significantly increased in 2020 after years of reduction, primarily as a result of the pandemic. Significant increases in rates of ventilator-associated events (VAEs), catheter-associated urinary tract infections (CAUTIs), and central line-associated bloodstream infections (CLABSIs) observed in 2020 compared to 2019, particularly in the second half of the year. Prior to 2020, there was a decline in HAI rates in the U.S. hospitals, which has been linked to better infection prevention and control practices.
However, those efforts were undoubtedly hampered by the COVID-19 patient influx in 2020 and the hospital staff and resources being diverted to care for infected patients. Also, the rise in the volume of seriously ill patients who need equipment, such as ventilators and catheters and spent more time in hospitals were the reason for higher HAI incidence.
Moreover, infections contracted while receiving medical care are the most frequent adverse effect for hospitalized patients. The recent studies show that more than 2.5 million HAI episodes occur annually in Europe, and that the six most frequent forms are responsible for more than 90,000 deaths. Healthcare associated Pneumonia, urinary tract infection, surgical site infection, Clostridium difficile, newborn sepsis, and bloodstream infection.
Growth Opportunity
Growing healthcare sector is the major opportunity for the bio decontamination industry. Healthcare innovators have developed affordable genomic sequencing that can help guide personalized cancer treatments, artificial intelligence algorithms that can read chest X-rays as well as or better than radiologists, and significant advancements in population health management through big data and analytics. Despite the unprecedented pressures that the COVID-19 has placed on the healthcare systems, the industry's reaction has eloquently illustrated its resiliency and capacity to swiftly bring products to market.
Healthcare professionals have demonstrated how quickly they can increase their ability to treat patients. China erected two prefabricated hospitals in little more than a week in February, and the National Health Service of the U.K. opened London's Nightingale hospital in just nine days. During the outbreak, Shanghai established 11 online hospitals that were connected to offline facilities. In just two months, 14,000 people visited these hospitals. To manufacture medical devices, many manufacturers have effectively rearranged assembly lines.
Bio Decontamination Market Report Coverage

| | |
| --- | --- |
| Report Attribute | Details |
| Historical Years | 2017-2022 |
| Forecast Years | 2023-2030 |
| Market Size in 2022 | USD 171.4 Million |
| Revenue Forecast in 2030 | USD 294.7 Million |
| Growth Rate | 7.0% CAGR |
| Report Scope | Market Trends, Drivers, and Restraints; Revenue Estimation and Forecast; Segmentation Analysis; Impact of COVID-19; Companies' Strategic Developments; Market Share Analysis of Key Players; Company Profiling |
| Segments Covered | By Product; By Agent; By Type; By End User; By Region |
Explore more about this report - Request free sample pages
North America Held the Largest Share
North America held the largest share, around 45%, in 2022. This is mainly due to the factors, such as increasing HAIs incidence and surgical procedures and presence of major market players. The major reason for increased surgical procedures is increasing prevalence of cancer. In Canada and the U.S., cancer is the second-leading cause of mortality, behind heart disease. While lung cancer is the most prevalent cause of cancer death in both sexes, prostate and breast cancer are the most diagnosed cancers in men and women, respectively.
Because risky behaviors are prevalent in both the U.S. and Canada, patterns of cancer occurrence are similar in both countries. Cancers linked to infections have a low incidence but cancers linked to "Westernization" of lifestyle have a high incidence. For instance, colorectal cancer has the greatest prevalence in North America. However, there is significant socioeconomic and regional heterogeneity in incidence and mortality across the region because this cancer is largely preventable and treatable. For instance, people of the North and Atlantic areas of Canada have colorectal cancer incidence rates that are two times greater than those of residents of the Western U.S., primarily because of variations in risk factor exposures and screening availability.
In addition, surgical procedures are also increasing due to the rising ageing population. For instance, taking into account that elective surgery was more frequent in the people 65 to 80 compared to the ones 50 to 64 (36% vs. 25%). Joint surgery (18%), eye surgery (12%), stomach surgery (10%), cosmetic surgery (9%), and foot or leg surgery (7%) were the five procedures older persons thought about most frequently.
Moreover, Europe holds a significant position in the market with a share of over 25% in 2022. This is mainly because of the increasing incidence of HAIs. More than 4 million patients acquire a healthcare-associated infection in the EU each year. The most common HAI in the EU and EEA are urinary tract infections (18.90%), surgical site infections (18.35%), and respiratory tract infections (21.40% pneumonia and 4.27% other lower respiratory tract infections).
Some of the most effective and well-established healthcare systems are in the European continent. In Europe, healthcare services are offered through a variety of different national-level systems. The private healthcare business is flourishing in Europe, as consumers demand more comforts, more options, and shorter wait times. Government subsidies offered to people in most European nations compete with private health insurance providers for individuals who cannot afford coverage.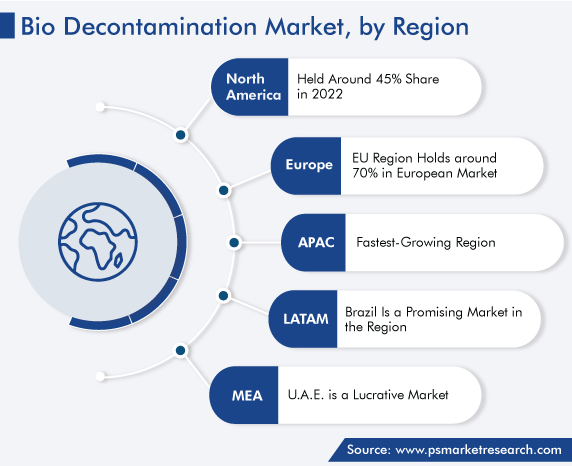 Top Bio Decontamination Companies Are:
STERIS plc
Ecolab Inc.
TOMI Environmental Solutions
JCE BIOTECHNOLOGY
Fedegari Autoclavi SpA
Howorth Air Technology Limited
SolidFog Technologies
ClorDiSys Solutions Inc.
Noxilizer Inc.
Market Size Breakdown by Segment
The study uncovers the biggest trends and opportunities in the bio decontamination market, along with offering segmentation analysis at the granular level for the period 2017 to 2030.
Based on Product
Equipment
Consumables
Services
Based on Agent
Hydrogen Peroxide
Nitrogen Dioxide
Peracetic Acid
Chlorine Dioxide
Based on Type
Room Decontamination
Chamber Decontamination
Based on End User
Hospitals & Other Healthcare Facilities
Life Sciences Research Companies
Pharmaceutical Companies
Medical Device Companies
Geographical Analysis
North America
Europe

France
Germany
Italy
Spain
U.K.

Asia-Pacific

China
India
Japan
South Korea
Australia

Latin America
Middle East and Africa

Saudi Arabia
South Africa
U.A.E.