Automotive Hypervisor Market Size & Share
The revenue of the global automotive hypervisor market has been estimated at USD 218.1 million in 2023, and it is predicted to reach USD 1,168.3 million by 2030, advancing at a CAGR of 27.2% during 2024–2030. The key factors driving the growth of the market are the rising demand for connected and autonomous vehicles, increasing pace of advancement in electric vehicles, surging awareness of passenger and vehicle safety, and evolving user interfaces and infotainment systems.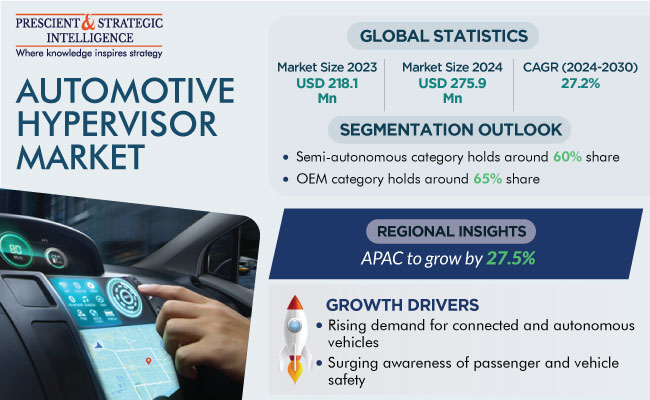 The growing trend of electric powertrains, digitalization, shared mobility, and autonomous vehicles is driving the demand for advanced features in automobiles. As vehicles become more sophisticated and interconnected, the need for hypervisors will increase. A hypervisor is a software solution that enables multiple operating systems to run concurrently on a single hardware platform. It helps manage the complex systems in modern vehicles by ensuring secure and efficient communication between various components, such as safety features, the infotainment system, and autonomous driving functions. Consequently, the increasing demand for these advanced features in vehicles is boosting the market as automakers seek reliable and robust solutions to meet the challenges of this evolving industry.
Moreover, traditional automotive systems often have separate electronic control units (ECUs) for various functions, leading to an increase in power consumption and manufacturing costs. Embedded virtualizations allow multiple functions to share a single ECU, thereby reducing hardware requirement and enhancing efficiency. Embedded virtualization does this by enabling multiple operating systems and software applications to run on a single hardware platform.
Additionally, automotive stakeholders' focus is shifting rapidly toward autonomous vehicles. There are a number of electronic parts in such vehicles that enable the perception of their surroundings and communication with the objects outside. The process of communicating with external parties produces a large quantity of data, which can be beneficial when arming the vehicle's computer system with machine learning algorithms. OEMs, auto parts companies, and government entities are expected to make this possible for the development of autonomous vehicles, in turn, propelling the market. This is because to deploy AI and create Self-driving vehicles, an efficient embedded hypervisor system is necessary.
Innovative technologies, such as climate control, digital speedometers, driving assistance, and navigation, and other car settings, are being added to new vehicles. A touchscreen display on the car's dashboard provides access to these digital infographic systems. Leading automotive businesses are also enhancing the user interface (UI) inside the next generation of vehicles by adding digital screens and human interfaces in the cabin, in order to provide consumers with an enhanced digital experience. These interfaces necessitate software for technological fusion, which, in turn, propels the expansion of the market.
Rising Need for Road Safety Drives Market Growth
The number of road accidents is increasing, and according to the World Health Organization, more than one million people die globally due to a car accident every year. The primary cause of road crashes is human error. Other factors that are responsible for these mishaps are machine or parts failure, such as the failure of brakes or breakage of axles. In order to address concerns about road safety, governments in a number of countries are tightening regulations.
Autonomous vehicles have the potential to be safer than traditional vehicles due to their advanced sensor systems, real-time data processing functionality, and ability to make split-second decisions, without human error or distraction. They can react faster to potential danger and follow traffic rules precisely, which can lead to a reduction in the chances of accidents caused by human error.
Bare-Metal Variants Dominate Market
Based on hypervisor type, the bare metal category dominates the market. Also known as a type 1 hypervisor or native hypervisor, it is a virtual technology that runs directly on the hardware of a computer system, without the need for a host operating system (OS). It directly controls the hardware resources and manages multiple guest OSs or virtual machines (VMs) on the same physical platforms. Moreover, it allocates hardware resources, such as the CPU, memory, storage, and I/O ports, to the VMs in a controlled and isolated manner. This allows multiple guest OSs to run efficiently, without interfering with each other.
Furthermore, hosted is the fastest-growing category, as this virtualization technology can run on top of the host OS. Additionally, these variants are generally easier to install and use compared to others. They also typically have user-friendly interfaces, and they can be set up quickly, without significant changes to the host system. Along with this, they allow users to run VMs with different guest OSs, thus making them suitable for running various applications and testing different software environments.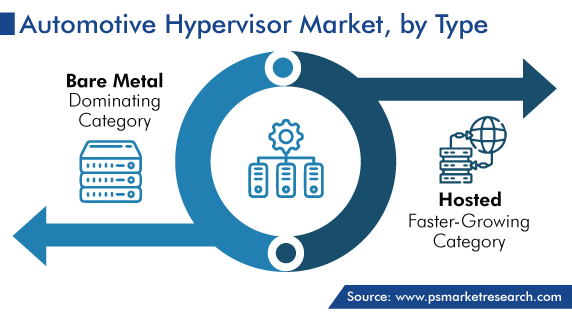 Semi-Autonomous Category Holds Larger Share
Based on the level of automation, the semi-autonomous category will hold the larger market share in the coming years. This will be because consumers are increasingly becoming interested in vehicles with advanced driver-assistance features and seeking a balance between safety, convenience, and the driving experience. Moreover, the growing telecommunications & IT infrastructure, improving living standards, and rising number of upper-class people are driving the growth of this category.
Passengers Cars Category Dominates Market
Based on vehicle type, the passenger cars category is expected to dominate the market till 2030. This is due to the rapid adoption of advanced features, including infotainment systems, ADAS, telematics, over-the-air updates, and wireless communication, in passenger cars for in-vehicle connectivity. These functionalities require efficient management and seamless integration, and the hypervisor technology plays a crucial role in ensuring reliable and secure operation.
Furthermore, the rising urbanization rate leads to an increase in the sale of cars, as many people use them for their daily commuting needs. This is because cars offer convenience and flexibility for regular travel to work, school, and other destinations. Along with this, passenger cars are at the forefront of safety advancements and the development of autonomous driving technologies. Hypervisors play a vital role in ensuring the separation and isolation of safety-critical functions, thus ensuring the proper implementation of features including automatic emergency brakes and lane keeping assistance.
Automotive Hypervisor Market Report Coverage

| | |
| --- | --- |
| Report Attribute | Details |
| Market Size in 2023 | USD 218.1 Million |
| Market Size in 2024 | USD 275.9 Million |
| Revenue Forecast in 2030 | USD 1,168.3 Million |
| Growth Rate | 27.2% CAGR |
| Historical Years | 2017-2023 |
| Forecast Years | 2024-2030 |
| Report Scope | Market Trends, Drivers, and Restraints; Revenue Estimation and Forecast; Segmentation Analysis; Impact of COVID-19; Companies' Strategic Developments; Market Share Analysis of Key Players; Company Profiling |
| Segments Covered | By Hypervisor Type; By Level of Automation; By Vehicle Type; By End User; By Sales Channel; By Region |
Explore more about this report - Request free sample pages
Luxury Vehicle Category Holds Major Share
Based on end user, luxury vehicles will hold the major share during the forecast years. This is due to the rising investments by automobile manufacturers to enhance vehicles' interior systems. Luxury cars are equipped with a wide range of advanced features, such as touchscreen infotainment systems, high-resolution displays, and intensive connectivity features. Moreover, they have powerful engines and advanced suspension systems, which necessitate sophisticated software management. The hypervisor technology helps optimize the coordination between various systems in luxury cars, to deliver optimal performance.
Furthermore, due to the presence of premium automotive companies, such as Audi, Mercedes-Benz, and BMW, in the U.S. and Germany, this category continues to grow in these countries. Additionally, the rising sales of luxury vehicles and the rising demand for automated systems in these vehicles propel the growth of the market in these nations.
Moreover, the economy and mid-priced vehicles categories are expected to witness significant growth over the coming years. This is because automakers, such as Maruti Suzuki India Limited and Toyota Motor Corporation, are focusing on the improvement of the safety features in economy and mid-priced vehicles.
OEMs Category Holds Larger Share
Based on sales channel, OEMs generate the higher revenue as they are responsible for integrating hypervisors during vehicle manufacturing. They prioritize safety and reliability, thus install these components to ensure that the critical functions are isolated. This is often done to meet the industry standards and government regulations for passenger, road, and vehicle safety.
Strategic Collaborations and Product Launches by Market Players
The market players are engaged in launching new products and engaging in collaborations with other market players.
For instance, in August 2023, Elektrobit combined its EB tresos and EB corbos software with NXP Semiconductors' S32G3 processor for software-defined vehicles. This integration provides a powerful solution for carmakers to develop advanced features and services for their central vehicle computers and safety processors in next-generation architectures.
Similarly, in September 2022, Renesas Electronics Corporation launched a new integrated development environment, which allows engineers to rapidly create software for automotive ECUs containing multiple pieces of hardware. This offering supports co-simulation, high-speed simulation, debug & trace, and distributed processing software over multiple MCUs and SoCs, without the need for actual physical components. Thus, it reduces development time and the need for post-design modifications.
Asia-Pacific Holds Largest Share
Geographically, APAC holds the largest share, of 55%, in 2023, and it is projected to grow at the highest CAGR. The growing per capita income in emerging economies, such as China and India, has increased the purchasing power of customers, which is expected to raise the sale of passenger cars. In addition to this, the Asia-Pacific region is the home of some of the world's largest automotive manufacturers and component suppliers. This manufacturing strength allows for the quick adoption of new technologies in various vehicle models and brands.
Moreover, the easy availability of labor at a low cost for the mass production of vehicles has led to the establishment of many manufacturing plants in the region. Additionally, the emergence of local players with innovative models in developing markets is expected to drive the growth of the industry.
Europe accounts for the second-largest revenue share due to the rise in the demand for electric vehicles and the increase in the use of cutting-edge technologies in IC engines. Further, on account of the rising significance of market players such as BMW, Mercedes-Benz, and Audi, the luxury and premium automobile industry is expanding significantly in Germany.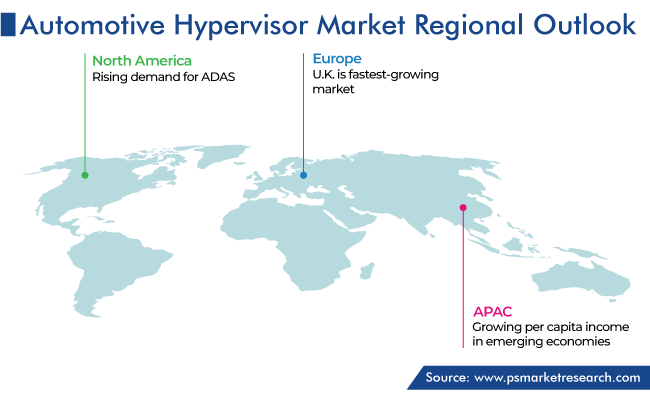 Likewise, North America is expected to witness significant growth over the forecast period with the rising demand for ADAS. In addition to this, the implementation of stringent safety regulations and the rowing focus on improving vehicle safety and security propel the market.
Key Players in Automotive Hypervisor Market Are
Renesas Electronics Corporation
BlackBerry Limited
IBM Corporation
NXP Semiconductors N.V.
Visteon Corporation
Wind River Systems Inc.
Sasken Technologies Limited
Panasonic Holdings Corporation
Elektrobit Automotive GmbH
Green Hills Software LLC
Market Size Breakdown by Segment
This report offers deep insights into the automotive hypervisor market, with size estimation for 2017 to 2030, the major drivers, restraints, trends and opportunities, and competitor analysis.
Based on Type
Based on Automation Level
Semi-Autonomous
Fully Autonomous
Based on Vehicle Type
Passenger Cars
Light Commercial Vehicles
Heavy Commercial Vehicles
Based on End User
Economy Vehicles
Mid-Priced Vehicles
Luxury Vehicles
Based on Sales Channel
Geographical Analysis
North America
Europe

Germany
U.K.
France
Italy
Spain

Asia-Pacific

Japan
China
India
South Korea
Australia

Latin America
Middle East and Africa

Saudi Arabia
South Africa
U.A.E.