Market Overview
The estimated automotive filter market size stands at USD 12.3 billion in 2023, and it is expected to grow at a CAGR of 3.4% during 2024–2030, to reach USD 15.5 billion by 2030. The market is majorly driven by the rising health concerns among people, along with the increasing level of environmental pollution, implementation of stringent government regulations for emission reduction, and burgeoning automotive vehicle production and ownership rate.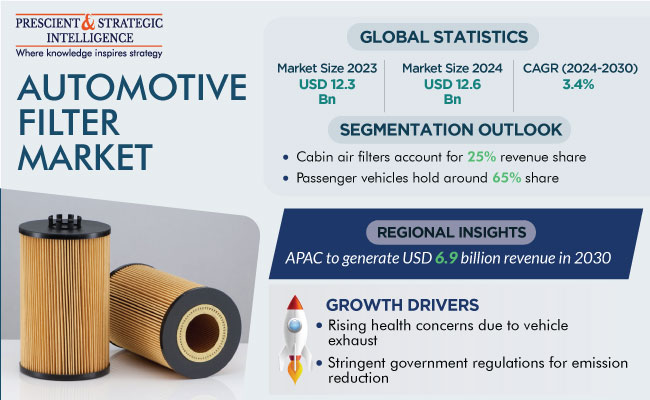 Filters are key components in vehicles as they are used to remove impurities, such as dust, unwanted air particles, and pollen, which go into the engine and increase the fuel consumption. Thus, these components play a vital role in maintaining the proper functioning and longevity of vehicle engine and also enhancing their fuel efficiency. In addition to this, they reduce the air pollution caused by vehicles by trapping certain pollutants before they are expelled via the exhaust.
Increasing Stringency of Government Regulations for Emission Reduction Drive Market
All ICE automobiles emit greenhouse gases, which lead to climate change. Moreover, according to the World Health Organization, around 24% of all global deaths and 28% of the deaths among children under the age of five are linked to the environment.
Although carbon dioxide (CO2) is the primary greenhouse gas produced by automobiles, they also emit nitrous oxides and methane. Hence, in April 2023, the U.S. Environmental Protection Agency announced new standards to reduce the harmful emissions from light- and medium-duty vehicles, starting from 2027. Similarly, the European Commission has proposed a new emission regulation for passenger cars and vans to reduce the emission of CO2 by 12%. Thus, in Germany, automotive manufacturers have committed to updating engine management software, to make emission filtering systems more effective.
Increasing Automotive Vehicle Production and Ownership Rate
With the advancement in the assembly line technology, vehicle production has risen. According to an article by Forbes, 278,063,737 personal and commercial vehicles were registered to drivers in the U.S. in 2021, and 91.7% of the households had at least one vehicle. As the number of vehicles on the road increases due to the higher vehicle ownership rates, there is a proportional increase in the need for filters. This is because they play an important role in the functioning of various systems within vehicles, including fuel, oil, and cabin air supply lines and engines.
Moreover, with the rising rate of urbanization and increasing per capita income, there is a high demand for vehicles. Due to this, India will become the world's third-largest car market by 2025, with 7.4 million vehicles. China, which has already experienced a boom in car ownership, will also continue to grow, with car sharing expected to become more popular.
Cabin Air Filters Hold Largest Market Share
Based on filter type, the cabin air filter category holds the largest share, of around 25%, in 2023. This can be ascribed to the high quality and cost efficiency of these products. A cabin air filter is used for removing dangerous contaminants from the air supplied inside the vehicle, such as pollen and dust. This filter, which is frequently found under the glovebox, purifies the air as it passes through the HVAC system of the vehicle.
This tiny, pleated unit is frequently composed of an engineered material or paper-based multifiber cotton. Before the air enters the vehicle cabin, this barrier traps the impurities, to keep passengers and drivers inhaling them. Additionally, most cabin air filters are restored after 15,000 to 30,000 miles, which is likely to be a key driving factor for the market. Further, to allay the health concerns of people, the increasing investment by market players to increase the efficiency of this component is projected to propel the growth of the market.
Automotive Filters Market Report Coverage

| | |
| --- | --- |
| Report Attribute | Details |
| Market Size in 2023 | USD 12.3 Billion |
| Market Size in 2024 | USD 12.6 Billion |
| Revenue Forecast in 2030 | USD 15.5 Billion |
| Growth Rate | 3.4% CAGR |
| Historical Years | 2017-2023 |
| Forecast Years | 2024-2030 |
| Report Scope | Market Trends, Drivers, and Restraints; Revenue Estimation and Forecast; Segmentation Analysis; Impact of COVID-19; Companies' Strategic Developments; Market Share Analysis of Key Players; Company Profiling |
| Segments Covered | By Vehicle; By Filter; By Medium; By Distribution Channel; By Region |
Explore more about this report - Request free sample pages
Passenger Vehicles Dominate Market
Based on vehicle type, passenger vehicles hold the larger share in 2023, mainly due to the increasing demand for luxury vehicles. Luxury cars have superior-quality filters for the HVAC systems and intake manifolds, for high levels of comfort and improved vehicle performance, respectively. In order to maintain the performance levels of premium Vehicles, frequent filter replacements are also necessary.
Moreover, with the increasing per capita income in emerging economies, the number of passenger cars being sold is also rising significantly. According to the Society of Indian Automobile Manufacturers, passenger vehicle sales increased from 30,69,523 to 38,90,114 units From FY 2022 to FY 2023. Further, the automotive sector contributes more than 7% of India's GDP. Similarly, in China, approximately 3.09 million premium vehicles were sold in 2022 by brands including Mercedes-Benz, BMW, Bentley, and Rolls-Royce, up by 6% year on year.
Commercial vehicles also hold a significant market share, mainly due to the rising e-commerce activities around the world. The rapid urbanization has created new retail and e-commerce platforms, which require efficient logistics, thus leading to the growth of the market. Owners of fleets are worried about the typical annual mileage of commercial vehicles. So, they regularly check the condition of the engine and other spare components, by performing prompt inspections, and, accordingly, perform maintenance. In addition to this, for commercial vehicles, fuel, oil, engine air, and coolant filters are essential components of the engine lubrication system. They are designed to capture the impurities from the air, engine oil, fuel, and coolant and prevent them from reaching the combustion chamber.
Synthetic-Media Filters Hold Largest Market Share
Based on filter medium, the synthetic media category holds the largest share in the market. This is owed to the wide usage of these variants due to their higher filtration efficiency than the traditional cellulose filters. This means the former can capture smaller particles, thus providing better protection to the engine. Apart from this, they have a lower replacement rate, which helps vehicle owners save on maintenance expenses.
OEMs Dominate Market
Based on distribution channel, the OEMs category leads the market, with estimated revenue of USD 8.0 billion, in 2023. The sales of filters are closely tied to the production of various types of vehicles, including passenger cars, light commercial vehicles, and heavy commercial vehicles. As these components are essential in the engine, filtering out dust, dirt, pollen, and other contaminants from the incoming air and fuel. Clean air is crucial for the proper functioning and longevity of the engine. Hence, as vehicle production increases, the demand for these filters will also rise, to keep vehicles functioning properly, safely, and fuel-efficiently.
Additionally, to increase vehicle comfort and fuel economy, market players are sourcing higher-quality raw materials and components for various automobile parts and systems. OEMs generally opt for a dedicated distribution channel to get high-quality auto parts. These contracts include the supply of a specific quantity of filters, depending on the number of vehicles planned for production.
Furthermore, the aftermarket category is projected to register a CAGR of 3.5% in the coming years. This is because the aftermarket involves all the activities related to replacements as well as repair & maintenance of a vehicle after its initial sale and until the end of its life.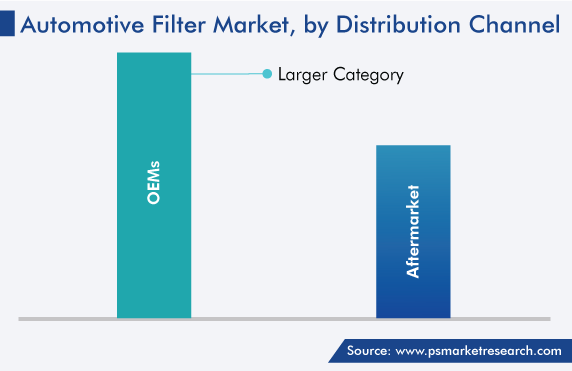 Acquisitions and Product Launches by Market Players to Gain Competitive Edge
By adding new products to their portfolios and increasing the frequency of acquisitions and collaborations, key players have expanded over the historical era and gained a competitive edge.
For instance, in January 2023, MANN+HUMMEL Group announced a strategic investment in M-Filter Group for the expansion of its business in Europe.
In April 2023, Ahlstrom introduced a new range of renewable and sustainable filtration solutions for automotive applications. The impregnated filtration medium, which contains lignin, has a lower carbon footprint than the standard media containing fossil-fuel-based resins.
Asia-Pacific Makes Largest Contribution to Global Revenue Generation
Asia-Pacific dominates the market, with a revenue share of 45%, in 2023. This is owing to the rising disposable income of the middle class, presence of a huge youth population, increasing urbanization rate, and rising automotive production and sale in the region. Additionally, the robust automotive and auto component manufacturing base, along with the strict environmental regulations to curb emissions, drives the market in nations such as India and China.
Moreover, in India, the rising logistics and passenger transportation need is driving the demand for commercial vehicles. Additionally, according to the India Brand Equity Foundation, it is the third-largest heavy truck manufacturer, second-largest bus manufacturer, and largest tractor manufacturer in the world. This is projected to boost the demand for these filters in the region to increase vehicle performance, ensure passenger and driver comfort, raise fuel economy, and check emissions.
North America makes the second-largest contribution to global revenue generation. This is majorly due to the rising number of market players in the region and the increasing demand for commercial and passenger vehicles. In addition to this, with the growing environmental concerns, governments and environmental agencies are implementing stringent emission norms and laws, which will further raise the demand for these filters.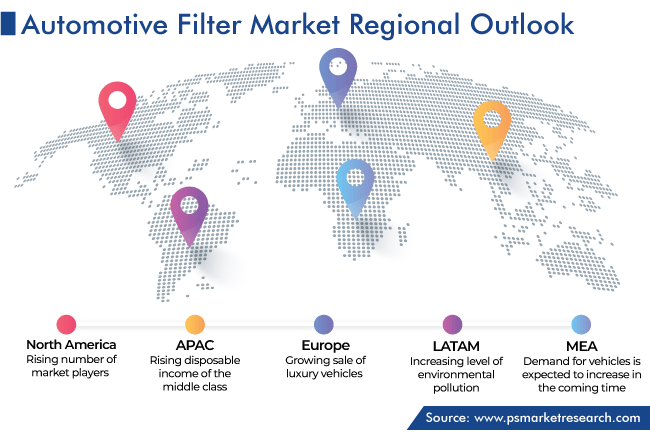 Europe also holds a significant market share, due to the growing sale of luxury vehicles and the strict government norms pertaining to harmful carbon emission and public health improvement. Moreover, due to the presence of automotive manufacturers such as BMW, Mercedes, and Volkswagen, which are involved in producing high-end vehicles drives the market. This is because high-end vehicles have high filter replacement frequencies and employ premium-quality HVAC filters for superior comfort levels.
Automotive Filters Companies:
DENSO Corporation
MAHLE GmbH
Robert Bosch GmbH
K&N Engineering Inc.
Sogefi Group
MANN+HUMMEL International GmbH & Co. KG
Hengst SE
Parker-Hannifin Corporation
Hollingsworth & Vose
Ahlstrom
Market Size Breakdown by Segment
This fully customizable report gives a detailed analysis of the automotive filters industry from 2017 to 2030, based on all the relevant segments and geographies.
Based on Vehicle
Passenger Vehicles
Commercial Vehicles
Based on Type
Fuel
Oil
Cabin Air
Hydraulic
Transmission
Based on Medium
Based on Distribution Channel
Geographical Analysis
North America
Europe

U.K.
Germany
France
Italy
Spain

Asia-Pacific

China
Japan
Australia
India
South Korea

Latin America
Middle East & Africa

Saudi Arabia
South Africa
U.A.E.