Current Carrying Devices to Account for Highest Sales in Automotive Electronics Market in Near Future
From $235.7 billion in 2019, the global automotive electronics market is predicted to display a CAGR of 9.3% during 2020–2030, to reach a value of $615.3 billion by 2030. The key factors pushing the incorporation of such components are the rising demand for vehicles and the surging number of government regulations being implemented to make vehicles safer and fuel-efficient.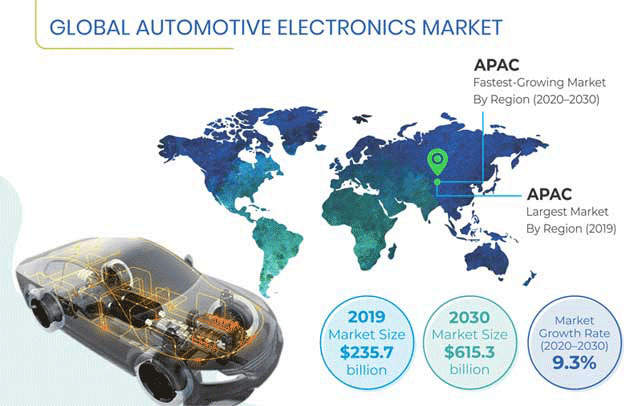 Segmentation Analysis of Automotive Electronics Market
The current carrying device category accounted for the largest automotive electronics market share, in 2019, on the basis of component. This is because an automobile consists of almost 200 electronic switches and fuses, and the fact that without these components, a vehicle cannot operate.
During the forecast period, the highest CAGR in the automotive electronics market would be witnessed by the driver assistance system category, under the system segment. As the adoption of autonomous vehicles increases in the coming years, so would the integration of driver assistance systems, which are vital for the functioning of such vehicles, especially those with level 5 automation.
Passenger car was the leading category, during the historical period (2014–2019), by vehicle. This is because such vehicles accounted for around 70% share in the total automobile sales across the world in 2019. Further, any new technology being developed in the automotive sector is first experimented on and implemented in passenger cars.
The aftermarket bifurcation, based on distribution channel, is predicted to grow faster in the automotive electronics market, during the forecast period. This is attributed to the stringent fuel emission and vehicle safety regulations, which are impelling people to get their older automobiles retrofitted with advanced electronics, at garages and service centers.
In 2019, Asia-Pacific (APAC) led the automotive electronics market, owing to the high automobile sales in Japan, China, South Korea, and India, as raw materials and labor are quite cheap here. This has also resulted in the establishment of vehicle manufacturing plants in the regional nations by most of the globally leading automakers.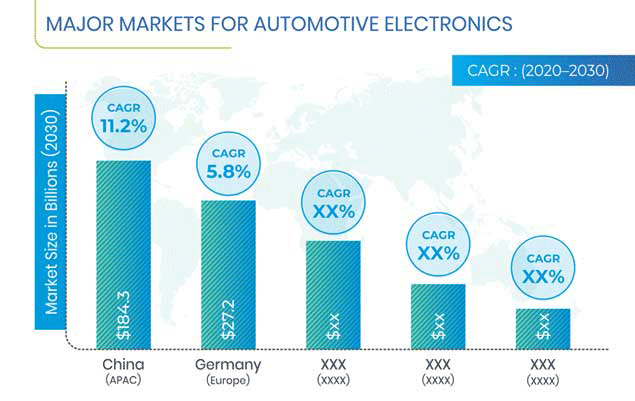 Integration of Integrated Cockpit Systems the Key Market Trend
The automotive electronics market is witnessing the rising popularity of integrated cockpit systems among automakers. As opposed to traditional cockpits, where drivers have to manually control all individual functions, including heads-up display (HUD), infotainment, voice assistant, navigation, smart heating, ventilation, and air conditioning (HVAC), and embedded virtualization, an integrated cockpit offers enhanced convenience, by using multiple screens to display the vehicle data. With the rising demand for such components, primarily in luxury cars, automotive manufacturers, such as Bayerische Motoren Werke AG (BMW), Daimler AG, Tata Motors, Toyota Motor Company, and General Motors Company, have started integrating them in their vehicles.
Rising Automobile Sales Fueling Market Growth
The most important driver for the automotive electronics market is the burgeoning sale of vehicles around the world. Almost 35% cost of an average automobile is contributed by the automotive electronics, compared to just 5% in 1970. By 2030, this share is projected to increase to 50%, thereby driving the rise in the market revenue. The Organisation Internationale des Constructeurs d'Automobiles (OICA) estimates the total automotive sales for 2018 at 95.1 million and the growth in this number during 2014–2018 at a 1.8% CAGR. With the projected rise in the adoption of automobiles, especially autonomous and electric vehicles, in the coming years, the demand for automotive electronics would also surge.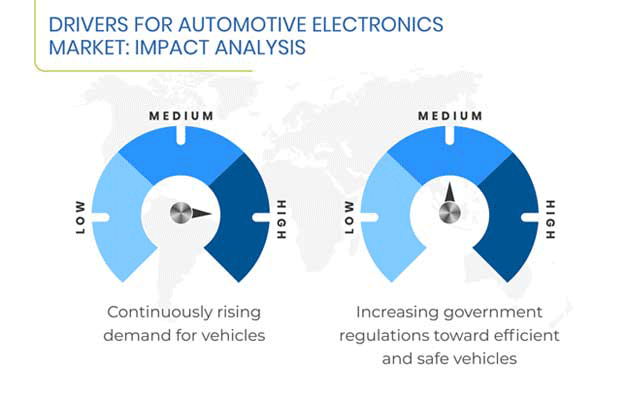 Usage of Advanced Driver Assistance Systems a Lucrative Opportunity
The rapid adoption of advanced driver assistance systems (ADAS) would offer the major automotive electronics market players a high growth potential, on account of the rising sale of autonomous automobiles. This factor, coupled with the grave issue of passenger and driver safety, would fuel the integration of ADAS. Most accidents happen due to driver negligence, which can be taken care of by ADAS systems. Tesla Inc., in its 2019 Q4 report, claimed that the accident rate of its vehicles was four times lower than the U.S. average, on account of them being integrated with ADAS systems.
Automotive Electronics Market Report Coverage

| Report Attribute | Details |
| --- | --- |
| Historical Years | 2014-2019 |
| Forecast Years | 2020-2030 |
| Market Size by Segments | Component Type, System, Vehicle, Distribution Channel |
| Market Size of Geographies | U.S., Canada, U.K., Germany, France, Spain, Italy, Russia, China, India, Japan, South Korea, Thailand, Indonesia, Mexico, Brazil, Argentina, Turkey, South Africa, Morocco |
| Market Players | Robert Bosch GmbH, Continental AG, Hitachi Ltd., Delphi Technologies PLC, ZF Friedrichshafen AG, Texas Instruments Incorporated, DENSO CORP., NXP Semiconductors N.V., Valeo SA, Infineon Technologies AG |
Market Players Entering into Partnerships to Make Automobiles Safer
In the recent years, several players in the automotive electronics market have looked at partnerships as a means to develop advanced automotive electronics that can make vehicles safer. For instance, in January 2019, Mobileye NV and Valeo SA began co-creating a new safety standard for autonomous vehicles, whichis centered around Mobileye's mathematical safety model.
Similarly, NTT Communications Corp. and DENSO CORP., in December 2019, announced that by January 2020, they would begin the testing of their jointly developed vehicle security operation center, which studies the security status of vehicles. This will allow the companies to come with better security features for connected cars.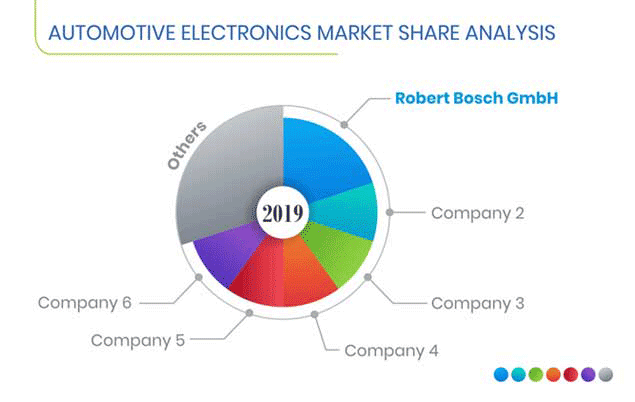 The global automotive electronics market is characterized by numerous players, including Robert Bosch GmbH, Continental AG, Hitachi Ltd., Delphi Technologies PLC, ZF Friedrichshafen AG, Texas Instruments Incorporated, DENSO CORP., NXP Semiconductors N.V., Valeo SA, Infineon Technologies AG, Hella Gmbh & Co. KGaA, Panasonic Corporation, Visteon Corporation, Xilinx Inc., Magna International Inc., Aisin Seiki Co., Hyundai Mobis Co. Ltd., Lear Corp., Faurecia, and Yazaki Corp.
Automotive Electronics Market Size Breakdown by Segment
The Automotive Electronics market report offers comprehensive market segmentation analysis along with market estimation for the period 2014–2030.
Based on Component Type
Electronic Control Unit (ECU)
Current Carrying Device
Sensor
Based on System
Engine Electronics
Transmission Electronics
Chassis Electronics
Passive Safety System
Driver Assistance System
Passenger Comfort System
Entertainment System
Electronic Integrated Cockpit System
Based on Vehicle
Passenger Car
Commercial Vehicle
Based on Distribution Channel
Original Equipment Manufacturer (OEM)
Aftermarket
Geographical Analysis
North America
Europe

U.K.
Germany
France
Spain
Italy
Russia

Asia-Pacific (APAC)

China
India
Japan
South Korea
Thailand
Indonesia

Latin America (LATAM)
Middle East and Africa (MEA)

Turkey
South Africa
Morocco