AI in Agriculture Market Overview
The global AI in agriculture market size stood at $852.2 million in 2019, and it is expected to reach $8,379.5 million by 2030, exhibiting a CAGR of 24.8% during the forecast period (2020–2030). The major factors positively impacting the market include the increasing penetration of internet of things (IoT) in the agriculture industry, rising demand for high crop yield, growing focus on enhanced crop management, and surging utilization of drones for pesticide spraying.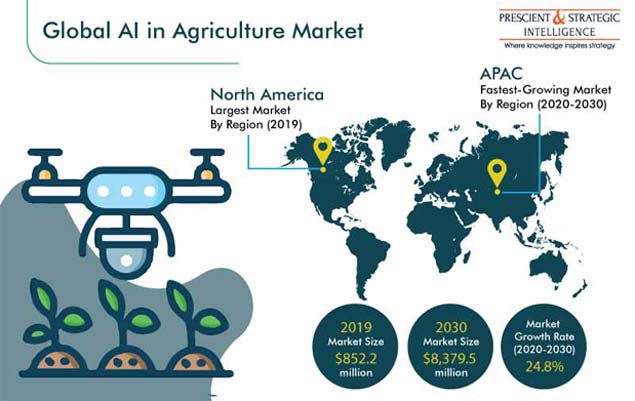 COVID-19 Impact Analysis
Owing to COVID-19, the demand for agricultural goods is expected to decline during FY2020. This would also result in a reduced implementation of technological advancements in the sector, thereby leading to slow market growth. This would mainly be due to the slowdown in the economic growth, low spending on agricultural goods, and prevailing lockdown situation across the globe, which has further resulted in food supply chain disruptions.
Segmentation Analysis
Service Category Is Projected To Be Faster-Growing in Type Segment
The service category is expected to witness the faster growth in the AI in agriculture market during the forecast period. This can be attributed to the growing adoption of AI solutions in the agriculture industry, thereby creating a high requirement for proper installation, maintenance, and training services among farmers and other industry stakeholders. This category is further bifurcated into managed and professional. Of the two, the professional service bifurcation is expected to be the faster-growing over the forecast period. This can be attributed to the increasing demand for support, maintenance, and training services by farmers who are deploying the AI technology.
Predictive Analytics Is Expected To Be Fastest Growing Technology Category
The predictive analytics category, on the basis of technology, is projected to register the highest CAGR in the AI in agriculture market during the forecast period. This can be ascribed to the increasing demand for advanced analytics solutions from the agrarian community, as this technology analyzes real-time weather conditions, soil moisture, and plant health and provides deep insights to improve the yield and crop quality.
Precision Farming Is Largest Application Category In Industry
The precision farming category accounted for the largest size in the AI in agriculture market in 2019. This was due to the fact that the precision farming method is gaining popularity among farmers, owing to the increasing need for optimum yield production from the limited available resources, as well as for reducing the cost of crop production. Moreover, farm managers and producers are leveraging the capabilities of IoT devices for field mapping and irrigation management, which is also resulting in the rapid market growth.
Geographical Outlook
North America Generated Highest Revenue in AI in Agriculture Market
North America dominated the AI in agriculture industry during the historical period (2014–2019), and it is expected to lead the global market, in terms of revenue, over the forecast period too. This is majorly attributed to the early adoption of technologies such as machine learning (ML) and computer vision for agricultural applications, including precision farming, livestock management, greenhouse management, and soil management. Moreover, with the increasing adoption of technologies like IoT, in combination with computer vision, in the agriculture space, the market would exhibit positive growth over the forecast period.
Additionally, certain players in the region are offering services to regional consumers by engaging in partnerships with other leading players. Companies such as IBM Corporation and Raven Industries Inc. are increasingly collaborating with other players, to enhance their offerings for the agriculture industry. For instance, in 2018, Raven Industries Inc. collaborated with Farmers Edge Inc., a provider of precision digital solutions, for developing a new precision agriculture technology. Hence, with the increasing use of AI in agriculture, to deliver advanced analytical insights to farmers, the market is growing in the region.
Fastest Growth Is Expected in Asia-Pacific (APAC) Region
Geographically, the fastest growth in the demand for AI-enabled agricultural solutions is expected in APAC in the coming years. The growth can majorly be attributed to the high adoption rate of AI in the agriculture sector in major countries, such as China, India, Japan, and Australia. In the region, China is witnessing huge growth in the adoption of AI solutions in agriculture, owing to the entry of Alibaba Group in the agricultural solution business with its AI technology, to assist small farmers in the country.
Additionally, the Indian AI in agriculture market is witnessing significant growth, due to the increasing effort by the government, as well as various multinational companies (MNCs), for spreading awareness about farm analytics and data sciences among Indian farmers.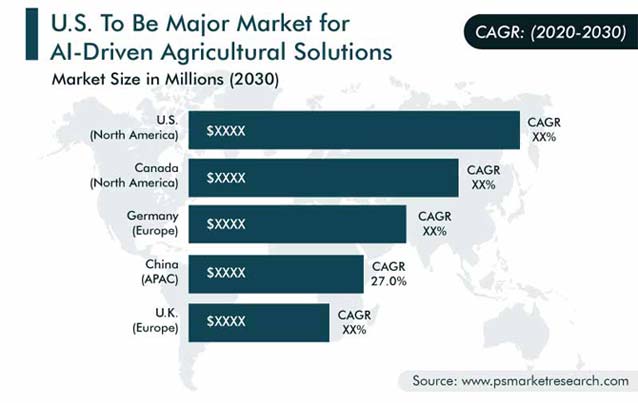 Trends & Drivers
Rising Use of Smart Sensors in Agricultural Fields
The increasing use of smart sensors in agriculture is a key trend being observed in the AI in agriculture market. Through the use of the sensor-based technology, farmers are now able to map their fields accurately and monitor and apply crop treatment agents only to the areas that need it. The development of various operation-specific sensors, such as location sensors, airflow sensors, soil moisture sensors, and weather sensors, is helping farmers in monitoring and optimizing their yield, as well as making them adaptable to the changing environmental factors, effectively.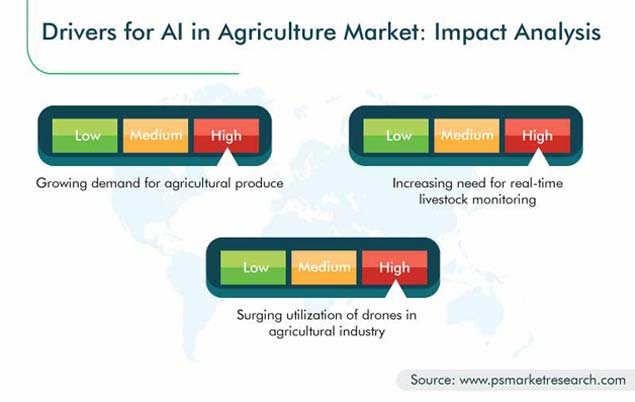 Growing Demand for Agricultural Produce
The growing demand for agricultural produce is a key factor driving the AI in agriculture market. The demand for agricultural products has been majorly driven by countries such as China, India, the U.S., and Brazil, due to the rising disposable income, rapid urbanization, and changing consumption habits of the booming populace. As a result, the major agricultural countries are focusing on leveraging AI, in order to increase the overall productivity.
Increasing Need for Real-Time Livestock Monitoring
The increasing need for the monitoring of livestock is another key factor driving the AI in agriculture market. With the application of advanced AI solutions, such as facial recognition for livestock and image classification incorporated with body condition score and feeding patterns, dairy farms are now able to individually monitor all behavioral aspects of a herd. Further, for monitoring the health of the livestock, farmers are increasingly using machine vision that helps recognize hide patterns and facial features, monitor water and food intake of livestock, as well as record their behavior and body temperature.
AI in Agriculture Market Report Coverage

| | |
| --- | --- |
| Report Attribute | Details |
| Historical Years | 2014-2019 |
| Forecast Years | 2020-2030 |
| Base Year (2019) Market Size | $852.2 Million |
| Forecast Period CAGR | 24.8% |
| Report Coverage | Market Trends, Revenue Estimation and Forecast, Segmentation Analysis, Regional and Country Breakdown, Company Share Analysis, Companies' Strategic Developments, Product Benchmarking, Company Profiling |
| Market Size by Segments | Type, Technology, Application, and Region |
| Market Size of Geographies | U.S., Canada, U.K., Germany, France, Italy, Russia, Netherlands, China, Japan, India, Australia, Saudi Arabia, Turkey, Nigeria, South Africa, Brazil, Mexico, and Argentina |
| Secondary Sources and References (Partial List) | Agricultural Retailers Association (ARA), Agri-Food Innovation Council (AIC), All-India Agricultural Machinery Manufacturers' Association (AIAMMA), Association for the Advancement of Artificial Intelligence (AAAI), China Agricultural Machinery Distribution Association (CAMDA), Cloud Computing Association (CCA) Coalition to Advance Precision Agriculture, European Agricultural Machinery Association, Food and Agriculture Organization (FAO), Indian Agricultural Association, Indian Agricultural Statistics Research Institute (IASRI), International Society of Precision Agriculture Japan Organic Agriculture Association (JOAA) |
Explore more about this report - Request free sample pages
Surging Utilization of Drones in Agricultural Industry
Drones are increasingly being used for monitoring the health and growth of crops. Drones are used for scanning soil health, assisting in irrigation schedules, estimating yield data, and applying fertilizers. Due to the various government initiatives toward the adoption of drones for modernizing agricultural practices, the market for drones in agriculture is growing year-over-year (Y-o-Y). For instance, in January 2019, the state government of Maharashtra, India, entered into a partnership with the World Economic Forum (WEF) to improve the agricultural yield in the state, by collecting insights about agricultural farms from drones. Hence, the increasing requirement for drones in agricultural fields is driving the AI in agriculture market.
Partnerships Are Robust Growth Measures Taken by Market Players
The AI in agriculture industry is consolidated in nature and currently witnessing a strong competition, owing to the presence of several players, such as Bayer AG, Deere & Company, AGCO Corporation, Trimble Inc., and Raven Industries Inc. As a result, players in the AI in agriculture market are establishing partnerships in order to enhance their market presence. For instance:
In April 2019, IBM Corporation and Yara International ASA, a chemical company, announced an agreement for building a digital farming platform, to provide digital services and agronomic advice to farmers. With this partnership, the companies have established joint innovation teams at digital hubs in Singapore, the U.S., Brazil, and Europe. The companies planned to develop new capabilities, such as ML and visual analytics, for offering crop insights.
In March 2019, AGCO Corporation announced a technological and commercial partnership with Solinftec, a distributor of digital agriculture solutions. With this partnership, the former company aims to give its customers access to the solutions developed by Solinftec, including telemetry networks, soil sensors, on-board computers, weather stations, and real-time insights, to achieve agronomic efficiency.
In March 2019, IBM Corporation and the National Science and Technology Department Agency (NSTDA) announced a two-year research collaboration to improve the sugarcane yield in Thailand. Under this partnership, the NSTDA and IBM Corporation are piloting mobile applications and intelligent dashboards that would enable experts to access insights on soil moisture, crop health, pest and disease infestation risk, and commercial cane sugar (CCS) index, by using the weather data from The Weather Company and IoT, AI, and analytics capabilities.
Some of the Key Players in the AI in Agriculture Market report include:
IBM Corporation

Microsoft Corporation

Bayer AG

Google LLC

Deere & Company

A.A.A Taranis Visual Ltd.

AgEagle Aerial Systems Ltd.
Gamaya SA

AGCO Corporation

Ag Leader Technology

Trimble Inc.

Granular Inc.

Raven Industries Inc.
AI in Agriculture Market Size Breakdown by Segment
The AI in Agriculture market report offers comprehensive market segmentation analysis along with market estimation for the period 2014–2030.
Based on Type
Based on Technology
Machine Learning
Predictive Analytics
Computer Vision
Based on Application
Precision Farming
Agricultural Robots
Livestock Monitoring
Drone Analytics
Geographical Analysis
North America
Europe

Germany
U.K.
France
Russia
Italy
Netherlands

Asia-pacific (APAC)

China
Japan
India
Australia

Latin America (LATAM)
Middle East and Africa (MEA)

Turkey
Nigeria
South Africa
Saudi Arabia