Market Outlook
The anatomic pathology market value was $17.4 billion in 2018, and it is expected to progress at a CAGR of 5.8% between 2019–2024. This will be due to the growing prevalence of chronic diseases, burgeoning geriatric population, and increasing technological advancements.
The consumables category, under the product segment, will generate the higher revenue in the market for anatomic pathology solutions during 2019–2024. Unlike instruments, consumables are purchased repetitively, which is why this category is also expected to register the faster growth, at a CAGR of 6.2%, in the coming years.
The histopathology category, within the test type segment, is expected to generate the highest revenue in the market for anatomic pathology solutions and advance at a CAGR of 6.0% in the foreseeable future. This will be because of the growing number of cases of tissue-related ailments, such as cancer and infectious diseases, which can be diagnosed through histopathology tests.
In the coming years, the special staining category will hold the largest market share under the technique segment. This will be because every pathological test involves staining to examine the blood or tissue under a microscope. However, the genetic testing category is expected to witness the fastest growth, at a CAGR of 7.2%, during 2019–2024. This can be ascribed to the soaring number of genetic testing procedures across the world.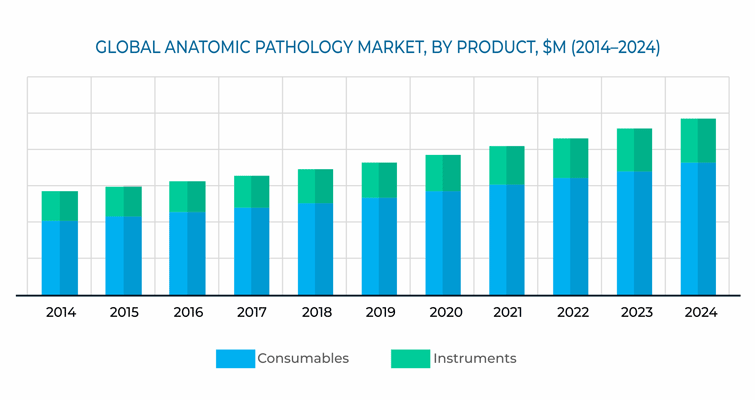 Market Dynamics
The anatomic pathology market is observing a constant evolution in technologies. For example, Greg Clark, business secretary of the U.K. government made an announcement in November 2018 that consortium groups will together establish five new imaging and digital pathology centers in London, Oxford, Leeds, Glasgow, and Coventry, which will use artificial intelligence (AI) to speed up disease diagnosis. This initiative will bring together representatives from several divisions of the anatomic pathology industry. The U.K. government plans to invest $65 million in these centers from the Industrial Strategy Challenge Fund.
Further, BioCare Medical LLC has launched a fully automated and open VALENT in vitro diagnostic (IVD) staining platform by merging a intuitive user interface with high-throughput staining. VALENT overcomes the limitations of closed systems with its open platform that allows reagents from different sources to be used and provides effective immunohistochemistry results. VALENT eases research, pharmaceutical, and clinical laboratory operations by offering an easy-to-use, fully automated platform with a 48-slide capacity, high-quality staining, and multiplex immunohistochemistry capability.
The world is witnessing a significant surge in the geriatric population, which is highly susceptible to chronic diseases. The booming population of the elderly will, therefore, drive the anatomic pathology market growth in the coming years. The World Population Prospects report by the United Nations (UN) estimates that the global geriatric population will triple by 2050 from 2017.
The population of aged people was 137 million in 2017, and it is expected to grow to 425 million by 2050. According to the World Health Organization (WHO), old age is associated with ailments such as heart diseases, diabetes, dementia, chronic obstructive pulmonary disease (COPD), and organ failure, which need proper diagnosis and treatment. One of the most-prominent ways of diagnosing these illnesses is anatomic pathology, which further helps in planning the treatment.
Thus, the increasing incidence of chronic disorders, including cancer, kidney diseases, hypertension, autoimmune diseases, heart diseases, and liver cirrhosis, has become a major healthcare burden, which impacts both high-income countries and low- and middle-income countries (LMICs). The impact of the aforementioned ailments can be ascertained from the WHO data that states that 9.6 million cancer deaths occurred in 2018.
The WHO also mentions that nearly 70% of the cancer-related deaths are recorded in LMICs, which boosts the demand for the effective and early diagnosis of such diseases in these nations and drives the anatomic pathology market. The organization also forecasts that by 2020, nearly 75% of the worldwide deaths due to stroke will occur in developing countries. The diagnosis of these ailments requires efficient results in less time, for which anatomic pathology is the ideal option.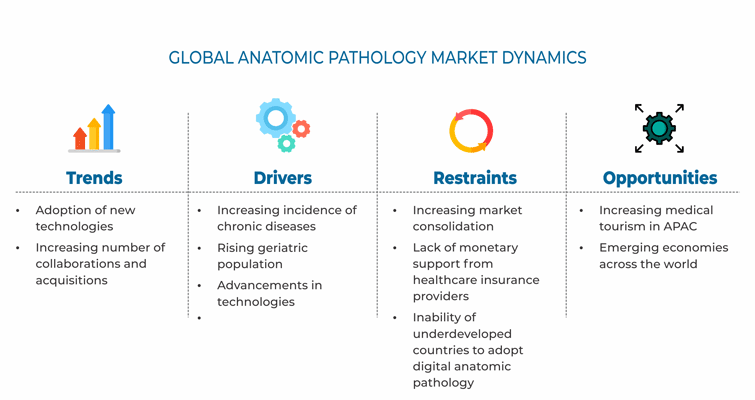 Competitive Landscape
Ongoing acquisitions and collaborations among players in the anatomic pathology market are resulting in accurate diagnosis and increased market reach and share of the players. For instance, in February 2019, Quest Diagnostics Incorporated, a U.S.-based provider of diagnostic information services, partnered with Houston Healthcare, a community hospital based in the U.S., to enhance the quality and value of diagnostic services through an agreement under which Quest Diagnostics Incorporated will provide full laboratory management services, reference testing, laboratory equipment, supplies, and procurement processes for Houston Medical Centers and Perry Hospital. Also, in December 2018, NeoGenomics Laboratories Inc. (NeoGenomics), a leading provider of cancer-focused genetic testing and information services, acquired a U.S-based Genoptix Inc., a clinical oncology laboratory, specialized in hematology and solid tumor testing. The acquisition is expected to expand NeoGenomics' reach into oncology practices, and significantly accelerate the company's progress toward key scale and growth objectives.
Leading players operating in the global anatomic pathology market include Thermo Fisher Scientific Inc., Danaher Corporation, F. Hoffman–La Roche Ltd., Bio-Rad Laboratories Inc., and Abbott Laboratories, among others.