Anatomic Pathology Market Overview
The global anatomic pathology market generated $17.4 billion revenue in 2018 and is projected to advance at a CAGR of 5.8% during the forecast period, mainly on account of increasing incidence of chronic diseases, rising geriatric population, and advancements in technologies.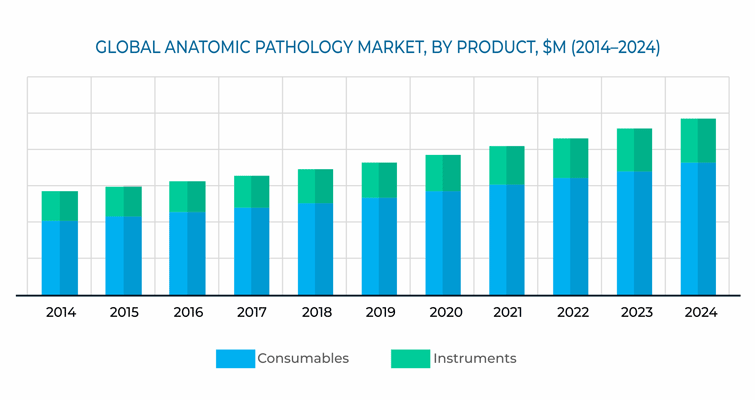 Based on product, the anatomic pathology market is categorized into consumables and instruments. Of these, consumables are expected to be the leading category throughout the analysis period. This is mainly due to the repetitive purchase of consumables as compared to instruments in the market. Instruments are one-time-purchase products; whereas, consumables like reagents and fixatives are repeatedly purchased. Therefore, the market for consumables is expected to witness faster growth, with a CAGR of 6.2% during the forecast period.
Based on test type, the anatomic pathology market is segregated into histopathology, cytopathology, and surgical pathology. Amongst these, histopathology is expected to be the leading category, advancing a CAGR of 6.0% during the forecast period. This is due to rising incidences of tissue-related diseases like different types of cancer and infectious diseases, which can be diagnosed by histopathology tests.
Further, on the basis of technique, the anatomic pathology market is classified into special staining, immunohistochemistry, electron microscopy, genetic testing, and others. Out of these, the special staining category is expected to hold the largest market share. This is due to the fact that staining is performed in every pathological test to examine microorganisms under the microscope. However, genetic testing is expected to be the fastest growing category, thriving at a CAGR of 7.2% during the forecast period. The growth is primarily attributed to the increasing number of genetic testing procedures across the globe.
Anatomic Pathology Market Dynamics
Advancements in technologies are being witnessed in the anatomic pathology market. For instance, in November 2018, Mr. Greg Clark, business secretary of the U.K. government announced that consortium groups will come together to create five new digital pathology and imaging centers, using artificial intelligence to speedup disease diagnosis in the U.K., bringing together representatives from various divisions of the industry. For this, the U.K. government announced to invest $65 million from the Industrial Strategy Challenge Fund. The centers will be set up in Leeds, Oxford, Coventry, Glasgow, and London. Adding to the advancements, BioCare Medical LLC released fully-automated, open VALENT in vitro diagnostic (IVD) staining platform, merging high-throughput and quality staining with a powerful and intuitive user interface. VALENT overcomes limitations of closed systems with its unique open platform, allowing reagents from multiple sources to be used and providing efficient immunohistochemistry results. VALENT transforms clinical, pharmaceutical, and research laboratories by providing an easy-to-use fully automated platform, 48-slide capacity, multiplex immunohistochemistry capability, and high-quality staining.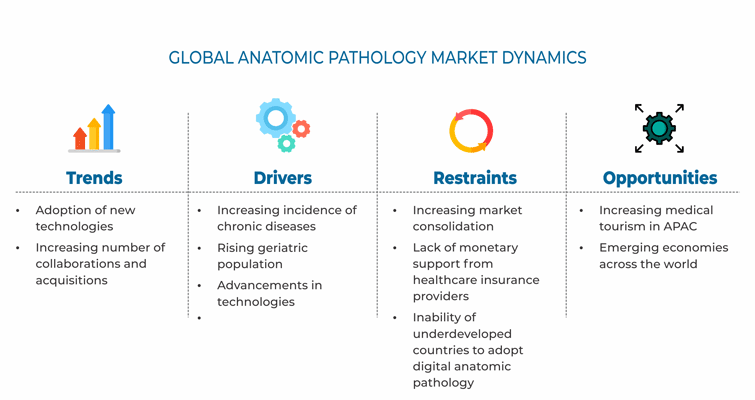 Besides, according to the World Population Prospects published by the United Nations (UN), the geriatric population in the world is expected to triple by 2050 as compared to 2017. The elderly population in 2017 was 137 million and the number is forecasted to rise up to 425 million by 2050. Additionally, as reported by the World Health Organization (WHO), old age brings with it many diseases such as chronic obstructive pulmonary disease, depression, dementia, diabetes, and organ failures, among others, which require proper diagnosis and treatment. One of the most significant ways of diagnosis of these diseases is anatomic pathology, which results in efficient diagnosis and thus helps to plan the treatment.
Furthermore, rising prevalence of chronic diseases is a major healthcare burden globally, which affects both high-income countries and low- and middle-income countries (LMICs). Some of the chronic diseases include hypertension, autoimmune diseases, cancer, liver cirrhosis, heart diseases, and kidney diseases. The impact of these diseases can be ascertained from the data of the WHO, which reported 9.6 million cancer deaths in 2018. The WHO states that around 70% of deaths from cancer occur in LMICs, which further increases the demand for diagnosis of such diseases in these countries. Additionally, 75% of deaths are expected to occur due to stroke by 2020 in developing countries. The diagnosis of such diseases requires efficient results in less time for which anatomic pathology is the best option.
Anatomic Pathology Market Competitive Landscape
Ongoing acquisitions and collaborations among players in the anatomic pathology market are resulting in accurate diagnosis and increased market reach and share of the players. For instance, in February 2019, Quest Diagnostics Incorporated, a U.S.-based provider of diagnostic information services, partnered with Houston Healthcare, a community hospital based in the U.S., to enhance the quality and value of diagnostic services through an agreement under which Quest Diagnostics Incorporated will provide full laboratory management services, reference testing, laboratory equipment, supplies, and procurement processes for Houston Medical Centers and Perry Hospital. Also, in December 2018, NeoGenomics Laboratories Inc. (NeoGenomics), a leading provider of cancer-focused genetic testing and information services, acquired a U.S-based Genoptix Inc., a clinical oncology laboratory, specialized in hematology and solid tumor testing. The acquisition is expected to expand NeoGenomics' reach into oncology practices, and significantly accelerate the company's progress toward key scale and growth objectives.
Leading players operating in the global anatomic pathology market include Thermo Fisher Scientific Inc., Danaher Corporation, F. Hoffman–La Roche Ltd., Bio-Rad Laboratories Inc., and Abbott Laboratories, among others.