Market Size & Share
The global allergy diagnostics market was valued at USD 6,103.3 million in 2023, which is expected to reach USD 12,814.2 million by 2030, growing at a CAGR of 11.2% during 2024–2030.
The prevalence of allergic disorders, increasing levels of environmental pollution, and growing funding for improving allergy diagnostics by public and private organizations are all predicted to contribute to the growth of the global market.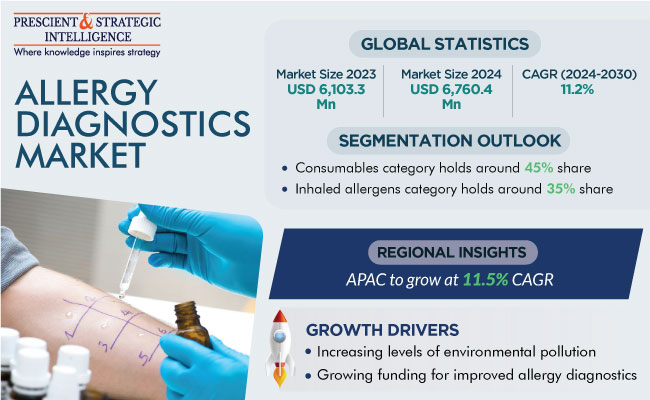 Moreover, the sedentary lifestyles, characterized by poor food habits, smoking, and consumption of alcohol; and the huge need for in-vitro blood testing are expected to bring about an increase in the business revenue in the upcoming years.
The market is essentially projected to expand due to the significant increase in pollution levels. The main factor that puts people at a risk of chronic respiratory illnesses is exposure to allergens due to air pollution both indoors and outdoors, including occupational exposure. Thus, due to being constantly exposed to pollutants in the outdoor and indoor environments, city dwellers are more susceptible to these illnesses than those living in rural areas.
The sector is also expected to grow as the incidence of food allergies rises. Food allergies are more common in developed nations than in underdeveloped or developing ones. According to a study, 10% of the children suffer from food allergies globally. The risk may be influenced by a number of factors; strong evidence, however, is lacking about the extent, intensity of the effect, and modifiability of the elements that either favor or hinder the development of such conditions.
Additionally, to bring down the fatalities caused by food and pharmaceutical allergies, government and non-government groups' awareness programs are imperative, which would have a positive effect on the need for allergy diagnosis.
Rising Levels of Environmental Pollution To Drive Market
The significant increase in pollution levels is a key driver, as it results in a higher exposure to contaminants in the food, water, and air. The pollutant levels in cities are higher than in rural areas because of traffic pollution and operations of factories. Owing to this, the prevalence of allergic disorders in the urban population is more than in the population in rural areas.
According to the WHO, exposure to environmental pollution results in seven million premature deaths per year and a loss of millions of additional healthy years. This may also result in slowed lung development and function and worsened asthma and respiratory infections in children. The most-frequent causes of early death in adults attributed to outdoor air pollution are ischemic heart disease and stroke; though, evidence now points to other outcomes too, such as neurological diseases and diabetes.
Furthermore, recent research has established that the severity of asthma is greatly influenced by the air quality. A bad air quality tends to aggravate the condition, thereby putting people at a risk of asthmatic attacks. This is because airway irritation from pollutants can cause asthma symptoms to appear suddenly. Some airborne contaminants are so tiny that they can enter the lungs without being exhaled.
Additionally, the morbidity and mortality due to numerous medical illnesses, particularly allergic diseases, are accelerated or made worse by prenatal and postnatal exposure to ambient air pollution. Allergen penetration is facilitated by ambient air pollution because the latter alters the microbiota, disrupts the immune system, and directly affects the skin and respiratory epithelium.
Reagent Lease Agreements Resulting in Exponential Rise in Market Revenue
Rental agreements for reagents are highly beneficial for both the end user and producer, because with them, not only is end users' initial capital investment reduced, but for the manufacturer, product sales over a long period become assured. Moreover, analyzers may occasionally be rented by end users on a pay-per-test basis.
For labs looking to reduce expenditure, these agreements and cost-per-test contracts are quite helpful. Furthermore, they help these facilities get around the substantial fixed capital costs associated with the acquisition of new equipment. Compared to a regular lab, these expenses are noticeably higher for those that test high volumes of samples. Moreover, because such contracts often last between 5 and 10 years, laboratories are able to stay abreast of the advancements in allergy diagnostics. Some contracts cover maintenance charges as well, which gives labs an opportunity to reduce their expense even further.
Allergy Diagnostics Market Report Coverage

| | |
| --- | --- |
| Report Attribute | Details |
| Market Size in 2023 | USD 6,103.3 Million |
| Market Size in 2024 | USD 6,760.4 Million |
| Revenue Forecast in 2030 | USD 12,814.2 Million |
| Growth Rate | 11.2% CAGR |
| Historical Years | 2017-2023 |
| Forecast Years | 2024-2030 |
| Report Scope | Market Trends, Drivers, and Restraints; Revenue Estimation and Forecast; Segmentation Analysis; Impact of COVID-19; Companies' Strategic Developments; Market Share Analysis of Key Players; Company Profiling |
| Segments Covered | By Offering; By Allergen; By Test Type; By End User; By Region |
Explore more about this report - Request free sample pages
Consumables Category Dominates Industry in Offering Segment
On the basis of offering, the consumables category held the largest share, of 45%, in 2023. This is attributable to the fact that consumables are a crucial part of allergy detection. The category is also expected to grow as a result of technological developments, such as the advent of allergen microarray kits, which are highly sensitive and provide personalized patient profiling and monitoring.
Furthermore, the increasing allergy cases, the need for quick diagnoses, and the emergence of products such as the MeDALL allergen chip, which offer high sensitivity, would propel the category's growth.
In the instruments category, immunoassay analyzers are significantly preferred over others. This is because they not only offer benefits such as low cost and improved workflows but also have a wide range of applications apart from allergy testing, including the diagnosis of communicable diseases and therapeutic drug monitoring. Additionally, there have been technological enhancements in these analyzers to further improve their performance. For instance, in 2019, Roche introduced the cobas pro integrated solution to provide quality patient care. The product improves operations to address critical lab management concerns, reduces the hands-on time, and increases productivity through automated procedures, by testing over 2,000 samples per hour.
The ELISA analyzer category will also witness significant growth in the coming years, as the development of the ELISA analyzer has been crucial to the study and diagnosis of food allergies. ELISA variants that are ultrasensitive have been created to identify allergen levels as low as a few picograms. This is crucial due to the potentially fatal impact that food allergies can have on the overall public health.
Inhaled Allergens Dominate Industry in Allergen Segment
The inhaled allergens category held the largest share, of 35%, in 2023. This is because of the increasing pollen and environmental pollution, together with the rising exposure to dust, mold, and fungus. The presence of these agents has significantly increased the prevalence of asthma and other respiratory allergies around the world. One of the key reasons for it is floods, which encourage the growth of mold, which, in turn, is responsible for acute asthma. Moreover, the high levels of pollen spread by thunderstorms can make hay fever patients' respiratory allergies and asthma worse.
Food allergens are also expected to also hold a notable share throughout the forecast period. As per a study, the number of individuals ailing from food sensitivity in the U.S. has doubled over time, with kids being more prone to this condition.
Drug allergens will display a high growth rate during the projection period. This is because of the higher medication intake by geriatric patients, in part, due to their chronic conditions, and additional factors, such as co-morbidities and co-medications.
In addition, a significant rise in the incidence of drug hypersensitivity, which is the leading cause of drug anaphylaxis, has been observed of late. Antibiotics and analgesics are the most-common medicines responsible for this life-threatening condition. There has been a spike in the consumption of antibiotics globally, attributed to the rise in the infectious disease prevalence in the last few years.
In-Vivo Tests Dominate Sector in Test Type Segment
The in-vivo tests category held the bigger share, of 65%, in 2023, because of these tests' simplicity of usage, efficiency, increased accessibility, and sensitivity. Among the various kinds of such tests, the skin-prick test is widely used by healthcare professionals to identify any potential allergy. Due to its safety, efficiency, affordability, and accuracy and the fact that it provides results in 15 to 20 minutes, it is a widely used test.
Additionally, in order to detect hypersensitivity to food, skin-prick tests are performed initially. After the confirmation of their results, in-vitro exams are performed in order to identify the presence of serum-specific IgE.
Thus, the in-vitro tests category is also forecast to expand significantly over the next several years, due to the rising demand for minimally invasive diagnostic techniques, quick lab automation, and need for results that are highly accurate and sensitive. To capture the largest proportion of the industry, the top players are concentrating on offering allergy-specific solutions and precise, result-oriented technologies.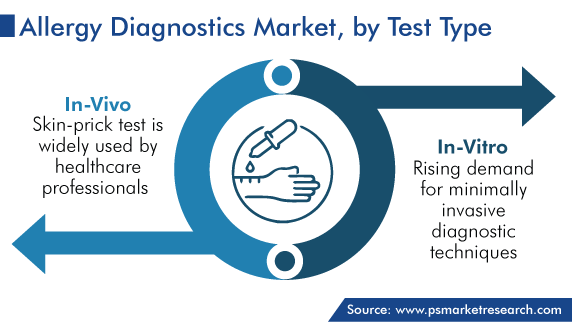 North America Is Largest Revenue Contributor
As per regional analysis, North America accounted for the largest share, of 55%, in 2023. This is attributed to the robust healthcare system, beneficial reimbursement policies, and rapid technological advancements in the medical sector in the nations. In addition, the increasing prevalence of allergies and the existence of encouraging measures by associations to raise awareness and make diagnosis and treatment accessible are the key contributors.
Allergy diagnostics market is also flourishing as a result of the presence of the leading suppliers of technologically enhanced diagnostic tests. As the number of deaths due to pharmaceutical allergies increases, so will the need for a rapid yet reliable diagnosis of the same. The high frequency of allergic rhinitis and skin allergies in black Americans, notably eczema and skin inflammation, will propel the expansion of the market in the U.S.
Moreover, due to its established biotechnology sector and rising demand for treatments, Europe is expected to be the second-largest regional market. The region's expansion is also being fueled by an aging population.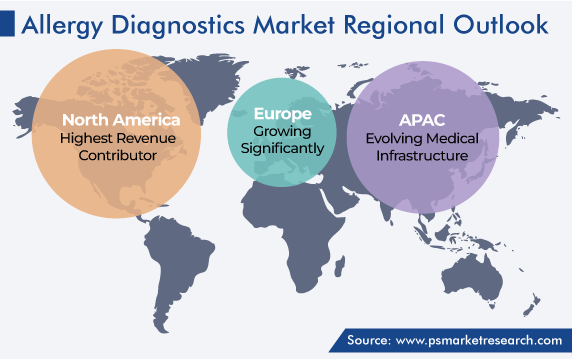 Given the advanced healthcare infrastructure, high disposable income, rising healthcare costs, and growing public awareness of early disease diagnoses, the sector in the U.K. is predicted to grow quickly over the projection time frame. In addition, Germany's supportive healthcare legislations are expected to fuel the industry growth here.
Top Allergy Diagnostic Solution Providing Companies Are:
bioMerieux S.A.
Danaher Corporation
Romer Labs Division Holding GmbH
HOB Biotech Group Corp Ltd
HYCOR Biomedical LLC
NEOGEN Corporation
Eurofins Scientific S.E.
Siemens Healthcare GmbH
Stallergenes Greer International AG
Thermo Fisher Scientific
Market Size Breakdown by Segment
This report offers deep insights into the allergy diagnostics market, with size estimation for 2017 to 2030, the major drivers, restraints, trends and opportunities, and competitor analysis.
Based on Offering
Consumables
Instruments

Immunoassay analyzers
ELISA analyzers
Luminometers

Services
Based on Allergen
Based on Test Type
Based on End User
Diagnostic Laboratories
Hospital-Based Laboratories
Academic Research Institutes
Geographical Analysis
North America
Europe

Germany
U.K.
France
Italy
Spain

Asia-Pacific

Japan
China
India
South Korea
Australia

Latin America
Middle East and Africa

Saudi Arabia
South Africa
U.A.E.