Market Overview
The aerogel market generated an estimated revenue of USD 804.1 million in 2023, and it will grow at a rate of 11.8% during 2023–2030, to reach USD 1,755.1 million in 2030.
This lightweight material delivers greater thermal resistance and low density, which are desired in a lot of applications. Additionally, aerogels are mass-produced in numerous forms, such as blankets, panels, particles, and monoliths. In the form of monoliths, they are employed in thermal insulation, acoustic and vibration damping, thin-film coatings, and structural foam in automobiles.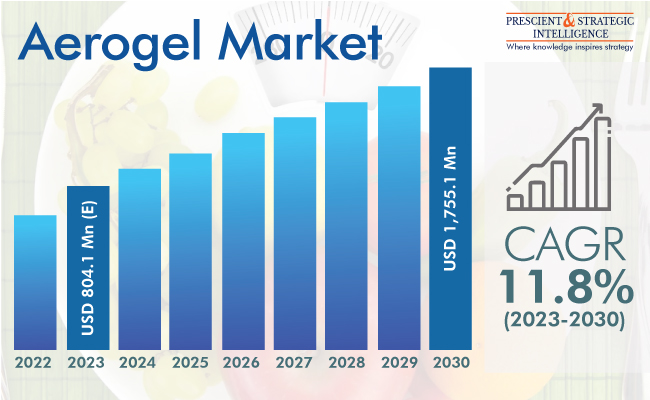 The automotive sector is strongly focusing on reducing vehicular emissions without compromising functionality. Additionally, automotive companies have always emphasized some definite parameters, such as comfort, efficiency, performance, and safety, all of which are offered by aerogels.
Silica-Based Products Have Largest Revenue Share
Based on product, the silica category led the industry in 2022. Silica aerogel has become popular all over the world because of its appreciable chemical properties and a wide range of current and possible applications in numerous spaces. It is a nanostructured material with a large precise surface area, increased absorption capability, decreased dielectric constant, low density, and outstanding heat insulation. In January 2022, Cabot Corporation announced that its silica aerogel was used in the reconstruction of the Mathildenhöhe, an artists' colony in Germany, which was declared a UNESCO World Heritage.
The polymer category will grow fast during this decade because of these variants' physical and chemical benefits over silica aerogels. This is why they are utilized widely in electronic substrates, defense applications, vehicle interiors, building & construction applications, and antennae.
The carbon category will also witness significant growth till 2030 owing to carbon aerogel's rising adoption in energy storage systems, catalysis, sorbents, and distillation. This is because this variant has high electrical conductivity, mass-specific surface area, and environmental compatibility, along with low chemical inertness.
Supercritical Drying Category Led Market
The supercritical drying category had the larger share in the past, since this production technology allows for the preservation of aerogel's 3D pore structure. This imparts the material low density, high porosity, and a large surface area. Additionally, this process is important for scaling up lab drying units to industrial scales. High-temperature supercritical drying with organic solvents is also helpful in minimizing shrinkage and offering the product a density lower than that of CO2.
Particle Aerogel Demand To Grow Substantially
The blanket form of aerogels dominated the industry in 2022 as it offers thermal insulation in buildings and is used in apparel because of its water repellence, high breathability, low dusting and powdering, and high light diffusion. These variants are also consumed in high volumes in the automotive, oil & gas, aerospace, and marine industries, all of which continue to grow rapidly.
Moreover, the particle category will grow at a considerable rate because of the effective physical and chemical properties of this form over blankets. Additionally, these products have numerous applications in electronic substrates, automotive interiors, defense, building & construction, and antennae.
The increasing requirement for reliable, safe, and energy-efficient systems is also driving the growth of the particle category, as inefficient insulation leads to the excess usage of electricity for heating and cooling purposes. Aerogel particles allow for the commercialization of advanced insulating systems because of their affordability and limited emission of carbon.
Oil & Gas Industry Is Largest User of Aerogels
The end user segment of the market is dominated by the oil & gas category, as fossil fuels have a major role in meeting the requirement for energy in spite of the shift toward carbon-free technologies. For the continuous flow of hydrocarbons, upholding the temperature of pipelines, including both in hot and cold climes, is vital. Hence, the oil & gas sector is heavily reliant on insulation for reducing the cost of E&P activities, improving the compression resistance of pipelines, and decreasing the volume of steel used in pipelines and rigs. Here, the exceptional hydrophobicity, thermal performance, and mechanical strength of aerogels are prized.
Aerogel Market Report Coverage

| | |
| --- | --- |
| Report Attribute | Details |
| Market Size in 2023 | USD 804.1 Million (E) |
| Revenue Forecast in 2030 | USD 1,755.1 Million |
| Growth Rate | 11.8% CAGR |
| Historical Years | 2017-2022 |
| Forecast Years | 2023-2030 |
| Report Scope | Market Trends, Drivers, and Restraints; Revenue Estimation and Forecast; Segmentation Analysis; Impact of COVID-19; Companies' Strategic Developments; Market Share Analysis of Key Players; Company Profiling |
Explore more about this report - Request free sample pages
North America Leads Market
North America held the largest revenue share in 2022 in the aerogel market because of the growing requirement for this material from the building & construction, aerospace, automotive, and oil & gas industries. Moreover, North America displays a huge market growth potential owing to the focus on quality, application development, and product innovation, powered by the rising need for superior insulation and low thermal conductivity.
The U.S. is the larger consumer of this material in the North American region on account of its large oil & gas industry, stringent regulations for the reduction of emissions from buildings and automobiles, and rising government investments in eco-friendly technologies and materials. Moreover, the growing construction industry continues to drive the market in the country, as aerogel is increasingly being used in walls and roofs to prevent excessive heat gain and loss.
Similarly, the requirement for aerogel in Europe is increasing due to the continuing economic recovery initiatives and energy efficiency regulations. The requirement for this product in the region is primarily driven by Germany, France, the U.K., and Sweden. The strict regulations with regard to energy conservation in the construction and oil & gas sectors are powering the requirement for advanced insulation materials. Further, high-performance and lightweight materials are needed for luxury vehicles, which are manufactured in large numbers in the continent.
The market in the MEA will have fast growth during 2023–2030, driven by the extensive product application in the automotive, building & construction, aerospace, and oil & gas industries. Most of the OPEC members are located in the Middle East, which is, therefore, the largest oil & gas producer in the world.
For similar reasons, APAC is another lucrative market for companies offering various kinds of aerogels. China and India are home to two of the largest automotive and construction industries in the world, both of which are currently focusing on emission reduction. Therefore, traditional insulating materials, including rock wool, mineral wool, polyurethane foam, and stone wool, are being replaced with aerogel here.
Strategic Developments in the Market
In September 2022, Armacell launched an aerogel insulation blanket. Named ArmaGel HTL, it is designed specifically for industrial uses where non-combustibility, high thermal performance, and the mitigation of corrosion under insulation are vital.
In May 2020, Svenska Aerogel secured one more order for Quartzene from Novcoat. The product will be used in an energy-saving thermal insulating coat.
Key Players in Aerogel Market Are
Aspen Aerogels Inc.
Cabot Corporation
Aerogel Technologies LLC
Active Aerogels LDA
BASF SE
JIOS Aerogel Corporation
Nano Technology Co. Ltd.
Dow Inc.
ENERSENS SAS
Svenska Aerogel AB