Market Outlook
The acoustic vehicle alerting system market value is projected to advance at a CAGR of 11.9% during 2020–2030. owing to the stringent emission norms and government support, in the form of tax rebates, grants and subsidies, and other non-financial benefits, to promote electric vehicle (EVs) adoption. Due to the accelerating demand for EVs, a total of 24.7 million acoustic vehicle alerting systems (AVAS) were installed in electric two-wheelers and passenger cars in 2019.
The AVAS has become an integral component of all types of EVs, as it concerns pedestrian safety, especially the more-vulnerable sections, including children, blind people, aged people, and people with partial vision. The mandate to install this system has come into force in several countries, for vehicles with the model year 2019.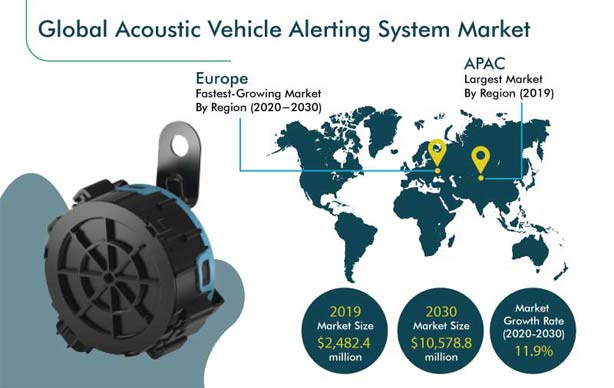 Before the COVID-19 outbreak, 2020 was expected to be a crucial year for EV manufacturers, as numerous players were preparing for launching new products and planning to enhance their capabilities. But the pandemic has completely transformed the market scenario for all the stakeholders in the EV sector. Preventive measures such as complete lockdown and curfews in hotspot areas have significantly reduced the supply and demand for EVs and other automobiles. The reduced EV production and sale have adversely impacted the acoustic vehicle alerting system market. Moreover, the stooping crude oil prices will substantially reduce the adoption of EVs and AVASs, as economies of scale would be strongly against their favor.
Highest Adoption of AVAS Seen in Battery Electric Vehicles (BEVs)
Various governments are implementing regulations for original equipment manufacturers (OEMs) and aftermarket entities to install AVASs in battery electric vehicles (BEVs) in stipulated time. Owing to these factors, the BEV category is expected to hold the dominant position within the propulsion segment of the market till 2030. Government support, in the form of financial incentives, for the development and purchase of BEVs and enhancements in the battery technology will also accelerate the adoption of such automobiles in the future, which will likely make up for 70% of the plug-in EVs sold by 2030.
Four-Wheeler Vehicles To Record Faster Growth
The four-wheeler category, within the vehicle segment, is expected to display the faster growth between 2020 and 2030. This can be owed to the fast adoption of light-duty trucks and electric cars, primarily on account of the continuous innovations, reducing prices, and availability of several models with automakers. In the coming years, in the developed economies in Europe, as well as the U.S., the acoustic vehicle alerting system market will be dominated by the four-wheeler category, whereas in emerging economies, such as India and China, the market will be led by the two-wheeler category.
OEM Category Held Larger Market Share
The OEM category, under the distribution channel segment of the market for acoustic vehicle alerting systems, generated the higher revenue in 2019 due to the increasing installation of AVAS components in EVs, as per the mandatory norms of governments. Whereas, the aftermarket category is projected to witness the faster growth in the future, primarily on account of the natural wear and tear and end of life of AVAS components and the government regulations in leading markets for such systems and EVs. For instance, the U.S. has mandated the retrofitting of AVASs in old EVs by 2021.
Integrated AVAS To Witness Faster Rise in Adoption
The integrated category is expected to exhibit the faster growth in the acoustic vehicle alerting system industry in the near future, under segmentation by mounting. This will be due to the increasing integration of AVASs in four-wheelers, where these components form a major part. Moreover, the spurring production and sales of electric passenger cars and light-duty trucks will support the growth of this category.
Asia-Pacific (APAC) To Retain Its Dominance on Market
APAC is expected to maintain its dominance on the acoustic vehicle alerting system market during 2020–2030, accounting for around 80% sales of such systems in 2030. This can be owed to the soaring demand for EVs in developing countries, including India and China. These economies view EVs as a viable mode of future mobility and energy security, as these nations are highly dependent on oil imports for their energy requirements.
The leading share of electric two-wheelers and rising demand for such vehicles will boost AVAS sales in APAC. Additionally, this region is home to various global EV and component manufacturers. Furthermore, the top position of APAC in the EV market, led by China, is a vital factor behind the regional market's growth. Besides, the growing focus of Chinese automakers on electric variants will act as a growth driver for the market.
Europe To Record Fastest Growth
At present, the European market is in its nascent phase and thriving on the government regulations that obligate the inclusion of AVAS components in hybrid and electric vehicles. The European Union (EU) plans to phase out internal combustion (ICE) vehicles to reduce greenhouse gas emissions and oil imports dependence. Many countries also individually aim to ban ICE vehicle sales between 2030 and 2040. Owing to these factors, the region will record the fastest growth in the acoustic vehicle alerting system market till 2030.
It is being estimated that by 2030, nearly 30% of all the vehicles sold in Europe will be electric, on account of the regulatory push in several countries and rapidly improving economies of EVs. As the installation of AVAS components is directly proportional to EV sales, this region is expected to provide ample opportunities to key players in the market for acoustic vehicle alerting systems.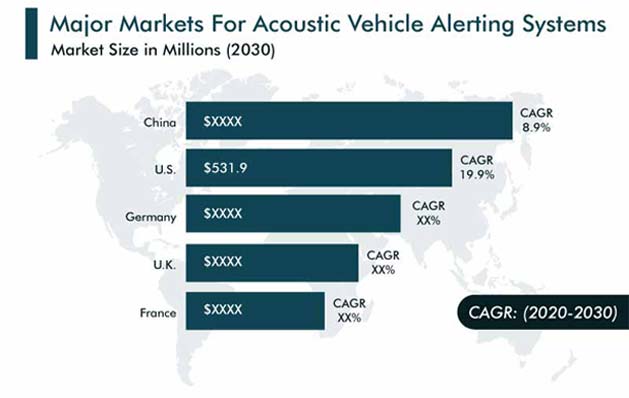 Consolidation and Joint Ventures among Major Players Are Key Market Trends
In recent years, major EV and AVAS manufacturers have focused on consolidation and joint ventures to share technical knowledge with each other. Collaborations between companies will result in extensive research and development (R&D) on novel and efficient products, which will further fuel the global demand for AVAS.
Rising EV Sales Pushing Market Growth
The vast demand for EVs in the world is one of the primary growth drivers for this market. In 2019, the electric car fleet exceeded 7.1 million units, which was more than 2 million from the units in operation in 2018, and the fleet size is expected to surpass 130 million by 2030. The growing EV adoption is ascribed to the increasing awareness about environmental degradation and government support to promote their development and purchase.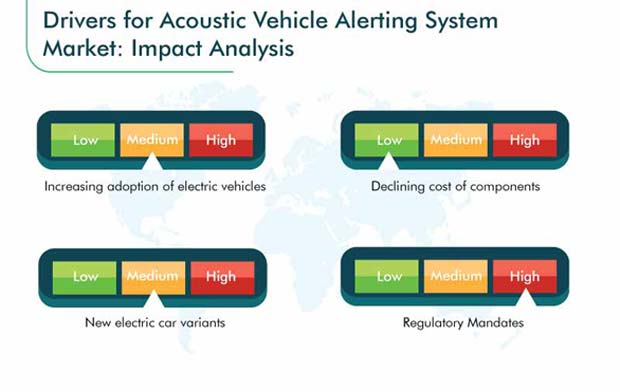 Declining Prices of Components Boosting Market Size
The acoustic vehicle alerting system market size will also expand due to the reducing prices of the components of such systems. It is being projected that the cost of speakers, battery packs, amplifiers, and copper coils would decline by over 30% by 2025 from that in 2019. Moreover, the price of the permanent magnet, a ceramic ferrite material containing strontium, ceramic binder, and iron oxide, is estimated to decrease by around 24% by 2025 from that in 2019. The falling component price will reduce the overall cost of AVAS and allow for its large-scale production in the future.
Increasing Number of EV Models Adding to Market Expansion
The launch of new EV models will play a vital role in facilitating the market growth. For instance, Volkswagen AG has announced plans to introduce 30 new EV models by 2025. Likewise, Ford plans to launch 13 new EVs by 2020, while the Renault–Nissan–Mitsubishi Alliance announced its plan to launch 12 new EV models by 2022. Additionally, many Chinese automakers are preparing to enter the global market with their existing and upcoming electric car models.
Acoustic Vehicle Alerting System Market Report Coverage

| | |
| --- | --- |
| Report Attribute | Details |
| Historical Years | 2014-2019 |
| Forecast Years | 2020-2030 |
| Base Year (2019) Market Size | $ 24.7 Million |
| Market Size Forecast in 2030 | $ 10,578.8 Million |
| Forecast Period CAGR | 11.9% |
| Report Coverage | Market Trends, Revenue Estimation and Forecast, Segmentation Analysis, Regional and Country Breakdown, Company Share Analysis, Companies' Strategical Developments, Product Benchmarking, Company Profiling |
| Market Size by Segments | Propulsion, Vehicle, Distribution Channel, Mounting, Geography |
| Market Size of Geographies | U.S., Canada, Germany, France, U.K., Japan, China, Brazil, Mexico |
| Secondary Sources and References (Partial List) | Alternative Fuels Data Center (AFDC), American Automobile Association (AAA), American Public Transportation Association (APTA), Australian Bureau of Statistics (ABS), Bloomberg New Energy Finance (BNEF), California Alternative Energy and Advanced Transportation Financing Authority (CAEATFA), China Association of Automobile Manufacturers (CAAM), China Electric Vehicle Charging Infrastructure Promotion Alliance, Department of Transportation (DOT), International Energy Agency (IEA), Japan Automobile Manufacturers Association (JAMA), International Council on Clean Transportation (ICCT), European Alternative Fuels Observatory (EAFO), European Automobile Manufacturers Association (ACEA) Note: Above listed references and organizations are partial; the detailed and complete list is available in the final report. |
Explore more about this report - Request free sample pages
Product Launch Is the Major Strategic Move Adopted by The Market Players
The global acoustic vehicle alerting system market is moderately consolidated with major players, such as Delphi Technologies PLC, Daimler AG, MANDO-HELLA Electronics Corp., DENSO CORPORATION, Samsung Electronics Co. Ltd., and Robert Bosch GmbH, among others.
In recent years, the players in the acoustic vehicle alerting system market are increasingly launching new products in order to gain the competitive edge. Manufacturers are producing AVASs for low-noise vehicles to alerting pedestrians and people with limited or no vision. They have teamed up with bands, music composers, and others to create special tones for EVs. Examples include:
In February 2020, Honda Motor Co. Ltd. installed AVASs, including sound-emitting device, in all its hybrid vehicles for 2020 model year. This increased the cost of the vehicle by $150. As federal regulations roll out mandates for EVs to make sound, companies are deploying AVAS, which helps alerting people in surrounding area on the road.
In July 2019, Daimler AG, in line with EU directive that states any new EV must feature an acoustic warning up to speed of 20 km/h, involved sound engineers to come up with a distinctive voice for its EVs. To meet the requirements, Daimler's sound experts have created an identifiable note for an electrified Mercedes at its acoustic test facility at the Mercedes-Benz Technology Center in Sindelfingen, Germany.
In June 2019, Nissan Motor Co. Ltd. hired Danni Venne and Studio Man Made Music to conceptualize the sound for its AVAS to be fitted in Nissan Leaf and other upcoming EVs. This has been done in accordance with regulations from National Highway Traffic Safety Administration (NHTSA) to keep all hybrid and EVs at par with their gas-guzzling models, to emit noise at certain speed for pedestrian safety.
Some of the Key Players Covered in Acoustic Vehicle Alerting System Market Report include:
Samsung Electronics Co. Ltd.

Delphi Technologies PLC

Daimler AG

Brigade Electronics Group Plc

HELLA GmbH & Co. KGaA

General Motors Company

Fisker Automotive
Acoustic Vehicle Alerting System Market Size Breakdown by Segment
The acoustic vehicle alerting system market report offers comprehensive market segmentation analysis along with market estimation for the period 2014–2030.
Based on Propulsion
Battery Electric Vehicle (BEV)
Plug-In Hybrid Electric Vehicle (PHEV)
Fuel Cell Electric Vehicle (FCEV)
Based on Vehicle
Based on Distribution Channel
Original Equipment Manufacturer (OEM)
Aftermarket
Based on Mounting
Geographical Analysis
North America
Europe
APAC
LAMEA