Standalone-Chip Transceivers To Be More Fruitful for 5G RF Transceiver Market Players
Valuing $112.0 million in 2019, the global 5G radio frequency (RF) transceiver market is predicted to display a CAGR of 30.4% during 2020–2030. The key reasons leading to the increasing sale of such electronic instruments are the rising demand for them from the telecommunications sector, surging adoption of smartphones, and growing popularity of internet of things (IoT). Such instruments are used to send and receive signals for 5G communication, in radar systems, base stations, embedded modules, and mobile devices.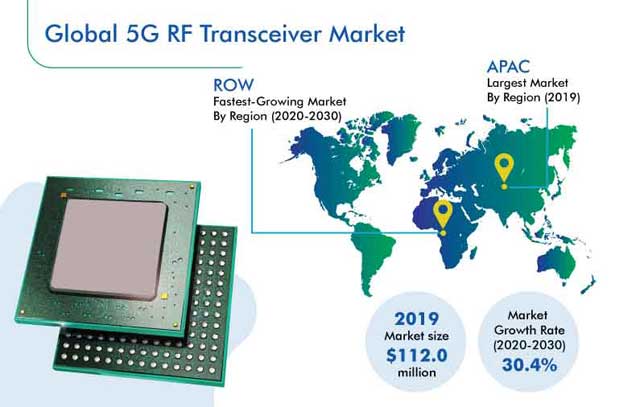 Segmentation Analysis of 5G RF Transceiver Market
The standalone-chip transceiver bifurcation, on the basis of design, is predicted to continue dominating the industry in the years to come. This is attributed to the fact that these variants can work in a wireless system with low voltage and consume less power, which is why the preference for them in the 5G network infrastructure is rising.
Historically, the base stations category held the largest share in the market, based on application, as an improved advanced RF front end (RFFE) design is required to support the 5G technology in mobile phones. Further, on account of the advanced long term evolution-unlicensed (LTE-U) capabilities, expanded carrier aggregation, complex antenna architecture, and higher-order modulation, the design of the RFFE of advanced smartphones is itself complex. Therefore, 5G RF transceivers are being installed in base stations to support faster mobile broadband speeds and higher-frequency bands in RFFE designs.
The fastest growth in the industry, under segmentation by vertical, is expected to be witnessed by the consumer electronics classification. The integration of RF transceivers in smartphones and other consumer electronics is credited to the rapid launching of 5G services by telecom operators. For instance, Verizon Communications Inc. and AT&T Inc. are offering monthly 5G cellular plans for $70 and $75. As per the Global System for Mobile Communications Association (GSMA), higher data speed is the expectation of around 50% subscribers from the 5G technology, which is why such instruments are finding their way into consumer electronics.
Asia-Pacific (APAC) is currently the largest market for 5G RF transceivers, owing to the swift growth in its consumer electronics industry. Along with the surging uptake of wireless communication devices, the emergence of the IoT technology, rapid digitization, and increasing demand for video streaming are also driving the regional market. Apart from consumer electronics, such instruments are also being integrated in smart farming, building security systems, home automation, smart utility meters, and commercial satellite imaging applications.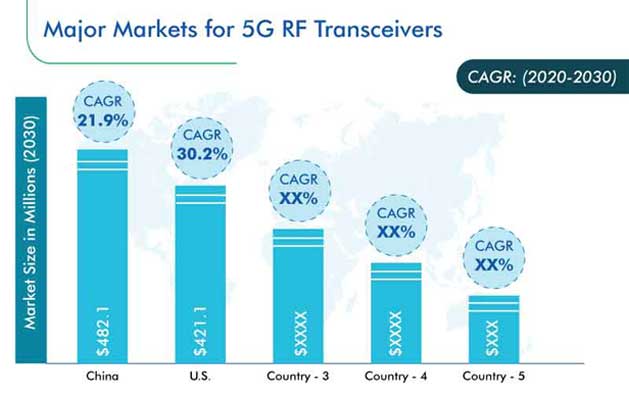 Adoption of Wideband Transceivers Is Most Important Market Trend
Among the key trends in the 5G RF transceiver market currently is the uptake of wideband transceivers, as a result of technological advancements and surging focus on seamless, reliable, and secure communication. Apart from offering long-range wireless connectivity, wideband transceivers also eliminate the need for redesigning. Seeing the increasing demand for such solutions, the manufacturers of these products are introducing advanced wideband variants. For instance, the ADRV9009 wideband RF transceiver was launched by Analog Devices Inc. in 2018, to offer designers a single radio platform for deploying 5G services. With double the bandwidth offered by previous variants, the ADRV9009 is designed to support the 24–86 gigahertz (GHz) millimeter band and 600 megahertz (MHz)–6GHz frequency range that the 5G network works on.
Increasing Demand for 5G RF Transceivers from Telecom Sector Is Strongest Market Driver
The most powerful growth driver for the 5G RF transceiver market is the rising requirement for such instruments from the telecom sector. The swift launch of 5G services in the U.K., the U.S., South Korea, and China is propelling the installation of such instruments in telecom exchanges and base stations. For instance, over 86,000 base stations in 50 Chinese cities have been set up since the 5G network was launched in the country in 2019, thereby increasing the uptake of transceivers. Further, in April 2020, the Ministry of Industry and Information Technology announced plans to establish 500,000 5G base stations in China in 2020 alone. Similarly, Ericsson, the Swedish telecom firm, installed base stations in the U.S. in March 2020, to accelerate 5G deployment.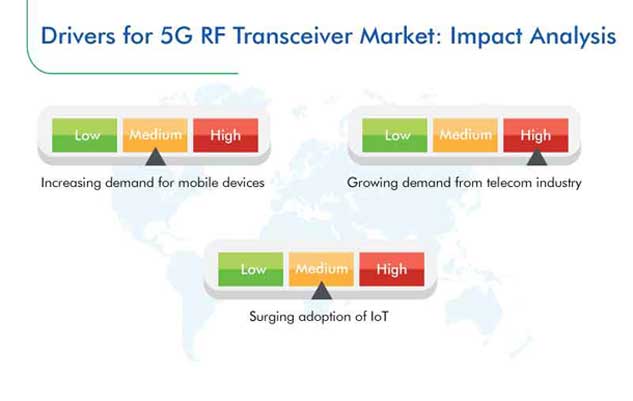 Developing Countries Offer Vast Growth Potential to Market Players
There are lucrative opportunities for the 5G RF transceiver market players in developing countries. In APAC nations, such as Singapore, India, and Indonesia, where the coverage of the 5G network is quite limited, the focus on making the services available to the masses is increasing. For instance, the Indian government announced plans for formulating a framework for offering affordable and secure 5G services in 2019. That year, the Association of Indonesian Cellular Operators (ATSI) revealed 2022 as the targeted year for the deployment of such infrastructure in the nation. Also in 2019, the Singaporean Ministry of Communications and Information announced intentions to issue license for two 5G networks with limited coverage and two full-fledged networks, thereby creating a high demand for compatible RF transceivers.
5G RF Transceiver Market Report Coverage

| | |
| --- | --- |
| Report Attribute | Details |
| Historical Years | 2017-2019 |
| Forecast Years | 2020-2030 |
| Market Size by Segments | Design, Application, Vertical |
| Market Size of Geographies | U.S., Canada, Germany, France, U.K., Italy, Russia, Japan, China, South Korea, Brazil, Israel, Turkey |
Explore more about this report - Request free sample pages
Product Launches Allowing Companies to Increase their Market Presence
In order to strengthen their hold on the 5G RF transceiver market, the players are introducing new and improved products.
For instance, in April 2020, the 212 LTE modem integrated with the NB2 IoT chipset was launched by Qualcomm Incorporated. In this modem, the application processor, modem baseband, RF transceiver with fully integrated RFFE, memory, and power management unit are integrated on a single chip.
In the same vein, Epiq Solutions introduced its high-bandwidth multi-channel RF transceiver card, named Sidekiq X4, in June 2018. Based on Analog Devices' RadioVerse ADRV9009 wideband RF transceiver design, it offers up to 800 MHz of instantaneous bandwidth with its four phase-coherent RF receivers.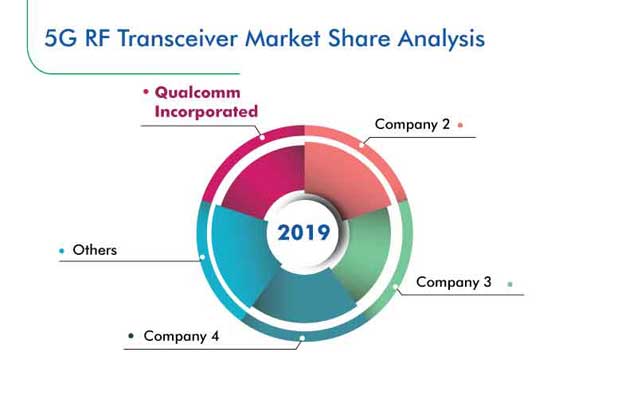 The major companies in the global 5G RF transceiver market are Infineon Technologies AG, Texas Instruments Incorporated, Analog Devices Inc., STMicroelectronics N.V., Qorvo Inc., Broadcom Inc., Qualcomm Incorporated, Telefonaktiebolaget LM Ericsson, Skyworks Solutions Inc., Samsung Electronics Co. Ltd., On Semiconductor Corporation, NXP Semiconductors N.V., Nokia Corporation, Murata Manufacturing Co. Ltd., Huawei Technologies Co. Ltd., ZTE Corporation, and Fujitsu Limited.
5G RF Transceiver Market Size Breakdown by Segment
The 5G RF transceiver market report offers comprehensive market segmentation analysis along with market estimation for the period 2017–2030.
Based on Design
Single-Chip Transceiver
Standalone-Chip Transceiver
Based on Application
Base Stations
Mobile Devices
Radar Systems
Embedded Modules
Based on Vertical
Consumer Electronics
Telecommunications
Cable/Broadcasting
Aerospace
Military & Defense
Healthcare
Geographical Analysis
North America
Europe

Germany
France
U.K.
Italy
Russia

Asia-Pacific
Rest of the World