Market Overview
The 3D bioprinting market size stood at $1,189.0 million in 2021, and it is expected to grow at a CAGR of 19.4% during 2021–2030, to reach $5,873.0 million by 2030.
Living tissues and organs can be printed in three dimensions by layering living cells, which is why bio engineering has become increasingly important to human society. With the increasing need for bio-engineered organs, researchers have made major advancements in this technology. Hence, the development of 3D bioprinters and biomaterials, their usage in the pharmaceutical and cosmeceutical industries, and the increase in public and private financing for bioprinting research activities are influencing the industry positively.
The industry is also being propelled by the shortage of organ donors and an increase in the prevalence of chronic disorders. Three-dimensional printing is becoming increasingly significant in the healthcare sector as critical body parts, such as the kidneys, heart, and lungs, can be created with it for transplantation. Because they are created from cells isolated from the patient's body, additive-manufactured parts are at a lower risk of rejection by the recipient's body than the traditional method of replacing the damaged organs with those taken out of the body of someone else.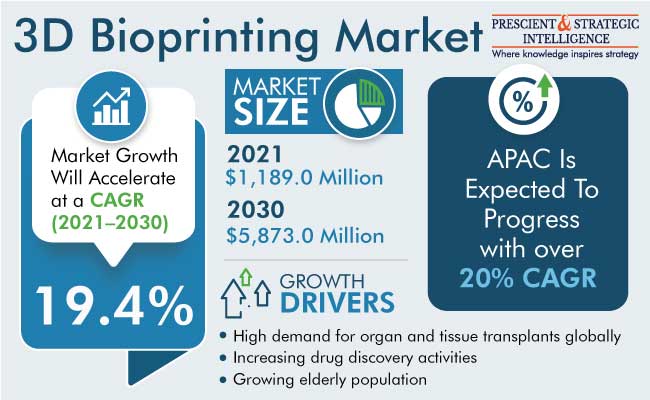 Medical practitioners use additive manufacturing to create new organs and bones, which has been one of the major innovations in the healthcare industry. Additionally, this technology enables the printing of prosthetic limbs, to replace the missing limbs in patients. Furthermore, over the traditional process, for which a donor and a long time are required, three-dimensional bioprinting enables faster transplantation process.
High Demand for Tissues and Organs for Transplantation Drives Market
The demand for essential body parts for transplantation is extremely high across the globe. To make matters worse, there is a huge gap between the demand and supply of organs and tissues. Various organs, such as the heart, kidneys, lungs, liver, pancreas, and intestines, are needed for transplantation.
Similarly, the demand for corneas, heart valves, blood vessels, skin, and bones for transplantation is rather high. Organ donation rates are stagnant, whereas the demand for organs and tissues is increasing. The unavailability of these parts for transplantation has led to the increase in the number of patients on the transplant waiting list, which is a major concern for healthcare providers and organizations.
However, scientists have suggested that a fully functional replica can also be printed, with bioprinting companies having successfully printed some tissues. Positives like this would lead to an increase in the R&D activities to develop fully functional organs for transplantation, in turn, increasing the demand for 3D bioprinters across the globe.
Moreover, the technology has opened up new platforms in the drug discovery and development process. Many drugs are withdrawn or not approved by regulatory authorities due to their toxicity to certain organs, such as the liver, which cannot be predicted during the pre-clinical trial process. Tissues developed through the additive manufacturing process help predict drug toxicity and improve drug efficacy.
Hence, bioprinting saves time in clinical trials and, thus, is being increasingly used for drug discovery. Biopharmaceutical companies are collaborating with market players to test their drugs. New drugs are tested for their efficacy on 3D-printed tissues in the initial stages, which speeds up the drug discovery process.
3D Bioprinting Market Report Coverage

| | |
| --- | --- |
| Report Attribute | Details |
| Historical Years | 2017-2021 |
| Forecast Years | 2022-2030 |
| Market Size in 2021 | $1,189.0 Million |
| Revenue Forecast in 2030 | $5,873 Million |
| Growth Rate | 19.4% CAGR |
| Report Scope | Market Trends, Drivers, and Restraints; Revenue Estimation and Forecast; Segmentation Analysis; Impact of COVID-19; Companies' Strategic Developments; Market Share Analysis of Key Players; Company Profiling |
| Segments Covered | By Technology; By Component; By Application; By End User; By Region |
Explore more about this report - Request free sample pages
North America Makes Largest Contribution to Global Revenue Generation
The North American market for bio 3D printing held around 40% share in 2021 due to technological advancements, increasing research and development activities, and enhancing healthcare infrastructure. Moreover, the high healthcare expenditure, growing geriatric population, and increasing prevalence of chronic diseases are supporting the demand for this technology, especially in the pharmaceutical industry.
Additionally, in 2021, there were approximately 90,000 kidney patients waiting for transplants in the U.S., among whom only 21.4% received a kidney transplant. Moreover, the number of people on the liver, heart, and lungs waiting lists also continues to rise in the country. As per a government source, in all, more than 105,000 people were on the waiting list for an organ transplant as of 2021. Further, the unavailability of organs for transplantation causes the death of 17 patients per day.
Furthermore, North America is witnessing a rapid increase in the geriatric population and high incidences of orthopedic conditions, which is expected to fuel the demand for bio-printed tissues in the region.
Additionally, the American Academy of Plastic Surgeons and the National Institute on Aging state that a significant portion of the population, primarily those between the ages of 16 and 33, is demanding advanced dermatology and dental services. The growing self-care awareness is one of the key drivers propelling the bio printing demand in developed nations, since it makes it possible to bio-print skin tissues.
The U.S. is the larger market for bio three-dimensional printing in North America, with a share of around 90% in 2021. This is due to the increasing R&D for tissue engineering and fabrication, which is leading to technological advancements in this field. The presence of a large number of market players and increasing chronic disease incidence are also fueling the three-dimensional bioprinting industry advance.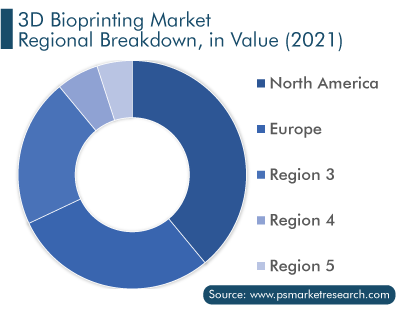 Asia-Pacific will be the fastest-growing market for 3D bioprinting, primarily because of its large consumer base, rising R&D in this domain, and government support and tax breaks.
Chinese researchers have made major advancements in this technology, such as the liquid-in-liquid printing process, in which liquid polymers are combined to form a stable membrane. They assert that the resulting liquid formations can maintain their shape for up to 10 days, before they start to combine. They were able to print a variety of intricate shapes using this new method, which has further paved the way for the printing of tissues from living cells.
Inkjet Bioprinting Takes Major Share in Technology Segment
Using living cells as bio-inks, the inkjet technology allows for the printing of complex organs and tissues on culture substrates, which is why it had the largest revenue share in 2021. The widespread usage of inkjet printers in the medical industry is also because of its high reliability.
Furthermore, the magnetic levitation technology's cost-effectiveness is responsible for the expansion in its usage. With its higher speed and accuracy, magnetic levitation technology is set to eliminate the significant errors, such as poor biocompatibility, in bio 3D printing.
Additionally, toxicity testing, vascular muscle printing, and human cell regeneration can all be achieved using the maglev bioprinting technology. For instance, using magnetic-levitation-based devices, BioAssay has created a structure that looks similar to tissue. Because of the quick adoption of new technologies around the world, additive manufacturing machines using the maglev technology are the most likely to have the fastest sales growth during the projection period.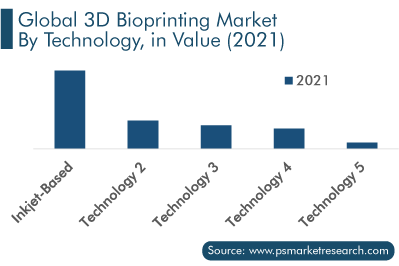 Key Players in 3D Bioprinting Market Are:
BICO Group AB
Organovo Inc.
3D Systems Corporation
CollPlant Biotechnologies Ltd.
regenHU Ltd.
Desktop Metal Inc.
Aspect Biosystems Ltd.
Advanced Solutions Inc.
Cyfuse Biomedical K.K.
Tissue Regeneration Systems Inc.
Market Size Breakdown by Segment
The study offers a comprehensive market segmentation analysis along with market estimation for the period 2017-2030.
Based on End User
Pharmaceutical Companies
Research & Academic Institutions
Medical Device Manufacturers
Contract Research Organizations
Based on Technology
Syringe-Based
Inkjet-Based
Magnetic Levitation
Laser-Based
Based on Component
Based on Application
Surgical Simulation and Training Models
Prosthetic Devices
Tissue Engineering and Regenerative Medicine
Orthopedic Implants
Dental Implants
Medical Sensors
Geographical Analysis
North America
Europe

Germany
U.K.
France
Italy
Spain

Asia-Pacific

Japan
China
India
South Korea
Australia

Latin America
Middle East and Africa

Saudi Arabia
South Africa
U.A.E.