What Can CDMOs in India Gain from Pharmaceutical Industry's Shift toward Outsourcing?
Published Date:

May 29, 2023
In 2022, the global pharmaceutical industry valued USD 1.5 trillion, if not more. But, did you know that anything between USD 90 and 150 billion worth of the drugs sold are not manufactured by the large pharmaceutical companies themselves, but by third-party companies, known as contract development and manufacturing organizations, or CDMOs?
Why Outsource Pharmaceutical Production?
The biggest reason for pharma firms to outsource production to CDMOs remains cost reduction, which, as per some estimates, can be as significant as 15%. While Big Pharma, including J&J, Sanofi, Bayer, Pfizer, Roche, Merck, Novartis, and GSK, might not need to worry about their operational costs too much presently, the newer and smaller pharmaceutical firms, many of which spread their wings just recently during the pandemic, do.
By outsourcing, small and mid-size drugmakers can significantly save on the expenses on a research and development laboratory and a commercial-scale manufacturing plant. Moreover, while the machines needed to make the drugs are themselves costly, the safety precautions that need to be observed within the plant further add to the cost, even more so if the company wants to comply with Good Manufacturing Practices (GMPs) and FDA mandates too.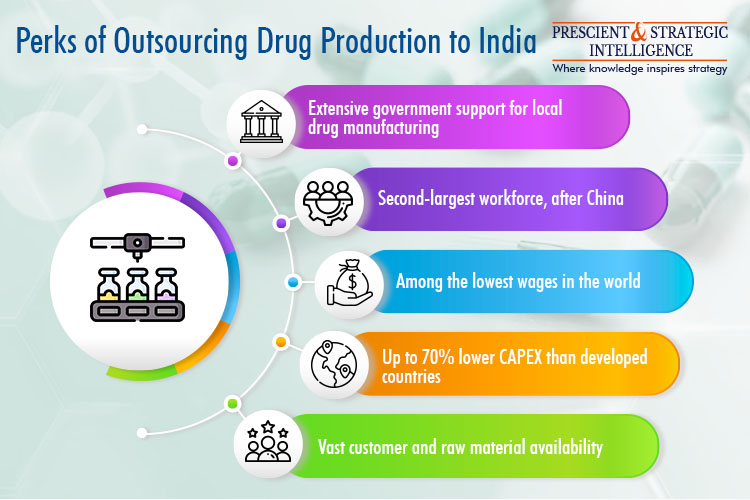 The FDA has detailed guidelines for drug factories, including on the kind of equipment to use, the amount of space required, levels and technology of ventilation and lighting to be used (especially for cleanrooms), and adulteration and infection control methodologies to be followed throughout the storage of raw materials, manufacturing of the drugs and their packaging, as well as their storage and transportation.
Moreover, even the personnel working at the facility are required to have an adequate technical understanding of the drug, as well as the machines being used to manufacture it. Due to all these considerations, the average cost of setting up a manufacturing plant for pharmaceuticals can be at least USD 150 million and even higher if the drug is a biologic! By outsourcing to CDMOs, smaller companies can avoid all these costs and be free to concentrate on research and marketing.
Moreover, this approach can enable companies to quicken up the launch of their therapeutic candidates in the market and, potentially, reach a wider customer base. Further, since CDMOs have the capability to produce in bulk, the actual pharmaceutical companies can expect healthy revenue.
Outsourcing Trends among Big Pharma Firms
Even though CDMOs majorly cater to small and mid-scale pharma firms, the big ones are also now expanding their outsourcing contracts.
For instance, during the COVID-19 pandemic, Pfizer decided to look to its 200 CDMO partners for large-scale vaccine production. BioNTech, which developed the mRNA vaccine with Pfizer, engaged Polymun, its CDMO partner, to supply vaccines for trials. Further, in 2022, Pfizer generated around USD 1.3 billion through its own CDMO, PC1; although it represents a minuscule fraction of its over USD 100-billion overall revenue. However, more than USD 900 million of PC1's USD 1.3-billion revenue came from outside the U.S.
Similarly, GSK has over 40 CDMOs, and in 2022, it made another effort in this space by deciding to outsource the production of amoxicillin, a key antibiotic. Moreover, in April 2020, Johnson & Johnson signed a mega USD 135-million (EUR 124 million) deal with Emergent BioSolutions to supply almost a billion doses of the former's COVID-19 vaccine. Later, in July, the deal was expanded to five years, for a total worth of USD 480 million (EUR 425 million).
Further, during the pandemic, Emergent had CDMO partnerships with other well-known pharma firms too, including Sanofi and Merck, as well as other major CDMOs, such as Catalent, Biologika, Vibalogics, and even GRAM, which was also contracted by J&J. Moreover, in the September of 2020, J&J contracted Grand River Aseptic Manufacturing (GRAM) for aseptic fill-and-finish operations for its COVID-19 injectable candidate.
Novartis is also upping its efforts to explore the CDMO space, having set up its own CDMO, Global Biotech Co-operations, in this regard. Moreover, it has signed an agreement with Carisma to produce HER 2 targeted CAR-M cell therapy from 2023 onward. Further, before becoming a CDMO itself, Novartis had contracted several third-party drugmakers. For instance, for over 20 years, Societal CDMO has served as its worldwide supplier of Ritalin LA capsules, the European rights to which Novartis gave to InfectoPharm in May 2022.
Moreover, despite spending USD 877 million on expanding its in-house manufacturing capacity, Roche has continued to outsource the production of biologics since 2013. Lonza, a major CDMO, is working with or has worked with many major drugmakers, including Bristol-Myers Squibb, Novartis, and AstraZeneca, as has Catalent.
Further, South Korean CDMO Lotte Biologics is expanding its presence in the U.S. with the purchase of the Syracuse, New York, factory of Bristol-Myers Squibb. This is the second incident of a South Korean CDMO taking over a factory previously owned by BMS following the purchase of the latter's Ireland factory by SK Biotek in 2017.
In the same vein, in February 2022, Merck KGaA began to restructure its life sciences business to strengthen its CDMO operations. This move came at the back of Merck's acquisition of CDMO Exelead for around USD 780 million in cash just one month before.
Further, EuroAPI, a key manufacturer of small-molecule drugs with over EUR 970 million worth of sales in 2022, was soon spun off from its parent, Sanofi, whereupon the former now operates as an independent CDMO. Additionally, the two companies had expanded their collaboration in 2022 to develop and market mRNA vaccines for flu and other indications. Moreover, in October 2022, Sanofi signed an agreement with German CDMO Adragos to sell its manufacturing plant in Kawagoe, Japan.
Another giant of the pharmaceutical industry, Bayer, announced plans in October 2020 to acquire Asklepios BioPharmaceutical, a CDMO specializing in AAV therapies, for up to USD 4 billion.
All these strategies clearly hint at a massive potential for the CDMO sector. And, while most of the CDMOs are currently based in Europe and North America, the momentum will arguably shift to Asia-Pacific in the coming years as labor and raw materials continue to become more expensive and the regulations on pharma production tighten further in the West. For instance, in October 2021, BioCina morphed into a full-service CDMO with the completion of the acquisition of the Adelaide biologics factory of Hospira Adelaide Pty Ltd., a Pfizer affiliate.
What Does This Transition Mean for India?
India could be a key gainer of this CDMO transition to the Eastern hemisphere in the coming two decades. By volume, India is already the world's third-largest pharmaceutical producer, with a vast number of FDA-, WHO-, and EDQM-compliant factories. Overall, more than 3,000 pharma firms and over 10,000 factories exist in the country. Further, as per the IBEF, 500 API producers in the country account for 8% of the global output of these agents.
Moreover, the biggest CDMO opportunity in India might be for generic producers, with India supplying almost 40% of the generics to the U.S. already. As per studies, generic manufacturers are witnessing rapid growth in the global CDMO industry, especially synthetic ones. This is because biopharmaceutical production generally entails more know-how and tighter regulations, which discourages biotech companies from outsourcing their production.
An idea of the CDMO opportunity available in India can be had from the fact that as per research, 70% of the drugs sold in the country are supplied by CDMOs partnering with major globally operating pharmaceutical companies. Moreover, with sustained government support, third-party pharma firms in the country may have an opportunity to transform into integrated CDMOs.
The key government initiatives aimed at augmenting medicinal drug production in the country are the Production Linked Scheme, 100% FDI, Jan Aushadhi Yojana, and Ayushman Bharat. Among these, the PLI scheme envisions an outlay of INR 15,000 crore to augment the medicinal drug output of the country. Further, under its Promotion of Bulk Drugs Parks scheme, the Central Government plans to develop three mega integrated industrial parks for pharmaceutical manufacturing.
This could also boost drug exports from the country, which currently stand at USD 25 billion. Already, around 60% of the vaccines administered globally are manufactured here. Major markets for India-manufactured pharmaceuticals apart from the U.S. are Japan, Australia, and Western Europe, all of which are developed geographies in terms of industrial and healthcare technologies.
A testament to India's CDMO capabilities is the supply of over 70 million doses of cost-effective COVID-19 vaccines to more than 90 countries, while helping administer over one billion doses locally! Further, Serum Institute of India supplies over 1.5 billion vaccines for polio, measles, diphtheria, rubella, and mumps to 170 countries each year. Moreover, the country exports a massive 45 tonnes of hydroxychloroquine, a key antirheumatic and antimalarial drug, to over 100 nations each year.
A key factor that could bode well for India's CDMO sector is that apart from integrated services, CDMOs here can be hired for just one aspect of pharmaceutical development, viz. molecule R&D, commercial manufacturing, clinical trials, and even just for primary or secondary packaging. One of the local CDMOs investing to upgrade its injectables fill–finish capacity is Windlas Biotech. Further, CDMOs based in the country can be hired to produce the complete drug or just the API too, which could give European and U.S.-based pharma firms even more operational flexibility.
Further, while small-molecule drugs, which are essentially synthetic drugs, have been the mainstay of India's CDMO business, biologics are beginning to gain prominence too. Recently, trastuzumab, jointly developed by Bengaluru-based Biocon Biologics and Mylan and marketed as Herceptin, received the regulatory approval for metastatic stomach cancer and breast cancer in Europe, the U.S., Australia, and Canada.
Another key opportunity for India's CDMOs could be personalized medicine, wherein each individual's biological profile is studied to create a treatment regimen for a particular disease. And, with the greatest ethnic diversity anywhere on earth, what better place for pharma firms to delve into the world of genetics and use that information to create more-effective treatments?! This would not just encourage domestic pharma firms and research institutes to invest in this area but also those based in the Western world, which could mean potentially heavy investments in India's CDMO space.
Further, India's CDMOs are already augmenting their focus on bioinformatics, protein isolation, synthesis, and characterization; and large-scale manufacturing, which will definitely encourage Western drugmakers to invest in them or open one of their own in the country. Further, as per reports, Indian CDMOs are already more profitable than those based in the Western hemisphere, with EBITDA margins as high as 35%, in contrast to the maximum 20% achieved by European and U.S.-based CDMOs.
Current Scenario for CDMOs in India
Empowered by an expanding patient base, its position as a key manufacturer across industries, and government support, India is gaining significant investments from both local and international CDMOs.
For instance, in June 2022, Piramal Pharma Solutions expanded its manufacturing site in Pithampur, Madhya Pradesh, from 3 billion to 4.5 billion doses of drugs in the OSD form, with an investment of USD 11 million. This site will now be able to handle batches ranging from 150 to 600 kg. This investment came at the back of the announcement to improve its high-throughput screening capacity at its Ahmedabad site in the January of that year, a move that will enable it to strengthen its in-vitro biology capabilities.
Other CDMOs Piramal has acquired, invested in, or is working with include Hemmo Pharmaceuticals (USD 106 million [INR 775 crore]), Yapan Bio (Piramal acquired a 27.78% stake for INR 101.7 7crore), and Allergan (JV).
Moreover, Catalent, one of the biggest CDMOs in the world, is already facing tough competition from countries such as India and China, which offer labor and raw materials at a low cost. While it is bad news for Catalent, it is definitely a blessing for India, as it hints at a massive potential for CDMOs here.
Another prominent CDMO making long strides in India is Recipharm, which acquired a new fill–finish factory in Dehradun, Uttarakhand, in partnership with Nichepharm Lifescience, in July 2021. The facility produces 1.6 sterile units annually and exports them to the U.S. and the EU.
Further, in 2022, Recipharm sold three of its European factories: Fontaine-lès-Dijon factory in France to Astrea Pharma and Aesica Pharmaceuticals, along with its API facility in the U.K., to Pharmaron, which is further proof that major pharma firms and CDMOs will continue to shift operations to India and elsewhere in Asia.
Further, among the homegrown CDMOs, Laurus Labs had already spent INR 16.5 billion during 2020–2021, and it has earmarked an additional INR 24 billion over 2023 and 2024 to expand its footprint across the country. In the same way, Gland Pharma has made a capital expenditure of INR 7.4 billion during 2020–2021, and it plans an expenditure of INR 5.5 billion over the next two years. Further, in December 2022, Fosun, the parent company of Gland Pharma, had approached a number of global investment firms, including Bain Capital, to purchase the CDMO.
Moreover, Syngene International Limited has already spent INR 7.7 billion, while Divi's Laboratories plans to pour up to INR 30 billion in the next two years, having already spent up to INR 35 billion over the last four years. Further, Advent Pharma plans to purchase Suven Pharma, merge it with Cohance Lifesciences, the former's portfolio company; and create a CDMO with a valuation of at least USD 1 billion.
Additionally, apart from merely research, development, and manufacturing of drugs, Indian CDMOs also have numerous opportunities in clinical trials, with Cipla (with Kemwell Biopharma Private Limited) and Biocon Limited (with Equillium Inc.) having already entered this arena in the country.
Hence, the next 10–15 years could be a gamechanger for India's CDMO industry, driven by the availability of the second-largest workforce (after China) at the lowest wages around the world, low infrastructure development costs, regulatory support, and a huge patient base.