HVAC Systems: A Life-Saver in Times of Global Warming
Published Date:

October 18, 2021
From a simple burning wood setup, heating systems have come a long way. Similarly, evolving from the use of ice and salt to freeze meat for long-distance transportation via ships, people now have refrigerators and freezers. In the same way, the science of ventilation has moved beyond the windcatchers of the Middle East to the sophisticated equipment that is now common everywhere.
The heating, ventilation, and air conditioning (HVAC) systems of today can not only keep the temperature inside a closed space within the desired range but also regulate the moisture content. With technological advancements, a wide range of HVAC systems have become available for specific purposes. Further, over time, they become accessible to people falling into numerous income groups.
The situation has changed so much that presently, developing countries are registering higher sales of such appliances than developed countries. These systems are widely used in homes, offices, cars and buses, shopping malls, hospitals, hotels, factories, educational institutes and research facilities, airports and aircrafts, trains and train stations, indoor stadia and performance venues, and other places.
HVAC Appliances Available around the World
Depending on what the purpose is and which part of the world it is, a wide array of HVAC equipment is common. Here is a rundown of what's on offer:
Heating Systems – Protecting People from the Freezing Cold!
Heating systems are an essential requirement in cold areas, such as most of the countries in Europe and North America and the mountainous regions of even tropical and subtropical countries, such as India, China, and South American countries. For instance, in much of Canada, the Baltic, and Siberia, the temperature drops to well below -15 °C in winters.
Since the human body can only survive temperatures of a minimum of 95.0 °F (35.0 °C), centralized heating is common in such developed countries, in homes, offices, indoor sports and entertainment venues, and even factories. Moreover, with the rising awareness on hypothermia and frostbite and people's growing disposable income, areas in Latin America, Middle East and Asia-Pacific (APAC) that witness cold winters are also adopting centralized heating.
Furnaces, boilers, unitary heaters, and heat pumps are available for heating purposes. Further, heat pumps are of three types — ground-source, water-source, and air-source — depending on where they absorb the heat from. Similarly, furnaces come in the electric, propane, and gasoline variants, while the boilers are of the fire-tube and water-tube kinds.
Cooling Systems – The Best Antidote to Global Warming?
A large part of the earth witnesses perpetually hot weather, especially places in the tropics. For instance, much of the Middle East, Africa, and APAC regions are subject to tropical/subtropical climate, which results in long, hot summers. This is why air conditioning systems are so important for countries like India, Saudi Arabia, Bangladesh, the U.A.E., South Africa, Mexico, and Brazil.
Moreover, with global warming, even the cool regions are witnessing increasingly hot days, thereby leading to the rising installation of cooling systems. These appliances have become quite common in Europe and North America and even the mountainous regions of the Subcontinent, which have traditionally been identified as cool areas.
The wide array of cooling systems on sale includes split units, room ACs, chillers, ducted split/packaged units, and variable refrigerant flow (VRF) systems. Window ACs and mini-splits are the two types of room ACs, whereas VRF systems include heat pump systems and heat recovery systems. Additionally, chillers are available in the screw, scroll, reciprocating, centrifugal, and absorption variants.
Ventilation Systems – Because Oxygen Is Even More Important!
Whether it is cold or hot, ventilation is necessary because, how else, will the human body get its oxygen?! In enclosed buildings, massive ventilation systems are deployed because the air inside becomes stale over time. Moreover, if a lot of people are inside an enclosed space, the exhalations can lead to more carbon dioxide than oxygen. Now, who would want to breathe that?!
Air handling units, ventilation fans, fan coil units, air cleaners, humidifiers, and dehumidifiers are available for ventilation purposes. Air handling units come as rooftop units, makeup air units, and terminal units. In the same vein, axial fans, centrifugal fans, power roof fans, and domestic exhaust fans are the various kinds of ventilation fans.
Fan coil units, on the other hand, come with two or four pipes. Air cleaners are of five specialized types: Type 1 (high-efficiency particulate air [HEPA] + carbon), Type 2 (HEPA + carbon + ionizer), Type 3 (HEPA + carbon + ultraviolet [UV]), Type 4 (HEPA + carbon + ionizer+ UV), and Type 5 are those based on other technologies.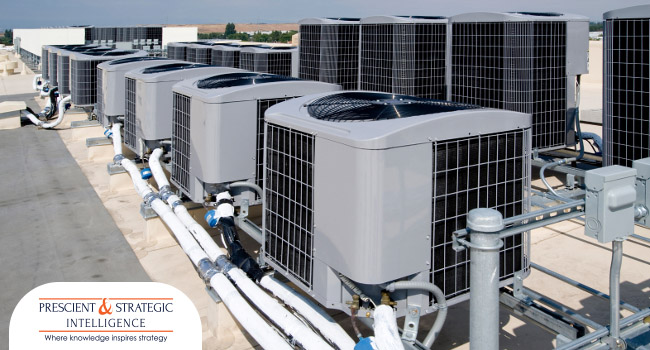 Major Users of HVAC Systems
There would hardly be any corner of the earth, apart from the really dirt-poor ones, that doesn't have some form of HVAC equipment. Such systems have become so cheap in recent years that they are visible as far as the eye can see even in the outskirts and less-affluent city areas.
Even many 'pukka' houses in slums now have at least one AC. Furthermore, those who cannot afford these systems can rent them for specific seasons! In many developing countries, having an AC has become a symbol of the social status, like a car. Here is a little more on the usage of such appliances in the residential, commercial, and industrial sectors:
Residential: In most temperate countries, central heating is a common feature in all types of buildings. Similarly, in countries that lie on or near the Equator, central air conditioning is being rapidly integrated into large buildings. Individual houses in such places generally have their own air conditioning systems, mostly room ACs or split ACs.
Commercial: In large commercial buildings, apart from heating and cooling, ventilation is also a necessary requirement. As they play host to hundreds of people every hour, the air inside gets stale, full of carbon dioxide and microbes, therefore needs to be thrown out and fresh air let inside. Many large commercial buildings have a basement or a dedicated utilities floor housing massive HVAC equipment.
Major commercial users of HVAC equipment include large and small shops and shopping malls, private and government offices, medical centers, hotels, pubs, bars, cafes, and restaurants, transportation agencies and the various public places they operate, cold storage facilities, educational institutes, data centers, banks, and indoor stadia.
Industrial: In factories and other industrial settings, HVAC appliances play many roles. For one, they create a comfortable and holistic environment for human employees. Two, they keep the machines cool and ventilated, as running for long hours, they heat up, and too much heat can damage them.
Three, in several industries, especially oil and gas, food and beverages, and pharmaceuticals, the raw materials, ingredients, and the final products need to be stored in carefully controlled environmental conditions, which are enabled by HVAC systems.
Current Trends in HVAC Industry
With the changing preference of customers, manufacturers of HVAC systems have begun integrating advanced features into them. Here are the key technological and other trends in the global HVAC industry:
Smart Systems: One of the key trends in this regard is smart HVAC systems, which are equipped with automation features, smartphone-integrated and internet of things (IoT)-based controls, and real-time self-monitoring ability. Additionally, these systems are better able to maintain the temperature and offer reminders for preventive maintenance, which reduces maintenance costs and enhances the equipment's efficiency.
Energy-Efficient Appliances: With the burgeoning installation rate of electrical appliances, energy consumption is rising rapidly. This is leading to the burning of massive amounts of coal, natural gas, and crude oil at power plants, which is driving air pollution. As a result, energy-efficient HVAC systems are trending, especially with the stringent energy conservation regulations in place.
For instance, in the U.S., home appliances must comply with the Energy Star ratings. Similarly, the Energy Efficiency Ratio (EER) program of the Indian government gives between one and five stars to home appliances, depending on their energy usage. The higher the star rating, the lower is the amount of electricity consumed.
The labels on the appliances inform customers on how many units of electricity the systems are likely to consume each year, with the aim to encourage people to go for low-energy-consumption variants. With initiatives like these, the Indian government hopes to achieve annual energy savings of 125 billion units by 2030.
Usage of Renewable Energy: Apart from the adoption of HVAC appliances that comply with national energy consumption standards, the usage of those integrated with renewable energy generation systems is also being encouraged. For instance, ground-source HVAC systems, which use geothermal energy for heating and cooling purposes, are rapidly becoming popular.
Apart from helping save coal, natural gas, and crude oil, by using less electricity, these appliances also do not release any greenhouse gases (GHGs), which is another of their benefits for the environment. In the same way, equipment integrated with solar energy generation systems is finding increasing application.
In perpetually hot countries, such as those in the Subcontinent and the Gulf region, energy consumption by air conditioners is a major environmental concern. This is why such equipment are being integrated with solar panels, so that the abundant sunlight available can be used to power them and the consumption of electricity generated from fossil fuels can be minimized.
Growing Servicing Requirement: Just buying an energy-efficient appliance isn't enough; it must keep on operating as such throughout its life. This is why people are getting their appliances serviced more than before. HVAC systems lose their efficiency over time, due to dust and microbe accumulation on vents and radiators, continuously running motors and fans, and air and refrigerant leakage.
With the increasing awareness about eco-friendly practices, servicing and repair personnel are fulfilling more servicing and maintenance requests than ever. To save on maintenance expenses, a lot of people are opting for annual maintenance contracts (AMC), wherein they only have to pay once a year for regular servicing every 2–3 months.
Opportunities for HVAC Equipment Manufacturers and Suppliers
As HVAC systems continue to sell like hot cakes in the growing residential, commercial, and industrial real estate sectors, several opportunities are emerging for their manufacturers and suppliers, as well as those who service them.
VRF: The biggest advantage of VRF systems is that they can simultaneously cool and heat separate areas within a building, which reduces the need for individual heating and cooling appliances. Moreover, as per the temperature required, they control the refrigerant flow, rather than turning the compressor on/off, thereby saving energy. Additionally, they are easy and cost-effective to install, thus ideal for skyscrapers.
District Heating and Cooling: District heating and cooling (DHC) is something like VRF, but it is used on a much larger scale, such as for an entire residential colony or business district. In a centralized place, water is heated and then supplied to multiple buildings, via insulated pipes, for heating and cooling purposes.
Compared to a conventional cooling system, a DHC setup is around 50% more energy-efficient. Another advantage of DHC systems is that the heat is often sourced from a power plant, thus eliminating the need for a separate fuel burner or boiler. The heat is the waste heat that remains after the power plant turbine has been driven.
Thus, the growing real estate sector, economic growth in developing countries, and new technological trends will continue to boost the sales of HVAC systems and, in turn, the demand for regular servicing and repairs.