Why Hemp Industry Is Great Opportunity for New Commerce?
Published Date:

May 16, 2022
Hemp is native to Central Asia, with its farming for fiber reported as early as 2800 BCE in China, mainly for usage as a medicine. Further, cannabis was cultivated in European countries early in the Christian period, spreading to the rest of Europe in the Middle Ages. The cannabis family, including hemp plants, contains fats, proteins, and a lot of other compounds, most of which are found in the seeds. Cannabidivarin, cannabidiol (CBD), tetrahydrocannabinol (THC), cannabigerol, and other cannabinoids are found in hemp.
Nowadays, people are using hemp for constipation, high cholesterol, eczema, arthritis, pain management, and a variety of other ailments, but there is no scientific proof to back up these claims. Moreover, hemp seeds and oil include vitamins, minerals, and compounds that can offer numerous health benefits. Hemp oil, for example, is high in vitamin E, which keeps the immune system healthy. It also functions as an antioxidant, aiding in the reduction of free radicals, which can harm the cells in the body.
Moreover, dozens of benefits have been mentioned by many research studies on hemp seed and hemp seed oil, which is enhancing the focus of consumers, growers, manufacturers, and distributors on these commodities. Hemp seed oil is also rich in fatty acids and has a well-balanced protein content, as well as being easily digestible. Therefore, CBD is gaining popularity as a component of medicinal and cosmetic products and dietary supplements.
Legalization of Hemp Cultivation
Hemp is being more widely utilized as a fiber and oilseed in the production of a range of industrial and consumer products across the world. Industrial hemp products are made from Cannabis sativa L., which is not the same species as marijuana. The U.S. 2018 Farm Bill contains several steps to legalize hemp farming as a crop, withdrawing it from the list of banned substances
The bill outlines that if hemp is grown without a license or if a product has > 0.3% THC, it will be considered a breach of the law. In the same way, European countries allow the cultivation of hemp with a THC content of < 0.2%. Because hemp farming is now legal in North America and Europe, the focus has turned to the production of cannabis seeds and CBD oil, a non-psychoactive cannabinoid that may be used in the pharmaceutical and food industries.
Similarly in India, Uttarakhand became the first state to allow large-scale commercial hemp production for industrial purposes in 2016. The Indian Industrial Hemp Association was given permission to cultivate cannabis on 1,000 hectares. The plant can be harvested in three months, using very little water, which is why it has been regarded as a sustainable commodity in places like Uttarakhand, where water is scarce and traditional crops are difficult to produce.
Hemp Applications in Various Industries
The requirement for hemp in pharmaceutical applications is likely to grow rapidly in the coming years. This is owing to its anti-inflammatory and pain-relieving features, as well as the chances of alleviating stiffness and discomfort and decreasing diabetes risk. Furthermore, the demand for it in pharma products may increase as a result of the aging and rising population and the claims regarding its effectiveness in treating several emerging health concerns.
In other general-purpose industries, hemp fiber is in high demand due to its strong, low-density, and flexible qualities. Fiberboard, clothing, compost, paper, animal bedding, and composites are widely being made from it. Because it multiplies the tensile strength of cotton, it is commonly used in clothing. It readily combines with other fibers to create a hybrid material, which helps the fiber maintain its strength, while providing comfort, softness, and a refined feel to it.
Moreover, its high tensile strength makes it a useful material for creating ropes and cords. As per the USDA, hemp sold for fiber production in the country valued around $40 million in 2021. The area used for hemp cultivation for this purpose was projected to be 12,690 acres.
Furthermore, because industrial hemp moisturizes the skin for longer periods, it is becoming more popular in personal care products. Additionally, the vitamin- and omega-rich hemp seed oils have a calming effect on the skin. Hence, because it contains omega-3 and omega-6 fatty acids, fiber, antioxidants, and other key nutrients, it plays an important role in sustaining physical health. This is why hemp is used in body wash, oils, balms, scrubs, soaps, and other personal care products.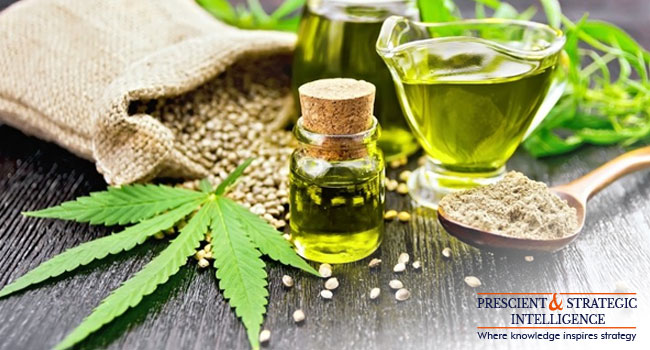 In addition, hemp milk, hemp seeds, hemp cheese, hemp oils, alternatives, and hemp-based protein powder are increasingly being used in the food business. The nutritional value of these products is related to a range of possible health advantages. Hemp seeds also contain tons of vital amino acids and are an excellent source of protein for vegans.
For instance, Hemp Inc. developed capsules, water, gummies, and tincture from cannabigerolic acid (CBGA) and cannabidiolic acid (CBDA) in January 2022. These products are available in a wide variety of flavors, potencies, and recipes.
Wide Product Variety Propels Demand for Hemp
Hemp Seeds
Hemp seeds are high in magnesium, which aids in heart rhythm regulation, thus has been related to the prevention of cardiovascular diseases. They also include linoleic acid, which, as per WebMD, lowers cholesterol levels by 15% and may lower blood pressure. Moreover, terpenes, which are plant compounds found in cannabis seeds, may aid in brain protection and tumor prevention.
Hemp Oil
Hemp oil may be used in cooking, to offer nutritional advantages to the food, or used topically on the skin. Studies have shown this product to help with eczema symptoms and dry, itchy skin. The antibacterial and anti-inflammatory properties of hemp seed oil may potentially help cure acne, which affects almost 10% of the people on this planet, according to research.
CBD Hemp Oil
CBD hemp oil is being explored for reducing the severity of the symptoms of numerous health issues, including anxiety and neurological diseases. It may also aid with heart health and pain relief in some cases. According to a recent Forbes Health poll of 2,000 U.S. adults, 60% of the people have used CBD previously and 55% specifically use CBD tinctures and oils.
Countries with Highest Hemp Production
China ranks comfortably as the top hemp producer in the world. As per CBD World News, China, which has been cultivating it since the 11th century, accounts for more than 65% of the world's production. China's anti-hemp laws were modified in 2010, allowing licensed enterprises to produce it under stringent guidelines. Hemp is only permitted to be grown in two provinces in China: Heilongjiang Province in the north and Yunnan Province in the south.
Canada is also recognized for its progressive policies regarding cannabis production, consumption, and marketing. Hemp production was authorized in Canada in 1998, enabling local farmers to enter the burgeoning cannabis industry. During the 2016–2017 harvest season, Canada recorded a mammoth 80% rise in the production of cannabis. It is majorly grown in three provinces: Alberta, Saskatchewan, and Manitoba. In Canada, approximately 20 hemp types have been licensed for commercial production.
Over in the U.S., the 2018 Farm Bill enabled the commercial production and marketing of hemp and hemp-derived products. The 2018 Hemp Acreage Survey stated 78,176 licensed acres of hemp farms, despite pro-hemp laws passed in only 23 states! Cannabis is largely grown in the U.S. for the production of hempcrete, fabrics, hemp-derived CBD, and textiles.
France, which is the epicenter of European hemp cultivation today, has a long history with it. According to a CBD World News survey on cannabis production in Europe released in September 2019, the region contributes over 25% of the world's hemp supply, and France alone accounts for more than 40% of this total.
Similarly, Chile is Latin America's leading hemp producer. The first hemp cultivations were discovered in the Valparaiso area in Quillota. Chile is now one of the world's leading producers of hemp seeds. The country approved medicinal cannabis in 2014, resulting in a surge in hemp production, mostly for food items and CBD.
Hence, the legalization of hemp production and tons of advantages of hemp-driven products drive the demand for the commodity, which is why an increasing number of individuals and companies are obtaining the license to cultivate it.