Despite Environmental Concerns, Construction Boost Pushing up Genset Sales
Published Date:

Jan 03, 2021
An uninterrupted power supply has become a necessity to properly partake in the comforts of the modern world. Moreover, with the rapid urbanization and increasing infrastructure development, especially in the Middle East and emerging economies of Asia-Pacific (APAC), such as India and China, the ability of utilities to fulfill the need for power could very likely determine the future of human civilization. According to the India Brand Equity Foundation (IBEF), the country will become home to the third-largest construction industry in the world by 2022.
The Indian government launched the Smart Cities Mission in 2015 in order to support the development of cities that are sustainable and clean and offer an improved quality of life to citizens. Furthermore, the Indian government allocated INR 111 lakh crore under the National Infrastructure Pipeline (NIP) for infrastructure development during FY2019–2025. Similarly, Saudi Arabia recently announced several ambitious infrastructure projects, such as The Red Sea Project and The Qiddiya Project, in order to diversify its economy and reduce its reliance on oil and gas. Additionally, under the Vision 2030 plan, the country is actively focusing on developing the tourism and infrastructure sectors.
Thus, the launch of such huge infrastructure development projects will fuel the expansion of the global genset market from $17,592.6 million in 2019 to $27,863.0 million by 2030. Besides, the launch of housing projects in many countries is predicted to fuel the demand for such equipment. For instance, the city of Toronto intends to construct 40,000 new affordable rental homes, 4,000 affordable-ownership homes, and 18,000 deeply affordable homes with supports by 2030.
Essentially, the ballooning need for 24*7 electricity in residential buildings, primarily because of the growing popularity of remote working and 'work from home' in the post-COVID-19 world, is expected to create a huge requirement for gensets. Furthermore, the poor power grid in many countries, especially in Africa and APAC, leads to a high power cut incidence, which makes gensets important for continuous operations.
That's Why Gensets Are Necessary at Data Centers
With the mushrooming penetration of the internet, smartphones, digital currencies, intelligent personal assistants, the internet of things (IoT), and autonomous cars, the world is witnessing a massive rise in data creation. Moreover, as people embrace digitization and business operations move to the cloud and other digital platforms, data generation will shoot up, which will, in turn, propel the requirement for data centers.
As continuous power is required at these centers for the security systems, heating, ventilation, and air conditioning (HVAC) systems, backup controls, servers, and other critical systems, they depend on generators, considering the poor quality of the grid infrastructure even in developed countries.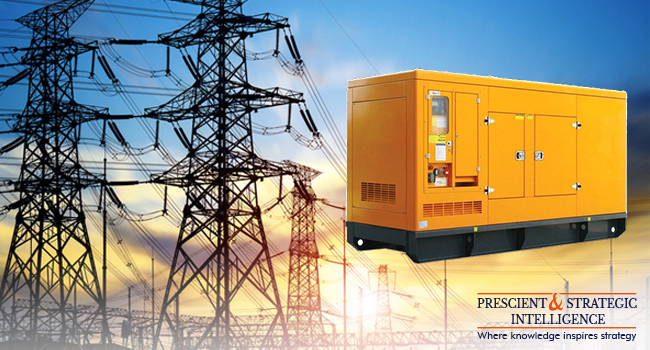 Sustainability Push Fails to Dampen Demand for Diesel as Fuel
Natural gas, gasoline, and diesel are primarily used for powering gensets. Out of these, diesel continues to be the most-popular fuel owing to its abundant availability. In addition, the poor supply of natural gas makes the large-scale production of gas-powered gensets a difficult task, even though they are cheaper and more cost-effective than the diesel variants. Moreover, diesel offers more energy than gasoline, which makes diesel engines more fuel-efficient than those running on the latter.
Therefore, despite being notorious for its carbon emissions, the stringent environmental regulations have failed to reduce the demand for diesel gensets. Moreover, genset manufacturers are integrating advanced combustion and emission-control technologies in diesel gensets in response to the emission regulations in place, which has allowed diesel gensets to stay in operation around the world.
Bi-Fuel the Genset Technology of the Future?
With the increasing concerns over the rapid environmental deterioration and soaring air pollution levels, the demand for bi-fuel gensets is rising sharply owing to their greater eco-friendliness and reliability than diesel-only ones. Moreover, they offer extended run times, which makes them highly sought-after in applications where any disruption in the power supply can massively affect operations. In a typical bi-fuel genset, natural gas, which emits lower quantities of particulate matter and nitrogen oxides than a standard diesel generator, accounts for around 75% of the fuel.
The other major benefits of these gensets are:
On-Site Fuel: In many applications, on-site fuel is preferred or strongly required. As a bi-fuel genset can easily switch to run 100% on diesel available onsite without negatively impacting operations, it is widely preferred in applications where a continuous natural gas supply is not always possible.
Reduced Fuel Storage: As natural gas is the primary fuel for such gensets, smaller diesel tanks can be used. The storage of less fuel onsite can lead to lower fuel procurement costs, thereby reducing the overall operating expenditure.
Lower Cost: The price of a mid-range natural gas genset is around twice that of a comparable diesel genset. Since bi-fuel variants offer many benefits that are commonly associated with natural gas and exhibit greater thermal efficiency than natural gas variants, they are found to be more cost-effective.
How Gensets Are Driving Economies around the World
Across the world, the demand for gensets is the highest in APAC owing to the expansion of the manufacturing sector on account of the implementation of government initiatives such as Made in China 2025, Making Indonesia 4.0, and Make in India. Furthermore, the soaring investments being made in the development of telecommunications infrastructure and burgeoning requirement for backup power, especially in residential units, are propelling the sales of gensets in the region. Moreover, many developing nations here have a poor power infrastructure, which is significantly boosting the requirement for generators for emergency backup.
Additionally, the development of public-use infrastructure, such as roads and rail networks, is picking up here. For instance, India is investing $741.51 billion (INR 5.35 crore) to construct 65,000 km of highways by 2022. Among India's most-ambitious projects in this regard is the Delhi–Mumbai Industrial Corridor, which includes an around 1,350km-long expressway. Similarly, after the COVID-induced slump in January–June 2020, highway construction in China rose by 13.8% during the same period this year.
Further, the railways form one of the major lifelines of India and China, which is why the governments of these countries are laying special focus on this sector. China constructed 5,464 km of railway lines on average every year between 2008 and 2019. Similarly, India is constructing two Dedicated Freight Corridors, the Jammu–Baramullah railway line, Mumbai–Ahmedabad bullet train, and many other rail links, doubling most of the existing single lines, and upgrading the Diamond Quadrilateral trunk routes for speeds of up to 160 kmph.
Not only do such projects require gensets during their construction, on account of not being connected to the grid, the railway lines require gensets even once they start operating. Despite India and China's push for 100% railway electrification, a large number of their trains run on diesel–electric transmission. For the same, General Electric is manufacturing 300 6,000-horsepower (HP) and 700 4,500HP diesel–electric locomotives, in which the diesel engine is connected to an alternator.
In the coming years, the sales of these systems are expected to soar in the Middle East and Africa (MEA) on account of the poor grid connectivity, surging commercial activities, and rapid industrialization and urbanization in Turkey, Egypt, Saudi Arabia, and the U.A.E. Additionally, several major infrastructure development projects are ongoing under the Saudi Vision 2030, in preparation for the 2022 FIFA World Cup (Qatar), and during the ongoing World Expo 2020 (Dubai), which has massively raised the requirement for electricity, both during and after construction.
Increasing Genset Production Playing Major Role in This Regard
Major genset manufacturers around the world, such as Caterpillar Inc., Cummins Inc., General Electric Company, AB Volvo, Generac Holdings Inc., Escorts Limited, Denyo Co. Ltd., Siemens AG, and Kirloskar Oil Engines Limited, are increasing their production capacities in order to meet the mushrooming requirement for prime and emergency power supply.
For example, Caterpillar Inc. set up a new diesel and gas genset manufacturing line at its Seguin plant in Texas in April 2017. Equipped with 2.2–18-liter engines, the gensets manufactured in this line can generate up to 500 kilowatts (kW) of power.
Likewise, Hipower Systems purchased a production plant in Kansas for $24 million in March 2017 to serve as its new corporate headquarters. At this facility, engineering, designing, sales, support, and manufacturing operations are carried out, including for the company's MTU Detroit portable generators, which adhere to the Tier 4 final emission standards.
Hence, the increasing construction and infrastructure development activities, especially in the MEA and APAC regions, and the rapid development of data centers will give a boost to genset production and sales in the coming years.