Diesel to be Most Popular Fuel in Generator Market till 2030
From $17,592.6 million in 2019, the global genset market is expected to reach $27,863.0 million by 2030, witnessing a CAGR of 5.8% during 2020–2030 (forecast period). The major reasons behind the advance of the market are the low production of power and uncertainties in the grid in several nations as well as the increasing construction of data centers.
The COVID-19 pandemic has significantly impacted the demand for gensets at a global level owing to temporary suspension of manufacturing activities across China, India, and several countries across Europe. In addition, severe ramifications could be seen on the supply chain of essential components for gensets across manufacturing units, which were heavily dependent on the Chinese plants for supply in Q1 2020.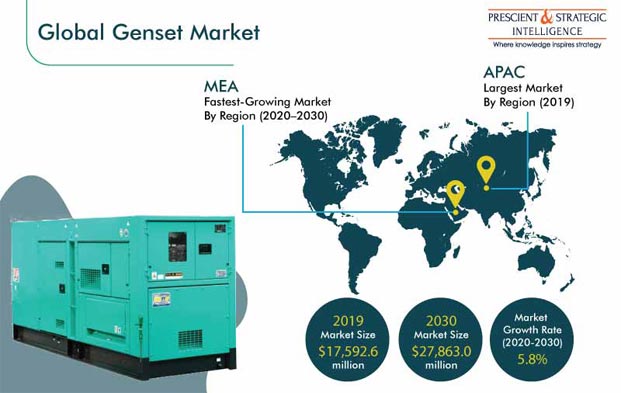 Segmentation Analysis of Generator Market
The diesel genset category is expected to hold the largest share in the genset market till 2030, based on fuel. This is primarily ascribed to the wider availability of diesel in comparison to natural gas and gasoline. Even though low-power gas gensets are cheaper than diesel variants, the poor supply of natural gas negatively affects their uptake.
During the forecast period, the 376 kVA–750 kVA division, under segmentation by power rating, is expected to witness the highest CAGR in the market, on account of the rising number of commercial offices, retail super markets, and urban residential complexes, where these higher-power variants are required.
The commercial classification, on the basis of application, generated the highest revenue in the genset market in 2019, as a result of the increasing funding for public infrastructure advancement, rapid construction of smart cities, and growing in retail sector, on account of the surging consumer spending.
Asia-Pacific (APAC) dominated the generator industry during 2014–2019, as the manufacture sector here is growing, primarily on account of government initiatives, such as Make in India, Made in China 2025, and Making Indonesia 4.0. Further, heavy investments are being provided to develop telecommunications infrastructure, and the demand for backup power is increasing from residential units. Due to its moderately developed power infrastructure, APAC majorly uses generators for auxiliary power.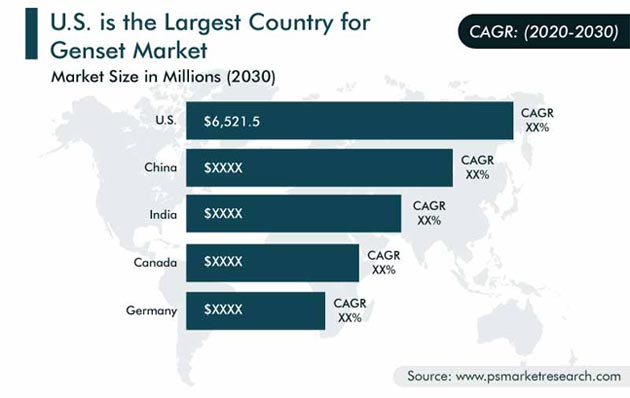 High Activity in Market is key Trend
The key trend in the genset market is the numerous measures being taken by generator manufacturers to stay ahead of the competition. For instance, Cummins Inc., Caterpillar Inc., Atlas Copco AB, and Mahindra Powerol Ltd., and several other companies launched new gensets in 2018 to expand their portfolio. The new variants feature various improvements from older-generation products, which reflect the several challenges diesel as well as gasoline generators face, including strict environmental norms and competition from not only substitutes, but also other genset manufacturers. Similarly, several market players have entered into partnerships to develop and localize production, reduce their capital expenditure, and provide customized power solutions.
Growing Number of Data Centers is Most Important Market Driver
Among the various drives for the genset market, the increasing construction of data centers is quite significant. With the burgeoning amount of data being created and consumed, the demand for infrastructure which supports data analysis, collation, and access is rising. With the growing usage of intelligent personal assistants, autonomous cars, digital currencies, internet of things (IoT), and accounting services, the need for data centers will surge. This will, in turn, drive the sales of generators, to serve the auxiliary and prime power requirements at such places. Backup controls, servers, heating, ventilation, and air conditioning (HVAC) systems, security systems, and several other critical appliances require continuous power at data centers, for which gensets are essential.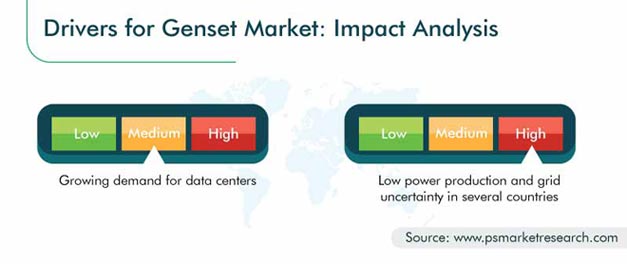 Demand for Generator in Construction Sector Offers Growth Opportunities
A lucrative opportunity for the genset market is being offered by the rising requirement for these power creation appliances from the construction industry. With the rapid industrialization in developing countries and economic recovery in developed nations, the construction activities will rise. China, India, Indonesia, the U.S., and the U.K. are predicted to be the industry leaders, owing to public–private partnerships and robust investments in residential and commercial infrastructure. Similarly, the recovery in oil prices, lowering of geopolitical uncertainties, integration of technology in business practices, and implementation of fiscal reforms by governments are projected to drive the construction sector in Gulf Cooperation Council countries, thereby creating a high demand for gensets.
Mergers and Acquisitions being Pursued by Players for Enhanced Growth
The genset market as witnessed numerous mergers and acquisitions in the recent past, with the players stepping up efforts to strengthen their position. For instance, in January 2020, C&S Electric, an Indian power generation product and solution provider, was acquired by Siemens AG. Siemens' aim behind the move was to cater to the rising requirement for electricity from the infrastructure sector, by offering a new range of low- and medium-voltage products, diesel gensets, lighting, power bushbars, protection and measurement devices, and low-voltage switchboards.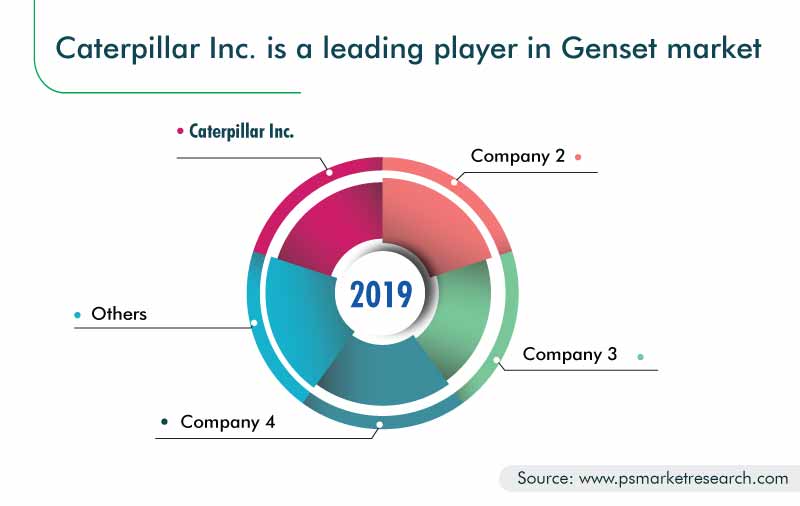 Similarly, in February 2017, Kohler Co.'s Power Group acquired Energy Ltd., an English firm engaged in the construction, engineering, maintenance, and commissioning of engine-based power plants. This way, Kohler added Clarke's gas generators to its portfolio of diesel gensets.
The major players in the global genset market are Caterpillar Inc., Cummins Inc., Kohler Co., AB Volvo, Denyo Co. Ltd., General Electric Company, Kirloskar Oil Engines Limited, Escorts Limited, Generac Holdings Inc., and Siemens AG.
Market Size Breakdown by Segment
The genset market report offers comprehensive market segmentation analysis along with market estimation for the period 2014–2030.
Based on Fuel
Based on Power Rating
5 kVA–75 kVA
76 kVA–375 kVA
376 kVA–750 kVA
Above 750 kVA
Based on Application
Commercial

Retail establishments
Commercial offices
Telecom towers
Hospitals
Hotels

Industrial

Manufacturing
Energy and power

Residential
Geographical Analysis
North America
Europe

U.K.
Germany
Italy
France
Spain
Russia
Poland

Asia-Pacific (APAC)

China
Philippines
India
Vietnam
Indonesia

Latin America (LATAM)
Middle East & Africa (MEA)

U.A.E.
Saudi Arabia
Nigeria
Turkey
Algeria