Middle East: A Gold Mine for Facility Management Companies?
Published Date:

February 10, 2021
Building and buying a house, factory or commercial space are tedious processes, but maintaining a property throughout its lifetime can be even more hassle-prone. From everyday cleaning to a complete overhaul or renovation, the process is often time taking and physical taxing. In an era when the employment rate is increasing and more people are spending longer hours at work, taking care of one's property by oneself sometimes doesn't seem feasible. Such hassles have now given birth to the industry of facility management, wherein a third party takes care of all the aspects of a property.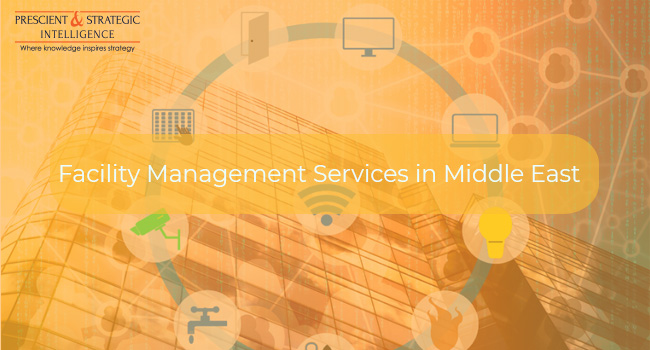 What Services Are Offered under Facility Management?
There are a wide range of services offered by facility management companies, which are aimed at keeping a built structure in prime condition and offering an engaging and positive environment to whoever is at the site. These services include property, cleaning, security, support, catering, and environmental management.
Property Services: These are some of the most crucial services offered for properties, as they deal with the repair, maintenance, and overhauling of their physical aspects. Apart from electrical & mechanical maintenance and heating, ventilation, & air conditioning (HVAC) maintenance, property services include expenditure & service charge budget management, rent collection, contractor & procurement management, statutory compliance, financial management, insurance management, lease compliance, service charge consultancy, rental property advertising, sales and leasing, asset management, and space planning and designing.
Cleaning Services: Keeping the property clean is the most essential step in increasing its life and serviceability, which is why facility management companies offer waste management, workplace cleaning, pest control, and janitorial services, such as kitchen cleaning, daily cleaning, window cleaning, carpet cleaning, and floor cleaning services. Such assistance is even more important in places that witness a high footfall, including airports, office premises, shopping complexes, hotels, and hospitals.
Security Services: Factories, office complexes, and housing societies require a robust security setup, especially in these times of the increasing crime rate. Therefore, property owners are contacting facility management companies for VIP security, bodyguard, surveillance & monitoring, and security guard deployment services. Many such service providers have their own training programs, offer digital surveillance systems, access control systems, and electronic security systems, and assist facility owners with regulating the movement of vehicles and maintaining relevant records.
Environmental Management Services: With the increasing focus on hygiene and health, maintenance of the environment inside and around properties has gained global attention. In this regard, a range of services are available, for instance, waste management and recycling services. These services ensure the sustainable disposal of waste cardboard, paper, and plastics, as well as confidential and hazardous waste. Further, energy management services are provided to ensure that electricity consumption is as low as possible, so resources can be conserved.
Catering Services: The key to a productive and healthy workforce, be it in an office or factory, is healthy food. To meet this demand, a lot of facility management companies provide catering services that must speak of quality, fresh and safe ingredients, culinary expertise, and usage of reputed brands' equipment. Apart from everyday operations, catering services are also available for individual events, such as social get-togethers, kitty and birthday parties, weddings, and corporate dinners.
Support Services: Apart from all the major services, a property requires numerous support services, which might often seem like an afterthought but are equally important. These include courier, vending, staffing and management, laundry, passenger assistance, helpdesk, and transport assistance.
Who Provides These Services?
There are two major ways these services are availed of by end users: in-house and outsourced.
In-House: As facility management, as an industry, is fairly new, a large number of property owners have their own staff to manage the facilities. Certain advantages are associated with taking care of facility management by oneself, such as property owners know the employees, thus can expect them to perform their duties diligently.
Outsourced: With time and the evolution of the facility management concept, property owners have started outsourcing these services to third parties. This way, users do not have to worry about hiring additional staff, training it, and paying it. All of that is done by the service providers, leaving the service users free to focus on their real operational area.
Current Opportunities for Service Providers
Presently, the demand for facility management services is burgeoning in the Middle East, especially the U.A.E., Saudi Arabia, Qatar, and Kuwait. These countries are going full steam ahead on their plans of diversifying their economy, which is why they are giving a massive boost to infrastructure development in industries other than oil & gas, such as tourism and hospitality, healthcare, education, and manufacturing. Once these infrastructure projects are leased out, they will generate a high demand for numerous facility management services.
For instance, in 2019, the government of Qatar announced plans to pour $108 billion into construction activities in the transport, water, sewage, and electricity sectors to increase its standard of living and attract immigrants. Moreover, as part of the Qatar National Vision 2030 plan, the country is developing Sidra Medical Research Centre, Sheraton Park, Education City, and Western Green Spine in Doha.
Similarly, Saudi Arabia launched its Smart City Initiative in 2017, under which it will integrate smart parking, smart cameras, smart lighting, smart solid waste disposal, and pollution monitoring tools in five cities. The idea here is to not only make cities safer and more livable but also to conserve resources, such as oil and gas, by reducing the consumption of electricity. To achieve this objective, infrastructure projects worth $12.9 billion had already been awarded in 2017. In addition, under its Saudi Vision 2030 initiative, the kingdom is investing $500 billion for developing infrastructure in 285 municipalities.
On similar lines, 7,500 building projects were in various phases of development in the U.A.E. in June 2017, including conception, designing, tendering, under construction, and on-hold, with a total investment of $228 billion! Of these, over 4,000 projects, entailing a total funding of $313.2 billion, are being developed in and around Dubai alone, which happens to be the tourist and financial capital of the country.
It is not just these economic diversification plans that will drive the demand for facility management services but also the large number of international events scheduled in the Middle East region in the near future. For instance, Qatar is set to host the 2022 FIFA World Cup, for which preparations are in full swing. In Doha, a 40,000-seat stadium is being constructed, which will have bathrooms, concession stands, shops, and numerous other facilities. Apart from the world cup, which has already drawn a $220-billion investment, Qatar will also host the Gulf Expo, World Artistic Championship for Gymnastics, and International Conference on Environment and Natural Science in 2021 and 2022.
Similarly, the U.A.E. is set to host one of its biggest international events in history, the much-hyped Dubai Expo. Originally scheduled for 2020, it has been pushed back to the next year due to the COVID pandemic, giving the government more time to get the megacity ready. The infrastructure projects being executed and scheduled to be completed before the event include Dubai Metro Red Line Extension, Warner Brothers World, Sheikh Zayed National Museum, Wonderland Park Development, Warsan Village, Dubai Creek Harbor, Dubai Exhibition City, Dubai Water Canal, Dubai Theme Parks, and Royal Atlantis Resort and Residences.
Tourism is a significant contributor to the Saudi economy too, due to the presence of Makkah and Medina, the two holiest sites of Islam, in the country. The annual Hajj pilgrimage brings millions of devotees from around the world to the Al-Haram Mosque in Makkah. To accommodate the increasing pilgrims and tourists, several hotels, resorts, and commercial spaces are being constructed in the kingdom, which will ultimately result in a huge rise in the demand for facility management services.
In the case of Kuwait, it is the rising population that is impelling the government to develop infrastructure. In this regard, 174,000 houses are to be built by the Public Authority for Housing and Welfare (PAHW) by 2020–21. In addition, the per capita income of the country, which was $32,032.0 (KWD 9,743.5) in 2019 and is continuously increasing, is leading to the growing demand for houses that are aesthetically appealing. This is driving the requirement for facility management services, including cleaning and environmental management services, in the nation.
Therefore, the key reason behind the Middle East region offering lucrative opportunities to facility management companies is infrastructure development, be it as part of the preparations for upcoming events or a result of governments' push for an economy that is less dependent on the oil & gas industry, especially considering the volatile prices of these commodities and the rising concerns related to the air pollution caused by their burning.