Market Overview
The global smart lighting market size stood at $10,600.8 million in 2021, and it is expected to advance at a compound annual growth rate of 18.2% during 2021–2030, to reach $47,674.3 million by 2030.
The growth can be primarily ascribed to the increasing demand for energy-efficient lighting, development of smart cities, and advancements in LED-based lighting solutions. The ability of smart lights to connect with IoT devices and create a variety of ambiences with the use of just smartphones or tablets has made them popular across commercial and residential areas.
Lighting consumes around 15% of the total electricity in an average house, and about $225 in energy costs can be saved per year by using LEDs. The wide range of features, such as dimming, various color tones as per requirement, automatic on/off, energy usage monitoring, and Wi-Fi, Bluetooth, or ZigBee connectivity, coupled with the growing adoption of IoT devices and smart assistant platforms, have created market growth avenues for smart lighting.
Europe Is Largest Revenue Contributor
Europe has the leading position in the smart lighting market, and it will hold the same position till 2030, with a value of around $18 billion.
The growth in the region is attributed to the rising adoption of tech-enabled workspaces and the booming adoption of standard protocols for lighting control systems. The market is also driven by the rising concerns for the environment. The European lighting industry, along with European regulators, has aimed to increase the adoption of intelligent and human-centric lighting and smart buildings.
North America is the second-largest region due to the increasing adoption of smart and energy-efficient lighting solutions to address the lighting and large energy bill issues in the region.
The Asia-Pacific region is expected to show significant development due to the rise in the demand for residential and commercial illumination. The rising investments in smart city projects is also expected to propel the growth of the market. For instance, China has invested in over 500 smart city projects to improve the lives of the urban populations, which would drive the demand for intelligent and energy-efficient luminaires, fixtures, and the associated controls and software.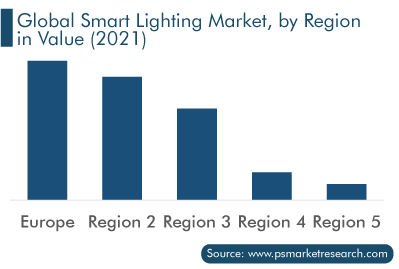 New Installation Category Holds Larger Share
New installation holds the larger share, around 60%, because of the strong need to eliminate traditional lighting systems from the mainstream and install novel lamps and associated controls. Moreover, the whole system is being changed and updated with the latest equipment, and it is being widely used in the newly constructed commercial, industrial, and residential spaces.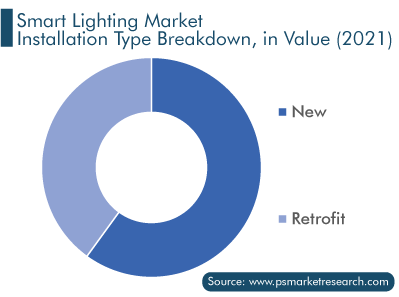 Lighting Control Makes Largest Contribution in Revenue Generation
Lighting control holds the largest share of the offering segment, among hardware, lights & luminaires, ballasts, sensors, switches, and dimmers and relay units, attributed to the rising rate of technological advancements and ever-changing smart lighting system controls. Lighting controls, which include ballasts, switches, dimmers, relay units, and gateways, provide the latest functionalities with standard protocols and distributed control systems. These components enable advanced applications of various products, such as LEDs and HIDs.
LEDs To Account for Fastest Growth
LEDs will continue to account for the fastest growth in the smart lighting market, due to the advent of new, smart technologies in LED lighting. The market is also driven by the high consumer awareness of the benefits of shifting from the traditional incandescent lamps to more-energy-efficient and reliable lighting sources. According to the U.S. Energy Information Administration, around half the U.S. households use LED bulbs for most of their indoor lighting purposes.
Smart Lighting Market Report Coverage

| | |
| --- | --- |
| Report Attribute | Details |
| Historical Years | 2017-2021 |
| Forecast Years | 2022-2030 |
| Market Size in 2021 | $10,600.8 Million |
| Revenue Forecast in 2030 | $47,674.3 Million |
| Growth Rate | 18.2% CAGR |
| Report Scope | Market Trends, Drivers; Revenue Estimation and Forecast; Segmentation Analysis; Companies' Strategic Developments; Market Share Analysis of Key Players; Company Profiling |
| Segments Covered | By Installation Type; By Component; By Source; By Connectivity; By Application; By Region |
Explore more about this report - Request free sample pages
Wireless Connectivity Is Preferred among Consumers
The wireless category dominates the market due to the increasing demand for Wi-Fi-based lighting solutions, declining costs of smart LED lights, and growing penetration of wireless internet across households. Wireless connectivity is preferred among consumers who require connections within a small range, thus making it the faster-growing category over the forecast period. Wireless technologies, such as Wi-Fi, Bluetooth, SmartThings, Z-Wave, and ZigBee, connect lighting fixtures with smartphone apps, to offer remote control. The residential sector has widely adopted wireless technology to control the luminaire's hues and colors, for aesthetic purposes, within a confined space.
The increasing deployment of wireless technologies for lighting applications across sectors is credited to the heavy investment in and the high customer demand for wireless lighting solutions.
Indoor Applications Make Larger Contribution to Market Revenue
Smart lighting is used in indoor and outdoor applications, of which the indoor category dominates the market. The indoor application is further categorized into residential, commercial, and industrial. Among these, the residential category will witness a high growth rate over the forecast period due to the rising popularity of smart bulbs and fixtures that can be controlled by users for setting varying mood-based illumination.
Additionally, the demand for intelligent lighting in commercial and industrial spaces is propelled by the requirement to control energy consumption by office spaces and warehouses that are functional 24x7. Installing smart lights with inbuilt sensors ensures the lights are used only as required, based on the movement of people, which is captured by sensors. Additionally, the brightness can automatically be increased or decreased based on the amount of natural light coming in from outside.
Development of Smart Cities Boosting Technology Uptake
According to the United Nations Human Settlements Program, today's cities consume more than 75% of the world's energy. The advent of advanced communication and digital technologies has helped address many of the challenges in the development of smart infrastructure projects. With the minimization of such challenges and use of data sharing & analysis and intelligent designs, smart cities would make lives better and healthier, by reducing GHG emissions.
In addition, the growth in the development of smart cities has further led to an increase in the demand for smart lighting solutions, thus driving the global smart lighting market. Since smart cities use sensors and embedded devices, from streets and power meters to traffic signals, the consumption of energy reduces by a great extent. Apart from this, smart city initiatives relying on open, connected infrastructures require the streamlining of operation and energy conservation, to make living cheaper and convenient.
The integration of connected and multi-sensor nodes enables the creation of a powerful sensing network, which gathers information related to the smart city environment, such as humidity, CO2, UVA light, and human activities and helps municipalities in reducing energy consumption and maintenance cost of smart cities. Moreover, such technologies can improve transportation revenue through energy-efficient traffic lights and lower night accident rates through connected street lights.
Increasing Demand for Greener Lighting Solutions
The increasing worldwide demand for energy is responsible for the rise in energy prices, tight supplies, and growing anxiety about climate change and related liabilities. The global energy demand is rapidly outpacing the supply, with consumption further predicted to increase by more than 50% in the next 20 to 25 years. Meeting this demand would require approximately 700 new power plants rated at an average of 500 Megawatts each, which would cost approximately $1 trillion.
This has, in turn, has led to an increase in the demand for energy-efficient lighting systems capable of saving hugely on energy consumption and operational cost. Although LED lighting has been in use for nearly a decade, the real paradigm shifts in the lighting industry came through digitization. Digitization, with the adoption of smart automation and connected technologies, is impacting all applications, including housing, retail, office spaces, and government buildings, by revolutionizing the way lighting systems use energy and interact with their surroundings. Apart from this, the advent of IoT and new wireless and wired hybrid protocols for lighting solutions is accelerating the global market growth.
Top Smart Lighting Manufacturers Are:
Signify N.V.
Acuity Brands Inc.
Sengled Optoelectronics Co. Ltd.
Honeywell International Inc.
Schneider Electric
Osram Licht AG
IKEA Systems B.V.
Itron Inc.
Global Smart Lighting Market Size Breakdown by Segment
The study offers a comprehensive market segmentation analysis along with market estimation for the period 2017-2030.
Based on Installation Type
Based on Component
Hardware

Lights & luminaires
Lighting controls
LED drivers & ballasts
Sensors
Switches
Dimmers

Wired dimmers
Wireless dimmers

Relay units
Gateways

Software
Based on Source
Light Emitting Diode (LED)
Fluorescent Lamp
High Intensity Discharge (HID) Lamp
Based on Connectivity
Wired

Digital addressable lighting interface
Powerline communication
Power over ethernet

Wireless
Based on Application
Indoor
Outdoor

Highways & roadways
Public places
Geographical Analysis
North America
Europe

Germany
France
U.K.
Italy
Spain

Asia-Pacific

China
India
Japan
South Korea
Australia

Latin America
Middle East and Africa

Saudi Arabia
South Africa
U.A.E.