Smart Lighting Market Overview
The global smart lighting market is projected to advance at a CAGR of over 20.0% during the forecast period, reaching $27,064.0 million by 2023. The growth in the market can be mainly attributed to the increasing adoption of advanced technologies such as the internet of things (IoT) and intelligent sensing in lighting solutions and the growing demand for energy-efficient lighting solutions as a result of the rising consumer awareness about energy conservation.
Further, the gradual replacement of incandescent lamps with light-emitting diodes (LEDs) and the rapid commercialization of Wi-Fi technology are expected to help the market advance globally during the forecast period.
EUROPE SMART LIGHTING CONTROL MARKET, BY TYPE, $M (2013 – 2023)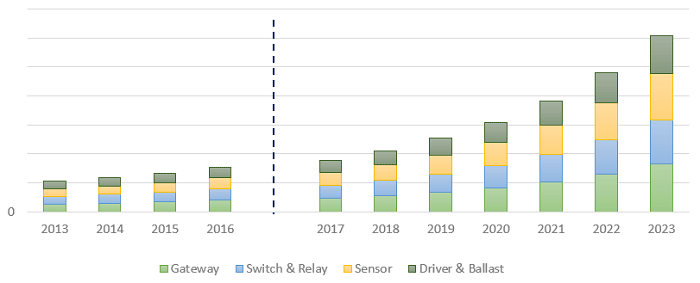 Smart lighting refers to lighting systems embedded with various sensors and wireless technologies capable of substantially reducing the energy consumption compared to conventional lighting systems. Smart lighting products are used in both residential and commercial settings.
Smart Lighting Market Dynamics
Trends
The emergence of light fidelity (Li-Fi) is one of the key trends observed in the smart lighting market. With wireless technology becoming prominent in everyday life, radio waves can cause a slight hindrance in data communication processes, as their bandwidth gets limited support due to the existence of a compact spectrum and intrusion. Thus, data transmission through visible light communication (VLC) is being seen as an appropriate solution.
Li-Fi transmits data by illumination, wherein the data is sent from an LED bulb faster than a human eye can follow. With the emergence of new technologies in lighting, light is not only being used for providing illumination but also for the purpose of communication. With high-speed transmission and network, bidirectional, and wireless capabilities, Li-Fi is expected to provide unprecedented bandwidth and data features in the coming years, further backing the growth of the smart lighting market.
Drivers
Rising demand for energy-efficient lighting solutions and the development of smart cities are the key factors driving the growth of the smart lighting market. The worldwide growth in the demand for energy is responsible for the increase in electricity cost and the growing concerns of the government over climate change and related liabilities. The demand for energy is continuously outpacing the supply; the consumption of energy is projected to increase by over 50.0% in the next 20–25 years. To meet this demand, around 700 new power plants with an average power generating capacity of 500 megawatts each would be required. Moreover, the construction of these facilities is estimated to cost around $1 trillion.
Owing to this, the demand for energy-efficient lighting systems that can save energy and operating costs has risen. Although LED lighting had been in use for a long time before it was promoted as an energy-efficient source, the transformation in the lighting industry via digitization is a key factor supporting the growth of the smart lighting market. Digitization, along with the adoption of connected technologies and smart automation, is impacting all applications of smart lighting, such as retail, commercial, residential, and government, by revolutionizing the way lighting systems interact with their surroundings and consume energy.
Besides, the development of smart cities is supporting the growth of the smart lighting market. Since smart cities use embedded devices and sensors at numerous places, including traffic signals and streets, the use of smart devices can help reduce the energy consumption to a great extent. Apart from this, smart city initiatives that rely on an open connected technology infrastructure require the streamlining of operations for energy conservation. Via a connected and multi-sensor node, smart lighting creates a powerful sensing network, which collects information related to the smart city's environment, including CO2, humidity, audio-video activities, and UVA light. This way, the smart lighting technology helps municipal bodies reduce energy consumption and maintenance cost of smart cities.
Opportunities
Technologically advanced lighting control systems have become quite popular among consumers in recent years. The players in the smart lighting market have ample opportunities to tap into this space by developing sophisticated and improved automation technologies and lighting control systems. Lighting controls help save cost and energy by ensuring that lights are turned off when not in use. Smart lights can also decrease the illumination by automatically sensing the surrounding environment and adjusting the brightness.
The amount of energy and cost saved via the use of advanced lighting controls depends on specific applications and the rate of site utilization. Moreover, rapid advancements in the plug-and-play lighting systems, occupancy/vacancy sensors, and other lighting control systems are expected to further create lucrative opportunities for smart lighting market players during the forecast period.
Smart Lighting Market Competitive Landscape
The competition in the smart lighting market is moderately intense. Manufacturers of smart lighting systems are actively implementing business strategies for organic and inorganic growth. Many of these are entering into partnerships to enhance their product portfolios and sales capabilities as well as their global reach. Moreover, a large number of these players offer both generic and customized smart lighting solutions to their customers.
Some of the key players in the global smart lighting market are Hubbell Lighting Inc., Cree Inc., Osram Licht AG, Koninklijke Philips N.V., Zumbotel Group AG, Schneider Electric SA, Digital Lumens Inc., Acuity Brands Inc, Legrand SA, and Honeywell International Inc.