Why Data Centers Have Become Cornerstones for Global Economies?
Published Date:

August 08, 2022
According to analysts, by 2025, the amount of data collected will be roughly 10 times higher than in 2017. Additionally, every day, the world produces about 2.5 quintillion bytes of data. Therefore, data centers are becoming a vital part of the IT infrastructure for many businesses. Enterprises rely on data centers for the effective handling and storage of the massive volumes of the data created every day.
Thus, in 2021, $220.0 billion was spent on data center construction, which is on the track to hitting a $343.6 billion value by 2030. As a result, the main factor impacting the use of data center racks (the metallic structure that offers the platform for the actual storage and networking devices) is the increasing deployment of data centers throughout the globe. Furthermore, according to data center statistics, the number of data centers in the U.S. as of 2022 is 2,751, with the U.K. (458), China (447), Germany (484), and Canada (324) following closely behind.
The main element driving the necessity for these facilities is the exponential growth of data due to the widespread use of embedded, machine-to-machine, and IoT devices. Other sources include pictures and videos, information for amusement and practical uses, including security and advertising, as well as productivity-driven data, including the log files on servers and computer systems.
Businesses make use of this data to enhance their goods and services, uphold client relationships, and boost profitability. However, maintaining data center infrastructure involves looking after a lot of components that are both complex and important. There are many aspects to manage in such a facility, including system integration, storage servers & racks, networking, energy usage, and temperature control.
Therefore, data center infrastructure management (DCIM) services are now being availed to achieve the best possible performance from a data center.
COVID-19 Impact on Data Centers
The COVID-19 epidemic has fueled a significant increase in projects and investments in data centers all around the world. Essentially, the demand for such facilities grew as a result of government organizations adopting cloud-based services, online education, contactless payments, and other technologies.
With people locked inside their homes and still needing to be connected, they turned to the internet. This, combined with the implementation of work-from-home orders, led to a massive boom in the usage of web conferencing apps, social networking platforms, gaming, music, movie, and news websites; shopping and food ordering apps, online pharmacies, digital payment and banking apps, and even mHealth platforms allowing for virtual consultations.
This, as per reports, led to a data consumption surge of over 30% in 2020, with a few telcos recording an up to 60% in the volume of data flowing through their network. As the world takes up digital technologies even more in the coming years, the space available for the storage of data will diminish, which will necessitate the creation of a lot more data centers and, that too, on war-footing.
Why Decentralized Data Storage Is Rising in Demand?
E-commerce enterprises came into existence as the number of online users increased. Some of the variables that propel online shopping platforms include attractive offers, simple payment methods, a wide range of options, and ease of purchasing. Data centers handle and store the vast amounts of data generated by online purchasing.
Data centers, therefore, need to be properly built up with cutting-edge equipment, which results in high infrastructure costs. Additionally, oil and gas companies are driving the need for data storage and powerful computers. Because they are more affordable and can provide efficient storage, software-defined data center (SDDC) solutions are in higher demand.
Supporting enterprise legacy, modernizing applications, and offering better efficiency, control, agility, and flexibility are the main goals of an SDDC. Businesses no longer have to spend money on hardware, learn vendor-specific skills to run and maintain it, or handle physical machine updates, due to the way SDDCs are revolutionizing data storage and handling, essentially making it simpler.
Moreover, it increases the overall efficiency by streamlining the company's resource management. Moreover, companies in North America are rapidly adopting SDDC solutions due to the stringent data protection and privacy rules. The key regulations in this regard are the GDPR of the EU and the HITECH and HIPAA acts of the U.S., all of which seek to modernize the economy with a much larger role for digital data, at the same time, focusing on the effective security of such information.
What Makes Power Management so Important in Data Center?
There is one data center for every 100 people in the U.S., according to data center statistics. Because these facilities use a significant amount of power, they present an opportunity to increase energy efficiency.
As per BR, data center power usage will increase from 3 GW at the end of 2021 to 5.4 GW by 2030 in the U.K., Ireland, the Netherlands, Germany, and Norway. According to a more-liberal calculation, the power usage of these data centers might reach 7 GW by 2030. Thus, to achieve optimal operations, the electricity needs to be both used judiciously and used as less as possible.
Hence, modern data centers have UPSs, which offer a continuous power supply to the IT equipment. Large data centers are assured of smooth operations with such systems, which also safeguard sensitive equipment all across the facility. To ensure that the critical systems continue to function in the case of blackouts, sags, power outages, and surges, UPS systems contain various configurations and dual-bus capabilities.
In addition, UPS systems can be sized to provide the necessary amount of power for critical equipment, through the modular construction of a redundant power and control system. The capacity may simply be increased without changing the system footprint, when the power requirements vary.
Moreover, for many years, operators of data centers have used generators as a standby or emergency power source. Generators essentially enable the operation of such facilities in places that have no grid connectivity or where the connectivity cannot be relied upon, such as developing countries. Moreover, data center power generators are employed for backup applications since they can quickly come online to replace a site's UPS system, because they can handle substantial loads following a power outage.
Why Demand for Cost-Effective and Green Data Center Solutions Is Increasing?
Cooling technologies account for more than 40% of the overall energy used in these facilities. Additionally, many such facilities employ cooling towers, which leads to an additional issue of high water consumption. Therefore, data center owners are eager to address this problem by using affordable and, at the same time, sustainable cooling solutions.
For instance, chiller-less data centers rely on the utilization of outside air for their cooling needs, thus reducing operating costs. Additionally, economizers use the outside climate for the purpose, which further lowers energy and cooling expenses by up to 60%. This is why the utilization of advanced data center cooling technologies is expected to rise considerably in the coming years.
Another such technology that has recently started gaining widespread acceptance is immersion cooling. By eliminating the requirement for server fans, chilled water systems, and air handling units, it can reduce data center OPEX by over 30%. For example, Microsoft researched using liquid immersion to cool systems running high-performance computing applications, including AI. The analysis found, among other things, that every particular server's power consumption may be decreased by 5% to 15% by using two-phase immersion cooling.
What Is Significance of Green Technologies in Data Center Colocation?
Green data centers are a significant trend in the data center colocation sector. The Uptime Institute classifies colocation data centers into four tiers, depending on how much uptime (continuous operations) the client is assured of when storing their information here. Even the lowest tier, Tier 1, mandates that a data center cannot have a downtime of more than 28.817 hours each year. Similarly, a Tier 4 data center can only have an annual downtime of 26.3 minutes!
This gives an idea of the massive amounts of electricity these facilities need to consume, which further mandates high energy efficiency. This is where green technologies come in, such as effective insulation (helping keep the facility cool and reducing associated energy consumption), as well as the production of their own energy via on-site solar plants.
Moreover, as per reports, data centers in the U.S. consume over a billion liters of water a day, which is another major environmental hazard. In this regard, a key green colocation data center technology could be a simple hydrogen fuel cell. Not only would this technology allow such facilities to produce 100% emission-free electricity, but water as well. As per studies, just 1 kg of hydrogen and oxygen in a fuel cell can produce 9 kg of water, which could be utilized for cooling.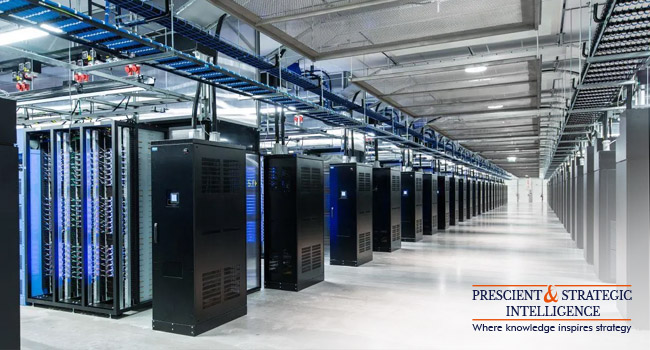 Future of IT Industry: Hyperscale Data Centers
Major IT companies, including Google and Facebook, are building supercomputers to meet their hyperscale computing demands. Many are Linux-based and make use of parts from many manufacturers, as well as cutting-edge tools, such as embedded optical modules and new photonic connectors. The IT industry has been collaborating with hyperscale data centers to allow for better data management, after realizing the vast potential of stuff that can be done with data.
When it comes to the requirement for IT infrastructure, colocation has risen to the top of the list for businesses all over the world. Moreover, IT organizations are shifting toward hyperscale data centers as they recognize the need for an effective center to lower client barriers and achieve more-efficient data storage and administration and higher profitability, security, and dependability.