From Salon to Home: The Journey of Beauty Devices into Our Lives
Published Date:

Nov 8, 2021
The idea of beauty has been ingrained in the human psyche for as long as the species has existed. The earliest beauty devices were perhaps simple sharpened stones, which early humans used to cut their hair or shave their beards. The beauty devices of today look nothing like these tools; instead, coming in sleek shapes and using advanced technologies, such as laser, microneedling, electroporation, and radiofrequency (RF).
Moreover, they are available for a lot more purposes than hair removal, including oxygen/facial steaming, acne removal, hair growth, dermarolling, cleansing, and cellulite reduction. The more common of these devices, which also generally have simpler mechanisms, are used for tweezing, eyelash and hair curling, hair straightening, and eyebrow plucking.
The beauty devices market already valued $50,814.4 million in 2020, and it is expected to grow massively in the coming years, recovering quickly from the COVID-induced slump of 2020. But, why? Here are a few major factors propelling the usage of such products:
Growing Geriatric Population: With age, come lots of changes in appearance, such as fine lines, hair loss, wrinkles, reduced vascular and glandular network in the skin, pigmentary alteration, skin sagging, dryness, and loss of fibrous tissue. In fact, there is a proper term nowadays, called 'signs of aging', which specifically refers to these changes. Hence, as the population of people in the age group of 65 and above continues to boom, the uptake of a variety of beauty enhancement devices will grow.
Rising Purchasing Power: This might be an even stronger factor driving beauty device sales because it has encouraged even teens and young adults, who do not grapple with any practical signs of aging, to go for them. This is because with more money, people have to think less about spending on stuff that those with a not-so-good financial condition might term 'unnecessary' and 'frivolous spending'
Rising Incidence of Dermatological Issues: Skin problems also force people to buy beauty devices as the skin condition, health, and appearance are three of the biggest markers of physical beauty. Appearance can be drastically hampered by dermatological issues, such as acne, hyperpigmentation, psoriasis, freckles, dyspigmentation, deep wrinkles, melasma, and atopic dermatitis. These problems are high in prevalence because they have fairly common triggers, including ultraviolet (UV) exposure, alcohol and tobacco consumption, and general pollution, apart from genetic factors.
These and many other factors continue to boost the usage of these products at salons, spas, cosmetic clinics, massage parlors, and people's homes. Among these settings, people's homes will become increasingly significant in the coming years, as the prices of beauty devices drop and they become simpler in their working.
A Little More about Home-Use Beauty Devices
While beauty treatments are readily available at salons, spas, and dermatology clinics, they are often expensive. In this regard, home-use beauty devices make them accessible to a larger number of people as they are cheaper, lighter, portable, and easy to use. Additionally, not many require technical expertise, which allows the masses to use them. They offer virtually every treatment available at salons and spas, which, combined with their cost-effectiveness, has made them extremely popular in recent years.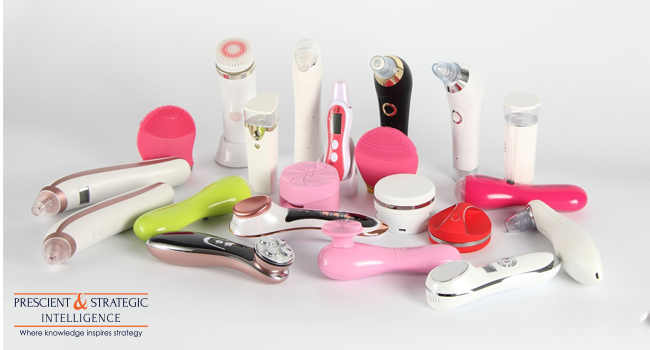 In fact, a large number of beauty device manufacturers have increased their focus on developing devices that can be used at home and are aggressively marketing them around the world. For instance, in March 2021, the MG5000 and MG3000 series of multi-grooming products for men were launched by Koninklijke Philips N.V. They allow men to style their hair, body, and face at home, without spending too much.
Other major firms now catering to the home-use beauty device segment are TRIA Beauty Inc., Nu Skin Enterprises Inc., Panasonic Corporation, Home Skinovations Ltd., Candela Corporation, L'Oréal S.A., Amorepacific Corporation, Foreo, MTG Co. Ltd., Conair Corporation, Spectrum Brands Holdings Inc., and Koninklijke Philips N.V.
Regulations for These Companies and Beauty Devices
Before medical device companies can even think of marketing and advertising their products, they must go through a rigorous safety and efficacy check, which is governed by the regulatory body of countries and often involves a number of steps. For instance, under the framework of the U.S. Food and Drug Administration (USFDA), beauty devices fall under classes II and III of medical devices, which means substantial evidence is needed to ascertain their safety and effectiveness, which is often obtained through clinical trials.
Similarly, the European Medicines Agency (EMA) has four classes of such products and implements the Conformité Européenne (CE) marking process to ensure that they meet all the safety, effectiveness, and environmental parameters. Other significant government authorities that regulate the testing and approval for such products are the China Food and Drug Administration (CFDA), Department for Health and Ageing of Australia, Central Drugs Standard Control Organisation (CDSCO) of India, and Ministry of Health (MOH) of Brazil.
Despite So Many Checkpoints, Product Demand Booming Globally
In spite of the numerous regulations beauty device companies are subject to and a high risk of not receiving approvals for the products, beauty device usage continues to boom. This is because once the approval is gained, it is rather easy to market and promote the products. Apart from direct marketing via digital and print media, many companies promote their products at medical conferences, seminars, and workshops. Moreover, with several middle-aged celebrities admitting to undergoing aesthetic and anti-aging treatments, more people are doing the same.
Further, in the emerging economies of Asia, Africa, the Middle East, and Latin America (LATAM), it is easier to get approvals for beauty devices, because the safety and efficacy regulations here are not as stringent as those of the USFDA and EMA. In addition, these regions have a larger consumer base than Europe and North America, which further encourages beauty device companies to tap the market here. Thus, in the near future, the usage of these products is set to witness the fastest growth in Asia-Pacific (APAC).
Therefore, as social and other forms of media make people more aware of their appearance than before, they will turn to these modern devices to enhance their appearance. Moreover, with an increasing number of these devices available for home use, their uptake will burgeon among the masses, especially in developing countries.