Market Overview
The beauty devices market size stood at $66,336.5 million in 2022, and it is expected to reach $311,095.1 million in 2030, with a growth rate of 21.3% during 2022–2030. The major factors behind this are the elevating personal care spending, surging awareness about aesthetics, and rising prevalence of dermatological diseases and hormonal disorders. Additionally, the growing geriatric population, coupled with the rising disposable incomes, has a positive influence on the market progression.
The increasing appearance consciousness among consumers, due to the budding exposure to social media, is driving the demand for cosmetic products. The technological advancements in this space, such as laser treatments for skin lightening and tightening that provide instant, satisfactory, and more-permanent results, also contribute to the market advancement.
Moreover, the increment in the aging population in China, India, and Brazil is playing a pivotal role in generating product demand. Elderly people suffer from the loss of fibrous tissue and reduced vascular and glandular network in the layers of their skin. Anti-aging products and tools help reduce aging marks, thus providing a younger look by revitalizing and tightening the skin.
All these factors have pushed manufacturers to launch new and innovative aesthetic instruments globally. For instance, in January 2020, Lumenis Ltd. announced the launch of its new laser hair removal platform, the LightSheer Quattro, for all skin types, with either 805nm or 1,060nm wavelength, with no downtime, as well as for the treatment of pigmented and vascular lesions. Similarly, in January 2018, Nu Skin Enterprises Inc. launched waterproof and rechargeable handheld personal skincare cleansing tools within the ageLOC LumiSpa line, to treat dermatological problems, improve skin texture, and lessen multiple signs of aging in the early ages.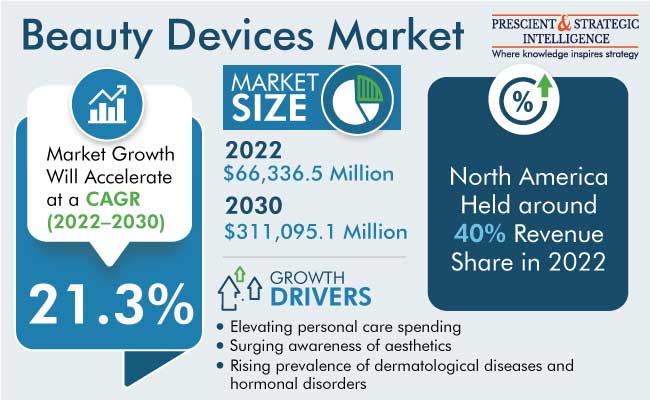 Moreover, the snowballing preference for home-use cosmetic therapy is encouraging the players to develop more-convenient and effective products. The prevalence of hormonal disorders is increasing globally due to various factors, including insufficient sleep, a stressful lifestyle, a poor diet, and lack of exercise. For instance, polycystic ovary syndrome (PCOS) is an endocrine disorder that occurs due to an imbalance in hormone levels in females and leads to acne and unwanted hair. Owing to all such factors, the market is expected to witness high sales revenue during the forecast period.
Increasing Awareness about Beauty Devices Support Demand Growth
The rising awareness about the advantages and safety ratings of energy-based aesthetic devices, especially laser-based instruments, is a major factor driving the market. Laser skin tightening has been approved by the FDA for the reduction of wrinkles, fine lines, and skin laxity. These energy-based aesthetic tools offer minimal invasion, fewer side-effects, quick recovery, and less discomfort than the conventional surgical fat removal treatments.
Additionally, these products are known for their cost-effectiveness, painless procedures, and quick results. Due to these factors, the popularity of energy-based aesthetic instruments is burgeoning across the globe. Further, in recent years, several celebrities have openly talked about their aesthetic treatments, which has led to an increase in the awareness about these treatments, thus further making them acceptable in society.
LED Therapy and Photorejuvenation Category To Grow Fastest
The LED therapy and photorejuvenation category is expected to record the highest CAGR, over 21%, during the forecast period. This can be ascribed to the growing usage of these devices for treating blemishes, pigmentation, wrinkles, sun-induced freckles, age spots, and fine lines, globally. Moreover, photorejuvenation fuels the production of collagen and helps in treating vascular abnormalities, such as broken capillaries, redness, rosacea, and spider veins. It also reduces the pore size and stimulates the creation of dormant body cells.
The growing aesthetic consciousness and awareness among the population regarding non-invasive surgeries with fewer side-effects compared to other surgeries are some of the major drivers for the market. Lasers have become a common medical tool to eradicate everything from tumors to unwanted hair. They have also been reported to be effective in treating acne vulgaris, thereby further witnessing an increase in their sales.
Further, hair removal devices will be the second-fastest-growing category in this decade, due to the mushrooming e-commerce activities. E-commerce giants are providing highly personalized websites, marketing emails, product recommendations, and reviews, which are helping in building consumers' trust. Several manufacturers are strongly focusing on developing products that provide relief from unwanted hair for a longer period. Additionally, the increase in the beauty standards, along with the expanding influencer community on social media and surging emphasis on personal grooming, supports the sale of hair removal instruments.
Furthermore, cleansing tools will have the third-highest growth rate over the forecast period. Flawless and clean skin has become an obsession around the world, as beauty brands have been dedicatedly working on conducting R&D activities and launching products that ensure age-resistant skin. Moreover, the younger, more-tech-savvy consumers are no longer content with the conventional beauty routines and are demanding intelligent skincare solutions that are appropriate for their age, which is stimulating the sales of smart facial cleansing tools.
Beauty Devices Market Report Coverage

| | |
| --- | --- |
| Report Attribute | Details |
| Historical Years | 2017-2022 |
| Forecast Years | 2023-2030 |
| Market Size in 2022 | $66,336.5 Million |
| Revenue Forecast in 2030 | $311,095.1 Million |
| Growth Rate | 21.3% CAGR |
| Report Scope | Market Trends, Drivers, and Restraints; Revenue Estimation and Forecast; Segmentation Analysis; Impact of COVID-19; Companies' Strategic Developments; Market Share Analysis of Key Players; Company Profiling |
| Segments Covered | By Type; By Usage; By Region |
Explore more about this report - Request free sample pages
Salon Category To Dominate Market
The salon category accounted for the largest share, around 55%, in the beauty devices market in 2022, and it is projected to maintain its dominance in the coming years. This is primarily because of the high adoption of the laser technology in salons to reduce the redness and inflammation associated with conditions such as acne and rosacea, by targeting certain areas of the body, while not harming other areas. The increasing demand for beauty services at salons and the rising number of such establishments across the globe act as the contributors to this category's advance.
Further, the at-home category is projected to witness the highest CAGR over the forecast period, owing to the low price and growing consumer awareness of at-home aesthetic tools. Moreover, the promotional efforts of companies, for instance, the distribution of free samples in India, China, South Korea, and Japan, have been boosting the sale of home-use aesthetic instruments.
In spite of a balanced lifestyle, there is a gradual loss of collagen in the skin, due to hormonal changes, thus causing transformations in the appearance of the body, including fat and cellulite deposition, skin laxity, fine lines, discoloration, acne scars, large pores, broken blood vessels, and age spots. These issues can be treated with the help of various home-use instruments, which are less expensive and can be easily operated without the need for any technical expertise.
Furthermore, the spas category cornered the third-largest share in the market in 2022, due to the mounting wellness tourism sector, as consumers seek to reset their spiritual, physical, and psychological wellbeing and bond with a compatible community on wellness trips. Many people who travel for business or leisure frequently incorporate wellness activities into their itineraries as well, which fortifies the usage as well as production of aesthetic instruments in different regions.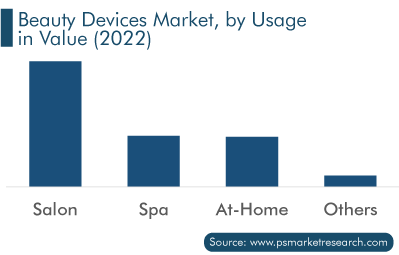 Increasing Prevalence of Dermatological Problems Boosts Product Usage Growth
The prevalence of photoaging is snowballing across the globe due to the excessive exposure to UV radiation and pollution, thus resulting in sunburns, hair loss, and reduced skin elasticity. Acne, hyperpigmentation, dyspigmentation, psoriasis, freckles, deep wrinkles, atopic dermatitis, and melasma are the other common skin problems. Such dermatological diseases are also caused by excessive alcohol consumption and tobacco consumption.
Melasma causes brown and gray–brown patches on the face. Moreover, a major proportion of the people with melasma are men. To cure these problems, beauty instruments are increasingly being adopted. For example, the small, brown spots in people suffering from freckles can be cured using cosmetic devices, and, as a result, the rising cases of these problems are driving the industry growth.
North America Is Principal Revenue Contributor
In 2022, North America is estimated to account the largest share, around 40%, in the beauty devices market. This is mainly attributed to the high disposable income and appearance awareness, which increase the spending on cosmetic procedures and tools. In addition to this, a rising number of salons offering hair removal services and the surging number of people with hormonal problems bolster the demand for the associated treatments in the region.
Further, the increasing use of advanced technologies in cosmetic tools has created new opportunities for players to invest in Canada. For instance, augmented reality (AR) and artificial intelligence (AI) are being used by the technology platform provider ModiFace Inc. to allow people to virtually try out cosmetic products, including lipsticks, on Amazon.com. Additionally, the growing prevalence of dermatological diseases and burn injuries is fueling the demand for aesthetic instruments in the country.
During the forecast period, the APAC region is expected to witness the highest growth rate. The rising incidence of skin diseases, technological advancements, booming appearancye consciousness among youths, and shifting inclination toward at-home aesthetic devices are the key factors for the industry progress in the region.
Further, the availability of leading brands and introduction of less-expensive cosmetic tools in the region attract people to adopt these products for various grooming purposes. The easy availability of branded aesthetic instruments on online channels, specifically on a common portal, further drives the regional expansion. This factor further supports sales of leading brands, for instance, TRIA, ReFa, Envely, and NuFACE, among at-home users.
Moreover, in India, the robust urbanization plays a significant role in the rising sale of cosmetic devices. The budding population in urban locations, accompanied by its increasing spending on itself, leads to the rise in the use of cosmetic tools. This surge is further spurred by the rising social interaction and increasing concern regarding physical appearance among people.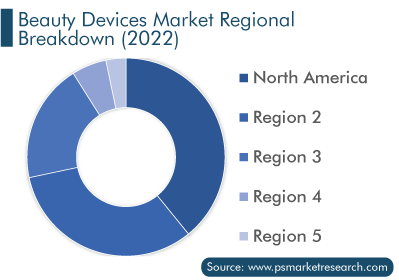 Top Beauty Device Companies Are:
Panasonic Corporation
Nu Skin Enterprises Inc.
TRIA Beauty Inc.
Home Skinovations Ltd.
Carol Cole Company Inc.
YA-MAN LTD.
MTG Co. Ltd.
Koninklijke Philips N.V.
Market Size Breakdown by Segment
The report analyzes the impact of the major drivers and restraints on the market, to offer accurate market estimations for 2017–2030.
Based on Type
Hair Removal
Cleansing
Acne Treatment
Light-Emitting Diode (LED) Therapy and Photorejuvenation
Oxygen/Facial Steaming
Hair Growth
Dermarolling
Cellulite Reduction
Based on Usage
Geographical Analysis
North America
Asia-Pacific

China
Japan
India
Australia
South Korea
New Zealand
Taiwan
Singapore
Indonesia
Vietnam
Malaysia
Thailand
Sri Lanka

Europe

Germany
France
U.K.
Italy
Spain
Russia
Benelux
Poland
Turkey
Switzerland
Czech Republic
Hungary
Slovakia

Latin America

Brazil
Mexico
Chile
Argentina

Middle East and Africa

U.A.E.
Iran
Saudi Arabia
South Africa
Israel
Kuwait
Oman
Qatar
Bahrain