Beyond the Wheel: The Rise of Autonomous Driving
Published Date:

August 21, 2023
Just like everything in this universe, the automotive industry has always embraced evolution, and autonomous vehicles are its latest avatar.
So strong is the attraction toward autonomous vehicles that their sale could fetch over USD 2 trillion by 2030. Now, let us know more about autonomous vehicles and how they can transform the world.
An autonomous vehicle can drive itself without a human driver. There are various levels of autonomy defined by the SAE, which has set six of them: level 0 to level 5.
Autonomous vehicles depend on AI and ML. Sensors and actuators with cutting-edge computer vision functions are employed for creating constantly updated maps of their surroundings, detecting the presence of nearby vehicles and pedestrians, measuring distances, and detecting uneven surfaces on roads and sidewalks. They are connected with other pieces of external roadside infrastructure, for example, smart traffic lights.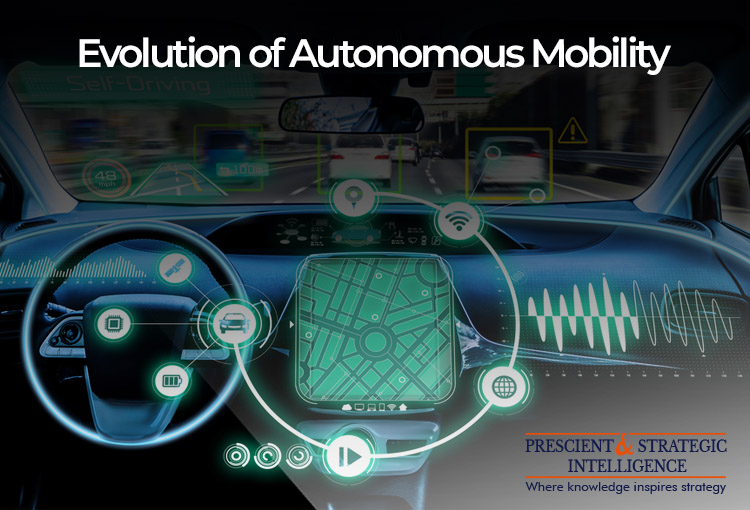 Self-driving vehicles are a result of technological evolution, in essence, a gradual development of integrated AI services and sensor-based driver safety features, which might or might not replace human drivers entirely. LiDAR is generally used for ranging purposes, measuring distances, and identifying lane markings and anomalies on the road.
In the same way, radar sensors are employed for tracking other vehicles, while video cameras read road signs and detect traffic lights. AI-powered software processes the inputs from these sensors and creates instructions for the actuators in the vehicle to plot paths, brake and accelerate, or dodge obstacles.
How Different Are Autopilot Vehicles from Autonomous Vehicles?
Automotive technology is on the way of evolution, and with new features, it is important to understand how they should be operated. This necessitates understanding the difference between autonomous and autopilot technologies. Both can reduce the risk of accidents; however, they are very different from each other.
Autopilot
Autopilot makes use of sensors integrated into the vehicle to navigate the environment. It depends on radar, cameras, and digital monitors for sensing the environment and keeping the vehicle in the appropriate lane. An autopilot system can steer the car, adjust speed, change lanes, and control brakes.
Though, if a problem is detected by the system, for example, a child running in front of a car, it returns the control over to the driver. These systems are advanced cruise control systems that need the driver for maintaining vigilance over the travel direction, speed, weather conditions, and other aspects.
Autonomous
Different from autopilot, in autonomous cars, there is no need of human interaction. These systems sense their surroundings through radar, LiDAR, cameras, and computer vision, interpreting everything from road conditions and signs to vehicles and people in the front, back, and around the vehicle.
Autonomous systems have numerous algorithms to interpret data and determine risk. For instance, they are able to detect a child on a sidewalk, confirm that it is a child, and evaluate whether the movement of the child will place it in the path of the car. If the computer confirms the potential of a crash, it will slow, stop the vehicle, or change direction.
Thinking while Driving
Autopilot systems need drivers to think while driving, whereas autonomous cars are designed to eliminate the human driver altogether. Though, neither system is perfect, and there is still an inherent risk of crashes with both. This lays stress on the fact that despite how much both these technologies advance, they will probably never be perfect, and human drivers might be important after all, even if for monitoring the self-driving system.
How Close Are We To Realizing the Dream of Fully Autonomous Vehicles?
If we talk of the evolution of autonomous vehicles, multiple-driver safety features have become common. One of them, a lane-changing warning system warns the driver if the vehicle is leaving its lane, thus helping avoid a possible collision or a blockade. Parking assist, automated braking, and the most popular of them all, cruise control, now come as standard in a lot of car models.
Moreover, in autonomous vehicles, the human driver is still in control, but they can make use of alerts for making better decisions related to driving. Progressing toward full autonomy, transitional autopilot systems are becoming common, with Tesla being one of their most-prominent exponents.
How and When Did the Technology Emerge?
Although autonomous vehicles have been under 'real' development since the 1990s, as a concept, they have been around since before WWII!
In 1925, Francis Houdina, an electrical engineer, first demonstrated the concept, though the car was controlled remotely. The prototype traveled around 19 km between Broadway and Fifth Avenue in Manhattan. Although in spite of it striking another car in its way, Chandler (how it was named) was manufactured from 1926 to 1930.
Later, in the 1980s, Ernst Dickmanns, who is known as the father of autonomous vehicles, transformed a Mercedes-Benz van into an autonomous vehicle guided by an integrated computer. In 1987, it traveled on traffic-free streets at 63 kmph. Further, in 1994, it traveled over 1,000 km through Paris in traffic.
Taking the experiment a step further, in 1995, a self-driving Mercedes-Benz traveled from Munich to Copenhagen. These projects were backed by the European Commission under Project Eureka, granting Dickmanns nearly EUR 800 million for researching on such vehicles.
How Are Autonomous Vehicles Currently Classified?
In the current scenario, autonomous vehicles are classified into 6 levels. Autonomous vehicles from 0 to 2 need the assistance of a driver. Those with level 3 to 5 autonomy comprise actual automation features.
Level 0 is the designation for vehicles in which the driver does all the tasks, even though the vehicle has sensors notifying the driver of nearby obstacles.
Level 1 vehicles have systems controlling speed, steering, and braking. Many models include distance control, parking assist, and collision avoidance, along with automatic emergency braking. However, the driver controls most of the driving functions.
Level 2 autonomous vehicles can take control of some systems; though, the driver must be alert when there is need. The driver can leave the steering wheel and accelerator for much of the ride.
Level 3 autonomous vehicles analyze their environment and can make intelligent decisions. There are sensors integrated with computer vision for recording all that happens on the road.
Level 4 vehicles do not require the intervention of the driver. They use AI and offer Wi-Fi connections. The vehicle can control critical driving functions. There are only passengers and no driver at this level; however, the vehicle doesn't drive itself unless all its operational parameters are met.
Level 5 autonomous vehicles work by sharing information with their environment and making use of the data produced by telecom and IoT technologies. 5G technology is mandatory for these vehicles so they can communicate with the roadside infrastructure, as well as satellite-based GPS. These vehicles can drive themselves under all conditions and are truly 'self-driving', or robotic.
Countries That Have Approved Autonomous Vehicles Or Are Eager
With the growing adoption of EVs, self-driving cars have also started to make their presence felt. Moreover, many governments have mandated at least level 2 autonomy in all four-wheelers—cars, buses, and trucks—to prevent accidents and make roads safer. This is because of the well-known fact that most road crashes result from human mistakes.
Tesla has been developing autonomous vehicles for years, and by June 2023, the Elon Musk-owned OEM had launched over 400,000 cars with level 4 autonomy in the U.S. alone. In the same way, many other companies have adopted LiDAR in their driverless delivery vehicles and large semi-trucks.
Many countries have established specialized agencies and released funds for the development and testing of autonomous vehicles, hoping to make them a reality for the masses rather soon.
Germany
In 2022, Germany was the first nation to regulate the legal situation regarding autonomous driving without a level 4 safety driver. Autonomous fleets can be employed in regular operation from 2023. By 2030, around 10,000 autonomous shuttles are expected to be deployed in Hanseatic. The Association of German Transport Companies has already listed over 40 autonomous shuttle bus projects for local and regional public transport. Though, most are low-speed and travel on fixed routes with safety drivers.
Germany was also among the first in Europe to get the ball rolling on this technology, allowing the operation of autonomous vehicles with a driver behind the wheel in May 2017.
France
France has been pursuing a national strategy for the operation of automated and connected mobility since 2018. As part of this endeavor, since September 2022, autonomous vehicles up to level 4 and without drivers are allowed on public roads, but they need remote control. The testing of such cars had been allowed in 2019, with intentions to deploy them on public roads by 2022.
U.K.
The U.K. took the first step in the direction of self-driving vehicles in 2018, by making it mandatory for them to get a digital highway code. A year later, Her Majesty's Government announced its intentions to deploy autonomous vehicles by 2021.
Currently, level 3 vehicles are permitted on public roads, but a safety driver is mandatory. More regulations will be laid down by 2025 for enabling level 4 autonomous vehicles with remote control on roads. Edinburgh became the first city in the kingdom in May 2023 to witness the operation of a full-sized self-driving bus by Stagecoach, after the project was granted GBP 81 million by the government.
Switzerland
In Switzerland, level 4 vehicles are presently only permitted on defined routes, but the country has funded numerous projects for autonomous vehicles. For example, in the Swiss canton of Geneva, ioki has supplied the on-demand software for fully autonomous pilot services, as part of the EU's AVENUE project.
Other European countries pursuing self-driving vehicles are the Netherlands, Sweden, and Spain. All of them consider autonomous driving a key stepping stone to achieving highly digitalized mobility in the future.
U.S.
The U.S. precedes the EU in embracing autonomous vehicles, with Nevada becoming the first state in the country to approve these automobiles way back in 2011! It was followed by the implementation of related legislations in 28 other states. The decisive action in this regard was seen in 2012, with the NHTSA releasing concrete guidelines for autonomous driving systems applicable pan-U.S.
Top Companies Working on Autonomous Driving Systems
Presently, about 250 OEMs, auto component manufacturers, semiconductor and hardware suppliers, IT vendors, and public transportation agencies are involved in the production of fully autonomous vehicles.
Waymo (Alphabet)
An Alphabet subsidiary, Waymo began the development of fully autonomous vehicles in 2009, and till now, its self-driving vehicles have clocked over 20 billion tested miles. Waymo has more than 25,000 vehicles in its fleet. Its autonomous cars still need operator supervision; however, with time, the company is inching closer to fully self-drive technology.
General Motors–Cruise
General Motors is among the largest manufacturers of self-driving cars across the world. A self-driving startup, Cruise, was purchased by GM in 2016, and the former started its autonomous taxi services in San Francisco in 2021. Currently, its self-driving vehicle inventory is 300 units, and by adding more, the company hopes to generate USD 1 billion by 2025.
Microsoft–Volkswagen
Microsoft partnered with Volkswagen Group's CarSoftware Organization for the development of self-driving cars in 2021, teaming up on a cloud-based automated driving platform. It will utilize Microsoft Azure to enable data on all the developments in this project to be stored on the same cloud. Each self-driving vehicle will act as a source of data, which may quicken up the development of fully autonomous vehicles.
Uber Technologies–Motional
Uber entered the self-driving domain in 2016, and in 2022, it announced a plan for introducing a fully driverless car service with Motional. By 2023, they planned to introduce a fully autonomous taxi service in Las Vegas and autonomous delivery services in Los Angeles.
Tesla
Tesla is probably the most notable among autonomous car manufacturers, having already deployed many of its all-electric cars on the roads. Level 2 autonomous vehicles with advanced Autopilot, developed by Tesla, are already plying on the roads, while the full self-driving capability is in the development stage. As of 2022, 160,000 car owners had the beta version of Tesla's fully autonomous features, which is reasonably high from the only 2,000 customers the preceding year.
Why Autonomous Vehicles Are the Future?
There is absolutely no doubt that autonomous vehicles are the one for the future. Their biggest benefit will be increased road safety, as there would be a considerable decrease in the number of car accidents because of reckless driving.
Traffic is another concern that can be addressed by autonomous cars. Making use of self-driving cars for ridesharing helps reduce road congestion by maintaining a steady flow of passengers. Sequentially, there will also be a reduction in the amount of harmful pollutants, as almost all future self-driving vehicles will be electrically driven. These benefits of autonomous cars would decrease the issues faced by passengers and pedestrians on a daily basis.
Autonomous Vehicles Will Take Time to be a Commonality
Despite all their benefits, autonomous vehicles should be in compliance with the automotive standards, to ensure the dependability of their performance and the safety of people. Once they are validated for one level of automation, the same will be needed at the next level. Each progression toward more complexity will alter modern transportation forever.
Fully autonomous vehicles are currently in the testing phase, but there is still a long time before they are actually available to the public. Although they have come a long way, they are not yet viable for commercial transport, as several issues still need fixing.
Particularly, some technologies needed for a self-driving car are extremely expensive, making the cost a restraining factor for the general public. Further, LiDAR and radar work for prototypes, but with a large number of such vehicles on the roads, their frequencies and signals may interfere with one another; thus, giving the radar and LiDAR systems of every individual vehicle a unique frequency will be vital, but not probably practical.
Further, numerous abnormal conditions, for example, debris, snow, and oil, may pose a considerable challenge when they cover dividers and lane markings. Additionally, it is still early days for AI, and it cannot be always trusted to make instant, smart decisions in crunch situations, for example, when a pedestrian abruptly traverses the road post a steep turn.
Autonomous Cars in India
Autonomous cars are at a nascent stage in India. But, the country's first self-driving car, named zPod, was recently unveiled by a startup, Minus Zero. It has no steering wheel, instead making use of high-resolution cameras to analyze driving conditions, such as traffic. It claims to drive in all weather conditions because of its camera sensors, which take real-time images of the surroundings and share them with an AI system.
The information is then processed by AI, for navigating the vehicle to evade obstacles, control speed, and even brake. As per reports, zPod can be scaled up to level 5 in the future.
Can Autonomous Cars on Indian Roads Become a Reality Anytime Soon?
Dependent on the topography, vehicle usage in India, along with use patterns, differs dramatically. While it is hard to find precise data for every state, Gujarat has 151.4 vehicles in every square kilometer of area in 2022, with Surat on top, with 956.96 vehicles in every square kilometer. On the other side of the spectrum, Kerala has merely 62 vehicles per square kilometer, with 66% being two-wheelers.
Further, pedestrians often display little knowledge of or adherence to basic road etiquette, thus complicating road safety. Moreover, autonomous vehicles may prove to be a practical solution on the major roads in cities, but in the outskirts and rural areas, where one road branches into many narrow lanes, they may find it impossible to drive themselves.
Additionally, most self-driving vehicles sold across India have only level 2 or 2+ ADAS features. These vehicles can regulate brake, speed when necessary, and even change lane, but the driver should have the eyes peeled on the road and hands on the steering. So, fully autonomous vehicles in India are a far-fetched idea, and one thing people should not get too excited about just yet.
Coming to a Conclusion
The evolution of self-driving cars with variable levels of autonomy to fully autonomous ones continues to be pursued, with modern AI and ML making rapid leaps in this direction. Additionally, General Motors, Tesla, and Ford are in the final stages of testing their autonomous vehicles, which means that soon, there will be a revolutionary change in commute.
However, much of this revolution is slated for developed countries, while developing countries like India might have to wait for more than a decade to see driverless vehicles on the roads.