The major drivers for the growth of the global wearable medical devices market are the increasing awareness about fitness, burgeoning geriatric population, rising popularity of technologically advanced products, increasing chronic disease prevalence. Because of all these factors, the revenue generated by the sale of such devices is expected to touch $67.2 billion by 2030, compared to $10.6 billion in 2019. Additionally, during 2020–2030 (forecast period), the market is projected to advance with a CAGR of 18.3%.
Wearable Medical Devices Market Segmentation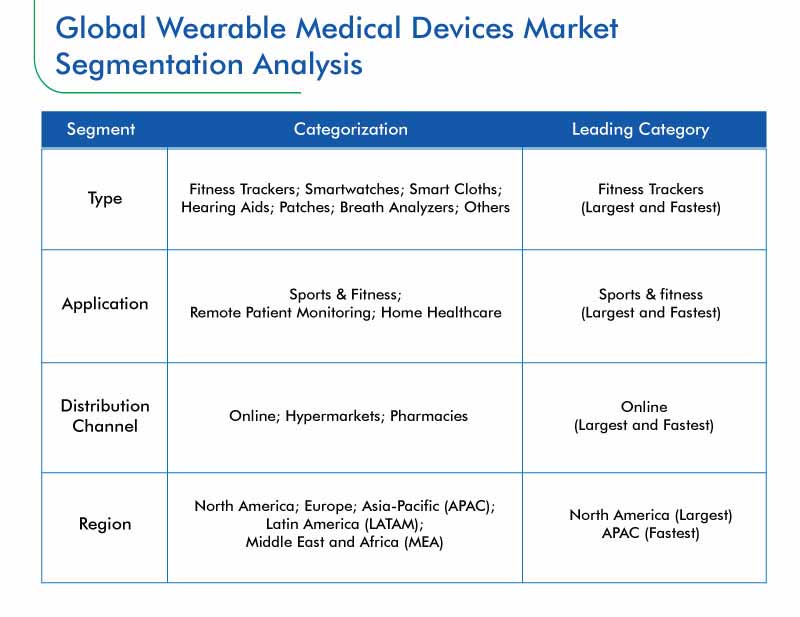 During the forecast period, the fitness trackers category would witness the fastest growth in the wearable medical devices market, as these devices are cost-effective and track various parameters, such as burned calories, steps walked, and pulse, which is making them increasing popular among consumers.
The sports & fitness division dominated the market in 2019, owing to the rising need to monitor the condition of athletes and growing consciousness about people about staying healthy.
Till 2030, Asia-Pacific (APAC) is projected to experience the highest wearable medical devices market CAGR, majorly because of the swift technological advancements in China, Japan, and India, apart from the rising healthcare expenditure, surging investments by private and public organizations, rising prevalence of chronic diseases, and booming population of the elderly.
Market Players Targeting Customers with Product Launches
To target a larger customer base, wearable medical devices market players are continuously launching new and improved products. For instance, in November 2019, Garmin International Inc. launched fēnix 6 series, which includes advanced variants of its global positioning system (GPS)-equipped multisport smartwatches. Some of its features are the Pacpro technology, which lets runners compensate for changes in elevation, a larger round display, and longer battery life.
Browse report overview with detailed TOC on "Wearable Medical Devices Market Research Report: By Type (Fitness Trackers, Smartwatches, Smart Cloths, Hearing Aids, Patches, Breath Analyzers), Application (Sports & Fitness, Remote Patient Monitoring, Home Healthcare), Channel (Online, Hypermarkets, Pharmacies) - Global Industry Analysis and Growth Forecast to 2030" at:https://www.psmarketresearch.com/market-analysis/wearable-medical-devices-market
In the same vein, Apple Inc. introduced the next generation of its AirPods wireless ear buds in March 2019. They have a longer battery life, wireless charging case, and hands-free access to Siri, iPhone's digital assistant.
The major players in the global wearable medical devices market are Mad Apparel Inc., Apple Inc., Neurotech LLC, Proteus Digital Health Inc., Fitbit Inc., Garmin Ltd., Xiaomi Inc., Samsung Electronics Co. Ltd., Moov Inc., Fossil Group Inc., Senseonics Holdings Inc., Sony Corporation, Medtronic plc, and ZOLL Medical Corporation.