The global video streaming system market was valued at $245.3 billion in 2018, and is projected to reach $688.7 billion by 2024, exhibiting a CAGR of 19.1% during the forecast period (2019–2024). Among the type of video streaming services, linear category held the largest share in the market in 2018, whereas non-linear category is expected to register the fastest growth during the forecast period. This is in-line with the sharp increase in video traffic consumption globally with higher traction achieved from young internet users. Video streaming is expected to account for over 80% of the total internet traffic by 2020, with Netflix Inc. consuming 15% of the total downstream volume of traffic globally.
Changing Consumer Preference toward OTT Platforms
In terms of subscriber base, OTT platforms have witnessed tremendous growth in the past few years. In countries such as the U.S., it has been observed that more than half of the population, nearly 160 million, is opting for OTT services, where more than 180 million of the population use smart TVs at least once a month. Also, it has been noted that consumers in the U.S. are opting out of the Pay TV services. For instance, over 1 million consumers unsubscribed from the pay TV connections in the third quarter of 2018. Further, the pay TV providers lost 5 million subscribers in the past 5 years. Besides the U.S., this trend is also prevalent in countries such as the U.K., Germany, Canada, and Philippines.
Rising Growth of Video Streaming Services in the Emerging Economies
In video streaming market, countries such as India, South Korea, Iran, and South Africa have low penetration of video streaming. However, these countries are exhibiting a huge growth in terms of internet penetration, internet speed, and connectivity. In recent years, countries like India displayed tremendous growth in terms of internet penetration, where an increase of 158 million active internet users was recorded between 2015 and 2018. Similarly, as of 2019, South Africa reached 31.2 million active internet users. In response to this, companies such as Netflix Inc., Amazon.com Inc. and The Walt Disney Company have started investing in developing economies like India and South Korea.
Segmentation Analysis of Video Streaming Market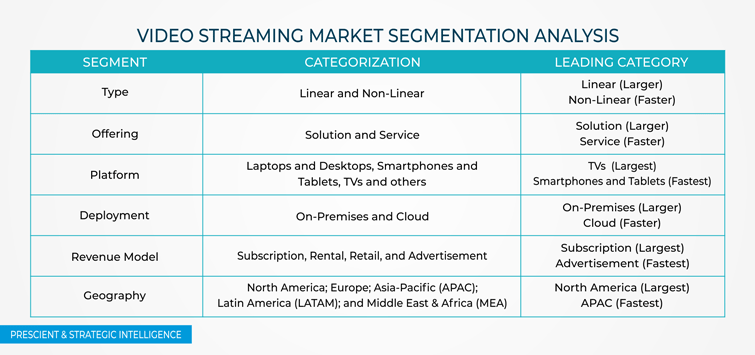 On the basis of type, non-linear video streaming is expected to register the fastest CAGR during forecast period in 2018. The growth is based on the advancement in technology and telecom infrastructure, providing definite and scalable content for consumption. Non-linear platforms enable individual viewership while providing the comfort of viewing at one's convenience in terms of time, place, and device.
Based on offering, solution category exhibited the highest revenue in the video streaming market in 2018, owing to growing demand for OTT services. OTT solutions are impacting every corner of media consumption, disrupting not only the content distribution, but also its creation. Traditional media houses that owned large archives of movies and TV content are amplifying their growth through OTT-based distribution models. Between 2011 to 2017, telecoms and pay TV operators struck 332 deals with OTT service providers to offer bundled OTT solutions.
On the basis of platform, TV category held the major share in the market, accounting for over 77.8% revenue share in 2018. The growth is fueled by the advent of non-linear video streaming services along with the availability of smart TVs. The total number of connected TV users grew from 150 million in 2015 to 195 million in 2018, and are further expected to reach 202 million by the end of 2020 in North America alone. Consumers are increasingly adopting built-in internet streaming functionality in TVs.
Based on deployment, the on-premises category generated over 74.9% share in the video streaming market in 2018. Even though OTT services are significantly gaining traction in the market, pay TV still constitute a dominant share of the region's video streaming market which use on-premise deployment method. In North America, Cable TV, DTH & DTT are growing steadily, with 53% of total revenue recorded from cable TV followed by DTH with 38% in 2018.
Among end users, consumer segment accounted for a dominant market share in 2018. The quality and volume of the available content along with the ever-increasing demand for personalization using business analytics, intelligent search engines, transcoding appliances and interactive programming is among the biggest factors behind the growth of consumer segment.
Geographical Analysis of Video Streaming Market
Together, North America and Europe are expected to account for over 57.3% share in the global video streaming market by 2024. This can be attributed to growing consumer demand for OTT services. In 2018, the U.S. had close to 275 million internet users, up from 264 million in 2014, and is further expected to reach 315 million by 2023. Also, key players are giving an additional boost to this demand by investing in innovative technology and developing original content for consumption.
The market in Asia-Pacific (APAC) is expected to register the highest CAGR of 24.7% during 2019-2024. The growth is based on the rising number of internet users along with low data costs prevalent throughout the region; internet user penetration was recorded as 45% in 2018, a significant increase from 35% in 2014. China accounts for the largest internet users (800 million), followed by India (560 million), Indonesia (150 million), Japan (120 million), and Bangladesh (90 million) as of January 2019.
In APAC, China accounts for largest share in the market, and is expected to continue to dominate during the forecast period as well. The percentage of households that owned TV sets was 99%, recording 500 million units in 2018. There are more than 2,000 TV stations in China. China's online video market reached 609 million users in 2018, led by Tencent Video and iQiyi. The online video market reached 76% penetration in June 2018 buoyed by the intense competition between Tencent Video, iQiyi and Youku.
Browse report overview with detailed TOC on "Video Streaming Market Research Report: By Type (Linear, Non-Linear), Offering (Solution, Service), Platform (Laptop PCs and Desktop PCs, Smartphones and Tablet PCs, Television), Deployment (Cloud, On-Premises), Revenue Model (Subscription, Rental, Retail, Advertisement), End User (Consumer, Enterprise), Geographical Outlook (U.S., Canada, Germany, U.K., France, Italy, Russia, Spain, China, India, Japan, South Korea, Australia, Brazil, Mexico, Argentina, Turkey, South Africa, Iran, U.A.E., Saudi Arabia) – Global Industry Analysis and Forecast to 2024" at:https://www.psmarketresearch.com/market-analysis/video-streaming-market
Competitive Landscape of Video Streaming Market
The video streaming market is highly competitive and fragmented, where primary competitive factors include price, quality, and quantity of video content, in-app features, and timely arrival of video content. The market is witnessing rise in number of acquisitions and mergers of the top companies; this is due to increased competition, amongst companies such as Netflix Inc., Alphabet Inc., and AT&T Inc., in the market. In June 2019, Netflix Inc. established an office in Sidney, Australia to showcase its plans to add more Australian content on Netflix platform. This is in response to counter the market demand that would be created by the upcoming Disney+ services, globally.
Some other important players operating in the video streaming market are Amazon.com Inc., Apple Inc., The Walt Disney Company, Tencent Holdings Limited, British Broadcasting Corporation, Baidu Inc., Comcast Corporation, Charter Communications Inc., DISH Network Corporation, Alibaba Group Holding Limited, CenturyLink Inc., and Verizon Communication Inc.
Video Streaming Market Segmentation
Market Segmentation by Type
Market Segmentation by Offering
By Solution

Pay TV
Internet Protocol (IP) TV
Over-the-Top (OTT)
Market Segmentation by Platform
Laptop PCs and Desktop PCs
Smartphones and Tablet PCs
Television (TV)
Others
Market Segmentation by Deployment
Market Segmentation by Revenue Model
Subscription
Rental
Retail
Advertisement
Market Segmentation by End User
Market Segmentation by Region
North America Video Streaming Market

By type
By offering
By platform
By deployment
By revenue model
By end user
By Country – U.S. and Canada

Europe Video Streaming Market

By type
By offering
By platform
By deployment
By revenue model
By end user
By country – Germany, U.K., France, Italy, Russia, Spain, and Rest of Europe

Asia-Pacific (APAC) Video Streaming Market

By type
By offering
By platform
By deployment
By revenue model
By end user
By country – China, India, Japan, South Korea, Australia, and Rest of APAC

Latin America (LATAM) Video Streaming Market

By type
By offering
By platform
By deployment
By revenue model
By end user
By country – Brazil, Mexico, Argentina, and Rest of LATAM

Middle East and Africa (MEA) Video Streaming Market

By type
By offering
By platform
By deployment
By revenue model
By end user
By country – Turkey, South Africa, Iran, U.A.E., Saudi Arabia, and Rest of MEA