The U.S. connected car market is projected to reach $37,350.1 million by 2023, according to P&S Intelligence.
The growth of the market is majorly driven by increasing vehicle safety and security norms, demand for vehicle-to-vehicle (V2V) connectivity technology, and incorporation of internet of things (IoT) based technologies in the automotive industry.
Insights into market segments
Based on product and services, the U.S. connected car market is categorized into fleet manager, wireless and cellular modules, original equipment manufacturer (OEM) services, sensors, processors, and aftermarket services. Fleet manager dominated the products and services segment, owing to the adoption of connected car technologies, primarily tracking of vehicles in the fleet by fleet managers. Such technologies help fleet managers to track the vehicle condition and do vehicle maintenance before the occurrence of any serious vehicle casualties.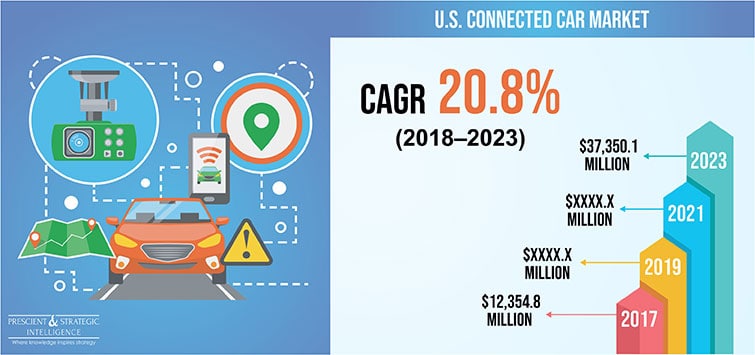 4G/LTE category was the largest category in the technology segment in the U.S. connected car market, with a contribution of more than 40% in 2017. Much of this can be owed to the increasing demand for fast and advanced technology for use in the connected cars. Additionally, it allows drivers to connect and share vital information and updates emergency service providers faster as compared to 3G technology, which is expected to increase market share for 4G technology in near future.
Browse report overview with 23 tables and 19 figures spread through 70 pages and detailed TOC on "U.S. Connected Car Market by Products & Services (Fleet Manager, Wireless & Cellular Modules, OEM Services, Aftermarket Services, Processors, Sensors), by Technology (4G/LTE, 3G, 2G), by Application (Navigation, Infotainment, Telematics), by Connectivity (Integrated, Embedded, Tethered) – Market Size, Share, Development, Growth, and Demand Forecast, 2013–2023" at:https://www.psmarketresearch.com/market-analysis/us-connected-car-market
Navigation category dominated the application segment in the U.S. connected car market, with a contribution of more than 40% in 2017. Navigation application is the most basic requirement in a connected car, which when coupled with its cost effectiveness, and growing necessities to commute in cities making it the largest shareholder in the application segment.
Rapid emergence of autonomous vehicle (AV) technology is spotted as a major trend in the U.S. connected car market
The emergence of AV technology in the U.S. connected car market is one of the key trends that is here to stay. The market has already witnessed advanced driver-assistance system (ADAS) solution which has changed the face of driving experience, making it safer than ever. Up until now, the automotive OEMs, in collaboration with their technology partners (for instance, BMW AG and NVIDIA Corporation; Volvo AB and Google LLC), have delivered significant breakthroughs in the U.S. connected car market.
The technologies used in semi-autonomous vehicles, including adaptive front lighting system, lane-departure warning system, and surround view, have made the headway for the AV technology. Although, the AV technology is already being tested at working level under fixed circumstances, its commercial incorporation in cars is still underway.
U.S. connected car market competitive landscape
Delphi Technologies PLC has been the leading company among all the players that supply connected car services to the various automotive OEMs across the country. Merger and acquisition is one of the strategies adapted by the company to expand its business portfolio. The other major players in the U.S. connected car market are Robert Bosch GmbH, Denso Corporation, Autoliv Inc., Continental AG, and ZF Friedrichshafen AG.
U.S. connected car market segmentation
By Products and Services
Fleet manager
Wireless and cellular modules
Original equipment manufacturer (OEM) services
Sensors
Processors
Aftermarket services
By Technology
By Application
Navigation
Infotainment
Telematics
By Connectivity
Integrated
Embedded
Tethered