Around the world, traffic congestion is creating hurdles in economic growth, as people are getting stuck in traffic jams for hours. Further, several companies are initiating the testing of autonomous aerial vehicles for everyday traveling. As a result, the global urban air mobility market is predicted to reach $6,889.4 million by 2030, from $895.0 million in 2023, at a 33.9% CAGR during 2023–2030 (forecast period).
Urban Air Mobility Market Segmentation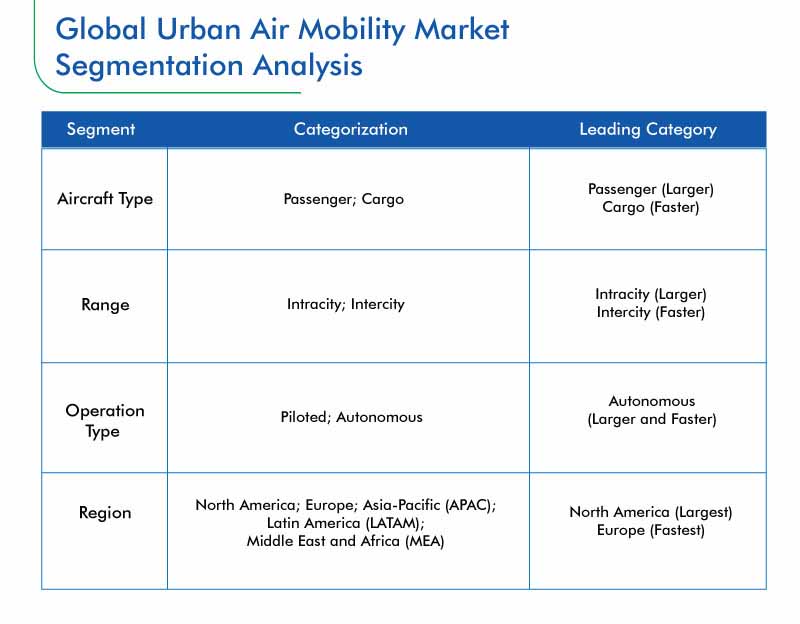 Till 2030, the passenger bifurcation would continue holding the larger share in the urban air mobility market, as people would be charged higher tariffs for passenger flights at low altitudes, than cargo delivery services, via electric vertical take-off and landing (eVTOL) aircraft. Additionally, because of traffic congestion, the usage of passenger aircraft is expected to be higher than cargo delivery drones.
The intracity bifurcation would dominate the urban air mobility market in 2023, as the aircraft are currently being specifically developed for intracity travel, on account of the strict regulations the domain is subject to and limitations in the battery technology.
During the forecast period, the urban air mobility market is expected to witness the fastest growth in Europe, on account of the heavy investments being provided by Germany and France, for the procurement of the eVTOL technology for commercial operations. Other reasons behind the robust advance of the market in the region would be the enhancements in the manufacturing capabilities of European UAM companies, globalization, and expanding trend of automation.
Players Engaging in Partnerships and Joint Ventures to Tap Market Opportunities
In recent years, urban air mobility market players began a vast number of joint ventures and partnerships, to tap the demand for UAM services as and when it proliferates.
For instance, in January 2020, DroneDek LLC and Pierce Aerospace LLC announced a partnership for a drone delivery project. Under the partnership, Pierce Aerospace will combine its expertise in remote identification technologies with DroneDek's knowledge on last-mile logistics services, which include a drone mailbox system. The ultimate aim of the partnership is to scale up authenticated package deliveries to institutional, commercial, residential, and government customers.
On similar lines, Bell teamed up with Choctaw Nation of Oklahoma (CNO) in December 2019, to test the latter's systems at CNO's property in south-eastern Oklahoma. The tests are being conducted under the Unmanned Aircraft System Integration Pilot Program (UASIPP), which enables government bodies to develop unmanned air systems (UAS), together with UAS manufacturers. Furthermore, this program will also allow the Federal Aviation Administration (FAA) and U.S. Department of Transportation to formulate rules and guidelines for low-altitude passenger flights.
The major companies operating in the global urban air mobility market include Airbus SE, The Boeing Company, Textron Inc., Uber Technologies Inc., Zipline Inc., Lilium GmbH, Volocopter GmbH, EHang Holdings Ltd., Airspace Experience Technologies Inc., and Kitty Hawk Corp.