Due to the concerns over the generation of carbon emissions, as a result of the burning of fossil fuels in power plants, the need for producing electricity from renewable sources is increasing. Moreover, the prices of various devices and their components used to produce solar energy are declining. These factors are together predicted to propel the global ultra-thin solar cells market at a 56.9% CAGR during 2020–2030 (forecast period); the market valued $30.0 million in 2019.
Ultra-Thin Solar Cells Market Segmentation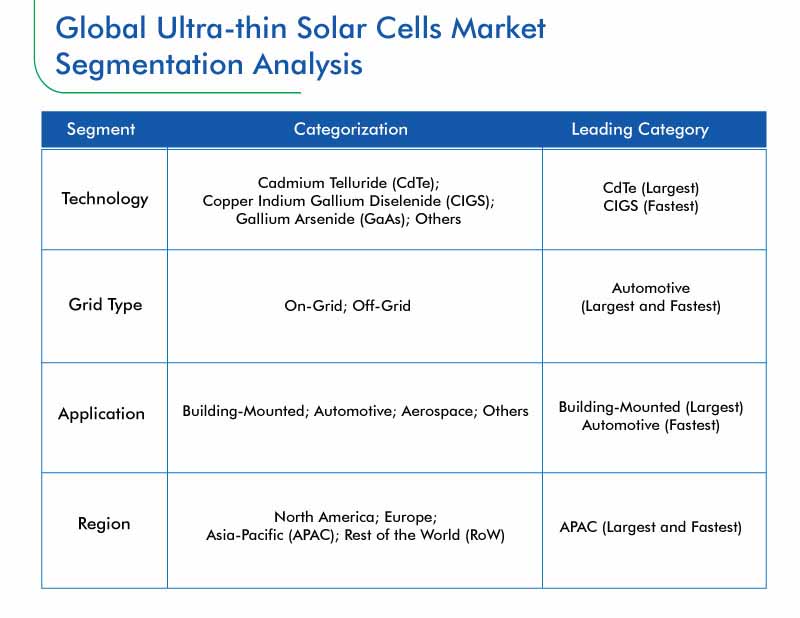 The cadmium telluride (CdTe) category held the largest share in the ultra-thin solar cells market in 2019, as this is the only technology which can compete with crystalline silicon (c-Si)-based solar cells, in terms of power output and purchase cost. Moreover, other technologies are still in the development phase, which is why they are used on a significantly smaller scale, mostly in laboratories and test projects.
Till 2030, the on-grid bifurcation is expected to dominate the ultra-thin solar cells market, on account of the various benefits of on-grid systems over off-grid systems and the fact that grid connectivity is available in a major part of the world. In addition to this, while an off-grid system can only function in the presence of the sun, an on-grid establishment utilizes the grid as a battery, which helps it provide additional power to commercial and residential customers.
Asia-Pacific (APAC) would witness growth in the ultra-thin solar cells market at the highest CAGR, during the forecast period. This is attributed to the increasing number of research and development (R&D) projects being initiated by the companies offering these products in the region. These activities, aimed at decreasing the purchase cost and increasing the electricity generation capacity of such photovoltaic (PV) cells, have yielded ultra-thin solar cells, which are already being utilized in the automotive industry, for electric vehicles powered by the sun. Thus, due to the continued R&D efforts of the producers and the customers of these cells, the market has a vast growth potential in the region.
Product Launches Are the Most Important Strategic Move in the Market
Players in the ultra-thin solar cells market are rapidly launching new products, made possible by robust R&D activities, in order to offer customers more-efficient solar-power-generating solutions.
For instance, in March 2020, SunMan (Hong Kong) Ltd. introduced eArche, which is a lightweight, ultra-thin solar module, for customers in Dubai, the U.A.E. This measure was taken by the company to expand in places outside its native country as well as occupy a larger share of the worldwide revenue pie.
Browse report overview with detailed TOC on "Ultra-Thin Solar Cells Market Research Report: By Technology (Cadmium Telluride, Copper Indium Gallium Diselenide, Gallium Arsenide), Grid Type (On-Grid, Off-Grid), Application (Building-Mounted, Automotive, Aerospace) - Global Industry Analysis and Growth Forecast to 2030" at:https://www.psmarketresearch.com/market-analysis/ultra-thin-solar-cells-market
In the same vein, in September 2017, flexible solar panels were launched by Flisom AG in Zurich, Switzerland. Moreover, the company also showcased numerous applications of these products, such as a stratospheric weather balloon covered with an ultra-lightweight solar film, to power electronic equipment, and building-integrated PV modules for lightweight roofs and facades.
Flisom AG, SunMan (Hong Kong) Ltd., MetSolar, Antec Solar GmbH, PowerFilm Solar Inc., Nanosolar Inc., AZUR SPACE Solar Power GmbH, Swift Solar, and SunFlare are the major global ultra-thin solar cells market players.