To relax, amid the increasing stress of their jobs, peer pressure, and other mentally toll-taking factors, a rising number of people are consuming tobacco. Moreover, due to the surging disposable income, especially in developing countries, the preference for premium tobacco products is rapidly surging. Both these factors are expected to propel the global tobacco packaging market at a 3.7% CAGR from 2020 to 2030; the market had generated $19,134.6 million revenue in 2019. A variety of materials are used to package products including cigars, bidis, smokeless tobacco, cigarettes, and shishas/water pipes, in order to maintain their quality and aroma.
Tobacco Packaging Market Segmentation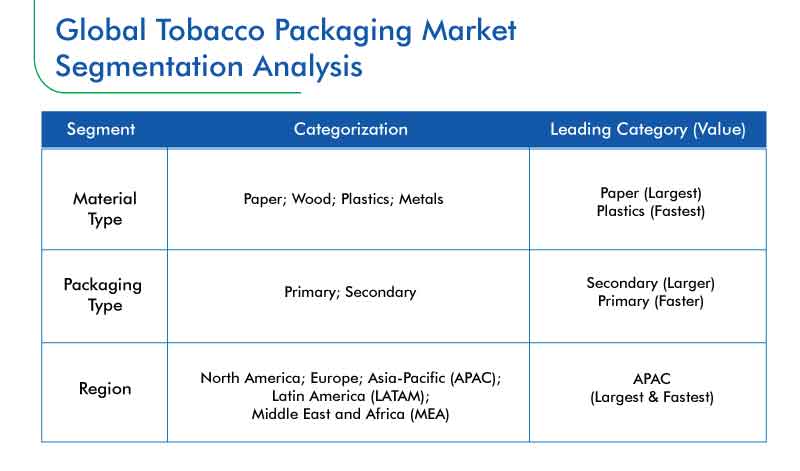 The plastics category is predicted to experience the highest market CAGR in the coming years, due to the easy availability of a wide range of plastic packaging containers/materials in an equally vast array of shapes and sizes. Moreover, plastics are low in weight and easily transportable, which is why they are expected to penetrate the tobacco packaging sector in different parts of the world at a high pace.
Historically, secondary packaging has been more widely used for tobacco products, as it offers them a barrier against environmental factors, such as moisture and aroma dissipation, till they reach the customers. Secondary packaging, in the form of trays, cartons, and corrugated boxes, is used to hold the individual units together, during their mass transportation to the customers or point of sale (POS).
Asia-Pacific (APAC) would continue holding the largest share in the market till 2030, primarily led by China, which is home to almost one-third of all smokers in the world, equaling around 300 million individuals in 2019, according to the World Health Organization (WHO). In addition, China National Tobacco Corporation produces a third of the world's cigarettes, majorly to fulfill the high demand for them in the country. As a result of technological advancements in the industry, the Xinsong Parallel Robot Intelligent Sorting Smoke Solution was recently introduced in China. Equipped with the Svision2D visual inspection system, this shaped-cigarette sorting and packaging system combines the intelligent fill light, two-dimensional visual inspection, data fusion optimization, and deep learning technologies.
Browse report overview with detailed TOC on "Tobacco Packaging Market Research Report: By Material Type (Paper, Wood, Plastics, Metals), Packaging Type (Primary, Secondary) - Global Industry Analysis and Growth Forecast to 2030" at:https://www.psmarketresearch.com/market-analysis/tobacco-packaging-market-report
Companies Investing Heavily for Increasing their Packaging Material Output
To cater to the rising demand for packaging material from the tobacco sector, companies offering such materials are investing heavily in procuring the required technology.
For instance, in October 2019, Mondi Plc revealed its plans of investing $380 million (EUR 340 million) in a kraft top white machine, in Ruzomberok, Slovakia. Scheduled to start operations by 2020-end, the machine is capable of producing 300,000 tons of containerboard-grade kraft top white annually. The aim behind this investment is to complement the manufacturing technology the company's Slovakian mill with a machine that produces containerboards in an environment-friendly way.
On similar lines, in 2018, an investment of $60 million was announced by WestRock Company for the upgradation of the press section, headboxes, coaters, dryers, and other production machinery, in order to achieve higher efficiency and lower power consumption. In addition, the upgraded equipment is helping the company enhance the quality and lower the weight basis of the solid bleached sulfate (SBS) products it sells to tobacco and food packaging firms.
International Paper Company, Amcor Plc, Mondi Plc, ITC Limited, Smurfit Kappa Group Plc, Packaging Corporation of America, WestRock Company, Sonoco Products Company, Bihlmaier GmbH, Winkel Verpackungen GmbH, Duke Packaging, TFP Sp. z o. o, Leser GmbH, Emenac Packaging, and Stora Enso Oyj are the key global tobacco packaging market players.