The global spintronics market was valued at $362.7 million in 2019, and it is expected to witness a CAGR of 34.8% during the forecast period (2020–2030), reaching $12,854.6 million by 2030. The healthcare category in terms of end user is expected to grow fastest, owing to the advancement in spintronic-based magnetic sensors, which is expected to be leveraged for detecting tumor cells in human body.
The metal-based category held the largest share in the spintronics market in 2019. This is attributed to the high-speed data transfer and low energy consumption offered by metal-based spintronics including tunnel magneto resistance (TMR) and giant magneto resistance (GMR).
Advancement in STT-MRAM Is a Major Market Trend
The major trend that is witnessed in the spintronics market is the advancements in the field of spin-transfer torque magnetoresistive random-access memory (STT-MRAM). This technology is gaining traction in the market as it offers scalability in terms of memory density, which can be achieved at a lower cost as compared to toggle MRAM. Currently, Everspin Technologies Inc. is one of the major producers of STT-MRAM chips. A recent example of advancement includes the development of a 128 Mb density STT-MRAM by a research team at Tohoku University. The team claims it to be the fastest MRAM ever produced.
Automotive Industry Is a Major Consumer of Spintronics
Increasing sale of electric vehicles (EVs) is observed as a major factor responsible for the growth of the spintronics market. Spintronic sensors used in the vehicles play a major role in increasing the battery performance by monitoring the current flow and battery life. GMR and TMR are used in the place of Hall ICs and anisotropic magnetoresistance (AMR) sensors for position sensing. The Hall ICs and AMR sensors consume around 10mW of power under continuous usage, while GMR and TMR sensors consume power in the range of sub mW and μW, respectively, in EVs. NVE corporation and NXP Semiconductors Inc. are some of the major companies producing these sensors for EVs.
Segmentation Analysis of Spintronics Market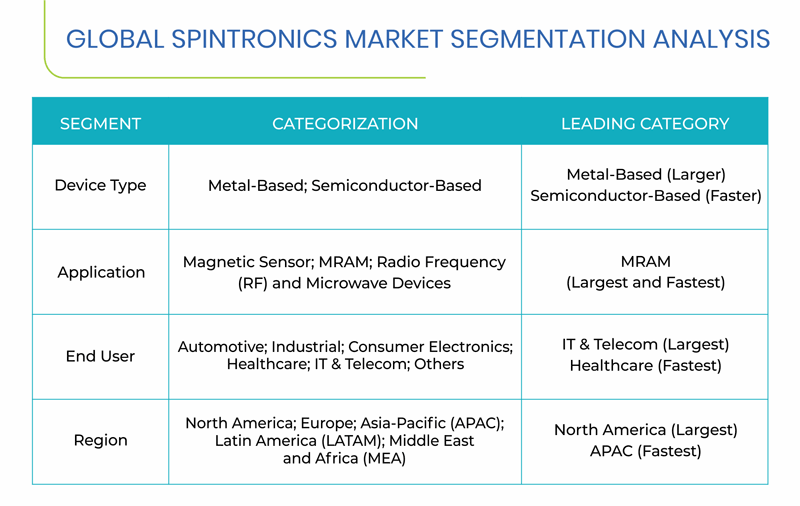 The semiconductor-based category on the basis of device type is projected to display highest CAGR during the forecast period. Semiconductor-based spintronic devices are more efficient and consume less power. Further, with growing deployment of 5G and increasing adoption of IoT, sales pertaining to semiconductor-based spintronics devices are projected to increase during the forecast period.
The MRAM application category garnered largest share in the spintronics market in 2019. Use of MRAM facilitates high reliability and performance of the system by delivering protection during power loss. MRAM exhibits non-volatility and low power consumption, and also allows unlimited read and write operations, which are not offered by conventional memory applications.
Geographical Analysis of Spintronics Market
North America held the largest share in the global spintronics market in 2019. This is mainly attributed to the high demand for spintronics, primarily owing to growing cloud market in the region. Also, the import of optical hardware, such as spintronic-based receivers and transmitters, has increased due to their growing demand in order to support 5G network infrastructure in North America. Therefore, increasing implementation of 5G in the region is further aiding the requirement for spintronic devices.
Among the major countries, U.S. and China were the major markets, where these accounted for a combined share of over 50%. The U.S. and China are credited as largest consumer electronics and automobile markets, and it has bolstered the increased demand for spintronic devices. Also, in the market, the prosperity of Chinese manufacturers is attributed to the rise in demand for cloud storage during the historical period, which is expected to expand in the coming years.
Competitive Landscape of Spintronics Market
The spintronics market is at a budding stage with huge potential for growth during the forecast period. Some of the key players in the market are Everspin Technologies Inc., NVE Corporation, Spin Memory Inc., Crocus Technology, Synopsys Inc., ams AG, IBM Corporation, Avalanche Technology, Merck KGaA, and Samsung Electronics Co. Ltd.
Browse report overview with detailed TOC on "Spintronics Market Research Report: By Device Type (Metal-Based, Semiconductor-Based), Application (Magnetic Sensor, MRAM, RF and Microwave Devices), End Use (Automotive, Industrial, Consumer Electronics, Healthcare, IT & Telecom) - Global Industry Size and Trends, Forecast to 2030" at:https://www.psmarketresearch.com/market-analysis/spintronics-market
Industry players are consistently concentrating on product launches to consolidate their market position. For instance, in June 2019, NVE Corporation launched ALT025 (TMR) analog bridge magnetic sensor with a large amount of signal and wide linear range, which has a bipolar output. The sensor can be used for various applications, including speed, motion, and position control; non-contact current sensing; mechatronics; and robotics.