The global silicon on insulator (SOI) market was valued at $684.8 million in 2018 and is projected to reach $2,285.5 million by 2024, progressing at a CAGR of 22.7% during the forecast period (2019–2024). Among product, radio-frequency front-end module (RF FEM) category is expected to exhibit the highest growth rate during the forecast period. This can be majorly attributed to the rising number of 5G development projects in the country like the U.S., China, Mexico, South Korea, Japan, and Qatar. Further, companies like GlobalFoundries and STMicroelectronics N.V. are focusing on to build advanced RF-SOI technology which could improve the performance of RF switches, power amplifiers, and low noise amplifiers to meet the 5G FEM specifications.
Miniaturization of devices
One of the major trends observed in the silicon on insulator market is the miniaturization of devices and decreasing cost of manufacturing chipsets to accelerate their adoption. The push for miniaturization of devices comes from the demand for smaller assemblies in specific applications and the need to cut material costs through smaller parts that function similar to larger ones. Miniaturization is leading toward the emergence of a very small devices that are primarily deploying in consumer electronics applications and automotive applications such as collision detections, infotainment systems, and navigation control.
Self-heating effects and floating body in SOI-based devices
The market for SOI is growing at an exorbitant rate, as it requires less power to extend the battery life of portable devices like smartphones, tablets, and Bluetooth-based earphones. SOI technology is much advanced than the traditional silicon technology, as it enables the manufacturing of faster computer chips with low frequency noise. Such advantages are driving the market growth of SOI, however, the self-heating effect and floating body in SOI-based devices hindering the market growth.
SOI wafer consists of buried oxide which relatively has low thermal conductivity. Since SOI-based devices like PD-SOI are thermally insulated from the substrate by the buried oxide (BOX), the SOI devices gets heat-up. This increase in device temperature leads to a reduction in current drive and mobility, thus degrading the device performance over a while.
Segmentation Analysis of Silicon on Insulator Market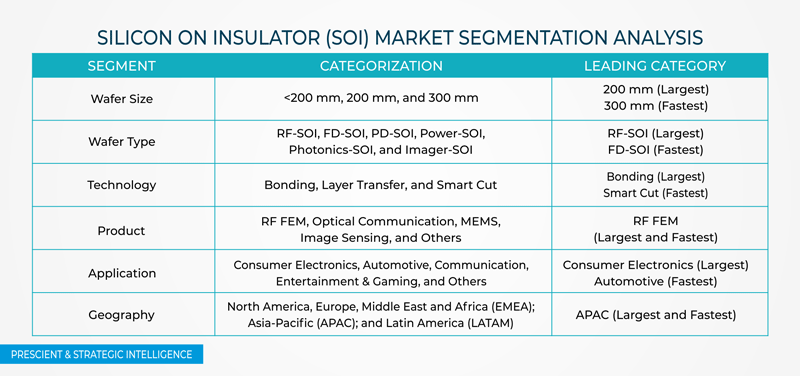 Based on wafer type, the FD-SOI category is projected to witness the fastest growth rate over the forecast period. This is due to its increasing demand from regions like North America and Asia-Pacific (APAC) for ultra-low power applications like wearable devices and smart appliances. Some of the key factors driving the growth of FD-SOI category includes cost-efficiency than bulk complementary metal-oxide-semiconductor (CMOS) and fin field-effect transistor (FinFET), and relatively high performance with the integration of RF functionality.
Based on technology, the smart cut category is anticipated to record the fastest growth rate over the forecast period. This can be majorly attributed to the fact that smart cut technology enables heterogeneous material integration meeting at 5G application requirements. The smart cut is used for the fabrication of thin or highly uniform layers of SOIs which are used in wafer types including photonics-SOI, FD-SOI, and imager-SOI.
Based on application, the silicon on insulator market is categorized into consumer electronics, automotive, communication, entertainment & gaming, and others; wherein, others include military, defense, and aerospace. Among these, automotive segment accounted for highest share in 2018. This is majorly attributed to increasing investments made by automotive giants like Audi AG, Bayerische Motoren Werke (BMW) AG, and Robert Bosch GmbH. For instance, Audi AG, a German automobile manufacturer announced that the company is focusing on to integrate FD-SOI with sensors or devices that would be used in autonomous cars. This, in turn, leads to increased demand for SOI-based wafers. Additionally, the demand for FD-SOI wafer is expected to increase in the coming years, as it is used in the autonomous cars such as instrument clusters, infotainment systems, e-cockpits, and head-up displays (HUDs), and in turn to drive the silicon on insulator market in automotive application during the forecast period.
Geographical Analysis of Silicon on Insulator Market
Geographically, the APAC region is expected to showcase the considerable growth over the forecast period. This can be attributed to increasing investments by wafer manufacturers to expand their facility expansion. For instance, in March 2018, Shin-Etsu Chemical Co. Ltd. announced to invest $996 million (¥110 billion) to expand its production facility for its silicones business. With this investment, the company aims to expand its business footprint in the APAC region in the coming years.
Competitive Landscape of Silicon on Insulator Market
Rapid development in fabrication technologies of SOIs such as smart cut, bonding, and layer transfer have increased competition in the global silicon on insulator market. The market is primarily characterized by four major companies, namely, Shin-Etsu Chemical Co. Ltd., SUMCO Corporation, Soitec SA, and STMicroelectronics N.V.
Market players are focusing on collaboration to increase their footprint in the market. For instance, in February 2019, Soitec SA and Shanghai Simgui Technology Co., Ltd. (Simgui) jointly announced an enhanced partnership. The purpose of the partnership is to serve RF-SOI and power-SOI products and to increase the annual production capacity of 200 mm SOIs from 180,000 to 360,000 at Simgui's manufacturing facility in Shanghai, China. This is due to meet the increasing global demand for 200mm SOIs in response to the growing market for RF-SOI used in mobile front-end modules (FEM) and for power-SOI used in automotive and consumer electronics industries.
Browse report overview with detailed TOC on "Silicon on Insulator (SOI) Market Research Report: By Wafer Size (<200 mm, 200 mm, 300 mm), Wafer Type (RF-SOI, FD-SOI, PD-SOI, Power-SOI, Photonics-SOI, Imager-SOI), Technology (Bonding, Layer Transfer, Smart Cut), Product (RF FEM, Optical Communication, MEMS, Image Sensing), Application (Consumer Electronics, Automotive, Communication, Entertainment & Gaming), Geographical Outlook (U.S., Canada, Germany, U.K., France, Italy, China, Japan, South Korea, Mexico, Brazil) – Industry Trends and Growth Forecast to 2024" at:https://www.psmarketresearch.com/market-analysis/silicon-on-insulator-market
Some other key players operating in the silicon on insulator market include Skyworks Solutions Inc., Murata Manufacturing Co. Ltd., United Microelectronics Corporation, Tower Semiconductor Ltd., Shanghai Simgui Technology Co. Ltd., GlobalWafers Singapore Pte. Ltd., and GlobalFoundries U.S. Inc.
Silicon on Insulator Market Segmentation
Market Segmentation by Wafer Size
Market Segmentation by Wafer Type
Radio-Frequency Silicon on Insulator (RF-SOI)
Fully Depleted Silicon on Insulator (FD-SOI)
Partially Depleted Silicon on Insulator (PD-SOI)
Power-Silicon on Insulator (SOI)
Photonics-Silicon on Insulator (SOI)
Imager-Silicon on Insulator (SOI)
Market Segmentation by Technology
Bonding
Layer Transfer
Smart Cut
Market Segmentation by Product
Radio-Frequency Front-End Module (RF FEM)
Optical Communication
Microelectromechanical Systems (MEMS)
Image Sensing
Others (Including SOI Transistor and Memory Device)
Market Segmentation by Application
Consumer Electronics
Automotive
Communication
Entertainment & Gaming
Others (Including Medical Devices, Military & Defense, and Aerospace)
Market Segmentation by Geography
North America SOI Market

By wafer size
By wafer type
By technology
By product
By application
By country – U.S. and Canada

Europe, Middle East and Africa (EMEA) SOI Market

By wafer size
By wafer type
By technology
By product
By application
By country – Germany, U.K., France, Italy, and Rest of EMEA

Asia-Pacific (APAC) SOI Market

By wafer size
By wafer type
By technology
By product
By application
By country – China, Japan, South Korea, and Rest of APAC

Latin America (LATAM) SOI Market

By wafer size
By wafer type
By technology
By product
By application
By country – Mexico, Brazil, and Rest of LATAM