Around the world, an increasing number of people are computing on the cloud, while offices are implementing the bring-your-own-device policy. Additionally, the government mandates regarding data security are rather stringent in numerous countries. Owing to all these factors, the revenue generated in the global security as a service market is projected to grow at a 17.4% CAGR during the forecast period (2020–2030), reaching $43.4 billion by 2030 from $7.8 billion in 2019.
Security as a Service Market Segmentation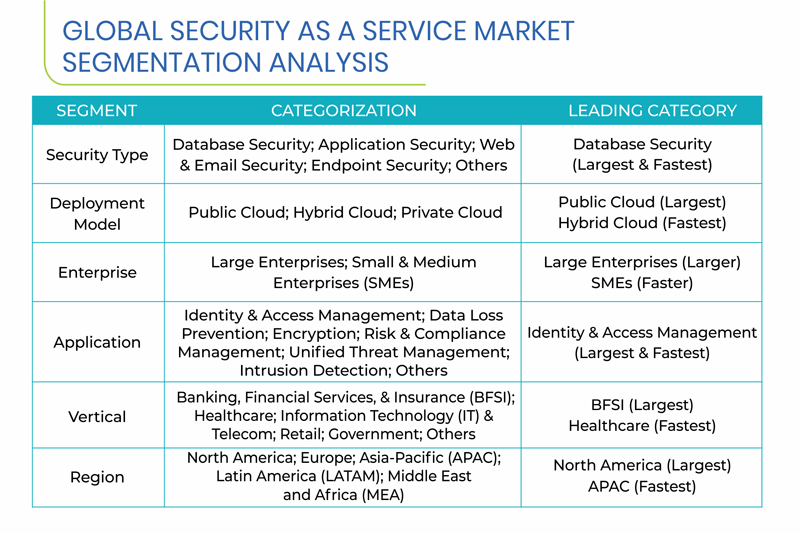 During the forecast period, database security would witness the highest CAGR in the security as a service market, on account of the vulnerability of the data stored on the cloud to cyber-attacks. Additionally, in many countries, the government has implemented strict rules to protect consumers' data. Thus, with the increasing migration to cloud, the adoption of data security solutions is also rising.
In 2019, public cloud was the most preferred deployment mode in the security as a solution market. This is credited to the numerous advantages of public cloud, the biggest among which is optimized IT costs, due to no requirement for expensive on-site servers and hiring IT professionals, who are otherwise engaged in continuously monitoring the infrastructure, network, and software.
Globally, North America contributed the highest revenue to the security as a service market during the historical period (2014–2019), owing to the rapid technological advancements, developed IT infrastructure, high adoption rate of cloud, increasing cyber-attack incidence, and strict laws implemented by the U.S. and Canadian governments, particularly for the healthcare and banking, financial services, and insurance (BFSI) sectors, regarding customer data protection.
Product Launches Characterize Market Competitive Landscape
In recent years, several new products have been launched by the major players in the security as a service market, with the aim to reach a wider consumer base and dominate the competition. For instance, in February 2017, Cisco Systems Inc. launched Cisco Umbrella, a secure internet gateway (SIG) for the cloud, for those who access cloud on their mobile phones. This open-platform system easily integrates with the existing systems of a company and predicts cyber-attacks beforehand.
Browse report overview with detailed TOC on "Security as a Service Market Research Report: By Security Type (Application Security, Database Security, Endpoint Security, Web & Email Security), Deployment Model (Private Cloud, Public Cloud, Hybrid Cloud), Enterprise (Large Enterprises, Small & Medium Enterprises), Application (Data Loss Prevention, Identity & Access Management, Risk & Compliance Management, Unified Threat Management, Intrusion Detection, Encryption), Vertical (BFSI, Healthcare, IT & Telecom, Retail) – Global Industry Share, Drivers, Demand and Trends Analysis Forecast Report to 2030" at:https://www.psmarketresearch.com/market-analysis/security-as-a-service-market
Moreover, in November 2019, IBM Corporation unveiled its Cloud Pak for Security, which lets users connect to the cloud and security applications without removing the data from its source. With this product, IBM aims to lessen the time taken to counter cyber-attacks on the cloud, for its clients.
The most prominent global security as a service market players are Microsoft Corporation, Cisco Systems Inc., Broadcom Inc., Intel Corporation, McAfee LLC, IBM Corporation, Qualys Inc., Trend Micro Incorporated, Citrix Systems Inc., Sophos Group plc, ScienceSoft USA Corporation, Alert Logic Inc., Zscaler Inc., HyTrust Inc., Fortinet Inc., vArmour Inc., Netskope Inc., Twistlock Ltd., CipherCloud.com, Proofpoint Inc., CloudPassage Inc., Lacework Inc., LayerStack Limited, Cloudian Inc., and Plaxonic Technologies.