Database Security to Dominate Security as a Service Market till 2030
The global security as a service market valued $7.8 billion in 2019, from where it is expected to reach $43.4 billion by 2030, experiencing a CAGR of 17.4% during 2020–2030 (forecast period). The key factors leading to the burgeoning demand for such solutions are the rising popularity of the bring-your-own-device (BYOD) culture in offices, strict government regulations mandating data security, and surging adoption of cloud solutions.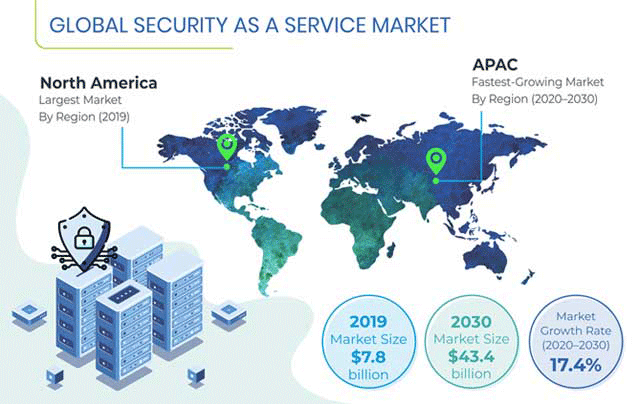 Security as a Service Market Segmentation Analysis
Database security is projected to continue being the largest revenue generator in the security as a service market, based on security type, in the coming years. Owing to the improved performance, greater flexibility, and low maintenance costs of cloud databases, they are becoming popular with companies. But, as the cloud is vulnerable to cyber-attacks, users are scrambling to make their cloud database secure.
During the forecast period, hybrid cloud, under the deployment model segmentation, would witness the highest CAGR. This is because hybrid cloud offers personalized features and higher flexibility of data control, ownership, updation, storage, access, and maintenance.
Large enterprises, based on enterprise, led the security as a service market during the historical period (2014–2019). This is because these companies deal with huge volumes of data on a daily basis and many of them are also shifting to the cloud, which creates the requirement for robust cyber security.
The identity & access management division, on the basis of application, is expected to display the most rapid advance during the forecast period. To protect their cloud-based data, businesses are rapidly adopting software as a service (SaaS) security solutions, to grant employees access privileges, after duly considering their designation.
In 2019, banking, financial services, and insurance (BFSI) was the largest vertical in the security as a service market, in terms of revenue. As financial firms deal with sensitive customer data, they are strictly required to adhere to data security mandates, which, combined with the rising usage of cloud, leads to high usage of cloud-based security solutions in the domain.
Geographically, Asia-Pacific (APAC) would experience the fastest market growth during the forecast period, on account of the swift economic growth, burgeoning number of small and medium enterprises, surging popularity of BYOD, and heavy IT investments.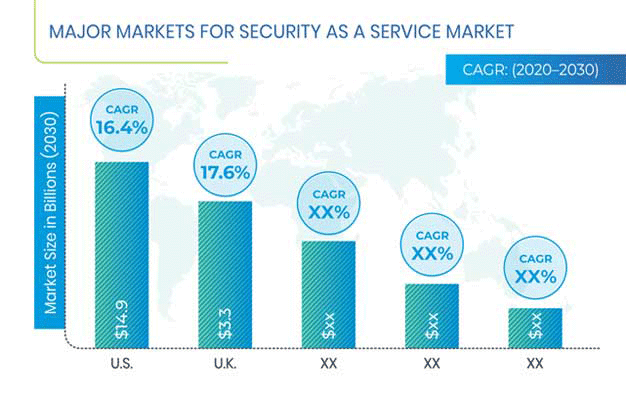 Market Witnessing Rising Usage of SaaS Security Solutions for Identity & Access Management
The key trend in the security as a service market is the growing adoption of such solutions for identity & access management. This application of cloud-based security solutions deals with the granting and revoking of identity and access and authorizing and securing them. As SaaS lets people access data from anywhere, it leads to the risk of cyber-attacks. Thus, to track who is accessing the data and from where, companies are deploying identity & access management security solutions on the cloud. According to a study conducted by SANS Institute, 34% of the respondents use identity & access management software for their infrastructure as a service (IaaS) and platform as a service (PaaS) solutions.
Growing Popularity of Cloud Computing the Key Market Driver
The major growth driver for the security as a service market is the increasing adoption of cloud solutions. As cloud doesn't need any physical IT infrastructure and professionals, it results in substantial cost savings, which is encouraging organizations to shift to it. Additionally, with cloud, users can decide exactly which services they want and can access their data from wherever they want, with a secure connection. However, as a downside, cloud is slightly vulnerable to data breaches, with McAfee LLC claiming that around 9% of all cloud services used by companies are at a high cyber-attack risk.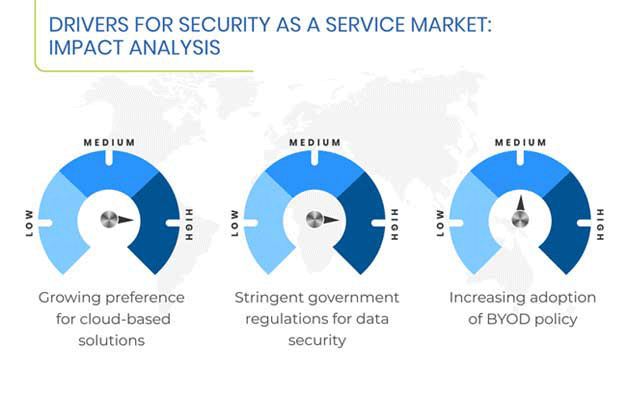 Integration of Multi-Factor Authentication a Major Opportunity Area for Marker Players
The players in the security as a service market can potentially increase their revenue by integrating multi-factor authentication in their offerings. With BYOD becoming a trend and government regulations, with regard to data security, becoming more stringent, businesses are demanding multi-factor authentication. Multi-factor authentication can be integrated in SaaS security solutions by using a variety of token generation software, such as Yubikey and Google Authenticator. With such solutions, the requirement for individual multi-factor authenticator applications is reduced, which further helps customers manage their IT spending.
Acquisitions and Partnerships among the Strongest Various Strategic Developments
The key security as a service market players have engaged in numerous mergers and partnerships, as a means to stay on top of the competition. For example, in August 2019, MacAfee LLC acquired Nano Sec Co., a multi-cloud platform for security and application, to enhance its compliance and governance and decrease the risk to its container and cloud solutions. Additionally, this move also strengthened MacAfee's server protection and cloud solutions, offered under its MVISION product line.
Similarly, in November 2019, Check Point Software Technologies Ltd., a cyber security solution vendor, integrated its CloudGuard solutions with the Microsoft Azure Security Center. This was a stepping stone in the collaboration between the two companies, for cyber security solutions.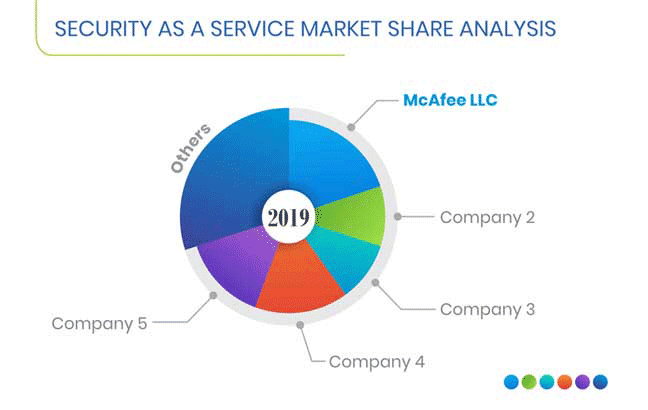 The major players operating in the global security as a service market are Cisco Systems Inc., Microsoft Corporation, Intel Corporation, Broadcom Inc., IBM Corporation, McAfee LLC, Trend Micro Incorporated, Qualys Inc., Sophos Group plc, Citrix Systems Inc., Alert Logic Inc., ScienceSoft USA Corporation.
HyTrust Inc., Zscaler Inc., vArmour Inc., Fortinet Inc., Twistlock Ltd., Netskope Inc., Proofpoint Inc., CipherCloud.com, Lacework Inc., CloudPassage Inc., Cloudian Inc., LayerStack Limited, and Plaxonic Technologies.
Market Size Breakdown by Segment
The security as a service market report offers comprehensive market segmentation analysis along with market estimates for the period 2014–2030.
Based on Security Type
Application Security
Database Security
Endpoint Security
Web & Email Security
Based on Deployment Model
Private Cloud
Public Cloud
Hybrid Cloud
Based on Enterprise
Large Enterprises
Small & Medium Enterprises (SMEs)
Based on Application
Data Loss Prevention
Identity & Access Management
Risk & Compliance Management
Unified Threat Management
Intrusion Detection
Encryption
Based on Vertical
Banking, Financial Services, & Insurance (BFSI)
Healthcare
Government
Information Technology (IT) & Telecom
Retail
Geographical Analysis
North America
Europe

U.K.
Germany
France
Italy
Spain

Asia-Pacific (APAC)

China
Japan
India
Australia
South Korea

Latin America (LATAM)
Middle East & Africa (MEA)

Saudi Arabia
Turkey
U.A.E.
South Africa