The production printer market is expected to reach $6.6 billion by 2023, according to P&S Intelligence.
The growth in the market can be attributed to surging demand for high-speed printing for several application areas such as commercial, publishing, and label & packaging.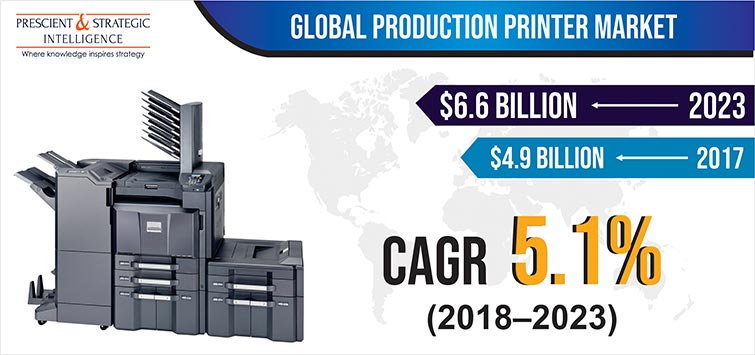 Insights into the market segments
Based on application, the production printer market is segmented into commercial, publishing, transactional, and label & package and others, wherein 'others' include textile, panel, flow tiles, and wallpaper. Among these, publishing category held the largest revenue share of over 35% in 2017; owing to rapid growth in printing of educational books and novels across the globe. While, the label & package category is expected to register fastest CAGR over the forecast period. High quality, low cost, and fast turnaround time are the key factors driving the production printer market for label & package category.
Based on type, the market for publishing application has been divided into education/books, newspapers/magazines, photos/postcards, directories, and others, wherein 'others' include periodicals and journals. Among these, education/books category held highest revenue share in global publishing production printer market in 2017. This is attributed to increasing demand for production printers in printing of various education/books such as non-fiction, fiction books, and paperback books in North America, Europe and APAC regions. On the other hand, photos/postcards segment is expected to record the fastest CAGR in global publishing production printer market, during 2018-2023.
In terms of type, the market for commercial application has been categorized into manuals, brochures, menus, marketing collaterals, catalogues and others, wherein 'others' include stationery, leaflets, letterheads, event tickets, memo pads, desk pads, envelopes, stickers, calendars, and binders. Of these, marketing collaterals held the highest revenue share in the global commercial production printer market 2017, owing to increase in demand for production printers in printing of various marketing collaterals such as data sheets, pamphlets, white papers, sales scripts, and guides.
Growing e-commerce industry to drive production printer market growth
E-commerce industry is exhibiting robust growth, across the globe, with global retail e-commerce market value forecast to reach over $4.2 trillion by 2021, with over 15% growth in the period 2019-2021. Factors such as internet growth, lowering prices, and growing awareness among global populace, propelled e-commerce market growth. This in turn resulted in growth of packaging and labelling industry, thereby contributing to production printing market growth.
The new entrants are increasingly focusing on sourcing print on-demand (POD) products, that are created with the purpose of having a custom design printed on them. The products can be t-shirts, hats, bags, pillows, and wall art, among several others. Print companies are increasingly targeting e-commerce platforms to access large number of prospect customers. Moreover, e-commerce is notably assisting vendors to keep a track of customer activities online, in order to improve their sales. Hence, the growing e-commerce industry is propelling the production printer market growth.
Browse report overview with 130 tables and 84 figures spread through 204 pages and detailed TOC on "Production Printer Market by Technology (Inkjet, Toner, Flexography, Laser, Gravure, Screen, Offset), by Type (Monochrome, Color), by Application (Commercial [Manuals, Brochures, Menus, Marketing Collaterals, Catalogues], Publishing [Education/Books, Photos/Postcards, Newspapers/Magazines, Directories], Transactional [Bills/Invoices, Statements, Letters, Cheques, Cards, Policy Documents], Label & Package [Cartons, Label, Direct to Object & Late Stage Customization, Digital Smart Packing, Flexible Package, Corrugated Packaging]), by Geography (U.S., Canada, Germany, France, U.K., China, Japan, India, South Korea, Mexico, Brazil, Saudi Arabia, U.A.E., South Africa, Turkey) – Global Market Size, Share, Development, Growth and Demand Forecast, 2013–2023" at:https://www.psmarketresearch.com/market-analysis/production-printer-market
Asia-Pacific (APAC) to be the largest market during the forecast period
APAC production printer market held the highest market share in the global production printer market in 2017 and is expected to continue holding the largest share during 2018-2023. Among countries, China recorded the highest revenue share in APAC due to the growing adoption of litho commercial printers, flexographic printers, and gravure printers for publishing applications such as education/books, newspapers/magazines, and directories. While, India is projected to register the fastest CAGR during 2018-2023, owing to increasing demand for books, magazines, catalogues, manuals and others.
Production printer market competitiveness
The intensity of rivalry among players in the production printer market is high. In the recent past, product launches, and partnerships were the major activities of the market players in the production printer market. For instance, in January 2019, Xerox Corporation enhanced Xerox's AltaLink Multifunction Printers (MFPs) to enable companies to monitor security settings and automatically reset unauthorized changes as well as customize tasks to improve productivity and maximize time.
Some of the other key players operating in the production printer market include Canon Inc., HP Inc., Ricoh Company Ltd., Konica Minolta Inc., Agfa-Gevaert N.V., Electronics for Imaging Inc., Eastman Kodak Company, Inca Digital Printers Limited, and Miyakoshi Printing Machinery, Co., Ltd.
Global Production Printer Market Segmentation
Market Segmentation by Technology
Inkjet
Offset
Flexography
Laser
Screen
Gravure
Toner
Others (Pad, Dye-sublimation, Relief print)
Market Segmentation by Type
Market Segmentation by Application
Publishing

Education/Books
Newspapers/Magazines
Photos/Postcards
Directories
Others (Periodicals, Journals)

Commercial

Marketing Collaterals
Brochures
Menus
Manuals
Catalogues
Others (Stationery, Leaflets, Letterheads, Event Tickets, Memo Pads, Desk Pads, Envelopes, Stickers, Calendars, Binders)

Label & Package

Label
Cartons
Flexible Package
Digital Smart Packing
Direct to Object & Late Stage Customization
Corrugated Packaging
Others (Plastic Packaging, Anti-corrosive Packaging, Foil Sealed Bags)

Transactional

Bills/Invoices
Policy Documents
Cheques
Statements
Letters
Cards
Others (Identity proofs, Receipts, Debit/Credit Notes)

Others (Textile, Panels, Floor Tiles, Wallpaper)
Market Segmentation by Geography
APAC production printer market

By Technology
By Type
By Application
By Country – China, Japan, India, South Korea, and Rest of APAC

North America production printer market

By Technology
By Type
By Application
By Country – U.S. and Canada

Europe production printer market

By Technology
By Type
By Application
By Country – Germany, France, U.K., and Rest of Europe

LATAM production printer market

By Technology
By Type
By Application
By Country – Brazil, Mexico, and Rest of LATAM

MEA production printer market

By Technology
By Type
By Application
By Country – U.A.E., Saudi Arabia, Turkey, South Africa and Rest of MEA