Production Printer Market Overview
The global production printer market was valued at $4.9 billion in 2017 and is expected to record CAGR of 5.1% during the forecast period, buoyed by growing demand for high-speed printing for various application areas such as commercial, publishing and label & packaging. Production printers provide high volume printing within a short period of time.
Globally, books and magazine publishers are shifting from offset to digital production printing to make their processes more economical. This shift is further resulting in the growth of production printer market. Nowadays, production printers are extensively being used for large-scale printing of label & package documents, including cartons, label, flexible package, corrugated packaging, plastic packaging, anti-corrosive packaging, and foil sealed bags.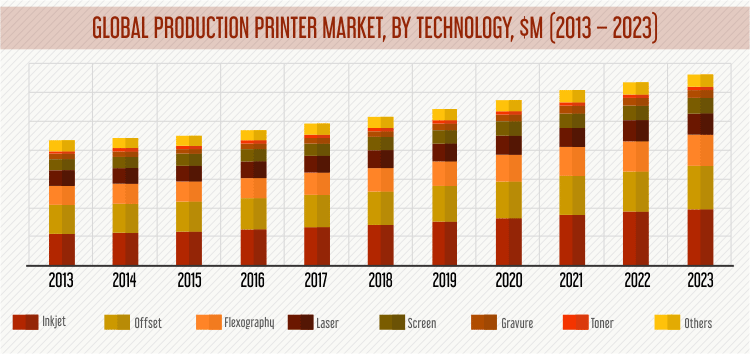 Based on technology, the production printer market has been segmented into inkjet, offset, flexography, laser, screen, gravure, toner, and others, wherein 'others' include pad, dye-sublimation, relief print. The inkjet segment held the largest revenue share in the global market in 2017, with APAC contributing the highest share in the inkjet category. Moreover, high-speed inkjet printing is becoming a mainstream technology for printing transactional documents due to inclination toward print-on-demand (POD) services.
Further, rising demand for inkjet technology and growing adoption of inkjet for commercial and publishing category printing, would enable it to register fastest CAGR in global production printer market during 2018-2023. While, the market for flexography is expected to register the CAGR of nearly 6% during the forecast period.
Based on type, the production printer market is divided into color and monochrome, of which, the color category dominated the production printer market in 2017. This is owing to the demand for color printing in applications such as trans-promo pages, advertisements, banners, brochures, and newsletters, among others, as it offers high reliability with good image quality. APAC held the highest market share in the color category in 2017, owing to the fact that color prints are impactful and are more compelling, especially for advertising purposes, and in professional work documents.
Production Printer Market Dynamics
Trend
A key trend observed in production printer market include shift from offset to digital printing. With growing focus of small businesses to market their brands and expand in the market, their demand for production printers that require minimal set-up costs is increasing. Digital printing does not use plates for printing which saves the users upfront fees; while the plates costs is considerable in case of offset printers. Moreover, the difference in quantity and quality of the prints is not very significant in offset and digital, especially for small businesses for whom the digital printers are more economical, or for users who need the printers for short run.
Additionally, the advent of digital printing in the market is gaining traction owing to the growing environmental concerns. Offset printers employ large paper volume and chemicals in printing, that have an adverse impact on the environment. Digital printing, on the contrary, utilizes mild solvents and significantly lesser chemicals than older technologies such as offset printing (digital inks are not oil-based). Thus, with the increasing demand for green production printing, cost-effective production printing solutions, and eco-friendly solutions, the market for digital printing is growing.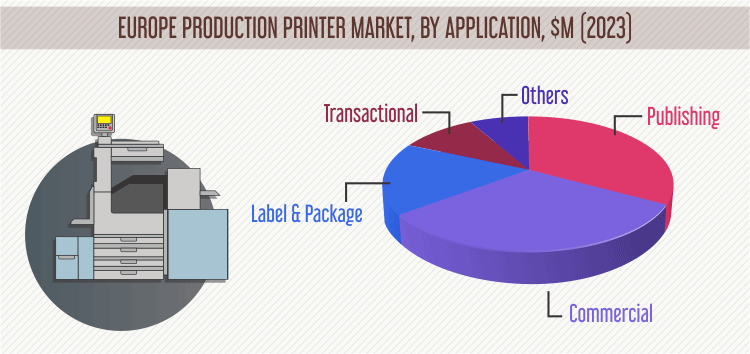 Driver
One of the key factors contributing to the growth of production printer market include increasing focus of commercial and industrial SMEs on expanding their businesses. The number of SMEs is proliferating, across the globe, along with their focus on expanding their foothold in their respective industries. SMEs in BFSI, media and entertainment, in particular, leverage production printers to improve their marketing strategies, and for high-volume printing at low costs. SMEs account for a dominating share of over 80% of overall firms across the global. Hence, to sustain in the competitive market, SMEs are adopting production printing, to meet deadlines and to improve their brand presence.
Additionally, in the recent years, the diversification of commercial printing requirements, including production of a wider range of applications is fostering market growth. The production printing is in demand by the SMEs in the industrial sector for shorter turnaround time and for streamlining their production and marketing operations. Also, with affordable print protection techniques and improving economy, SMEs can utilize production printing in order to gain a foothold in the market. Furthermore, SMEs are focusing on reducing the risk of inventory management, and on keeping the cost of printing under control. On account of this, POD printing procedure is in heavy demand, globally.
Opportunity
The key opportunity in the production printer market includes rise of connected multi-function printers (MFPs). The rise of intelligent connected MFPs expected to assist vendors to capture attention from businesses (especially SMEs). Smart MFPs would create opportunities for businesses to improve their efficiency and productivity by failure prediction and reducing downtime, along with improvements in workflow to simplify the paper-to-digital processes. Print solution providers can focus on differentiating their products via innovations and speed to market.
Software expertise is expected to become a major differentiator for the print solution providers, by focusing on developing capabilities to handle challenges such as cybersecurity and data privacy, and for innovative areas such as digital workflow and AR for print. Moreover, manufacturers, channel partners, and independent software vendors (ISVs) in the print industry can utilize predictive analytics via data mining, modelling, artificial intelligence (AI). Hence, smart MFPs are expected to deepen the competencies in the global production printer market, which would propel market growth in the coming years.
Production Printer Market Competitive Landscape
The intensity of rivalry among players in the production printer market is high. In the recent past, product launches, partnerships and mergers & acquisitions have been the major activities in the market. In recent years, the companies like Xerox corporation, Canon Inc. were majorly active in product launches to enhance their product portfolio. While companies such as Ricoh Company Ltd., and Agfa-Gevaert N.V. were involved in mergers and acquisitions to strengthen their printing businesses.
Some of the other key players operating in the production printer market are HP Inc., Konica Minolta Inc., Electronics for Imaging Inc., Eastman Kodak Company, Inca Digital Printers Limited, and Miyakoshi Printing Machinery, Co., Ltd.