The global position sensor market was valued at $9.1 billion in 2018, and is projected to reach $14.2 billion by 2024, exhibiting a CAGR of 7.7% during the forecast period (2019–2024). Among the key industries, automotive industry held the largest share in the market in 2018. Automobiles require use of position sensors in clutch plates, cam shaft positioning, electric throttle control, and in advanced driver-assistance (ADAS) systems. With increasing production of vehicles across the globe and rising adoption of new technologies in passenger cars, the demand for position sensors from automotive industry is observed to be increasing globally.
Growing packaging industry is one of significant driver exhibited in the market
Growing packaging industry across the globe, mainly in developing countries such as China and India, a key factor witnessed in the market. For instance, it has been recorded that, the plastic packaging industry in India has grew at a CAGR of over 14% over the period 2010-17. The growth of packaging industry is attributed to growing food and pharmaceutical packaging sectors, coupled with rapid growth of exports that requires superior packaging standards for the international markets. As packaging industry requires position sensors in packaging machines, hence, growing packaging industry is driving the growth of position sensor market across the globe.
Segmentation Analysis of Position Sensor Market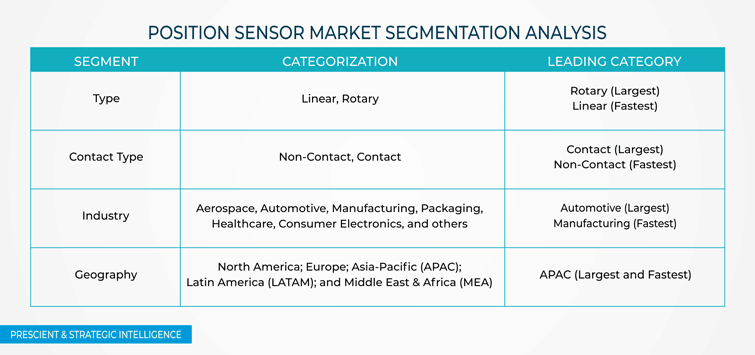 On the basis of rotary position sensor type, the rotary encoder accounted for largest revenue share in the market in 2018. It is also projected to be the fastest-growing category in the position sensor market during the forecast period. This is due to growing demand for high resolution position sensors in automotive and aerospace industries. Rotary encoders provide more accurate and high-resolution set-points as compared to potentiometers, as well they are digital compatible. On account of this, demand for rotary position sensors is increasing globally.
On the basis of industry, manufacturing industry is expected to be the fastest growing industry over the forecast period. With Industry 4.0 revolution, there has been an increasing demand for automation, internet of things (IoT), and smart sensors in manufacturing industry. As position sensors play an important role in metal manufacturing applications, paper industries, and various other manufacturing industries, Industry 4.0 revolution is expected to drive the demand for position sensors in manufacturing industry during the forecast period.
Geographical Analysis of Position Sensor Market
Based on region, APAC generated the highest revenue in the market in 2018, wherein China accounted major contribution toward the market. This is attributed to large manufacturing hub in the country, and increasing focus of the government toward local production of aircraft in the country. For instance, in accordance with 'Made in China 2025' industrial plan, the government is focusing on replacing the imports with local products in the country. In accordance with this plan, in 2016, the government of Beijing invested around $14 billion to establish Aero Engine Corporation of China (AECC), for building CJ-1000A turbofan jet engine for powering the C919, an indigenous airliner. Position sensors are used in aircrafts for several applications such as throttle & brake positioning, engine controls, and flight control. Hence, increasing production of aircrafts is driving the position sensor market in the country.
Browse report overview with detailed TOC on "Position Sensor Market Research Report: By Type (Rotary [Rotary Encoder, Rotary Potentiometer, Resolver, Rotary Variable Differential Transformer], Linear [Linear Potentiometer, Magnetostrictive Sensor, Laser Sensor, Linear Encoder, Linear Variable Differential Transformer]), Contact Type (Contact, Non-Contact), Industry (Automotive, Aerospace, Consumer Electronics, Packaging, Manufacturing, Healthcare), Geographical Outlook (U.S., Canada, Germany, France, U.K., Italy, Russia, Japan, China, India, Thailand, South Korea, Brazil, Mexico, Turkey, South Africa, Nigeria, Egypt) – Global Industry Analysis and Forecast to 2024" at:https://www.psmarketresearch.com/market-analysis/position-sensor-market
Competitive Landscape of Position Sensor Market
The position sensor market is highly fragmented in nature, with the presence of numerous players in the market. The major players in the global position sensor market are increasingly focusing on product launches to increase their product portfolio. For instance, in 2018, ams AG launched AS5200L, a magnetic rotary position sensor with an I2C interface that helps in the development of safety-critical automotive applications. Some of the key players operating in the position sensor market are TE Connectivity Ltd., ams AG, SICK AG, Honeywell International Inc., MTS Systems Corporation, Infineon Technologies AG, Sensata Technologies Inc., Bourns Inc., Renishaw plc, and MEGATRON Elektronik GmbH & Co. KG.
POSITION SENSOR MARKET SEGMENTATION
By Type
Rotary

Rotary encoder
Rotary potentiometer
Resolver
Rotary variable differential transformer (RVDT)

Linear

Linear potentiometer
Magnetostrictive sensor
Laser sensor
Linear encoder
Linear variable differential transformer (LVDT)
By Contact Type
By Industry
Automotive
Aerospace
Consumer Electronics
Packaging
Manufacturing
Healthcare
Others (Power Generation Industry and Oil & Gas Industry)
By Geography
North America Position Sensor Market

By type
By contact type
By industry
By country – U.S. and Canada

Europe Position Sensor Market

By type
By contact type
By industry
By country – Germany, France, U.K., Italy, Russia, and Rest of Europe

Asia-Pacific (APAC) Position Sensor Market

By type
By contact type
By industry
By country – Japan, China, India, Thailand, South Korea, and Rest of APAC

Latin America (LATAM) Position Sensor Market

By type
By contact type
By industry
By country – Brazil, Mexico, and Rest of LATAM

Middle East & Africa (MEA) Position Sensor Market

By type
By contact type
By industry
By country – Turkey, South Africa, Nigeria, Egypt, and Rest of MEA