In 2018, the global plasticizers market was valued at $13,967.9 million, and it is expected to reach $16,700.6 million by 2024, witnessing a CAGR of 3.5% during the forecast period (2019–2024). Phthalate plasticizers accounted for more than 65.0% revenue share in the global market, in 2018, owing to the high demand for these in various end-use applications, including coatings, home appliances, and flexible machine tools.
During the forecast period, the demand for non-phthalate plasticizers is expected to witness the faster growth in the market. The growth of this product category is majorly driven by the increase in the demand for environmental-friendly plasticizers in the North American and European regions. In addition, the APAC plasticizers market is also in a transition phase, wherein the demand for non-phthalate plasticizers is expected to grow during the forthcoming period.
Increasing construction activities and demand for related products are driving the growth of the plasticizers market
The demand for plasticizers is growing at a significant rate, owing to their use as a raw material for the production of construction material, such as pipes and tubes, roof and wall insulation, and building interiors. In addition, the global construction industry has witnessed recovery and stable growth in the past five years, which has been mirrored by the increasing population and growing urbanization rate across the globe. In countries such as China, India, and Brazil, the growing urbanization rate is expected to boost the plasticizer demand for producing building materials for cladding, roofing, flooring, and several other construction applications, thereby driving the plasticizers market.
Segmentation Analysis of Plasticizers Market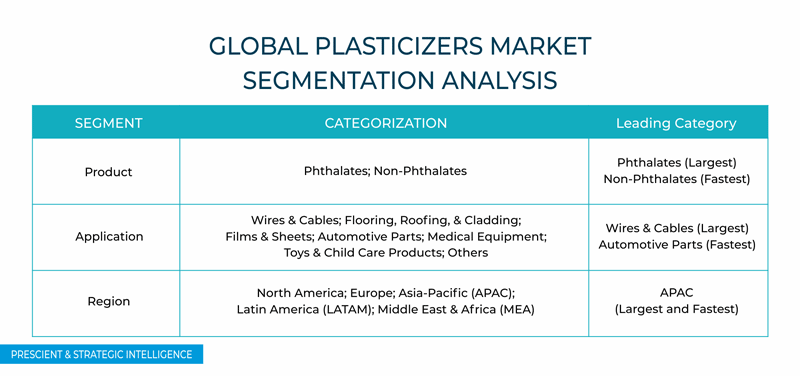 Based on product, phthalate plasticizers accounted for the larger market share, of more than 65.0% in 2018, in terms volume, in the plasticizers market. This significant market share is ascribed to their large-scale usage in the production of various products, including coatings, plastics used in the healthcare sector, anti-viscosity agents, and emulsifying agents. Though phthalate plasticizers have a huge end-use base, some of the demand is expected to be replaced by non-phthalate plasticizers, during the forecast period, owing to their less toxic nature.
On the basis of end-use, wires & cables held the largest market value share in the plasticizers market in 2018, and this category is expected to grow at a CAGR of 3.8% during the forecast period. This significant market value and growth rate are ascribed to the high end-use demand for wires and cables, which use flexible PVC for protection and insulation. Furthermore, the expected growth rate in the construction, healthcare, packaging, and other industries is expected to generate a high plasticizer demand over the coming years.
Geographical Analysis of Plasticizers Market
Geographically, Asia Pacific (APAC) dominated the plasticizers market, accounting for over 60.0% share in 2018, in terms of both value and volume. This significant market size and predicted growth are attributed to the region's high-volume manufacturing industry, particularly automotive, chemicals, electrical & electronics, and construction, all of which use plasticizers to make the end product smooth and flexible. Thus, the wide usage of plasticizers in the region is projected to further boost the market growth over the coming years.
Competitive Landscape of Plasticizers Market
The plasticizers market is highly dispersed in nature, and only one market player had a double-digit market share in 2018. UPC Technology Corporation was the largest player in the market, followed by BASF SE, in 2018. The Taiwan-based UPC Technology Corporation maintains a strong global presence via sales operations in Taiwan, China, Southeast Asia, Northeast Asia, South Asia, the U.S., Canada, the Middle East, and New Zealand. With the continuously increasing demand for plasticizers, several other companies are coming up with several strategic plans, including mergers and acquisitions, facility expansions, and new products.
Browse report overview with detailed TOC on "Plasticizers Market Research Report: By Product (Phthalates, Non-Phthalates), End Use (Wires & Cables, Flooring, Roofing & Cladding, Films & Sheets, Automotive Parts, Medical Equipment, Toys & Child Care Products), Geographical Outlook (U.S., Canada, Germany, U.K., France, Italy, Belgium, China, Japan, India, South Korea, Mexico, Brazil, U.A.E., Saudi Arabia, Turkey, Iran, South Africa) – Global Industry Trends, Size, Share Analysis and Growth Forecast to 2024" at:https://www.psmarketresearch.com/market-analysis/plasticizers-market
For instance, in October 2018, Perstorp Holding AB announced an expansion project for the production capacity of a non-phthalate polyester plasticizer, named Pevalen, which was expected to be initiated in 2019. This project will increase the production of plasticizers to 50,000 tons per year.
The key players in the global plasticizers market include UPC Technology Corporation, BASF SE, Evonik Industries AG, Exxon Mobil Corporation, Eastman Chemical Company, Nan Ya Plastics Corporation, Mitsubishi Chemical Corporation, LG Chem Ltd., KLJ Group, Arkema SA, Perstorp Holding AB, and Lanxess AG.
Plasticizers Market Segmentation
Market Segmentation by Product
Phthalates

Dioctyl phthalate (DOP)
Diisononyl phthalate (DINP)
Diisodecyl phthalate (DIDP)
Di(2-propylheptyl) phthalate (DPHP)
Dibutyl phthalate (DBP)
Diisobutyl phthalate (DIBP)
Others

Non-Phthalates

Terephthalates

Dioctyl terephthalate (DOTP)
Dibutyl terephthalate (DBT)

Adipates

Dioctyl adipate (DOA)
Diisononyl adipate (DINA)
Others

Maleates

Trioctyl trimellitate (TOTM)
Triisononyl trimellitate (TINTM)
Dibutyl maleate (DBM)
Dioctyl maleate (DOM)
Others

1,2-Cyclohexane dicarboxylic acid diisononyl ester (DINCH)
Others
Market Segmentation by End Use
Wires & Cables
Flooring, Roofing, & Cladding
Films & Sheets
Automotive Parts
Medical Equipment
Toys & Child Care Products
Others
Market Segmentation by Region
North America Plasticizers Market

By product
By end use
By country – U.S. and Canada

Europe Plasticizers Market

By product
By end use
By country – Germany, U.K., France, Italy, Belgium, and Rest of Europe

Asia-Pacific (APAC) Plasticizers Market

By product
By end use
By country – China, Japan, India, South Korea, and Rest of APAC

Latin America (LATAM) Plasticizers Market

By product
By end use
By country – Mexico, Brazil, and Rest of LATAM

Middle East & Africa (MEA) Plasticizers Market

By product
By end use
By country – U.A.E., Saudi Arabia, Turkey, Iran, South Africa, and Rest of MEA