Across the world, the geriatric population is rising rapidly, as is the manufacturing of medical drugs in the Asia-Pacific (APAC) region. These factors are cumulatively projected to drive the global pharmaceutical fine chemicals market at a 6.2% CAGR during 2020–2030 (forecast period), since generating revenue of $100.3 billion in 2019.
Pharmaceutical Fine Chemicals Market Segmentation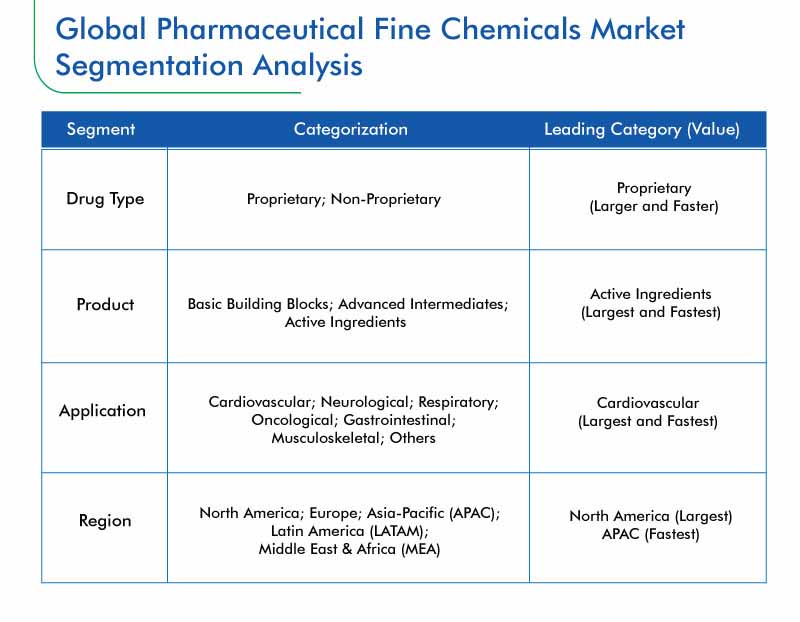 The proprietary drugs bifurcation would witness faster growth in the pharmaceutical fine chemicals market during the forecast period, in terms of value. This is because of the requirement for high capital investments, robust research and development (R&D) activities, appropriate quality control, compliance to stringent regulations, and effective marketing activities, for the development and commercialization of such drugs. Additionally, drug manufacturers are required to maintain the ingredients' integrity, to ensure that the final products meet the required safety and efficacy parameters.
In 2019, active ingredients held the largest share in the pharmaceutical fine chemicals market, as they are the most important component of drugs. It is the active ingredient which leads to the therapeutic effect the drug is designed for. During the manufacturing of pharmaceuticals, active ingredients are used on conjunction with a non-active medium, which takes them through the body, called the excipient. Comparatively higher amounts of active ingredients than excipients are used, which leads to the domination of this category on the market.
The growth of the pharmaceutical fine chemicals market is predicted to be the most rapid in APAC, till 2030. This is attributed to the rising R&D investments and support of regional governments, for developing medicines for diseases which cannot be presently cured. For instance, Government of India has asked several leading drug manufacturing firms for feedback on tax-related incentives and boosters for R&D investments in the nation. Moreover, due to the growing geriatric population in the region, especially India and China, drug production output is rapidly rising in APAC.
Market Players Raising Price of their Offerings for Maximum Profit
Hoping to garner maximum revenue, in the wake of the growing demand for drugs, companies in the pharmaceutical fine chemicals market are gradually offering their products at higher prices.
For instance, in March 2020, BASF SE increased the price of 1,4-butanediol, tetrahydrofuran (THF), polytetramethylene ether glycol (PTMEG), n-methyl-2-pyrrolidone (NMP), n-ethyl pyrrolidone (NEP), gamma butyrolactone (GBL), and polybutylene terephthalate (PBT) by EUR 100, 130, 130, 150, 200, 200, and 50 per metric ton, respectively, for European customers.
In the same vein, in October 2019, Eastman Chemical Company raised the purchase price of acetic anhydride by $0.06/lb and -butyl acetate and isopropyl acetate by $0.03/lb, for North American customers.
Browse report overview with detailed TOC on "Pharmaceutical Fine Chemicals Market Research Report: By Drug Type (Proprietary, Non-Proprietary), Product (Basic Building Blocks, Advanced Intermediates, Active Ingredients), Application (Cardiovascular, Neurological, Oncological, Respiratory, Gastrointestinal, Musculoskeletal) - Global Industry Analysis and Growth Forecast to 2030" at:https://www.psmarketresearch.com/market-analysis/pharmaceuticals-fine-chemicals-market
The key pharmaceutical fine chemicals market players include Eastman Chemical Company, BASF SE, Borregaard ASA, WeylChem International GmbH, Clariant AG, Lonza Group Ltd., Evonik Industries AG, Solvay S.A., DuPont de Nemours Inc., Albemarle Corporation, Merck KGaA, Koninklijke DSM N.V., ACIC Pharmaceuticals Inc., Aceto Corporation, AlzChem Group AG, Albany Molecular Research Inc., Angelini S.p.a., Ampac Fine Chemicals, CABB Group GmbH, Boehringer Ingelheim International GmbH, Chemada Fine Chemicals Ltd., Cerbios-Pharma SA, and CM Fine Chemicals GmbH.
The other important firms in the global pharmaceutical fine chemicals market are Dipharma Francis S.r.l., Contract Chemicals Limited, Fabbrica Italiana Sintetici S.p.A., EUTICALS S.p.A., HELSINN HEALTHCARE SA, Flamma Group, Ivy Fine Chemicals, Hovione, Novasep Holding SAS, Minakem, Procos S.p.A., Olon S.p.A., Roquette Frères, Robinson Brothers Limited, Siegfried AG, SEQENS Group, Syntor Fine Chemicals Ltd., SUMITOMO SEIKA CHEMICALS CO. LTD., Vertellus Holdings LLC, Valaji Pharma Chem, AkzoNobel N.V., and W. R. Grace & Co.