The global palm methyl ester derivatives market was valued at $1,443.4 million in 2018 and is projected to reach $2,106.7 million by 2024, progressing at a CAGR of 6.4% during the forecast period (2019–2024). The palm kernel oil (PKO) was the largest category by type in the market during the historical period (2014–2018).
Also, PKO is expected to show faster growth in terms of both value and volume during the forecasted period. This can be attributed to their cholesterol-free nature, owing to which these are widely used as raw material in cosmetics, cleaning agents, pharmaceuticals, and food and beverages.
Growing Consumer Preference for Organic Personal Care Products
The increasing consumer preference for natural personal care products is identified as a key trend in the palm methyl ester derivatives market. With time, consumer preference has also changed for personal care products. Owing to growing awareness on health, the consumers prefer products that are organic, naturally sourced, and skin-friendly. This has led to the high demand for organic chemicals and ingredients, such as palm oil and its derivatives, in several industries.
Increasing Adoption of Palm Oil Derivatives Due to Their Beneficial Properties
Palm oil derivatives are used as emollients, humectants, and viscosity modifiers in personal care products. Palm oil and its derivatives contain beta-carotene, which is a powerful antioxidant that kills free radicals. The products from palm oil derivatives are highly biodegradable and non-toxic as compared to petroleum-derived substitutes. Owing to these qualities, palm oil derivatives adoption is increasing in various consumer goods industries, which, drives the growth of the palm methyl ester derivatives market.
Segmentation Analysis of Palm Methyl Ester Derivatives Market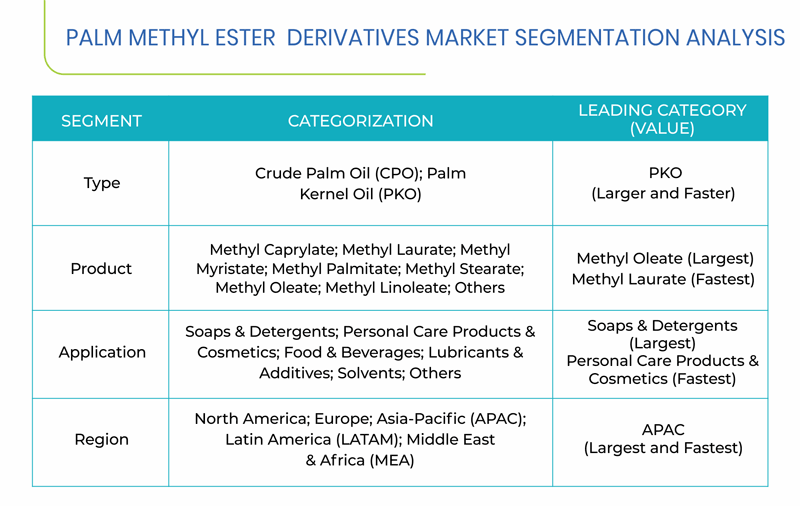 The methyl oleate category on the basis of product was the largest in terms of revenue during the historical period. This is attributed to the usage of methyl oleate as solvent in industrial cleaners, as surfactant in personal care products, and as lubricant for metal cleaning.
The soaps and detergents application category is expected to hold the largest share, by revenue, during the forecasted period in the palm methyl ester derivatives market. This can be attributed to the growing usage of palm oil-based derivatives, such as oleates, palmitates, and laurates, in the manufacturing of soaps and detergents.
Geographical Analysis of Palm Methyl Ester Derivatives Market
APAC and Europe are expected to account for over 60% share in the global palm methyl ester derivatives market by 2024. This can be mainly attributed to the presence of high-volume feedstock and low manufacturing cost.
North America, LATAM and MEA also hold considerable shares in the market. This is due to the wide adoption of palm methyl ester derivatives in food and beverages, personal care products, and industrial chemicals.
The U.S. is expected to lead the North American region, generating revenue of over $344.9 million in 2024. The country imports high volume of palm oil and palm methyl esters to use as precursors in the production of formulations in various end-use industries, namely, industrial chemicals, agricultural formulations, personal care and cosmetics.
Brazil is the fastest-growing country in the LATAM palm methyl ester derivatives market. The country currently grows oil palms on area spanning around 140,000 hectares and is planning to increase it to 700,000 hectares by 2022.
Due to increased import of palm methyl derivatives by the food industry, Saudi Arabia is expected to hold a considerable share in the MEA region in the forecast period.
Competitive Landscape of Palm Methyl Ester Derivatives Market
The palm methyl ester derivatives market is highly fragmented in nature, with major players including Wilmar International Ltd., The Procter & Gamble Company, IOI Corporation Berhad, and Emery Oleochemicals Group.
Browse report overview with 290 tables and 88 figures spread through 300 pages and detailed TOC on "Palm Methyl Ester Derivatives Market by Type (Crude Palm Oil [CPO], Palm Kernel Oil [PKO]), by Product (Methyl Caprylate, Methyl Laurate, Methyl Myristate, Methyl Palmitate, Methyl Stearate, Methyl Oleate, Methyl Linoleate), by Application (Soaps & Detergents, Personal Care Products & Cosmetics, Food & Beverages, Lubricants & Additives, Solvents), by Geography (U.S., Canada, Netherlands, Germany, U.K., France, Italy, Spain, China, India, Japan, South Korea, Brazil, Mexico, Saudi Arabia, South Africa) – Global Market Size, Share, Development, Growth, and Demand Forecast, 2014–2024" at:https://www.psmarketresearch.com/market-analysis/palm-methyl-ester-derivatives-market
In May 2018, African Palm Corp., a palm oil producer, processor, and distributor, commenced its operations in Guinea-Bissau, Africa. With this move toward business expansion, the company gained access to 1.5 million hectares of land for sustainable extraction of palm oil and further expects to expand its cultivation land to 7 million hectares till 2023.
Some other key players operating in the palm methyl ester derivatives market are Haiyan Fine Chemical Industry Co. Ltd., PMC Biogenix Inc., KLK Oleo, Peter Cremer North America LP, Kao Corporation, and Timur OleoChemicals.