With time, the preference for cashless payments is rising, as is the focus of businesses to give their customers a better experience. These two factors are together predicted to drive the global mobile point-of-sale (POS) market at a 17.9% CAGR during 2020–2030 (forecast period); the market reached $19.5 billion in 2019.
mPOS Terminals Market Segmentation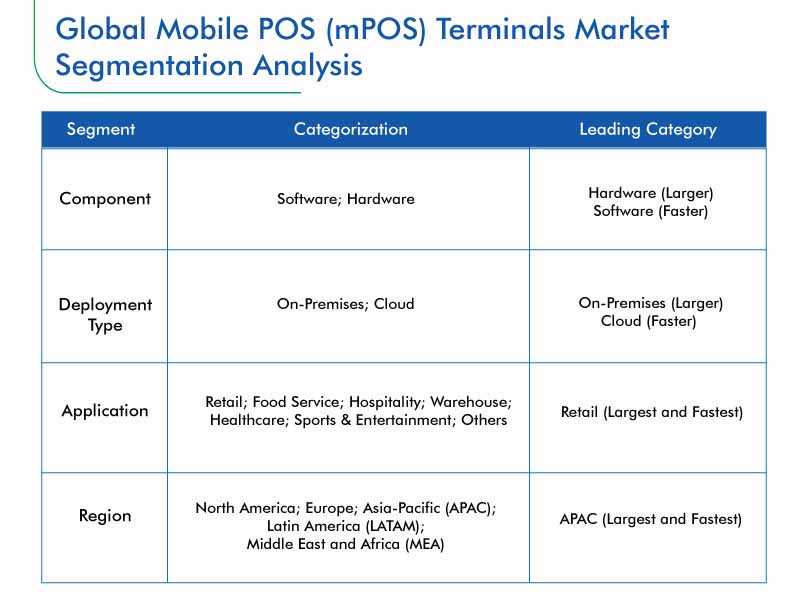 During the forecast period, the software bifurcation would grow with the higher CAGR in the mobile POS terminals market, as mPOS solutions are being rapidly adopted for sales forecasting, inventory management, and customer relationship management, thereby resulting in the rising demand for software.
The on-premises bifurcation dominated the mobile POS terminals market during the historical period (2014–2019), as point-of-sale terminals deployed on-site offer numerous benefits, including the ability to customize the solutions as per requirement, better control on the data, and less dependence on third-party vendors.
In 2019, Asia-Pacific (APAC) was the largest mobile POS terminals market, and it would also witness the fastest advance in the coming years. This is attributed to the expansion of the hospitality, healthcare, and retail sectors, as a result of economic growth, in countries such as India and China. Another reason for the largest share of APAC in the market for mPOS systems is that its retail industry is the most productive in the world and the preference for contactless payments is quite high in the region.
Product Launches Are Most Important Strategic Measures
In recent years, product launches have been the most important strategic measure in the mobile POS terminals market, as the companies offering such solutions are looking at increasing the number of their offerings, for a wider customer interest.
For instance, in November 2019, the new Maitre'D POS mobile system, which is powered by the Quest POS tablet series, was launched by Posera Ltd. This mPOS system is equipped with a wide range of functionalities to support a range of processes at restaurants, including digital payments and ordering.
On a similar note, NCR Aloha Essentials was unveiled by NCR Corporation in October 2019. A subscription version of its NCR Aloha point-of-sale technology, available for a monthly fee, the solution supports mobile alerts, payments, takeout functionality, advanced reporting, and other restaurant processes.
Ingenico Group S.A., Posera Ltd., PAR Technology Corporation, Newland Payment Technology, New POS Technology Limited, Shenzhen Xinguodu Technology Co. Ltd., Touch Dynamic, Square Inc., HP Inc., VeriFone Holdings Inc., Samsung Electronics Co. Ltd., Lenovo Group Limited, Panasonic Corporation, NCR Corporation, Oracle Corporation, Toshiba Corporation, QVS Software Inc., First Data Corporation, Zebra Technologies Corporation, SPECTRA Technologies Holdings Co. Ltd., Aures Technologies S.A., Diebold Nixdorf Incorporated, BBPOS Ltd., Bitel Co. Ltd., SZZT Electronics Shenzhen Co. Ltd., Toast Inc., PAX Technology Limited, and Posiflex Technologies Inc. are the most significant global mobile POS terminals market players.