Hardware Generates More Revenue in mPOS Terminals Market
The global mobile point-of-sale (POS) terminals market valued $19.5 billion in 2019, and it is expected to witness a CAGR of 17.9% during the forecast period (2020–2030). The increasing focus on an enhanced customer experience and emergence of cashless transactions are the major factors driving the mobile POS industry.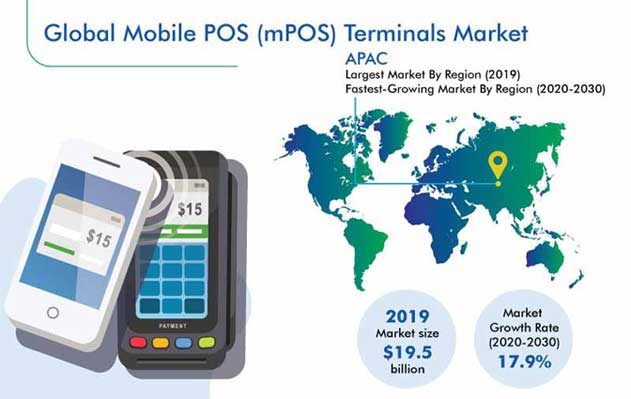 Segmentation Analysis of Mobile POS Market
In 2019, the hardware bifurcation held larger share in the mPOS terminals market, on the basis of component. This is because a variety of point-of-sale hardware is required for digital payments, which are widely being adopted in the retail, food service, and hospitality sectors around the world.
The cloud bifurcation, based on deployment type, is expected to witness faster growth in the mPOS terminals market during the forecast period, because cloud deployment of mobile POS software and applications offers better mobility and automatic data backup. Additionally, due to a lot less requirement for sophisticated information technology (IT) infrastructure, cloud also helps users save money.
Till 2030, the retail category, under segmentation by application, will continue dominating the mPOS terminals market, due to the high adoption rate of the point-of-sale technology by retailers. The technology cuts the queues and helps retailers in capturing sales quickly, while customers can avoid standing in line and complete the transaction from wherever they are in a large store. For instance, Walmart Inc. deployed such systems in 350 of its U.S. stores, in 2018, for on-the-spot check-out.
During the historical period (2014–2019), Asia-Pacific (APAC) contributed the highest revenue to the mPOS terminals market, and the situation will be the same in the coming years. This is attributed to the swift urbanization in the region, which is leading to the growth of the retail, hospitality, and healthcare sectors. Additionally, the retail sector of the region is the largest in the world, and it accounts for the widest adoption of mobile POS terminals in APAC.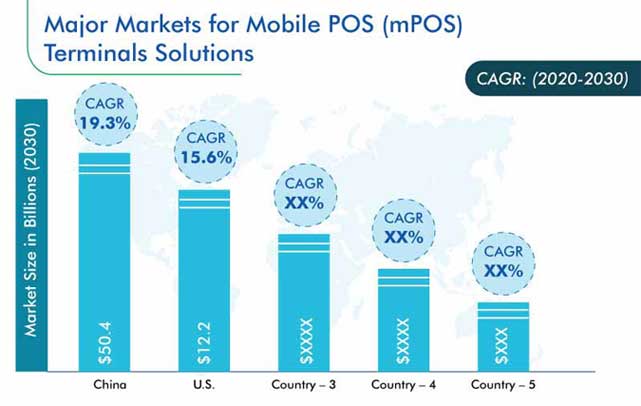 Cloud-Based Mobile POS Systems Are Trending in the Market
A key trend in the mPOS terminals market is the preference for cloud-based solutions. Compared to conventional systems, the cloud-deployed point-of-sale variants entail considerably lower operational costs, because they have no requirement for on-site servers, which are quite expensive. As per Mckinsey & Company Inc., the adoption of cloud technologies in the retail sector would rise to 71% by the end of 2020 from 57% in 2018. Another study says that by 2022, almost 50% of the restaurants in the U.S. would be using cloud-based POS terminals. Such solutions let users centralize all the data at one place and access it securely from anywhere and streamline information management.
Focus on Enhanced Customer Experience Is Driving the Market
One of the major drivers for the mPOS terminals market is the increasing focus of companies on improving the experience of customers. Due to the fact that check-out queues at markets and large stores often lead to the wastage of customers' time, mobile POS solutions are being adopted. This way, customers can complete the sale right from the main product area in a shop, by paying for the goods digitally and avoiding the long queues. Such solutions lead to a higher customer satisfaction, which further builds brand trust and loyalty, which is why companies are rapidly migrating from conventional systems to tablet and smartphone POS.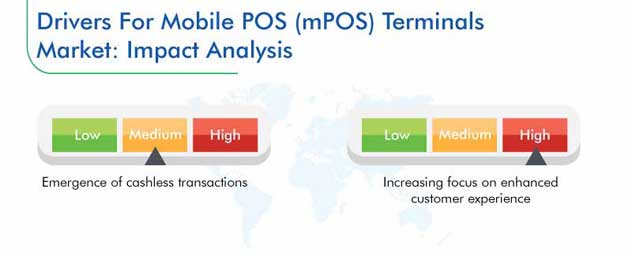 Expanding Restaurant Industry Is Offering Market Growth Potential
A lucrative opportunity area, which the mPOS terminals market players can target, is the increasing number of restaurants across the globe. For instance, the restaurant sector in India grew by 10% from 2017, to reach $48 billion in 2018. Additionally, the food service domain, which generated $47.7 billion in 2017, is predicted to experience a healthy CAGR of 5.1% during 2018–2023. By providing the restaurant staff with handheld mobile POS terminals, orders can be taken at the table, and diners don't have to wait in long queues, which further betters the customer experience. Customers being able to order the food and receive it quickly also lets restaurants serve more diners in quick time, thus helping augment revenue.
| Report Attribute | Details |
| --- | --- |
| Historical Years | 2014-2019 |
| Forecast Years | 2020-2030 |
| Market Size by Segments | Component, Deployment Type, Application |
| Market Size of Geographies | U.S., Canada, Germany, France, U.K., Italy, Spain, Japan, China, India, Australia, South Korea, Brazil, Mexico, Turkey, Saudi Arabia, U.A.E., South Africa |
| Market Players | Ingenico Group S.A., NCR Corporation, Posiflex Technologies Inc., SPECTRA Technologies Holdings Co. Ltd., Oracle Corporation, Toshiba Corporation, HP Inc., VeriFone Holdings Inc., PAX Technology, Panasonic Corporation, Samsung Electronics Co. Ltd. |
Market Witnessing Increasing Number of Product Launches
Since the last few years, new products are being rapidly launched by the companies operating in the mPOS terminals market, as a move to expand their portfolio and customer pool.
For instance, in October 2019, Samsung Electronics Co. Ltd. launched a near field communication (NFC)-enabled contactless payment acceptance solution for mobile devices, in partnership with a contactless mobile card payment firm, named Mobeewave Inc. With this solution, customers can make payments by tapping their contactless credit or debit cards or Apple Pay, Samsung Pay, or Google Pay wallets on the NFC-enabled devices developed by Samsung.
On similar lines, in June 2019, Volly introduced a new mobile POS app, with which loan officers can invite borrowers to apply or receive prequalified loans from anywhere, anytime. Moreover, the app allows borrowers to upload the necessary documents for the loan from their mobile phones, while loan officers can track the status of the deal.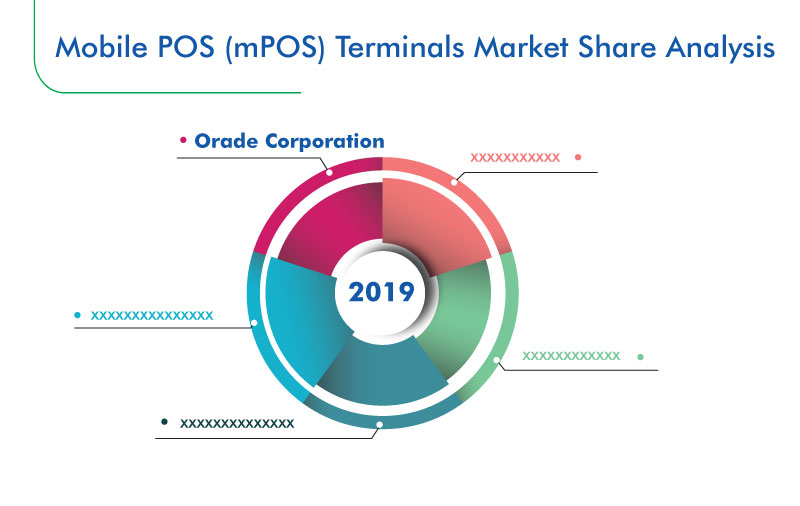 The key players in the global mPOS terminals market are Posera Ltd., Ingenico Group S.A., PAX Technology Corporation, PAR Technology Corporation, New POS Technology Limited, Newland Payment Technology, Posiflex Technology Inc., Shenzhen Xinguodu Technology Co. Ltd., Square Inc., Touch Dynamic, VeriFone Holdings Inc., HP Inc., Lenovo Group Limited, Samsung Electronics Co. Ltd., NCR Corporation, Panasonic Corporation, Toshiba Corporation, Oracle Corporation, First Data Corporation, QVS Software Inc., SPECTRA Technologies Holdings Co. Ltd., Zebra Technologies Corporation, Diebold Nixdorf Incorporated, Aures Technologies S.A., Bitel Co. Ltd., BBPOS Ltd., Toast Inc. and SZZT Electronics Shenzhen Co. Ltd.
Market Size Breakdown by Segment
The mPOS terminals market report offers comprehensive market segmentation analysis along with market estimation for the period 2014–2030.
Based on Component
Based on Deployment Type
Based on Application
Food Service
Hospitality

Lodging establishment
Hotel & motel

Healthcare
Retail

Convenience stores
Department stores
Supermarkets/hypermarkets
Discount stores
Specialty stores

Warehouse
Sports & Entertainment
Geographical Analysis
North America
Europe

Germany
France
U.K.
Italy
Spain

Asia-Pacific

Japan
China
India
Australia
South Korea

Latin America
Middle East and Africa

Turkey
Saudi Arabia
U.A.E.
South Africa