The Middle East and Africa (MEA) marketing automation software market is expected to reach $1.9 billion by 2024, registering a CAGR of 14.4% during the forecast period, according to P&S Intelligence.
The growth in the market can be mainly attributed to surging adoption of digital marketing and robustly growing e-commerce platforms.
Customers across the region are increasingly becoming tech-savvy and relying on information available on blogs, social media sites, and search engines, for making purchase decisions. With surging social media adoption, businesses across the region are focusing on investing heavily in digital/online marketing to leverage the opportunity of accessing and targeting larger customer base. These factors are expected to support the growth of the Middle East and Africa marketing automation software market.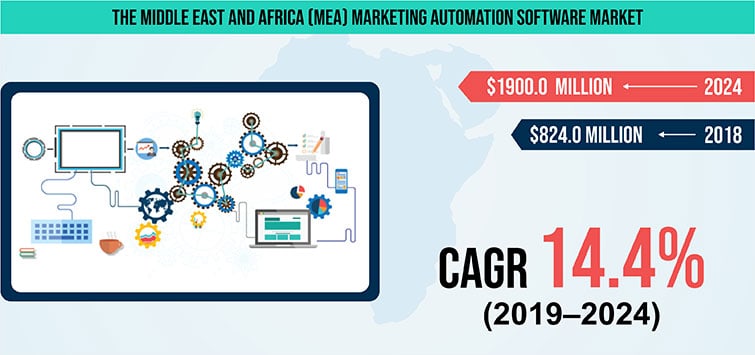 Insights into Market Segments
Based on solution, the market is classified into cross channel campaign management (CCCM), content marketing platform (CMP), lead-to-revenue management (L2RM), through channel marketing automation (TCMA), marketing resource management, and real-time interaction management. Among these, CCCM category is estimated to hold the largest revenue share in the Middle East and Africa marketing automation software market in 2018. This is attributed to the growing need of MEA enterprises for software that supports them in customer data management and analytics, along with the need for workflow tools for designing, executing, and measuring campaigns for digital and offline channels.
Based on enterprise size, the Middle East and Africa marketing automation software market is categorized into large enterprises, and small and medium enterprises (SMEs). Of the two, SMEs category is projected to record faster market growth during the forecast period, attributed to improving business conditions and increasing focus on enhancing productivity among SMEs. Hence, rapid SMEs growth in the region in terms of information technology (IT) spending, is further encouraging the adoption of such digital solutions to automate and streamline their marketing activities. Companies such as HubSpot Inc. (via its Middle East partner Nexa), and Pardot LLC are offering marketing automation software solutions mainly for SMEs.
Turkey is expected to be the largest marketing automation software market in MEA throughout the forecast period
Turkey is estimated to be the largest marketing automation software market in MEA in 2018, and is expected to continue holding the highest share during the forecast period. The country is posting the highest adoption of marketing automation software in its e-commerce industry, coupled with overall growth in digital marketing. The e-commerce industry of Turkey recorded a CAGR of over 12% during 2013–2017 and reached $11.7 billion in 2017. Rising usage of smartphones is reinforcing the e-commerce business in the country. E-commerce companies in Turkey are transforming their businesses to improve their leads via mass usage of smartphones.
Additionally, increasing use of smartphones across the country is bolstering online retail market. Also, with the rise of mobile-first platforms such as Facebook, Instagram, and WhatsApp, the social media platforms are trending as a popular choice for marketing. Advertisers in Turkey are planning to increase their digital marketing expenditure in the near future, which results in a potential growth opportunity for marketing automation software vendors in the market.
Browse report overview with 91 tables and 72 figures spread through 186 pages and detailed TOC on "Middle East and Africa Marketing Automation Software Market by Solution (Cross-Channel Campaign Management [CCCM], Real-Time Interaction Management, Lead-to-Revenue Management [L2RM], Marketing Resource Management, Content Marketing Platform [CMP], Through Channel Marketing Automation [TCMA]), by Enterprise Size (Large Enterprises, Small & Medium Enterprises [SMEs]), by Deployment Type (Cloud, On-Premises), by Industry (Banking, Financial Services, & Insurance [BFSI]; Telecom & Information Technology [IT]; Retail; Automotive; Manufacturing; Hospitality; Healthcare; Government; Media & Entertainment; E-Commerce; Education), by Country (Turkey, Nigeria, Saudi Arabia, U.A.E., South Africa, Egypt) – Market Size, Share, Development, Growth, and Demand Forecast, 2014–2024" at:https://www.psmarketresearch.com/market-analysis/middle-east-and-africa-marketing-automation-software-market
Middle East and Africa Marketing Automation Software Market Competitive Landscape
The Middle East and Africa marketing automation software market is highly competitive, predominantly due to emergence of marketing automation software as an essential platform for every business to business (B2B) and business to consumer (B2C) organizations for lead nurturing and generation. Further, the region is witnessing increasing number of marketing automation vendors, resulting in decline in prices of marketing automation software, and providing easy access for new entrants to the market, especially for SMEs.
With extensive number of social media platforms available to customers and marketers, along with easy access to digital platforms, the marketers are focusing on scale and volume of marketing operations, offering customized customer experiences. Furthermore, the solutions are becoming more tailored and accessible with time.
The Middle East and Africa marketing automation software market is highly fragmented with the presence of a number of market players such as Cognizant Technology Solutions Corporation, Act-On Software Inc., Infusionsoft Inc., Teradata Corporation, Netcore Solutions Pvt. Ltd., Oracle Corporation, International Business Machines (IBM) Corporation, Adobe Systems Incorporated, Salesforce.com Inc., HubSpot Inc., SAS Institute Inc., SAP SE, and Liana Technologies.
Middle East and Africa Marketing Automation Software Market Segmentation
Market Segmentation by Solution
CCCM
Real-Time Interaction Management
L2RM
Marketing Resource Management
CMP
TCMA
Market Segmentation by Enterprise Size
Market Segmentation by Deployment Type
Market Segmentation by Industry
Banking, Financial Services, and Insurance (BFSI)
Telecom and IT
Retail
Automotive
Manufacturing
Hospitality
Healthcare
Government
Media and Entertainment
E-Commerce
Education
Others (Defense, Aerospace, Research Companies, and Logistics)
Market Segmentation by Country
Turkey Marketing Automation Software Market

By solution
By enterprise size
By deployment type
By industry

Saudi Arabia Marketing Automation Software Market

By solution
By enterprise size
By deployment type
By industry

U.A.E. Marketing Automation Software Market

By solution
By enterprise size
By deployment type
By industry

Nigeria Marketing Automation Software Market

By solution
By enterprise size
By deployment type
By industry

South Africa Marketing Automation Software Market

By solution
By enterprise size
By deployment type
By industry

Egypt Marketing Automation Software Market

By solution
By enterprise size
By deployment type
By industry

Rest of the Middle East and Africa Marketing Automation Software Market

By solution
By enterprise size
By deployment type
By industry