Middle East and Africa Marketing Automation Software Market Overview
The Middle East and Africa (MEA) marketing automation software market is estimated to value $824.0 million in 2018, and is projected to advance at a CAGR of 14.4% during 2019–2024. The growth in the market can be mainly attributed to surging social media penetration and digital marketing. Additionally, government support and improving economic growth are the key factors supporting the market players in MEA to invest in digital infrastructure, establish new channels of commerce, and improve connectivity, mobility, and expand usage of social networks.
Moreover, SMEs in the region are exhibiting digital transformation, by exploiting recent advancements in technologies including artificial intelligence (AI), robotics, cryptography, and big data, across several industries such as retail, manufacturing, banking, and transportation. This digital reform is leading to heavy investments and a greater focus of SMEs and new entrants on marketing automation; in order to compete effectively in the Middle East and Africa marketing automation software market landscape.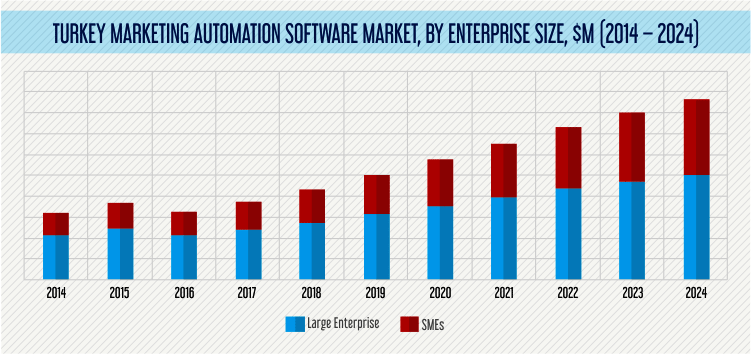 In terms of solution, the Middle East and Africa marketing automation software market is classified into CCCM, CMP, L2RM, TCMA, marketing resource management, and real-time interaction management. Among these, CCCM category is estimated to account for largest revenue share, in 2018. This is attributed to growing need of MEA enterprises for software that supports them in customer data management and analytics, along with need for workflow tools for designing, executing, and measuring campaigns for digital and offline channels. However, TCMA category is expected to register the fastest growth during the forecast period, as it is increasingly being deployed by organizations for simplifying their campaign execution through their distributed partner networks.
Based on industry, the Middle East and Africa marketing automation software market is categorized into BFSI, e-commerce, telecom and IT, retail, automotive, manufacturing, healthcare, government, media and entertainment, hospitality, education, and others (defense, aerospace, research companies, and logistics). Among these, the market is expected to register fastest growth in BFSI industry during the forecast period.
Marketing executives in BFSI industry are increasingly opting marketing automation software to target customers in order to engage them by spreading awareness regarding their offers, schemes, and benefits. For instance, banks in Saudi Arabia are becoming increasingly conscious regarding bettering customer experiences, and improving their relationships with customers. Financial executives in the country are focusing on analyzing their customers' journey via the data collected from various digital channels, and in creating a connection across multiple channels of communication, in order to create an integrated experience.
Based on deployment type, the Middle East and Africa marketing automation software market is bifurcated into cloud and on-premises. Of the two, cloud-base deployment solutions are projected to witness faster growth during the forecast period, owing to the implementation of the solutions by SMEs and growing awareness among enterprises about digital transformation. This category is increasingly becoming a viable choice due to its advantages such as replicability, easy scalability, and swift deployment as compared to on-premises deployment solutions.
Middle East and Africa Marketing Automation Software Market Dynamics
Driver
Growing adoption of digital marketing strategies has completely transformed the media industry, and consequently the Middle East and Africa marketing automation software market in the past few years. Currently, the maximum focus of organizations is toward marketing automation tools, which play a major role in digital marketing. These tools support in acquiring greater number of leads by effectively targeting customers. The digital marketing agencies are increasingly adopting these tools to advertise on multiple channels and improve the process of lead nurturing. Automation tools in digital marketing are used for effective management of repetitive tasks as they can be used in various digital marketing platforms, including search engine optimization (SEO), e-mail marketing, and social media marketing (SMM).
Opportunity
Growing adoption of marketing automation among SMEs is one of the major opportunities in the Middle East and Africa marketing automation software market. Presently, Gulf Cooperation Council (GCC) accounts for 34% of SMEs in the Middle East and North Africa (MENA) region; and SMEs sector is expected to reach over $900 billion by 2022. Governments are also supporting the growth of SMEs in the region by providing them with finances and resources. For instance, in November 2018, the U.A.E. signed an agreement worth $100 million with Jordan to finance entrepreneurs and SMEs.
Marketing automation software enables businesses to automate mundane tasks including customer profiling, lead scoring, and sending personalized emails. It allows businesses to target specific customers, which lead to increase sales and customer retention. Presently, SMEs are adopting marketing automation software, due to low capital investment. These factors create an opportunity for the growth of the Middle East and Africa marketing automation software market.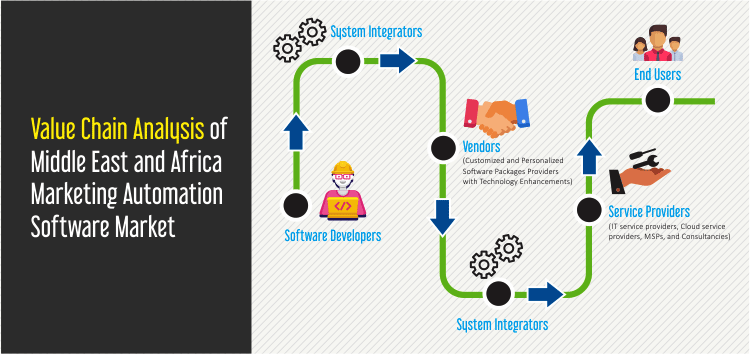 Middle East and Africa Marketing Automation Software Market Competitive Landscape
With extensive access to digital platforms primarily social media platforms, marketers are focusing on improving the scale and volume of their marketing activities, by offering customized content to customers. To cater to this demand, marketing automation software vendors are offering solutions, which can enable the marketers to offer tailored content to their customers. Moreover, with many SMEs opting for cloud-based solutions for marketing automation, companies such as Salesforce.com Inc., HubSpot Inc., SAP SE, and SAS Institute Inc. are leveraging their cloud-based software offerings to cater to this category. This has resulted in reduction of upfront cost associated with this deployment, making the marketing automation software solutions more affordable for SMEs.
Some of the key players operating in the Middle East and Africa marketing automation software market are Oracle Corporation, International Business Machines (IBM) Corporation, Adobe Systems Incorporated, Salesforce.com Inc., HubSpot Inc., Teradata Corporation, Act-On Software Inc., SAS Institute Inc., Infusionsoft Inc., Cognizant technology Solutions Corporation, SAP SE, Liana Technologies, and Netcore Solutions Pvt. Ltd.