The global micromobility market was valued at $3.0 billion in 2018 and is projected to reach $9.8 billion by 2025, progressing at a CAGR of 19.9% during the forecast period (2019–2025). Among the different types of micromobility services, bike (bicycle) sharing was the most widely used micromobility service in the historical period (2017–2018).
However, the fastest growth is expected to be witnessed in the kick scooter sharing category, during the forecast period. The category is witnessing heavy investments from established investors across the world, which is vastly contributing to the growth of the kick scooter sharing market. Moreover, the rapid adoption of these services in the North American region is further expected to propel the growth of the category.
Incoming of Hefty Investments is a Major Trend Being Witnessed in the Market
The recent trend in the micromobility market has been the inflow of heavy investments directed toward its development. Major players, along with the numerous start-up companies prevailing in the market, are receiving hefty investments from several venture capitalists. For instance, in 2018, European investors — Index Ventures and Atomico — massively invested in two of the top U.S. micromobility companies, namely Bird and Lime, respectively. Index Ventures headed Bird's Series B round with an investment of $100 million, whereas Atomico did not disclose the amount invested in Lime.
Browse Detailed Report Overview on Micromobility Market Research Report: By Type (Bike Sharing [Station based, Dock-less), Scooter Sharing [Station based, Dock-less], Kick Scooter Sharing [First and Last-Mile, Multimodal]), Regional Outlook (U.S., Canada, Italy, France, Belgium, Germany, U.K., Austria, Spain, Portugal, Switzerland, Poland, Netherlands, China, India, Malaysia, Singapore, Thailand, Taiwan, U.A.E., Brazil, Mexico) – Global Industry Size Analysis, Competitive Share and Growth Forecast to 2025 at: https://www.psmarketresearch.com/market-analysis/micromobility-market
Growing Demand for First and Last-Mile Transportation is Driving the Growth of the Market
The mobility options provided by ride-hailing, carsharing and other similar firms have been unsuccessful in bridging the gap in the market for first and last-mile transportation. Micromobility services play a pivotal role in covering this gap by offering mobility options for shorter distances, which is a key driving factor for the growth of the micromobility market.
Micromobility solutions generally allow commuters to cover a distance of less than 5 miles per trip. In addition, kick scooter sharing companies, such as Bird and Lime, explicitly claimed that they intend to offer mobility services specifically for first and last-mile transportation. Further, these services are mostly provided through the dockless or station-less model, which allows users to drop off the kick scooters at any place as per their convenience. This is further assisting in first and last-mile traveling, thereby driving the growth of the micromobility market.
Segmentation Analysis of Micromobility Market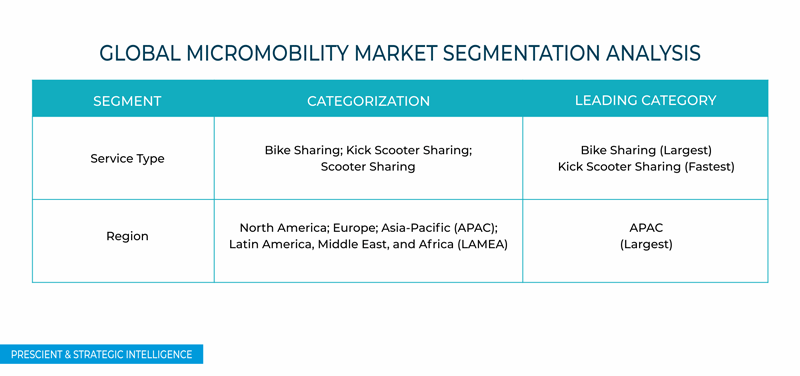 The bike sharing category generated the highest revenue in 2018. Bike sharing services, which are approximated to be available in over 800 municipalities across 56 countries, are a low-priced and convenient alternative for commuting. The service is quite popular in the Asia-Pacific (APAC) region, especially in China, Singapore, and Thailand. Furthermore, dockless e-bikes have emerged as the preferred options among riders looking for micromobility in large cities, which is expected to benefit the market during the forecast period.
Among different micromobility services, kick scooter sharing services are witnessing the highest growth, globally. In less than a year, kick scooters saw a 3.6 times faster growth than conventional ridesharing services provided by companies including Uber and Lyft. Kick scooter sharing began flourishing in the U.S. in late 2017, and in less than two year, several micromobility start-ups in the country had valuations that exceed $1 billion in the North American region. The established rideshare and automotive companies quickly took notice and entered the market. In November 2018, Ford decided to buy Spin in a deal worth almost $100 million. Similarly, Uber, in April 2018, also acquired a bike and kick scooter company, Jump. Other major rideshare providers are also looking to expand horizontally in the kick scooter sharing market.
Originating in San Francisco in 2012, scooter sharing began flourishing between 2016 and 2018 in European countries. In 2018, more than 60 cities across the world had the scooter sharing scheme, with Europe holding a more than 80% market share. The scooter sharing service sector is still in its initial stage, which makes it a costly affair for service providers, which, in turn, makes the service more expensive for end users as compared to others.
Geographical Analysis of Micromobility Market
With around 1,250 bike sharing systems and more than 10 million bicycles, APAC is the largest market for bike sharing. China is the largest market for bike sharing in the region. The vast increase in bike sharing schemes, led by China's largest operators — Ofo and Mobike — and entry of new operators are having a major impact on Chinese cities. The European and U.S. markets have also witnessed significant growth in recent years with Ofo and Mobike expanding here.
North America is the largest market for kick scooter sharing services. In late 2017, kick scooter sharing companies began to flood the market in the U.S. Bird was the first company in the market, and it was quickly followed by Lime, Spin, and Skip. Bird's launch in September 2017 and the entry of several other companies in the kick scooter sharing market thereafter, vastly benefitted the regional market.
Europe is the largest market for scooter sharing, holding more than 75.0% share in the global market in 2018. The rapid technological advancements in sharing services, rising concerns over the emission of greenhouse gases, massive urban road congestion, and greater convenience in using shared vehicles are the major drivers boosting the growth of the market.
Competitive Landscape of Micromobility Market
The global micromobility market is moderately fragmented in nature, with the largest share being held by a considerable number of start-up companies. The market is extensively backed by heavy funding from numerous investors, and it is also witnessing a huge number of collaborations and partnerships among the key manufacturers and different service providers. These developments are massively impacting the nature of the market.
In November 2018, VOI Technology, a Swedish electric scooter sharing company, received an amount of $50 million as part of its Series A round of funding. Its investors included Balderton Capital, along with Vostok New Ventures, LocalGlobe, Raine Ventures, and several angel investors, such as Amazon's CEO, Jeff Wilke; Justin Mateen, a cofounder of Tinder; Sebastian Knutsson, a cofounder of King; and Zillow's CEO, Spencer Rascoff. The company currently operates in Germany, France, Portugal, Italy, Norway, and the Benelux region, and with this investment, it aims to expand in other countries. Further, in July 2019, Bird announced its intention to launch its largest European hub in Paris, and it is expected to hire over 1,000 employees over the next two years, citing rapid growth in the coming years.
Some of the major players operating in the bike sharing niche of the micromobility market are Ofo, Donkey Republic, Citi Bike, Hopr, Mobike, and Nextbike. Lime, Bird, Spin, Jump, Bolt, and Skip operate in the kick scooter sharing niche, and Coup, WeMo, Emmy, Cityscoot, Felyx, and eCooltra in the scooter sharing domain.