The global methionine market was valued at $5,114.3 million in 2017, which is projected to reach $9,121.9 million by 2023, progressing at a CAGR of 10.2% during the forecast period (2018–2023). The DL-methionine category, based on type, dominated the market in terms of revenue during the historical period (2013–2017).
The methionine hydroxy analog (MHA) category is expected to witness the fastest growth during the forecast period (2018–2023), among all types. This can be attributed to its properties, such as highly digestible and capable of increasing feed intake, which result in faster growth of young poultry and increased productivity of adult poultry.
Growing Preference for Bio-Methionine
Key trend witnessed in the methionine market is the emergence of bio-methionine. Generally, methionine is derived from petrochemical sources, where raw materials used are hard-to-handle and hazardous in nature. Biochemical routes are being researched to obtain methionine. For instance, CJ Cheiljedang Bio and Arkema Group entered into a joint venture, to initiate methionine production from essential raw materials using innovative industrial process, owing to their environment-friendly nature and sustainability benefits over synthetic materials.
Increasing Poultry Consumption
Increase in global poultry consumption is one of the major factors driving the methionine market. As per the global poultry trend data, poultry meat uptake is forecast to increase by 1.7 kg per person from 13.2 kg in 2013 to 14.9 kg in 2023. With the increasing population, the demand for meat is also rising, thereby leading to surge in poultry consumption.
Segmentation Analysis of Methionine Market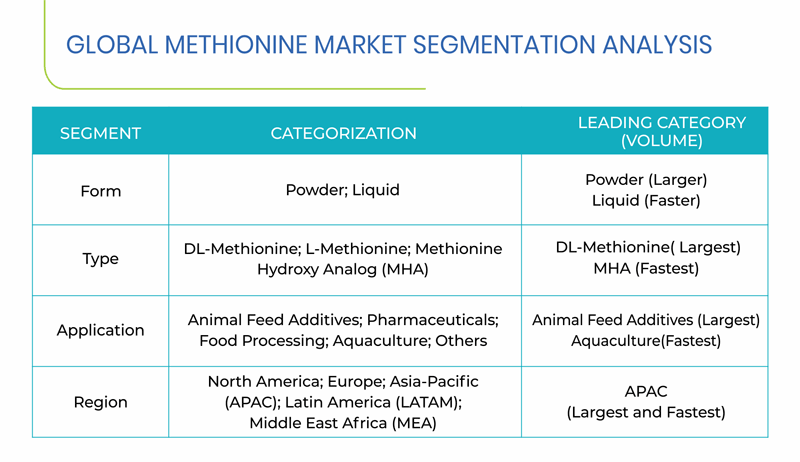 The liquid category is expected to witness faster growth during the forecast period in the methionine market, in terms of volume. Addition of liquid methionine in animal diet improves the growth performance as well as the morphology of gastrointestinal tract of piglets, and increase in the production capacity of liquid methionine by key market players are expected to drive the sale of methionine in coming years.
The DL-methionine category held the largest volume share in 2017 in the methionine market. This is ascribed to its high demand as nutritional and dietary supplement from the animal husbandry and food processing sectors.
The aquaculture category is expected to exhibit fastest growth during the forecast period. This can be ascribed to the high demand for aquatic organisms for consumption, which are one of the best sources of animal proteins.
Geographical Analysis of Methionine Market
Together, APAC and Europe are expected to account for over 60% revenue in the methionine market by 2023. This can be mainly attributed to the presence of established players, modernization of the animal husbandry sector, and high-volume production of pork, poultry, and livestock in these regions.
North America, LATAM, and MEA, also hold considerable shares in the methionine market, on account of the growing population, rise in methionine manufacturing units, and growth of the animal husbandry industry.
The U.S. is expected to lead the North American methionine market, generating revenue of over $1,483.2 million in 2023. The market in the country is mainly driven by the presence of key players, such as Novus International Inc. and Archer Daniels Midland (ADM) Company.
Brazil is the fastest-growing market for methionine in the LATAM region. Growing population, rise in methionine manufacturing units, and increasing demand for meat are the major factors contributing to the growth of the market in the country.
Competitive Landscape of Methionine Market
The global methionine market is consolidated in nature, characterized by the presence of major players, such as Evonik Industries AG Corporation, Bluestar Adisseo, and Novus International Inc., which are engaged in the development and commercialization of methionine.
Browse report overview with detailed TOC on "Methionine Market by Form (Powder, Liquid), by Application (Animal Feed Additives, Pharmaceuticals, Food Processing, Aquaculture), by Type (DL-Methionine, L-Methionine, Methionine Hydroxy Analog), by Geography (U.S., Canada, Germany, U.K., France, Russia, Italy, China, India, Japan, South Korea, Singapore, Brazil, Mexico, Saudi Arabia, Egypt, Iran) – Global Market Size, Share, Development, Growth, and Demand Forecast, 2013–2023" at:https://www.psmarketresearch.com/market-analysis/methionine-market
In March 2018, Bluestar Adisseo Company started the construction of new liquid methionine factory in Nanjing, China. This factory is designed to produce 180,000 tons of liquid methionine every year. After the completion of the new factory, Adisseo will be able to double its total capacity in Nanjing. The new factory is be expected to come into operation by the middle of 2021.
Some other important players in the methionine market include Sumitomo Chemical Company Limited, Arkema Group, Archer Daniels Midland (ADM) Company, Ajinomoto Co. Inc., and BASF SE.