Middle East and Africa commercial refrigeration equipment market is expected to reach $4.8 billion by 2023, according to P&S Intelligence.
The growth in the market can be attributed to the development of organized retail in terms of restaurant chain, hypermarkets and supermarkets, and growing demand for ready-to-eat food and beverage.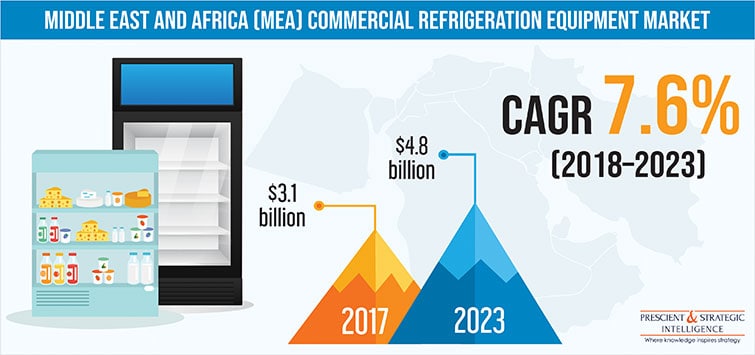 Insights into the market segments
On the basis of application, MEA commercial refrigeration equipment market has been categorized into food service, food & beverage retail and food & beverage distribution. Among these, food & beverage retail category accounted for nearly 24% market share in 2017. Growing tourism and events such as World Expo 2020 in U.A.E. and FIFA World Cup 2022 in Qatar is set to accelerate the demand for food and beverage retail in the Gulf Cooperation Council (GCC) countries. Additionally, GCC countries are expected to register nearly 74 million tourists by 2020, providing ample opportunities for a thriving food and beverage sector.
As the food and beverage industry grows, the demand for commercial refrigeration equipment would also post a similar growth pattern in the forecast period. In terms of value, the food and beverage retail category projected to advance at a CAGR of over 6%, during the forecast period.
Development of organized retail is expected to drive market growth
Development of organized retail pertaining to restaurants, supermarkets, and hypermarkets in developing countries such as Morocco, Algeria, Egypt and South Africa is one of the key growth drivers for MEA commercial refrigeration equipment market. The growth of organized retail can be attributed to increasing urbanization and government support in development of urban areas.
In developing countries, the consumers dwelling in urban areas have higher purchasing power than those in rural areas. In recent years, the government budget posted prospects for the development of new smart urban areas. The increasing level of urbanization is expected to boost the demand for refrigeration equipment in food retail industry, tier I and tier II restaurants, hypermarkets, and medium sized grocery stores, during the forecast period.
Middle East is expected to register a boost in the retail market in coming years; the region is witnessing increasing investing in infrastructural development, acquiring of new brands, and building strong digital platforms, resulting in transformation of retail landscape of the region. The organized retail sector in Middle East is also displaying consolidation, with projected expansion across U.A.E., Saudi Arabia, and Qatar in the coming years. Organized retail space growth is anticipated to be about 9% in Saudi Arabia, 17% in Qatar, 8.5% in Kuwait, 9.5% in U.A.E. and 18% in Oman, during the forecast period.
Browse report overview with 71 tables and 47 figures spread through 132 pages and detailed TOC on "Middle East and Africa (MEA) Commercial Refrigeration Equipment Market by Equipment Type (Walk-in Coolers, Beverage Refrigeration, Transportation Refrigeration Equipment, Display Cases, Parts, Ice Making Machineries), by Application (Food Service, Food & Beverage Distribution, Food & Beverage Retail), by End-User (Supermarkets, Hypermarkets, Hotels/Restaurants & Catering, Convenience Stores, E-commerce), by Country (Saudi Arabia, U.A.E., Egypt, South Africa) – Market Size, Share, Development, Growth, and Demand Forecast, 2013–2023" at:https://www.psmarketresearch.com/market-analysis/mea-commercial-refrigeration-equipment-market
MEA Commercial refrigeration equipment market competitiveness
Product and services launches were one of the key developments observed in the Middle East and Africa commercial refrigeration equipment market. United technologies corporation, dover corporation, and Frigoglass S.A.I.C are the major companies involved in product and services launch in the market. Further, Frigoglass S.A.I.C is involved in partnerships to expand its business in the other countries.
The key competitive factors for players in the industry include customer service, product quality, price and innovation with prime focus on price for small-scale end-users; and quality for large-scale end-users. Awareness regarding environment-friendly refrigerants, and green products, are resulting focus of players toward hydrocarbon coolers, energy labeling, and minimum efficiency standards. The market is displaying a complex landscape in the region, owing to the varied configurations of the products that are manufactured in the region. Daikin Industries witnessed a rise in the commercial refrigeration equipment's sale in the recent past and is expected to post higher sales in the coming years as well.
Some of the key players operating in the MEA commercial refrigeration equipment market are Daikin Industries Ltd., AB Electrolux, Frigoglass S.A.I.C., Dover Corporation, United Technologies Corporation, Johnson Controls International PLC, AHT Cooling Systems GmbH, Ali Group S.r.l. a Socio Unico, and Illinois Tool Works Inc.
Middle East and Africa (MEA) Commercial Refrigeration Equipment Market Segmentation
Market Segmentation by Equipment Type
Beverage Refrigeration
Walk-in Coolers
Transportation Refrigeration Equipment
Parts
Display Cases
Ice Making Machineries
Other Equipment (vending machines, cryogenic equipment, and liquid chiller)
Market Segmentation by Application
Food Service
Food and Beverage Distribution
Food and Beverage Retail
Others (pharmacy refrigeration, genetic preservation, medical diagnostic applications)
Market Segmentation by End-User
Supermarkets
Hotels/ Restaurants & Catering
Hypermarkets
Convenience Stores
E-commerce
Others (hospitals; educational institutions; large pharmaceutical stores; and medical and life sciences)
Market Segmentation by Geography
Saudi Arabia Commercial Refrigeration Equipment Market

By equipment type
By application
By end-user

South Africa Commercial Refrigeration Equipment Market

By equipment type
By application
By end-user

U.A.E. Commercial Refrigeration Equipment Market

By equipment type
By application
By end-user

Egypt Commercial Refrigeration Equipment Market

By equipment type
By application
By end-user

Rest of MEA Commercial Refrigeration Equipment Market

By equipment type
By application
By end-user