Middle East and Africa (MEA) Commercial Refrigeration Equipment Market Overview
Middle East and Africa commercial refrigeration equipment market generated revenue of $3.1 billion in 2017. The market is projected to advance at a CAGR of 7.6% in terms of value, during the forecast period. Development of organized retail in restaurant chains, supermarkets, and hypermarkets, growing demand for ready-to-eat food, beverages, as well as rising imports of frozen meat products in the region are some of the key factors driving the market growth.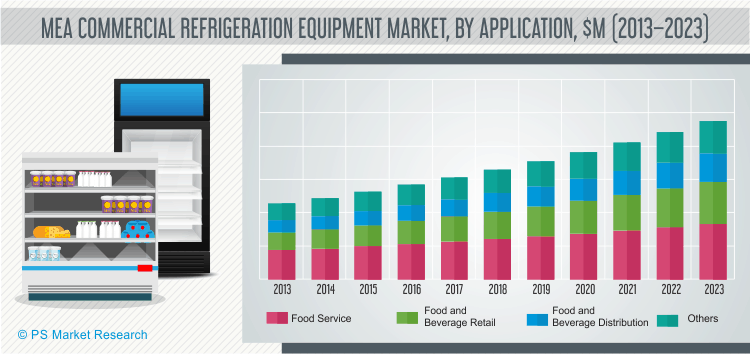 Based on equipment type, MEA commercial refrigeration equipment market has been segmented into walk-in coolers, beverage refrigeration, transportation refrigeration equipment, display cases, parts, ice making machineries and other equipment, wherein other equipment include vending machines, cryogenic equipment and liquid chillier. Among these, the walk-in coolers category accounted for highest revenue share in 2017. It is further expected to remain the largest category throughout the forecast period as well. With growing optimism toward economic strength of countries such as Saudi Arabia and South Africa, the spending on food and beverage is expected to increase in the forecast period, thus supporting the market growth.
In terms of end-user, MEA commercial refrigeration equipment market is categorized into supermarkets, hypermarkets, convenience stores, hotels/restaurants & catering, E-commerce, and others, wherein others include hospitals, educational institutions, large pharmaceutical stores, medical and life sciences. Among these, the hotels/restaurants and catering category accounted for largest revenue share in 2017. Rising tourism in the region especially in U.A.E., Qatar, Kuwait, and South Africa is expected to be one of the key drivers for growth of hotels/restaurants and catering category.
MEA Commercial Refrigeration Equipment Market Dynamics
Trend
The key trends observed in the MEA commercial refrigeration equipment market is increasing use of display refrigerators. With growing demand for visual merchandising and frozen products, it is becoming imperative to use display refrigerators, in the Middle East region. Supermarkets/hypermarkets are increasingly using this type of refrigerators to better showcase their products to customers for a better user experience. The display refrigerators allow users to witness products before picking them up, overcoming the problems associated with traditional opaque door refrigerator. These types of refrigerators are easy to clean and provide a better aesthetical appeal to the buyer.
Driver
The growing demand for ready-to-eat food, beverages and frozen food increased considerably across the region in the recent years, which is further surging the demand for commercial refrigeration equipment. Rising disposable income, along with increasing impact of western lifestyle fueled the acceptance of such products among large middle-class consumers of developing countries, such as U.A.E., Egypt, and Oman.
The changing food consumption trend is being supported by rapid expansion of supermarkets, hypermarkets, and food and restaurant chains across the region. The rising number of such stores also compelled small grocery retailers and unorganized restaurants to upgrade their infrastructure, with improved electronic appliances including commercial refrigeration equipment. Moreover, this changing trend toward ready-to-eat food is also offering lucrative opportunities to new restaurants and retail outlets, further supporting the market growth.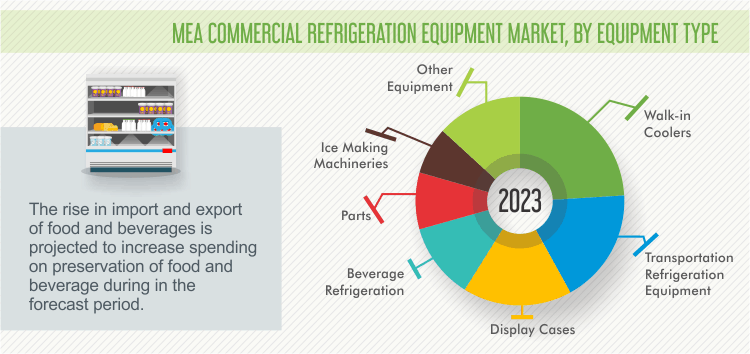 Opportunity
Technological advancements are expected to further increase in the Middle East industrial landscape. The growing demand for energy efficient systems expected to minimize the power consumption by the refrigerating equipment, further resulting in an increased adoption of quality commercial refrigeration equipment by end-users. As the trends follow, the power consumption level of these systems is bound to reduce and the efficiency of these systems would also increase. Moreover, technological advancements such as integration of IoT in commercial refrigerators allow them to connect to the internet and transmit real time data, such as temperature changes, record and graph data, whilst providing real time alerts to the user. Also, in case of food spoilage, the smell detectors could alert the user to remove the item from the shelf. More efficient and IoT based commercial refrigerators are expected to provide future opportunities for players in MEA commercial refrigeration equipment market.
MEA Commercial Refrigeration Equipment Market Competitive Landscape
The intensity of rivalry among players in the MEA commercial refrigeration equipment market is moderate. Most of the major players are actively focusing on products and services launch to meet the growing demand for the equipment. The commercial refrigeration equipment market in MEA is witnessing immense growth with increasing number of businesses adopting refrigeration equipment to preserve their perishable food items.
Some of the key players operating in the MEA commercial refrigeration equipment market are Daikin Industries Ltd., AB Electrolux, Frigoglass S.A.I.C., Dover Corporation, United Technologies Corporation, Johnson Controls International PLC, AHT Cooling Systems GmbH, Ali Group S.r.l. a Socio Unico, and Illinois Tool Works Inc.