The global kick scooter sharing market registered revenue of $143.4 million in 2018, and it is projected to reach $4,090.5 million by 2025, at a CAGR of 51.3% during the forecast period (2019–2025). Among the different models, the first and last-mile category held the larger share in the market in 2018, and it is forecast to remain the larger category during the forecast period, owing to its idealness to travel shorter distances.
Inflow of Heavy Investments is a Key Trend in the Market
The inflow of heavy investments is a key trend being witnessed in the kick scooter sharing market. Major players, along with the numerous start-up companies in the industry, are receiving hefty investments from several venture capitalists, equaling over $2.2 billion till date. For instance, in 2018, European investors, Index Ventures and Atomico, massively funded two of the top U.S. electric kick scooter sharing companies, namely Bird Rides Inc. and Neutron Holdings Inc. (Lime), respectively.
Growing Adoption of Kick Scooter Sharing as a Fun and Recreational Traveling Option is a Major Driver for the Market
The key consumer base of kick scooter sharing services was observed to be the millennial group, where the age is mostly between 20 and 35 years. These users perceive kick scooter sharing as a fun and enjoyable commuting option, which acts as a major factor for the growing demand for such services. Additionally, it has been witnessed that a significant number of solo travelers find these services useful for exploring and sightseeing at new places. Thus, the concept is gaining rapid popularity among tourists as well, which, in turn, is further driving the growth of the kick scooter sharing market.
Segmentation Analysis of Kick Scooter Sharing Market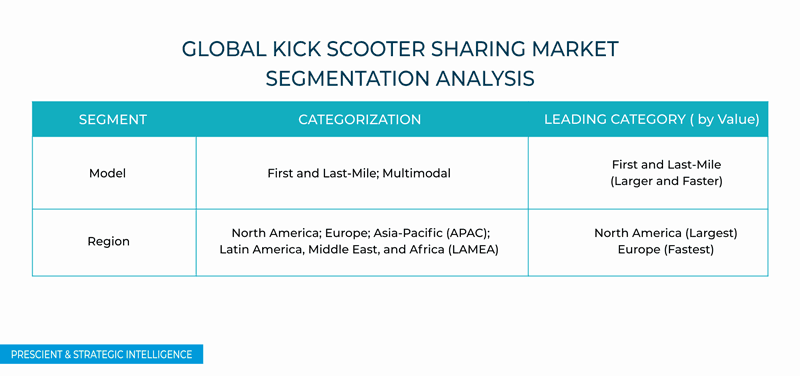 When segmented on the basis of model, first and last-mile was the larger category in the kick scooter sharing market, during the historical period (2017­–2018), and it is also predicted to be the faster-growing during the forecast period. However, a significant portion of the users use kick scooter sharing services for reaching other public transit points. For instance, in Singapore, the majority of the users avail kick scooter sharing services to reach bus stands. Thus, multimodal sharing services are also gaining popularity in the market.
Geographical Analysis of Kick Scooter Sharing Market
North America is the largest kick scooter sharing market, globally, contributing the majority of the worldwide revenue in 2018. The market in the region came into being in late 2017, with the introduction of the services by Bird, Lime, and Spin in the U.S. Moreover, in late 2017, different kick scooter sharing companies began to flood the U.S., in an effort to occupy a significant market share before saturation. By the end of 2018, around 85,000 kick scooters were available for sharing purposes in numerous U.S. cities, where these have almost replaced the bike sharing services, earlier predominant.
Europe, which was the second largest region in 2018, is expected to be the fastest-growing kick scooter sharing market, during the forecast period. The regional market is witnessing the entry of established players, with the intention to capitalize on their success in North America. Further, the influx of huge investments from various venture capitalists, along with automobile giants, is creating lucrative growth opportunities for kick scooter sharing service providers in this region.
Competitive Landscape of Kick Scooter Sharing Market
The kick scooter sharing market is consolidated in nature, with Neutron Holdings Inc. (Lime) and Bird Rides Inc. (Bird) holding the major share.
In October 2019, Grab entered into a partnership with the Archipelago International hotel to offer kick scooter sharing services to the hotel's guests in Indonesia. In August 2019, Lime launched its sharing service in Montreal, Canada, with 250 kick scooters. Earlier, in July 2019, Dott announced that it had received an investment of $35.4 million (EUR 30 million), as part of its Series A funding round, which was led by EQT Ventures and Naspers Ventures.
Browse report overview with detailed TOC on "Kick Scooter Sharing Market Research Report: By Model (Multimodal, First and Last-Mile), Geographical Outlook ( U.S., Canada, Spain, France, Belgium, Switzerland, Austria, Singapore, Malaysia, Thailand, Mexico, Brazil, Colombia) - Industry Trends and Growth Forecast to 2025" at:https://www.psmarketresearch.com/market-analysis/kick-scooter-sharing-market
Some other important players operating in the global kick scooter sharing market are Waybots Inc. (Skip), Social Bicycles Inc. (JUMP), VOI Technology AB, Taxify OU (Bolt), emTransit B.V. (Dott), Beam Mobility Holdings Pte. Ltd. (Beam), and LMTS Holding S.C.A. (Circ), TIER Mobility GmbH (Tier), BYKE Mobility GmbH (Wind), Bycyshare Technologies Pvt. Ltd. (Mobycy), Neuron Mobility Pte. Ltd., Grin Scooters SAPI de CV (Grin), mytaxi Polska sp. z o.o. (Hive), and Skinny Labs Inc. (Spin).
Kick Scooter Sharing Market Segmentation
Market Segmentation by Model
First and Last-Mile
Multimodal
Market Segmentation by Region
North America

By model
By country – U.S. and Canada

Europe

By model
By country – Spain, France, Belgium, Switzerland, Austria, and rest of Europe

Asia-Pacific (APAC)

By model
By country – Singapore, Malaysia, Thailand, and rest of APAC

Latin America, Middle East, and Africa (LAMEA)

By model
By country – Mexico, Brazil, Colombia, and rest of LAMEA