The cases of data breach are increasing around the world, as is the need to comply with the cyber security regulations implemented in various countries. These are the key factors which would drive the global key management as a service (KMaaS) market at a 25.9% CAGR during 2020–2030 (forecast period); the market generated $511.9 million revenue in 2019.
Key Management as a Service Market Segmentation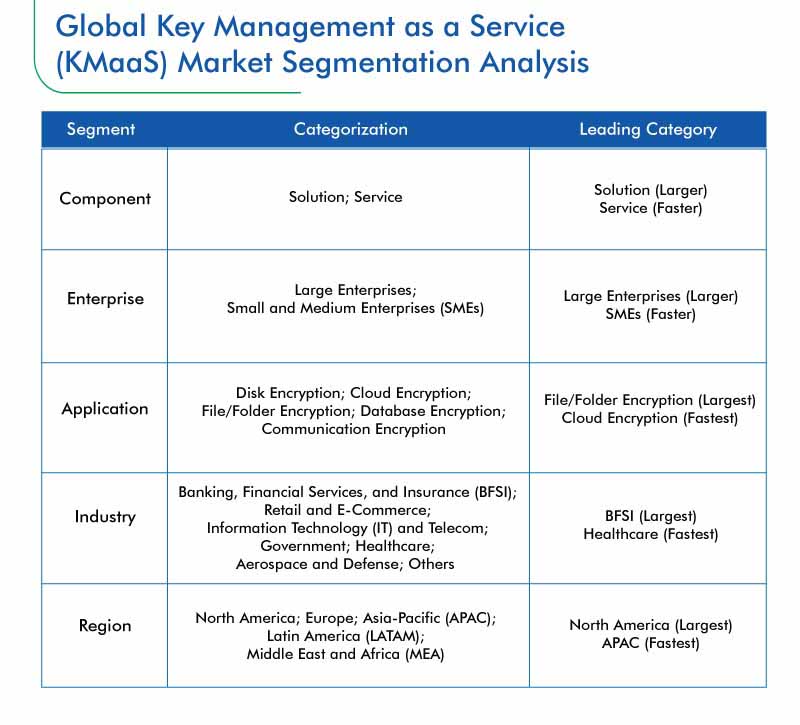 The service bifurcation is expected to experience faster growth in the key management as a service market during the forecast period, because, after procuring key management solutions, companies require maintenance and after-sales support and training on using these solutions.
During the historical period (2014–2019), large enterprises generated higher revenue in the key management as a service market, as they have a complex network infrastructure, which creates a high demand for key management software. In addition, these companies are rapidly focusing on digital transformation and adopting cloud computing, and they also have a strong need to comply with regulations and encrypt their files and folders.
Asia-Pacific (APAC) would observe the highest CAGR in the key management as a service market in the years to come, on account of the stepping up of digitization efforts, rising requirement for cloud solutions, increasing awareness about cyber attacks and ways to counter them, and improving key management lifecycle processes. Fujitsu Limited, a Japanese multination IT firm, selected Thales SA's Cloud HSM service and key management platform in February 2020. While the HSM service is being integrated to support public key infrastructure (PKI) security, the purpose behind implementing the key management platform is securing the lifecycle management of customers' cryptographic keys.
Key Players Undertaking Partnerships for Continued Growth
Major key management as a service market players have engaged in a number of partnerships lately, in order to enhance their business growth prospects.
For instance, in December 2019, CipherCloud Inc. entered into a partnership with Thales SA to merge its CASB+ solution with Thales' SafeNet Trusted Access platform. With the combined solution, the companies are able to offer customers better end-to-end protection against unauthorized data access, via an array of cloud applications, and better control on the cloud.
Browse report overview with detailed TOC on "Key Management as a Service Market Research Report: By Component (Solution, Service), Enterprise (Large Enterprises, Small and Medium Enterprises), Application (Disk Encryption, Cloud Encryption, File/Folder Encryption, Database Encryption, Communication Encryption), Industry (BFSI, Retail and E-Commerce, IT and Telecom, Government, Healthcare, Aerospace and Defense) - Global Industry Analysis and Growth Forecast to 2030" at:https://www.psmarketresearch.com/market-analysis/key-management-as-a-service-market
On similar lines, Fortanix Inc., a cyber security company based in the U.S., began a partnership with Google LLC in November 2019, to integrate its SDKMS with Google's External Key Management Service. This partnership was aimed at offering customers a range of security-, control-, and operational process-related encryption options, under Google Cloud. Additionally, Fortanix Inc. is leveraging this move to raise the awareness level about its offerings and gain a larger market share.
NetApp Inc., Box Inc., Google LLC, Amazon Web Services (AWS) Inc., Oracle Corporation, Microsoft Corporation, Egnyte Inc., CipherCloud Inc., Thales SA, International Business Machines (IBM) Corporation, Unbound Tech Ltd., Kapalya Inc., Sepior ApS, StorMagic Ltd., HyTrust Inc., McAfee LLC, Fortanix Inc., Secomba GmbH, Sookasa Inc., Bitglass Inc., Atos SE, WinMagic, Sophos Group PLC, Netskope Inc., SYPRUS Inc., ESET spol. s ro, Druva Inc., Zettaset Inc., and ServiceNow Inc. are the key companies operating in the global key management as a service market.